Vietnam in April: Weather and Event Guide
What weather to expect in April, what to do, what's on in Vietnam in April?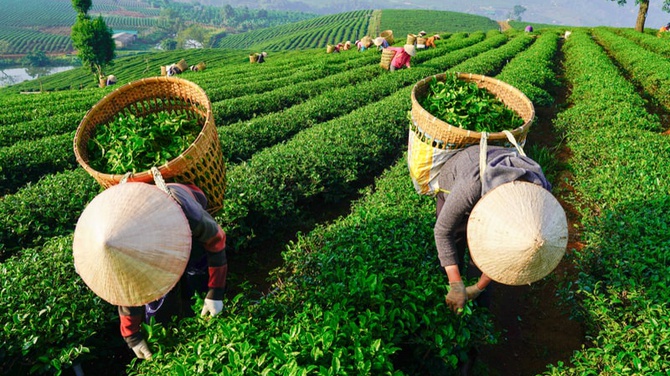 Bao Loc, Lam Dong on a sunny day in April

Overview 
As April arrives, the days gradually get longer and warmer, with crystal clear sky and dazzling sunshine in both northern and southern parts of Vietnam. The second month of spring, April is a great time for a quick getaway when the frosty winter of the North has already gone and the peak hot summer of the South hasn't yet arrived.
With full spring in its grasp, the whole offers more sunshine and daylight than the previous months. Pleasing temperature, a medium level of humidity and reasonable precipitation make April a great time for traveling to Vietnam.
During this time, as the weather in the North experiences many ups and downs, it gives visitors a rare opportunity to feel four distinctive seasons in the same day. In the South, April is a great time to visit Vietnam's best beaches before the whole country welcomes its blisteringly hot and wet summer.
Temperature
In April, as the weather of the North continues to warm up, the heat gap between different parts of Vietnam gradually narrows down.
In Hanoi and its vicinity, the daily average temperature rises by 5°C compared with the previous months and remain in the 25°C-30°C. April features some drizzling days but for the most part is less misty than March. Hence, April is a perfect time to tour the natural areas such as Ninh Binh and Sapa. Seawater temperature in coastal cities such as Halong Bay (Quang Ninh) or Cat Ba Island (Hai Phong) is warm, without the burning sun overhead, which makes it perfect for swimming and other water-based activities.  
Meanwhile, Central and Southern parts of Vietnam soak up the sunshine. The beach towns and coastal cities remain at their best. Danang, for example, has an average temperature of 23-29°C. Ho Chi Minh City and the Mekong Delta get higher temperatures, at an average of 31°C, and the heat won't reach a peak until a couple of months later.
Humidity
In the North, April, along with March, are the most humid months with an average relative humidity of 75%. In the South, the average humidity in April is around 63%. The weather is dry and dazzlingly sunny. 
From late April, the mean temperature and humidity gradually increase all around the country.
| Regions | Temperature | Humidity | Rainfalls | Rain Days |
| --- | --- | --- | --- | --- |
| North | 28° / 22° | 75% | 60.3mm | 5 days |
| Central | 31° / 24° | 82% | 30.6mm | 2 days |
| South | 35° / 25° | 63% | 10.8mm | 0 day |
April Events
Joining festivals and rituals can get you great lessons into local culture and lifestyles. Although the peak festival season of Vietnam soon comes to an end in April, the month still offers many important ones that you shouldn't miss.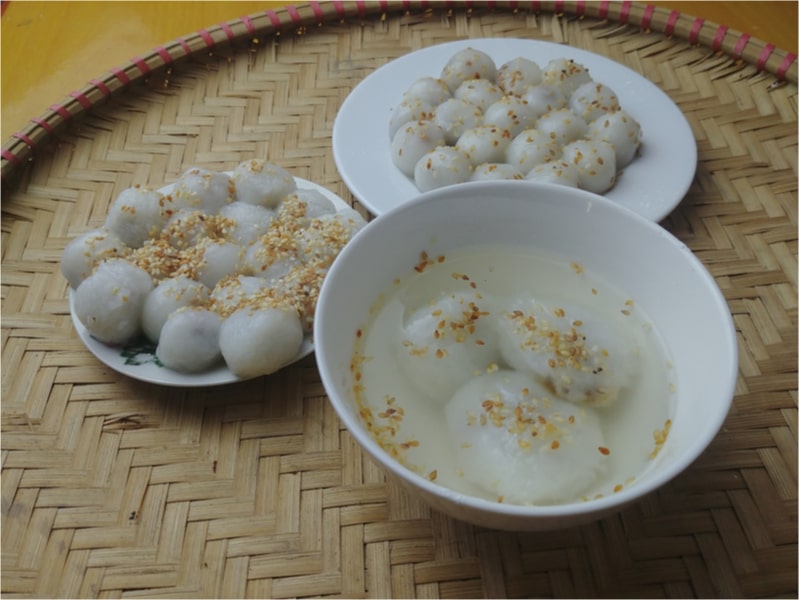 Bánh Trôi (cake) in Tet Han Thuc

Tet Han Thuc (Most areas of Vietnam)
Vietnamese people celebrate this traditional festival on the 3rd day of the third Lunar month. It's a great time for family gathering when Vietnamese people enjoy homemade "Banh Troi" and "Banh Chay" (traditional foods of Tet Han Thuc) with their family members. It is a traditional occasion for the locals to offer incense and pay tribute to their ancestors.
Hung King Temple Festival (Phu Tho)
Taking place from the 8th to the 11th day of the third Lunar month (the main day is the 10th), the festival pays tribute to the Hung Kings who are the founders of the ancient nation (named Van Lang). The Hung Temple Festival is widely regarded as one of the most essential festivals in Vietnam. Annually, it attracts tens of thousands of people through the country to visit and attend both cultural procession and outdoor activities. 
Chol Chnam Thmay Festival (the Southern area)
The traditional New Year of Khmer people takes place from the 1st to the 3rd day of Chet month (Buddhist calendar), usually on the 12th to 15th of April. This festival honors the Buddha and Tevoda - a God sent from heaven, down on earth to help human beings enhance their life. On these days, Khmer people go to visit their relatives and friends, make prayers and wishes for health, happiness, and fortune.
Reunification and International Labor Day (All around the country)
Reunification (or Liberation Day) is a historical national holiday on the 30th of April, followed by Labor Day (or May Day) right on the 1st of May. This occasion sees parades and celebrations in major cities and veterans are honored for their sacrifices in wars.
On this occasion, every family, from urban to rural, decorates their home with red flags. As Labor Day follows right after the Reunification Day, many locals make use of this long weekend to take a vacation or visit their relatives in their hometowns.
What to Expect
In the mountainous Northern areas, as the weather varies remarkably during April, visitors will have a rare chance to experience four seasons of Vietnam all in one day. It begins with warm weather of the early morning setting you in spring mode. Everything changes at noon when temperature promptly rises as high as in an early summer. Then, late afternoon, cool weather with gentle breezes makes it feel like autumn. Winter-like weather finally kicks in late at night with a significant temperature drop.
As April is a high season for foreign visitors who take spring vacation, the cost for hotel and transportation are normally higher than the following months.
If your trip happens to coincide with the long weekend (29 April to 2nd May), expect crowded beaches and jammed airports.
Best Vietnam's Destinations to Visit in April
Following March, April is an ideal time for trekking and enjoying the spectacular view of distinctive terraced rice fields. The Northwest boasts the most magnificent mountain scenery in all of Vietnam. The forests and mountains are still full of blooming wildflowers and ethnic minorities are still in their festive seasons. Sapa, Ba Be Lake, Mu Cang Chai, Dien Bien Phu are best options for travelers who love off-the-beaten-track destinations.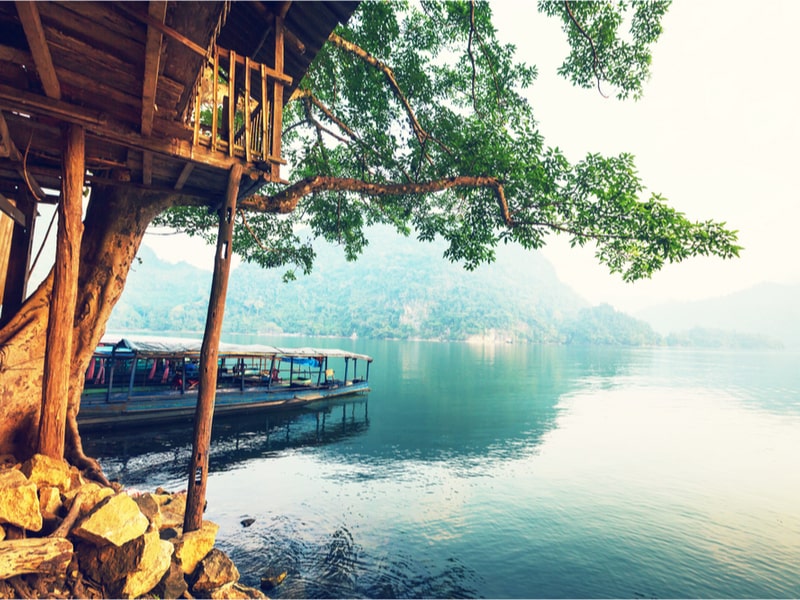 Ba Bể National Park (June 2019)

Visitors might trek through the jungle, take a rest in a traditional wooden stilt house and explore ethnic culture in local villages of Thai, Tay, and Nung communities. Apart from hiking, another available option is taking a motorbike trip to discover the sites.
Along with May, April is a great time to visit Hanoi when the thousand-year-old capital city is just right in the blooming flower season. Visitors can make an excursion through the must-see sights, enjoy the charming Old Quarter and contemplate white Ban flower full blooming in every corner of streets before stopping at the Thang Long Water Puppet Theater for a full show.
In Central Vietnam, visiting Hue is a great option to experience Vietnamese culture. You will get an insight into the history and culture of this ancient capital city with a tour to visit Hoang Thanh Hue (Imperial Citadel), Emperors' tombs, and plenty of local pagodas. If the timing is right, you can attend the biannual Hue Festivals, the largest festival in the center of Vietnam. Hue festivals celebrate the deep-rooted culture traits of the city: exquisite royal cuisine, traditional performances, arts of making ao-dai, traditional craft villages, to name a few.
Last but not least, April is the most ideal time to plan a visit to coastal cities in both the Central and Southern parts of Vietnam. The beaches of Nha Trang, Da Nang, Vung Tau tempts travelers with jade-colored seawater and calm waves. Ly Son and Con Dao Island are also strongly recommended, if you need a serious hideaway.
Conversations (0)
Join the conversation
Conversations
Join the conversation
ALL COMMENTS (0)
There are no comments. Add your comment to start the conversation.