Vietnam in May: Weather and Event Guide
What weather to expect in May, what to do, what's on in Vietnam in May?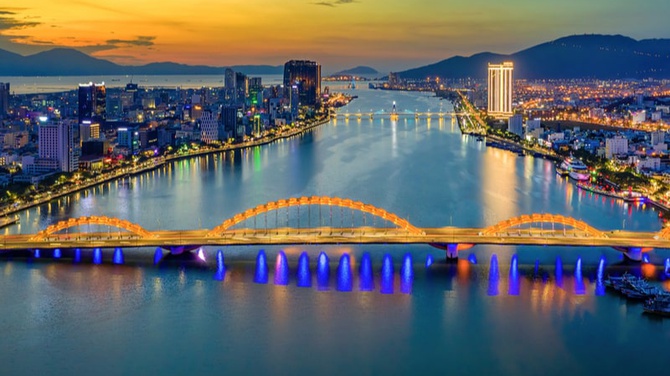 Da Nang, Vietnam in May

Overview
May is the time when Vietnam changes its color from spring to summer. Notably, in May, the intersection of many mixed weather flows occur when the Northern region shows signs of heat waves, hot and grizzle weather; whereas the South gradually enters the wet and humid season. However, the confusing climate pattern does not affect the least of anyone's travel plan. In fact, May is considered one of the few best months for all of Vietnam.
Temperature & Humidity
In the North, May bids goodbye to the humid and misty month of April. The weather is hot but comfortable. The temperature in Hanoi ranges between 24°C and 32°C and a balmy humidity of 75%. With lots of sunshine without the scorching heat, May is the best time to visit Hanoi and its famous surrounding destinations such as Halong Bay, Lan Ha Bay, Ninh Binh and so forth.
Temperature and humidity rise as you move southward. In Hoi An, the average humidity is around 80%, a decent number compared with the whooping 90% one would experience in the period November - January. The low rainfall coupled with long hours of sunshine promise a great trip to the coastal city of Danang, Nha Trang and Quy Nhon.
If you consider a trip in the southern part of Vietnam such as Ho Chi Minh City or Mekong Delta, you cannot find a better time of the year than early-mid May. With a temperature range in the mid-30s degrees Celsius, May is on steady pace with April and June and you can tell little difference between these months. What's best about May in the South of Vietnam is the consistently low humidity of 60-70%: you won't sweat as much as in the North and Central areas, the rain comes and goes in a flash.
That all says May is a perfect time to visit Vietnam, weather-wise, not to mention lower tourism traffic and excellent travel deals.
| Regions | Temperature | Humidity | Rainfalls | Rain Days |
| --- | --- | --- | --- | --- |
| North | 32° / 24° | 75% | 133mm | 7 days |
| Central | 33° / 25° | 80% | 63mm | 3 days |
| South | 34° / 24° | 70% | 66.5mm | 2 days |
Events in May
Though May is no longer in the festive period of the year, you can still get to witness some of the most authentic cultural events in Vietnam.
Fishing village in Bo Trach, Quang Binh province (Credit: Shutterstock)

Hoa Binh: Rain praying festival - April in lunar calendar
This is one of the most important festivals for Muong villagers living in Mai Chau, Hoa Binh. The festival is held to pray for favorable weather as farmers sow their first cereal seeds for the season and to express their wish for a successful crop. Villagers will push their stick to the sky, symbolizing the poking and waking up of the Rain God to avoid drought.
Vinh Phuc: buffalo fighting festival - April 21 in lunar calendar
Buffalo fighting festival celebrates a good harvest. This is one of oldest Vietnamese cultural festivals, starting from as early as 2 B.C. The buffalo fighting is now seen as a great event where the whole community gets together and celebrates their heritage.
Quang Binh: Fishing festival - April 14 in lunar calendar
The fishing festival is to celebrate Quang Binh fishermen's work and daily life. People attending the festivals also come and pray for favorable weather and fishermen can return with great catch.
Nghe An: Uncle Ho birthday - May 19
The birthday of the national hero Ho Chi Minh, which falls on May 19th, receives one of the biggest nationwide celebrations. Flowers and banners color streets from Hanoi to Ho Chi Minh City but Nghe An, Uncle Ho's birthplace, is probably the most meaningful place to celebrate the event. Locals often visit Kim Lien village and offer incense and pay tribute to Uncle Ho, with life stories and his own artworks being told and retold to the younger generation, reminding the whole country of his great contribution to Vietnam's anticolonialism struggle as well as arts and culture.
What to expect
International Labor Day (30/4 – 1/5) is an essential long holiday of Vietnam. If you plan to visit Vietnam during this time, be prepared for crowded beaches and airports.
It is also advisable that tourists book hotels and resorts at least 1 month in advance in case of overbooking.
Some central coastal resorts like Danang, Hoi An and Nha Trang offer great promotions from 5th May onward as tourism thins out. Plan your trip well and you can save as much as 30% you would otherwise pay in April.
Best destinations to travel
Since May is generally an ideal time to include any Vietnam's destination on the agenda, you can almost decide at your free will. However since the number of tourists to major destinations dwindle right after the holiday, with amazing deals by hotels, resorts and cruises, it's optimal to plan trips to places you would otherwise not be able to afford during peak season.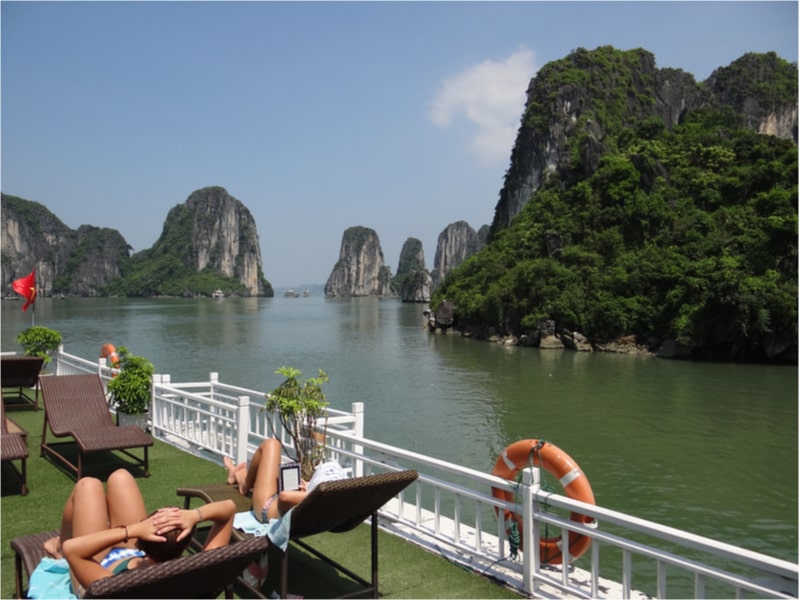 May is a great month for joining a cruise tour in Halong bay

A Cruise Trip To Halong Bay
Halong Bay is consistently ranked on global wanderlusts' travel list. The bay is best seen on a cruise trip, one that takes you around the thousands of islets and grottos and docks at major one such as Titov Island and Surprise Cave, where you can step inside to admire the beauty of nature.  Such a trip in November would cost $500++ while the weather is not always at its best for swimming or kayaking, while May would see the price halved and crystal clear sky for just any activity you want to take. If time and budget allow, you should consider taking a 3 day trip, with an extra day on Cat Ba island to fully appreciate the unique landscape in this part of Vietnam.
A relaxing stay in Hoi An
Hoi An is normally packed between June and September, and again November to January, with the continuous flock of domestic and international tourists. Yet it is rather deserted in May, when the weather is actually at its best. The glorious sunshine, little rain and well-spaced old quarter all make great reasons for you to plan a trip.
Beach break in Nha Trang
Beaches in Vietnam are generally full during the summer, as urban dwellers rush to all coastal areas from the north to the south for a family get together. The good news is that this happens mainly during the weekend. If you want to enjoy a great beach escape, look no further than Nha Trang and try to schedule your trip during weekdays, when you will have the white sand beaches to yourself. It does not get rainy in Nha Trang until the last few days in May, and the heat is just about right to feel the tropical warmth without giving you severe sunburns. There are also abundant travel deals as hotels and resorts try to balance their occupancy rate for the whole month: rest assure you will save big on your May visit.
Conversations (0)
Join the conversation
Conversations
Join the conversation
ALL COMMENTS (0)
There are no comments. Add your comment to start the conversation.