Vietnam in June: Weather and Event Guide
What weather to expect in June, what to do, what's on in Vietnam in June?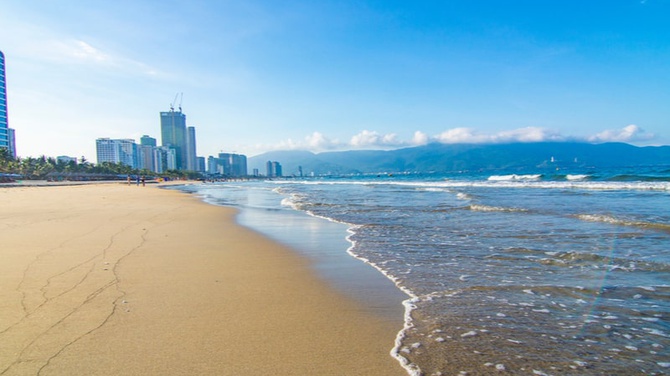 June is a great month for beach vacation in Vietnam (Photo: Shutterstock)

Overview
June sets the stage for a full summer fare to settle in the whole of Vietnam. Although blisteringly hot, the month is a great time for adventurers and vacationers to start their travel plans. Outdoors excursions, cruise voyages, mountain hikes and camping trips are all popular pastimes for locals and foreign visitors alike.
Temperature and humidity
In early June, the weather in the Northern and Red River Delta regions of Vietnam is a typical tropical climate with hot, prolonged sunshine and humid monsoons. 
This is one of the few times in the year that the North and Center of Vietnam share a common pattern. Hanoi and Halong Bay's temperature in June stays between 27°C and 36°C and scanty precipitation. Danang and Hoi An is less heated though with the same low possibility of rainfalls, with an average temperature low/high of 25/32°C. There may be sudden downpours in both regions, though the chances are not as high as in July and August.
The rain takes over the more you move southward, and reaches a whooping average 25 rain days as you make your landing in Saigon. Humidity is high, so expect being sweaty, if not getting wet by the rain.
| Regions | Temperature | Humidity | Rainfalls | Rain Days |
| --- | --- | --- | --- | --- |
| North | 34° / 26° | 71% | 162mm | 8 days |
| Central | 35° / 26° | 73% | 55mm | 3 days |
| South | 33° / 23° | 75% | 114mm | 7 days |
Events in June
June is the rare month in Vietnam without a lot of events and festivals. Except for Children's Day on June 1st, where children get gifts and treats from their parents, there are few festivals. Instead, June is a season for colorful crops and harvests.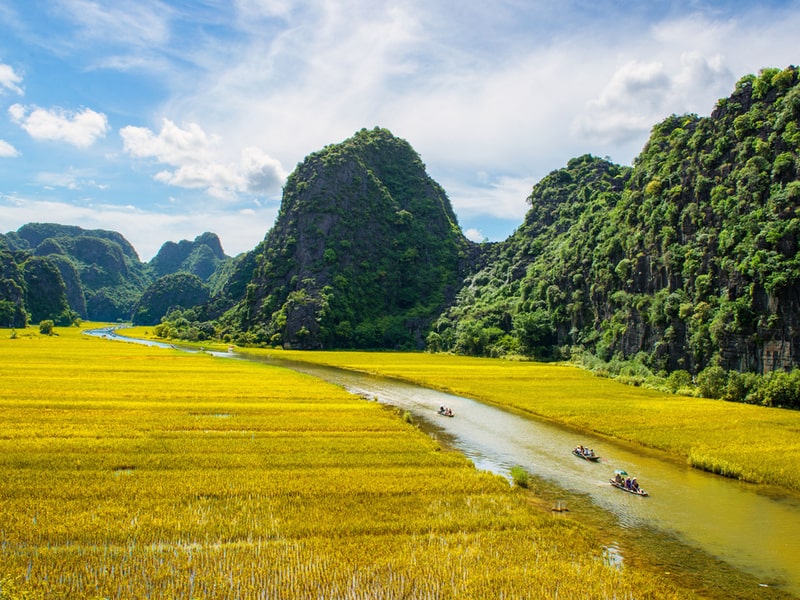 Golden rice field in Tam Coc, Ninh Binh province (credit: shutterstock)

Tam Coc Ninh Binh - The golden rice season
Golden sunshine is set on the backdrop of ripe terrace fields, creating a beautiful picture of the countryside that is hard to miss on cameras.
Mu Cang Chai - The water season
The newly planted fields are lush green, unlike the golden brown you normally see in September. The terraced fields in the water season are the perfect combination of the majestic mountainous landscape and the hard work of local farmers - something not many guide books mentioned.
What to expect
June marks the start of a long summer vacation for city dwellers. Avoid the weekend trip to popular destinations such as Sapa, Danang or Vung Tau as locals will flock to these areas for their city break.
Hot weather, potentially erratic sunshine in the North and Centre, and rain in the South is also something to keep in mind when planning your trip in June. Keep yourself sun-protected and well-hydrated is a first-thing-first.
This is also when the rice fields in the mountainous Northwest areas look the most lush, so look forward to a poetic trip. Charge your camera or phone in full as there are photo opportunities in every twist and turn up North.
Best Destinations to travel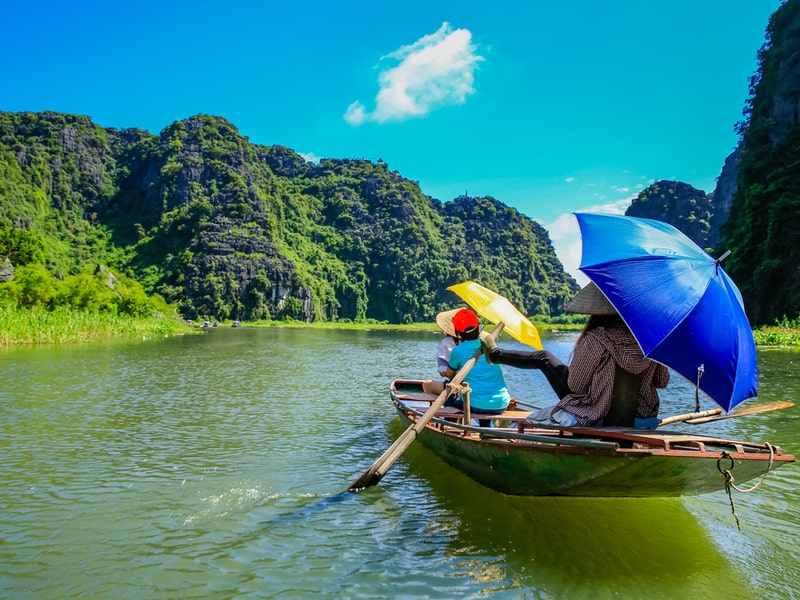 Tourists on rowing boats in Ninh Binh, Vietnam

Ninh Binh
June is the time to visit Ninh Binh and you will find Tam Coc - Bich Dong strangely compelling. However, according to the local people's experience, it's better to visit the area at the beginning of June, because this is the time when the rice fields are getting ripe, promising to leave visitors in awe.
Northeastern Region
From May to June, if you visit the mountainous area of Vietnam such as Moc Chau, Mu Cang Chai or Thai Nguyen, you will have a chance to witness the majestic, eye-catching natural ecosystem beauty in the water pouring season here. The terraced fields, the tea hills or the famous raspberry fields in Pu Nhu village, along with the working scene of the people in the water season pouring on the fields, are all majestic features that will attract visitors during this June trip.
Fruit orchards in Bac Giang
June is also the time when the ripe fruit bloom in Bac Giang. A bright red color of ripe, delicious lychee fruit is always what attracts visitors from near and far at least once to come explore this Northern land. Alternatively, participating in the rain praying festival in Mai Chau will also be a highlight in your trip to the Northwest that you should not miss in June.
Off-the-radar beach: Co To, Quan Lan or Ly Son island
These are the brand new tourist attractions, which means peaceful, pristine coastal beauty, as well as majestic natural landscape without the normal commercial billboards and tourist-oriented restaurants you would otherwise encounter in more popular destinations.
Conversations (0)
Join the conversation
Conversations
Join the conversation
ALL COMMENTS (0)
There are no comments. Add your comment to start the conversation.