Vietnam in March: Weather and Event Guide
What weather to expect in March, what to do, what's on in Vietnam in March?
Dalat, Vietnam in March

Overview
Spring, the season of rebirth and renewal, arrives when March begins. Unlike countries in the temperate and polar zone where March sees snow retreat and gray mushes covering the streets, Vietnam is already in full spring mode for the month of March.
And yet because of the monsoon and the country's position spreading over multiple latitudes, Vietnam will experience multiple spring patterns. It is very humid with very little rain in the North, quite humid and frequent rain in the Center, and dry with few rain days in the South. If that makes you somewhat confused, welcome to Vietnam!
Although it is not the best time to visit the whole of Vietnam in one trip, you can still pick the best destinations based on the weather patterns and your travel preferences.
Temperature and humidity
The temperature rises steadily from the North to the South, also when you factor in the mist and drizzle, low and high become only relative.
Hanoi and the north are between 15°C and 26°C with very low rainfall but an excess of humidity. If you live in Hanoi long enough, you will get used to the idea of sweating walls and floors. This unfortunately does not give the most pleasant feel to locals and visitors alike. At the same time, expect drizzle and mist for most days in March, which sometimes may obscure your view of mountain and sea. There have been chances that cruises in Halong Bay are cancelled in the past in March due to poor visibility.
The temperature in the Northern mountainous area is not as warm as the Red River Delta, but still a good month for trekking in places such as Sapa and Ha Giang.
The center part of Vietnam, including Hue, Danang, Hoi An, Ly Son and Quy Nhon may not be in their best shape in March either. The humidity can be overwhelming (86% in Hoi An compared with 76% in Hanoi), but feels better with the ocean breeze and less cramped space. Temperature-wise, it is quite cool compared with April and May, staying between 21°C and 26°C.
Ho Chi Minh City meanwhile is at its best weather of the whole year. Temperature rises up to 36°C but do not get scared by the number. The low humidity, long hours of golden sunshine and occasional breeze all make great reasons to visit.
| Regions | Temperature | Humidity | Rainfalls | Rain Days |
| --- | --- | --- | --- | --- |
| North | 26° / 15° | 76% | 43mm | 5.8 days |
| Central | 28° / 22° | 83% | 24mm | 2 days |
| South | 34° / 23° | 74% | 13.8mm | 1 day |
March Events
Following February, March still offers many festivals held across the country. This is a great time to dig into the cultural aspects of different communities in Vietnam.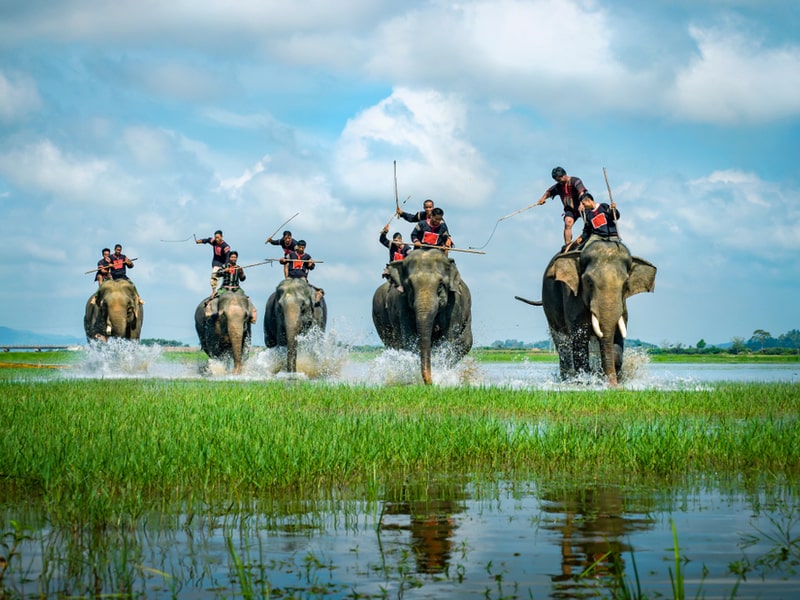 Elephant racing in Dak Lak, Vietnam (Credit: Shutterstock)

Forest Festival of the Nung (Lao Cai)
Hold on the 29th day of the first lunar month, this festival honors two ancient tree gods (Father and Mother trees), and worship people who sacrifice their life for reclaiming the village. The festival combines distinctive contests of traditional singing, swinging and wood chess.
Thay Pagoda Festival (Hanoi)
This festival celebrates Zen Monk Tu Dao Hanh. He is honored as a religious leader who invented traditional Vietnamese water puppetry. Therefore, this festival, which is held annually, is a vivid combination of religious rituals and traditional water puppetry performances.
Chu Dong Tu Festival (Hung Yen)
Celebrated from the 10th to the 12th day of the second Lunar month with a number of parades and outdoor activities, this festival worships Chu Dong Tu - one of Vietnam's Four Immortal Figures -  who taught the locals how to fish, weave and do business to make a living.
Elephant Racing Festival (Central Highlands)
Taking place in Don Village, this renowned annual festival gathers the elephants of adjacent villages in different contests of races, swimming, and elephant football. Of course, it wouldn't be complete without feasts and dancing performances in the exotic sound of gongs and drums – traditional music instruments of highland ethnic minorities.
What to Expect
With humid and warm weather in the North, cool weather in the Centre and dry season in the South, March is considered ideal for trips in the South Central and Southern parts of Vietnam.
March and April are peak seasons for inbound tourism in Vietnam, coinciding with spring breaks and warmer weather that prompts more visitors to take trips to Vietnam.
The North is in its festive time, with many celebrations and festivals held across the region following Tet holiday. If you are interested in cultural events, you cannot find a better time than March. Visit Perfume Pagoda and Yen Tu Complex to get a glimpse of Vietnamese's spiritual life.
Balmy weather, although not with the best visibility, means a great time to trek in Northwest mountain regions. Enjoy the awing vistas of cheery blossoms and plum flowers as you climb uphill.
Southern beaches make great beach escape as the weather is warm and dry. There are not yet many local visitors which add one more compelling reason to visit.
Because the peak international tourism season in Vietnam begins in March, many hotels and homestays are full at this time. Hence, guarantee that you make a reservation. Due to high demand, many hotels will charge higher prices in March, and options can be limited and vary to the destinations you choose.
Best Destinations to Travel 
With warmer weather than the preceding period from December to February, March's favorable climatic condition is great for adventure-seekers to explore the Fansipan. The highest peak of the Indochina Peninsula, Fansipan is located in Hoang Lien Son Mountain Range, with the nearest access point being Sapa. If you don't feel fit enough for the long sloppy trail, you can also opt for the Fansipan cable car to reach the top.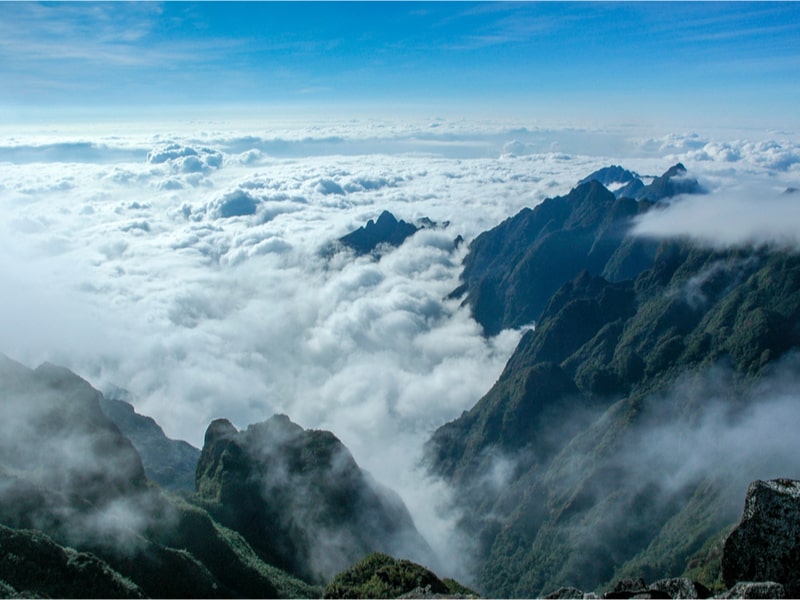 Fansipan mount (3,143m) - The peak of Indochina

An alternative for active trippers is to take an excursion to the land of caves - Quang Binh province, where you can appreciate the world's largest cave - Son Doong cave. However, the cave is not yet open freely to the public so you need to book a guided tour from the local agent Oxalis - who will also provide food and lodging along the way.
March may also be a lovely time to spend in the Center Highlands area, especially if you want to avoid the crowded been-there, done-that. Explore coffee hills around Buon Ma Thuot right in the most beautiful blooming coffee flower season and learn how the world's finest coffee is made! Don't forget to make a stop at the Trung Nguyen Coffee Village and learn about the unique kopi luwak of Vietnam (civet, or weasel coffee). Then, you can promptly make an excursion to Ban Don - a renowned ancient village famous for the traditional custom of taming and caring for wild elephants. Since 2018, elephant rides have been removed, giving a place for the more ethical treatment of elephants; travelers now can observe elephants from a distance and feed them as well.
In the South, the weather is just glorious: dry and sunny. The renowned beaches in Phan Thiet,  Mui Ne, Ho Tram as well as the southern islands including Con Dao and Phu Quoc remain the best choices for beach lovers across the country. March is especially suitable for diving and snorkeling thanks to the calm sea and great visibility - carpe diem!
Conversations (0)
Join the conversation
Conversations
Join the conversation
ALL COMMENTS (0)
There are no comments. Add your comment to start the conversation.