Quy Nhon (Binh Dinh)
An epic coastal province associated with ancient civilization and historical significance.
Quy Nhon is known as the capital city of Binh Dinh coastal province. Although highly underrated by both locals and international tourists, the city's extraordinary beauty exudes original purity and tranquility.
Location and history
Quy Nhon City lies on a small peninsula in the southeast of Binh Dinh province, on the South Central Coast of Vietnam. The distance from Quy Nhon to Nha Trang is approximately 200km, to Danang is more than 300km, which is half of the distance from Ho Chi Minh City. The city's locale is captivating facing the blue sea and leaning on mountainous territory in the backdrop. Quy Nhon climate is classified as tropical savanna with hot and sticky summer from April to September and cold winter with monsoon heavy rain from late September to December. The temperatures are mild and temperate, usually at 32C neither exceeding 37C nor dropping to below 25C.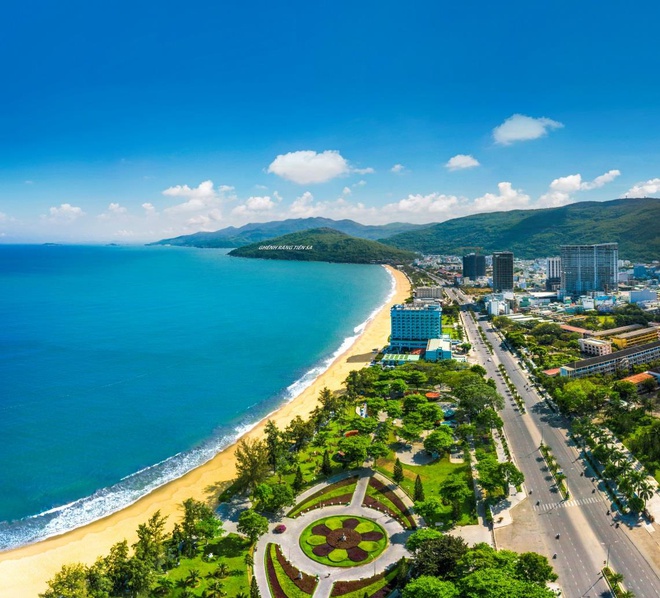 Photo: thanhnien.vn
Quy Nhon was officially founded in the 18th century and established as a city in 1986 but its origin stretched back to the 11th century during the Cham Emperor. The city is the birthplace of King Quang Trung and played a significant role in the Tay Son rebellion and Vietnam-American War also.
Quy Nhon - a far-flung tourist destination for international travelers
The best thing to mention about Quy Nhon perhaps is that this beach city remains untouched and is still far off the radar of foreign tourists and mass tourism. There is very little information about Quy Nhon in English and it also doesn't have a close link to major tourist hotspots like Hue and Danang. Indeed, it's not the vibrant development in tourism and infrastructure but the charming sceneries and hospitable locals here make Quy Nhon a rare gem hidden in plain sight for tourists to discover.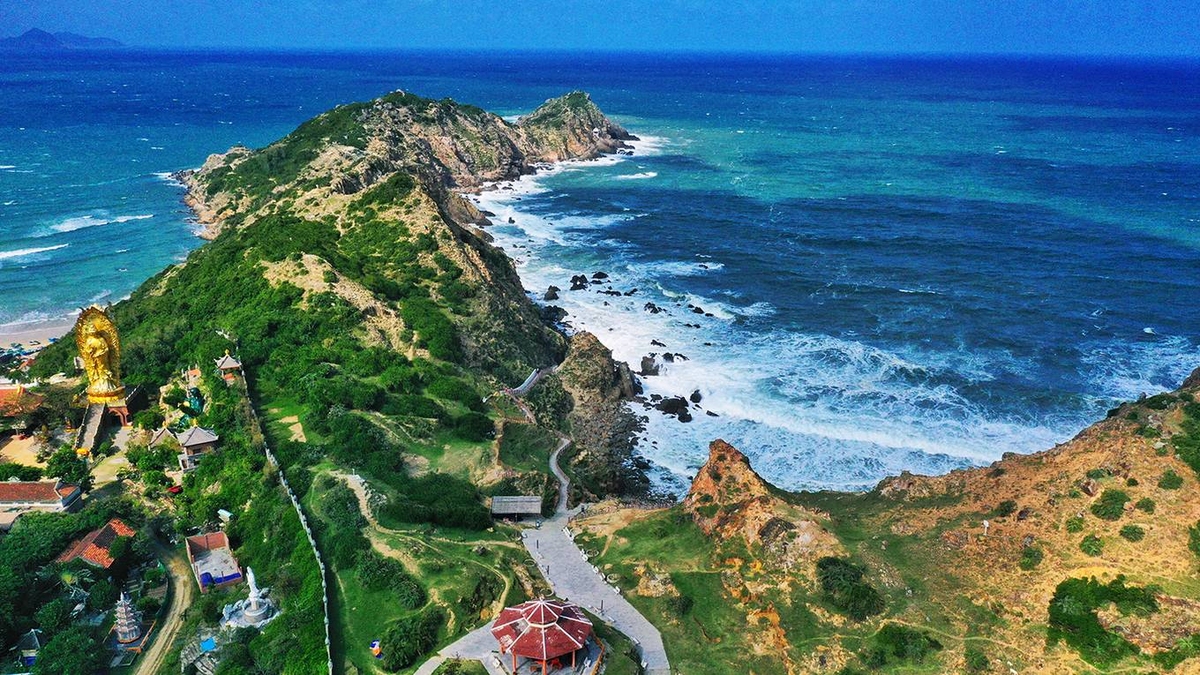 Photo: vnexpress.com
Quy Nhon - where history co-exists with modernity
Places with well-preserved historical sites are scarce but in Quy Nhon, you can delve into Cham Emperor and its culture through several ruins such as Banh It Cham Towers, Duong Long Cham Towers, and the Twin Towers. Alongside protecting thousand-year-old structures, Quy Nhon has step by step developed to keep up with the fast-paced life. A clear example of this is the impressive change of Ky Co-Eo Gio tourist site. It becomes the best-known and most check-in spot for all tourists. Generously spreading across around Eo Gio beach area are multiple 5-star resorts complete with superior services and amenities.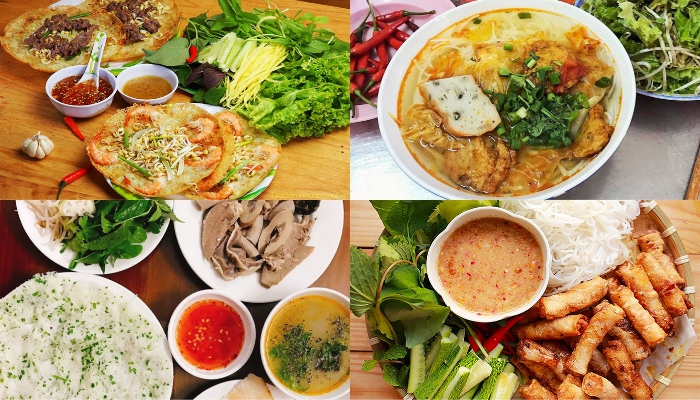 Photo: divui.com
Quy Nhon - an irresistible call for freshly-caught seafood and local specialties
This city is a haven for a variety of seafood. Along the coastal street, you can find an array of open-air restaurants offering sumptuous seafood dishes like oysters, jellyfish, prawns, and so on. Seafood asides, tourists coming to Quy Nhon cannot miss 'banh it la gai', 'banh beo chen', 'banh hoi', 'nem cho Huyen' and many other delicious regional delicacies.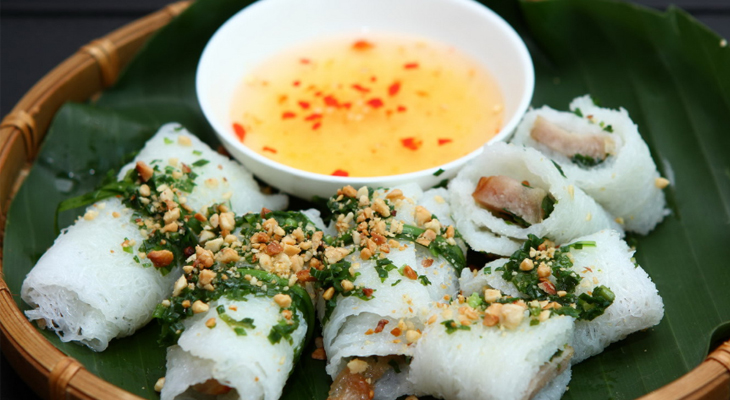 Photo: dienmayxanh.com
How to get there
On the halfway between Hoi An and Nha Trang, there are a number of ways to get to Quy Nhon. The fastest and easiest way is by air. From Hanoi and Ho Chi Minh City, there are a couple of domestic airlines providing flights to Phu Cat Airport. The second option is by train. Dieu Tri Railway Station, located on the main Vietnam North-South Reunification line is the major station of the city. Alternatively, travelers from Ho Chi Minh City can take the daily train to Quy Nhon Railway Station. The train ticket price is very reasonable and the view from the outside through glass windows is breathtaking. Besides, tourists can opt to transfer by private car, shuttle bus but not highly recommended.
READ MORE
Weather / Temperature:
21.71°C
Humidity
96%
Wind
1.63 km/h
Sunrise
05:33 AM
Best Of Quy Nhon (Binh Dinh)
See, Eat, Sleep, Shop, Stay - The Best of Quy Nhon (Binh Dinh)
Frequently asked questions
Which resort in Quy Nhon is suitable for family?
If you are looking for a nice resort with a gorgeous view of the beach for a family trip on weekend, Quy Nhon will definitely help. 6 Top beautiful resorts in Quy Nhon are:
• Avani Resort Quy Nhon – Around 25 km from city
• Crown Retreat Quy Nhon Resort – Around 28 km from city
• Casa Marina Resort – Around 14 km from city
• Seaside Boutique Resort Quy Nhon – Around 16 km from city
• FLC Quy Nhon – Around 20 km from city
• Maia Resort Quy Nhon – Around 24 km from city
Where to eat seafood in Quy Nhon?
There are many good seafood restaurants that you can enjoy seafood. Here are some addresses you can refer to:
• Hải sản Hoàng Thao – Street No. 5, Ly Luong, Nhon Ly, Quy Nhon
• Hải sản tươi sống Hải Sỹ - 35B Nguyen Hue, Hai Cang, Quy Nhon
• Quán ốc Thúy Kiều – 5D Tang Bat Ho, Quy Nhon
• Hải sản Quy Nhơn – Quán Nghĩa Ghẹ - 19 Vo Dinh Tu, Quy Nhon
• Quán ốc Cô Xí - 22 Dao Duy Tu, Tran Hung Dao, Quy Nhon
Are there beautiful islands in Quy Nhon?
There are 3 beautiful islands in Quy Nhon you should not miss which are Cu Lao Xanh, Hon Kho, and Hon Seo. They are around 16 – 25 km far away from Quy Nhon city. Coming here, you can emerge in the super clean and clear water, witness the beauty of coral reefs, or experience some adventurous beach games.
Should you visit Ky Co, Eo Gio in Quy Nhon?
Yes. These are two most famous attractions in Quy Nhon.
Located about 20km from Quy Nhon city center and between 2 mountains, Eo Gio is the place that you can see the cliffs with different shapes and the wonderful blue sea from a high position. Ky Co is the most beautiful beach in Quy Nhon with fascinating natural beauty, unique stones and lots of activities like sea bathing, coral diving, cave discovering, etc.
When should you travel to Quy Nhon?
Quy Nhon gradually became popular because of the long beach and beautiful white sand along with diverse cuisine.
Quy Nhon has a rainy and dry season with an average temperature of only about 24.5º C. The best time you should choose is the dry season from March to August. Besides, there might be a storm from September to November, thus you can consider avoiding this time For convenient travel.
Vietnam's Most Popular Destinations