Sapa
Terrace Rice Paddy Fields, Friendly Ethnic Locals, Eco-friendly Resorts
Locally known as the "town of clouds", Sapa is a charming treasure trove of Northwest Vietnam. At a glimpse of an eye, it effortlessly mesmerizes travelers by the beauty of iconic cascading terraced rice fields, lush valleys and emerald mountains lying side by side. Endowed by nature, it's no wonder that Sapa has become one of the most alluring destinations in the country.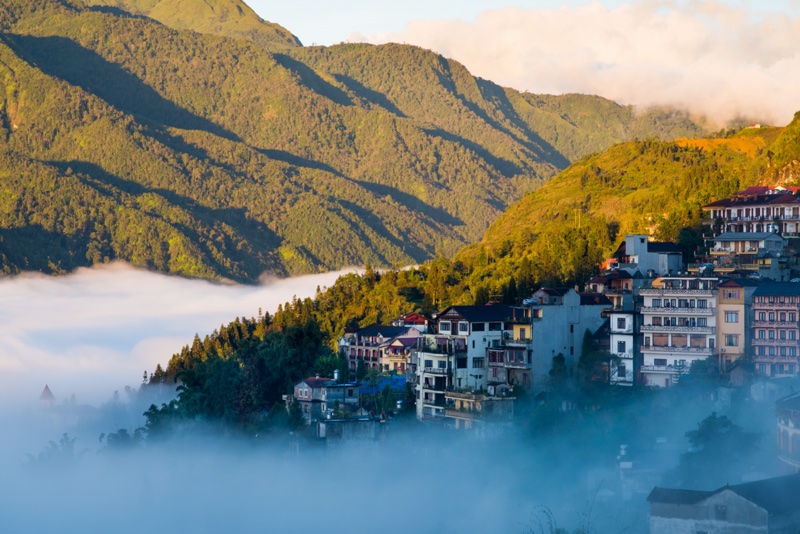 Sapa valley city in the mist in the morning
What makes Sapa even more special is the cultural richness of local ethnic minorities, boasting through the numerous customs and beliefs. Set amidst the idyllic rugged valleys are the tiny hill tribe villages, home to Hmong, Dzao, and Tay groups, who have been settling down here for hundreds of years while still being able to preserve their cultures and traditions. Enjoying local life with colorful ethnic costumes, typical dances, and songs performed by people of ethnic groups would be a memorable experience lingering in your mind during and long after your trip.
Best time to visit
At an altitude of 1.560 meters above sea level, Sapa features a sub-temperate climate all around the year. The town has 4 distinctive seasons with an average temperature of 15.4°C.
The ideal occasion to discover this mountainous hub is spring lasting from March to May when the wildflowers bloom at full brightness. Spring is also the time hill tribes showcase their unique culture with a dozen festivals. Coming to Sapa during April, you also have a rare chance to experience 4 different seasons of Vietnam within one day.
From September to November, when the scorching hot summer has gone away, Sapa turns into a little paradise for photo-hunting and trailing. The best time to take great photos of the yellow rice terraces in Sapa is September. Occasionally, thick white snow is recorded in Sapa in winter (December to February), giving adventurous travelers a rare chance to admire snow-capped mountains. It's a one-of-a-life-time experience in a tropical climax country like Vietnam.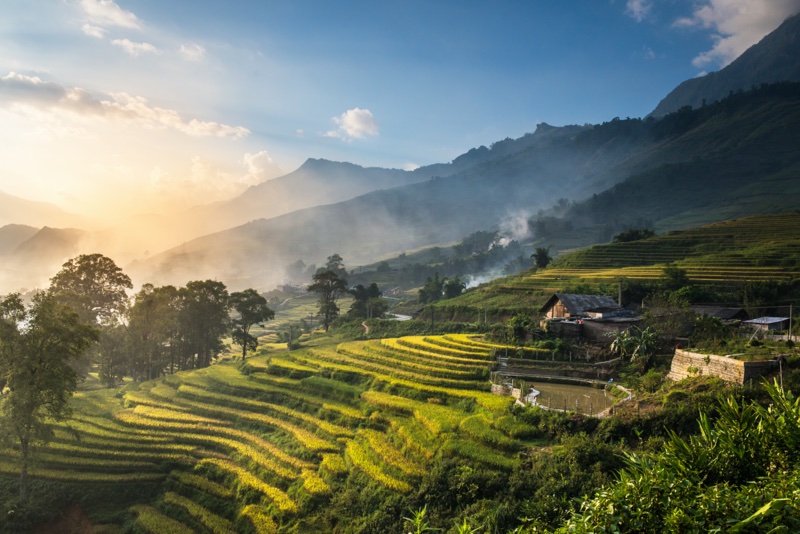 Rice terrace in Sapa
Major Attractions
Fansipan Mountain
Setting on top highlight destinations in the Sapa travel guide for adventurous travelers, Fansipan Mount is not only the highest peak in all of Vietnam but also the "roof of Indochina Peninsula". The actual trek boats breath-taking a panoramic view of majestic mountains, lush valleys, and dense forests, challenging both amateur and professional hikers.
Fansipan mountain
Muong Hoa Valley
Nestle in a range of marvelous mountains, the rustic and peaceful valley is known for its romantic beauty, unspoiled nature, the cultural richness of local ethnic minority, and especially an ancient rock ground, recognized as unique heritage of the ancient Vietnamese with hundreds of carvings scattering on the meadows and the cascading terraced fields of the ethnic minority.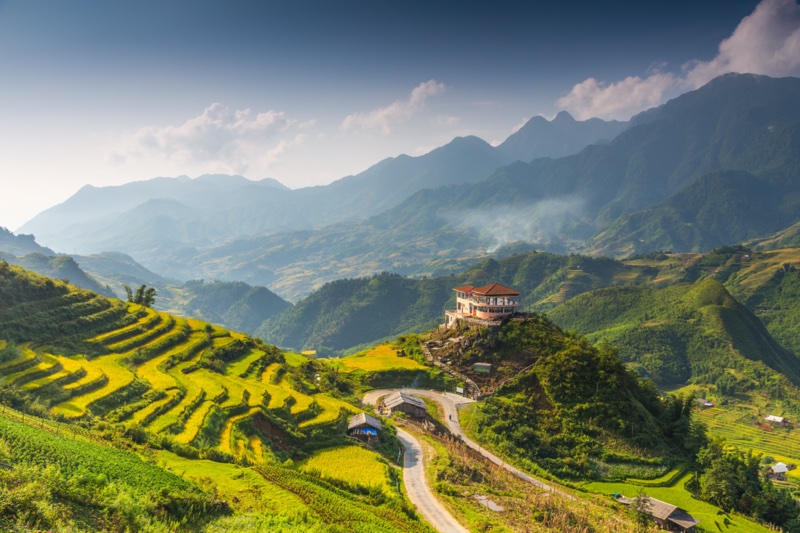 Muong Hoa valley
Bac Ha Market
About 100 km away from Sapa, Bac Ha is the biggest ethnic market in the North-Western region of Vietnam. Alluring thousands of ethnic people from the nearby hill tribes, this is a great place for indigenous people to meet and boast their traditional and colorful ethnic costumes, giving travelers an ideal opportunity to discover the rich cultural diversity of Sapa.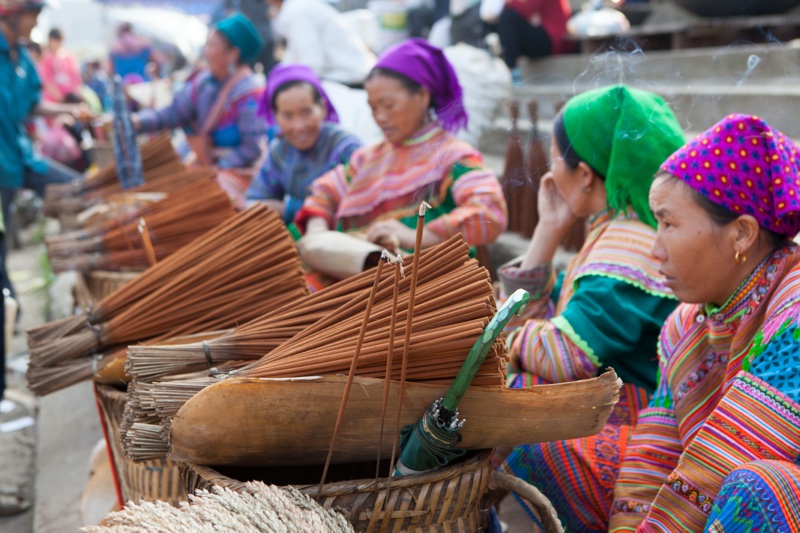 Hmong minority women selling incense at Bac Ha market
Sapa Love Market
Sapa Love Market is a cultural beauty and unique experience no visitor should miss out in Sapa. Every Saturday evening, the town is always bustling by the charming heart of the indigenous boys, the enchanting dances of the girls dressing colorful costumes. More than a renowned place where young ethnic people come to find their partners for marriage.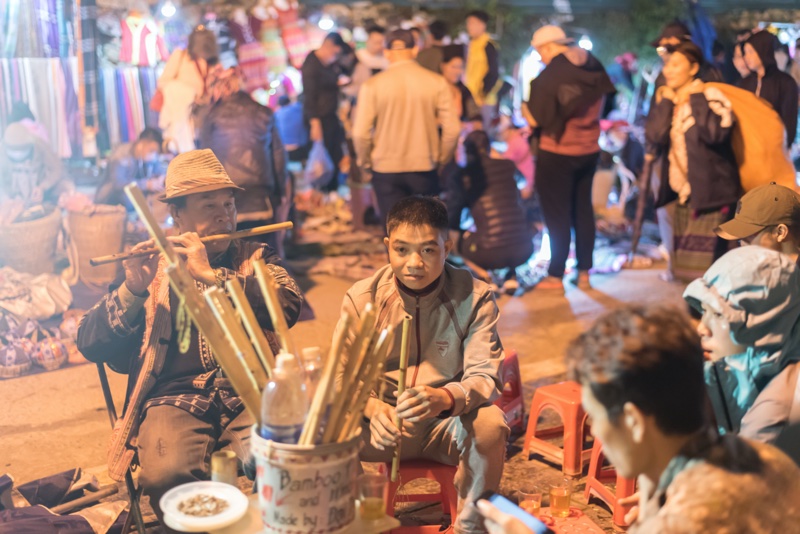 Sapa Love market
Sapa Love Market is also a great base for people to retain cultural activities, exchange goods, as well as gather with friends.
Cave of Fairies
The pristine and rustic beauty of the Cave of Fairies enchants thousands of travelers from the very first glimpse of an eye. The emerald waters of the Chay river surrounded by high cliffs turns this limestone cave into a heavenly corner on earth with charming scenery. Cave of Fairies looks like something straight out of a Grimms' fairy tale.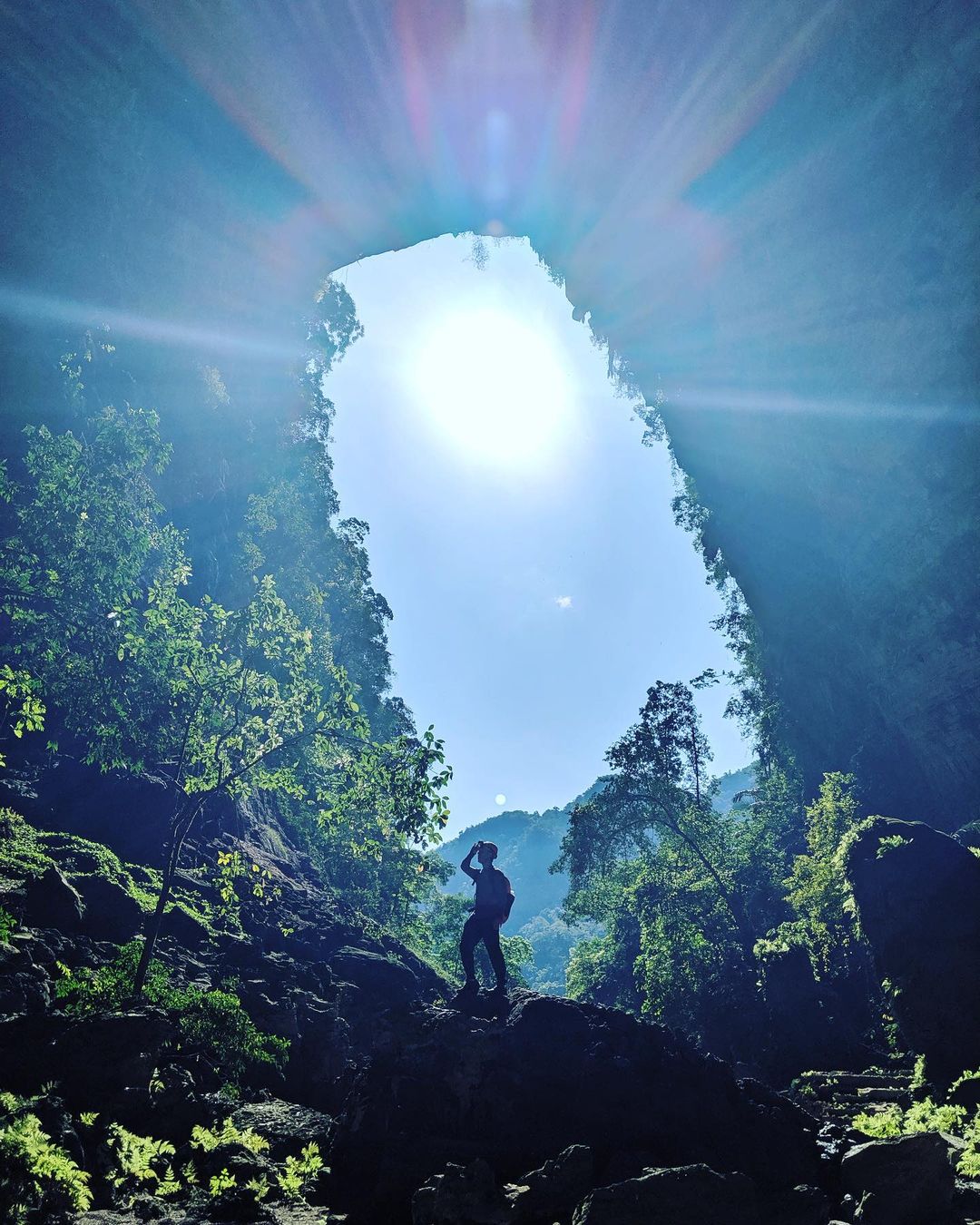 Fairy cave in Sapa - Photo: @oxalisadventure
The Heaven Gate
Perching on the peak of Tram Ton pass on the Hoang Lien Son mountain range is the Heaven Gate. About 18 kilometers to the north of Sapa, it boasts a great view looking over the valleys between Fansipan, the roof of Indochina Peninsula. As its name reveals, this destination brings a little feeling of heaven with a sublime scenery featuring majestic mountains and extreme abyss. Setting foot on Heaven Gate to grasp the beautiful scenery of the winding pass roads below will be an unforgettable memory for newcomers to Sapa.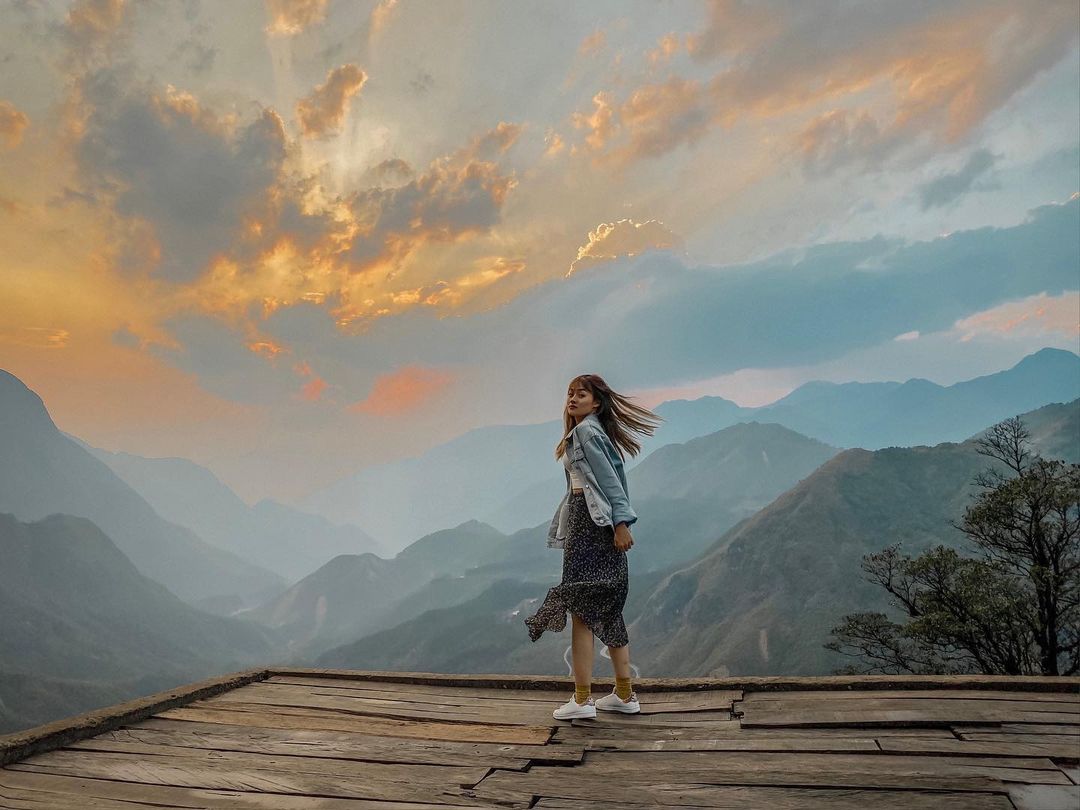 Heaven Gate - Photo: chippham.ig
Cat Cat Village
With typical wooden houses, flowing streams, elaborate brocades, and hospitable ethnic people, the enchanting Cat Cat is the most beautiful ancient village in Sapa. Being the home to the H'mong ethnic group, this little hamlet is where local inhabitants retain the cultivation of flax and cotton with a long-standing tradition of weaving beautiful brocade fabrics. Drop by the village, you can learn about the one-of-a-kind customs, and practices of Hmong through their local life, as well as get an insight into their traditional culture while enjoying the local hospitality.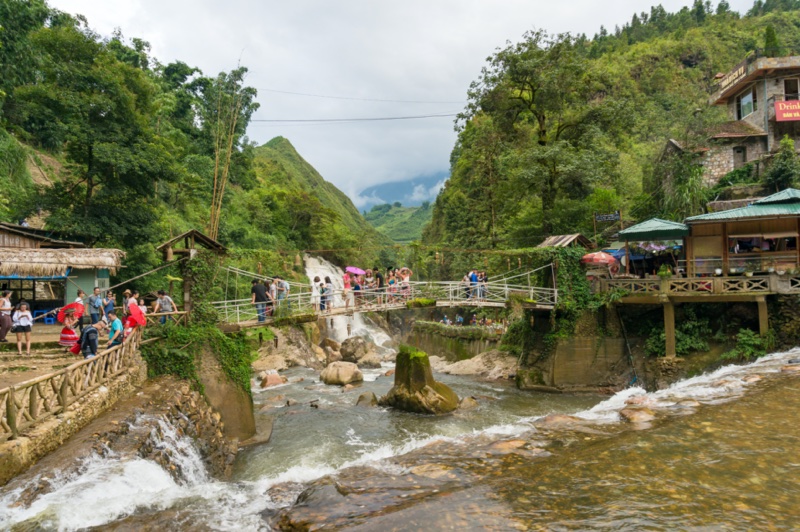 Cat Cat village
Where to stay
The misty town of Sapa features a variety of accommodation options, especially for the travelers in the low to mid-range budget, from hostels, hotels to family-run homestays.
It also gives many options for travelers to stay in the luxury hotels. Diverse in styles and budgets, most of the hotels in the local area look out over the valleys with spectacular views of the Hoang Lien Mountains and Fansipan Mount. Depending on your demands, you might choose to stay in a downtown/village accommodation. If convenience is your priority, a downtown hotel would be the best choice. Thanks to its ideal location, Sapa downtown is a convenient base to discover the popular attractions around. It's also where to find the restaurants and bars. For anyone seeking get-out-of-town experience and eager for something a little more authentic, village accommodation would be the ideal opt. Just 20 minutes ride away, you 'll find quiet hamlets and humble homestays that embrace a totally different vibe.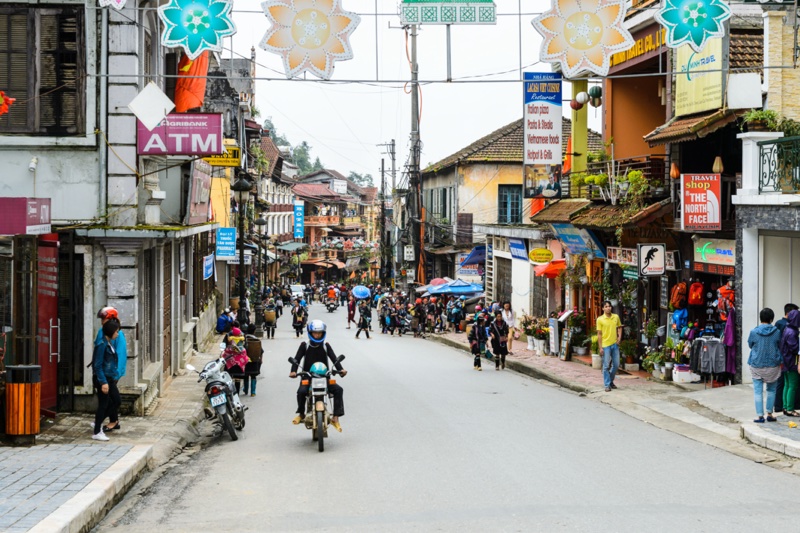 Sapa downtown
Many hotels downtown also provide visa arrangements, train tickets and local Sapa tour packages with an additional fee. The town may be very crowded during the peak season so visitors are recommended to make a reservation. Also, during the weekends, prices can be charged slightly higher due to demands.
How to get there
Due to its distant location in the Northwest mountainous area with no airport nearby, Sapa is only accessible by road or rail.
By train
The great way to get to Sapa from Hanoi is to take the train to Lao Cai, then hop on an hour-long bus or a taxi to the town. The journey takes around 8 hours, offering the picturesque views of the mountainscapes alongside. Vietnam Railways operates 2 daily express trains from Hanoi to Lao Cai and vice versa, departing at 9:35 and 10:00 PM in Gia Lam Station, Hanoi. The train only stops at major stations, so the trip is expected to be smooth and uninterrupted.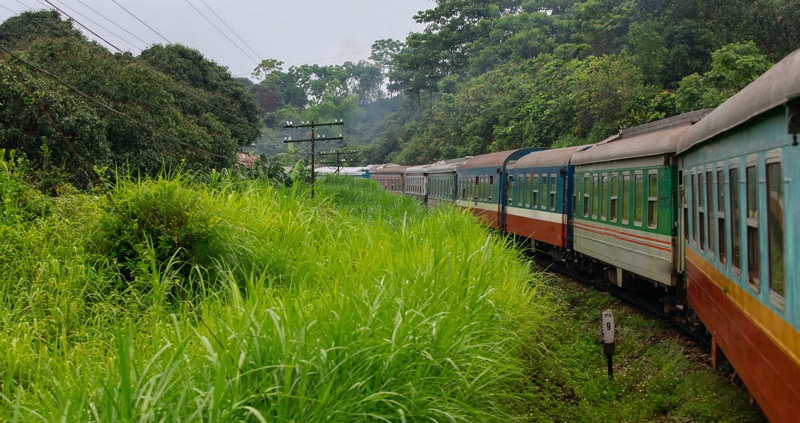 Train going to Sapa
By bus
Thanks to the new expressway Hanoi – Lao Cao, traveling to Sapa from the capital city of Hanoi only takes 5 hours by shuttle bus. The ticket price varies from 220,000 VND – 450,0000 VND (about 10-20 USD). As it's a non-stop ride coming straight to the town, visitors can save a lot of time for transferring to the town.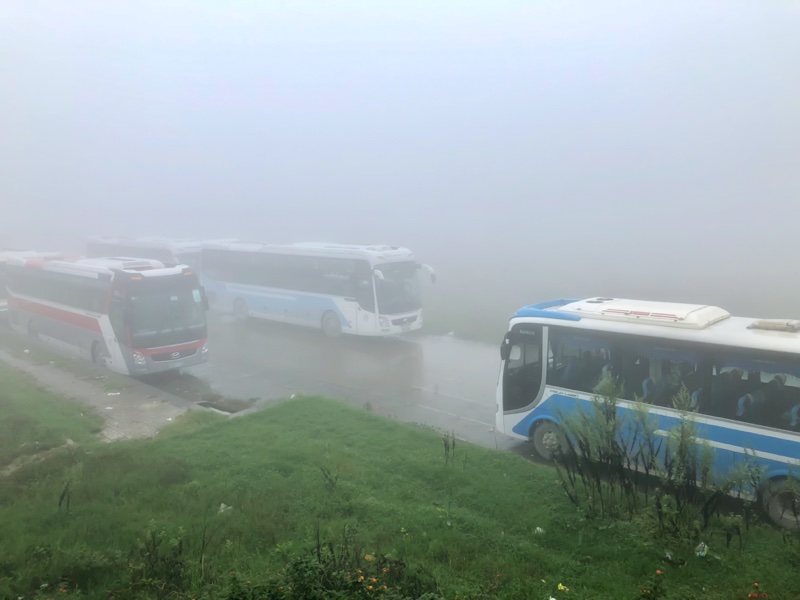 Bus to Sapa
By motorbike/scooter
Another way to get to Sapa is riding a motorbike or scooter. The trip from Hanoi takes about 10 hours. Due to the rugged mountainous terrain, the roads may offer spectacular views, but it's not an ideal option for novice riders. Don't forget that an international driver's license is required to rent and ride a motorbike in Vietnam. During your trip, the temperature can get low at night so make sure you prepare some warm layers in your luggage.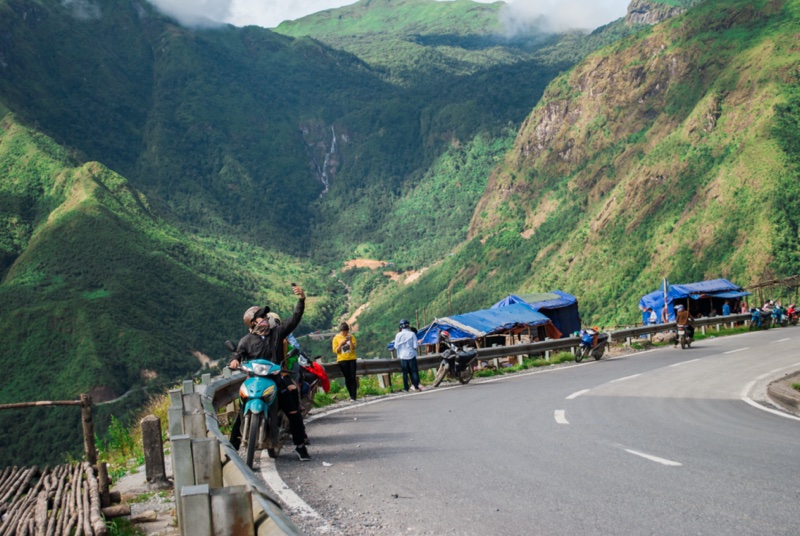 Riding motobike to Sapa
READ MORE
Weather / Temperature:
17.09°C
Humidity
79%
Wind
0.92 km/h
Sunrise
06:33 AM
Best Of Sapa
See, Eat, Sleep, Shop, Stay - The Best of Sapa
Frequently asked questions
What should I bring for my trip to Sapa?
Whether you travel to Sapa in hot or cold weather, a jacket is highly recommended for you as the daytime may warm but early morning and night can be cold. Depending of the purpose of your trip, if you go trekking and overnight in a tent, don't forget to bring trekking shoes, raincoat, flashlight, medicine, insect repellent, hat, sun protection, some snacks and water with you. If you have a weekend vacation to relax with friends and family, just bring the most necessary stuff since everything is available in the town for you.
What are Sapa's specialties?
Like many other destinations, Sapa also has many interesting and delicious local dishes. You can enjoy these dishes from a local restaurant, street vendors in the market or even in your hotel/homestays.
Some of typical dishes you can try when visit Sapa are:
Salmon Hot Pot (O Quy Ho restaurant, A Phu Sapa restaurant)
Com Lam (grilled rice in bamboo tube) (Street vendors or any restaurants)
Grilled food (pork with vegetable/mushroom, chicken, fish, corn,…) (Street vendors)
Thit Trau Gac Bep (dried buffalo meat) (Sapa night market, Fansipan Restaurant)
Thang Co (Horse Meat Soup) (A Quynh Restaurant, Moment Romantic Restaurant)
Mam Da (vegetable) (Sapa Grilling Area)
What are the must-visits in Sapa?
When in Sapa, considering putting the following on your to-do list:
Fansipan Mountain - the Roof of Indochina with the height of 3143m
Muong Hoa Valley
Ham Rong Mountain
Cat Cat Village
Silver Waterfall
Terrace Rice Fields
Sapa Church
Love Market
What makes Sapa different?
Sapa is a favorable destination for most tourists at any time of the year. So why is Sapa so attractive?
The climate is cool and pleasant all year round. The average temperature in Sapa is 15 degrees. The highest temperature in Summer is just about 25 degrees and the lowest in the winter is under 0 degrees.
The beautiful scenery, especially the rice fields, the majestic hills and mountains landscapes, the French architecture buildings.
The unique culture of ethnic minorities is shown through stilt houses, sapa markets, churches, and friendly local people.
Suitable for both relaxing and adventurous tours
Plenty of amazing attractions
How to best reach Sapa from Hanoi?
It is around 376 km from Hanoi to Sapa. The most popular ways to travel to Sapa is by train or by local sleeping bus as they are convenient, safe and affordable. There are many seat types you can choose when booking a train ticket for the best comfort. You should book the departure time in the evening (around 9 – 10 pm) and arrive in Sapa in the early morning to save time.
When is the best time to visit Sapa?
The best weather in Sapa is in Spring (March to May) and Fall (September to November). It is sunny and dry in the daytime and cool at night which is very comfortable for activities and good for photo-hunting. Although Summer (June to August) is hot and humid but it is still much cooler than the city thanks to the mountainous terrain. Besides, if you would like to enjoy the extremely cold weather and sometimes with snow in Vietnam, you can consider to travel in Winter (December to February).
Vietnam's Most Popular Destinations