Make a Beeline for The 10 Most Beautiful Villages in Vietnam
Whichever place of Vietnam you drop in, it offers a rare blend of jaw-dropping natural scenery coupled with lovingly preserved authenticity. But perhaps, the best of all is captured in delightful tiny villages, straddling fast-flowing rivers, snow-capped mountains, or valleys. The shortlist of 10 most beautiful villages in Vietnam below has been drawn up for you to visit before the crowds do.
Cat Cat Village
The multi-angled, wooden chalets clinging to cliff tops in the backdrop of Muong Hoa Valley make up an idyllic mage for your travel in the mountains. Almost free from noisy cars, Cat Cat Village is acclaimed as a brilliant trekking trail. As you meander through craggy paths, walk over a suspension bamboo bridge deeper into the village, you can enjoy a profound silence of the lush surroundings with foamy waterfalls, green rolling hills, and picturesque rice terraces.
Despite international influence, the Black H'Mong tribe preserves their livelihood and traditional crafts over generations. At dawn, it is easy to catch sight of some ethnic farmers planting cotton on their farms while others weaving or making silver jewelry. Without a doubt, you can not only capture picture-postcard photos but also bring back home many authentic handicrafts.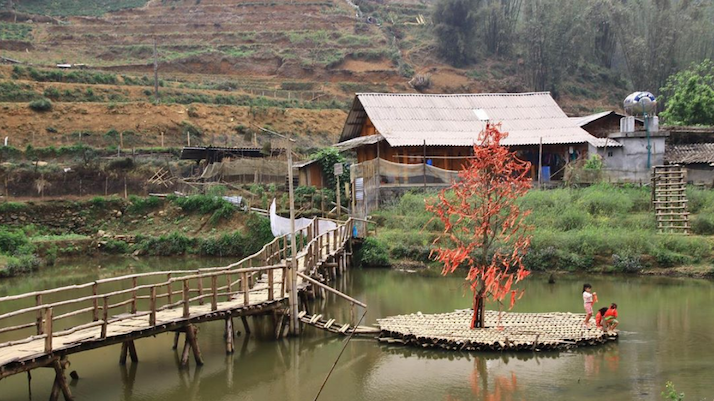 Photo: @see.n.snap

Cua Van Floating Fishing Village
Glide through thousand limestone karsts on a traditional wooden junk or modern cruise around the neighborhood and soak up the nostalgic atmosphere of the top 15 most ancient villages in the world. The village's colorful houses made from bamboo or wooden adrift are home to nearly 750 indigenous inhabitants who entirely live on fishing. Unlike other fishing villages stuck in poverty, Cua Van is modernized with the rise of tile-roof houses, electricity, and other infrastructures.
Kayaking and rowing a bamboo boat are the best way to explore this village. Whether you take a full-day or half-day trip to this floating village, there are chances for you to get a taste of life, immerse in tranquil landscapes, and delve into the centuries-old culture.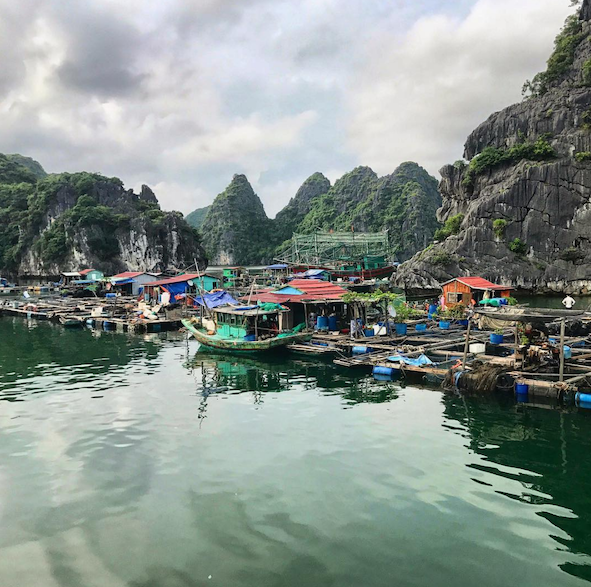 Cua Van Floating Village - Photo: @theavaragetraveler

Pom Coong Village
Perch on a hilly area of Mai Chau Town, Pom Coong Village throwbacks chalet architecture and pastoral countryside. The mountainous village is mainly inhabited by Thai ethnic minority in their bamboo stilt houses with the roof is either thatched or covered by red bricks. This glamorous, car-free village is reachable by foot or motorbike. Get your blood pumping on a rocky trail and hike through green hills, stretching paddy fields to feel what paradise could be!
More than a great base for summer treks, Pom Coong Village draws culture enthusiasts with 'xoe' dancing – a traditional dance of Thai tribe and 'mua sap' (bamboo dancing). The best way to experience this isolated village is to stay in a homestay and get acquainted with the people. Also, don't refuse a chance to taste 'Can' wine and bring back home homemade embroidered bags, scarves, and other decorative items.
Photo: @vvmerris

Bat Trang Village
Locals and pottery enthusiasts would love to linger in Bat Trang Ceramic Village, a worldwide renowned tourist attraction in Hanoi suburban. The production of hand-crafted ceramics has been ongoing since the 17th century in this well-preserved village. Families settling down in the village today still inherit the traditional handicraft from their ancestors. Kilns are continuously operated to create vibrantly-colored porcelains, worshipping items, and many ceramic-based household appliances.
To go to the village, you can take a bus No. 47 from Long Bien Station or drive on your own through Chuong Duong Bridge and then turn right around 7km on Red River dike road. On arrival, take a stroll along the winding village paths and get hands-on experience of making ceramic products. With a rotating table, feel free to shape your products from a tray of clay under the guidance of the skillful craftsmen.
Photo: @tranhop.ceramics_studio

Duong Lam Village
Duong Lam possesses more than a typical outdated hamlet in the North of Vietnam; it makes a perfect getaway from the bustling Hanoi. Being the oldest village of Vietnam, Duong Lam truly steeps in history with the preservation of 400-year-old ancient houses, run-down lateritic brick walls, huge wells under the coverage of banyan tree, and big wooden pillars. Significantly, the village carries spiritual and religious values with an array of pagodas and temples worshiping emperors such as King Phung Hung and Ngo Quyen.
Duong Lam Village offers easy access from Hanoi downtown with frequent buses. Once you reach the destination, release all your fatigue in the fresh air and beautiful sceneries as well as sample some of the must-try specialties including 'keo lac' (peanut candies) and 'che Lam' (a kind of chewy candy made from glutinous rice).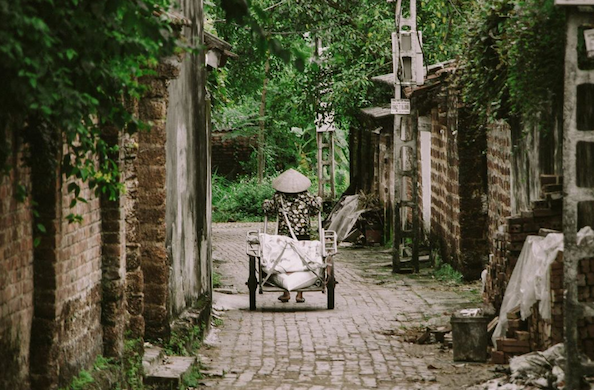 Photo: @pijaxto
Cam Thanh Village
5km to the southeast of Hoi An ancient town, on a small peninsula, lies Cam Thanh Village – an elegant eco-village covered by the leafy Bay Mau coconut forest. Overflowing with rustic ambiance and vivid wet greenery, the existence of bamboo basket boats slowly paddling under interspersed coconut groves adds to the village's charming beauty.
Rich wetland ecosystem asides, Cam Thanh Coconut Village is home for fishermen and their families to catch fish and others to remain their 200-year-old traditional craft of making cottage roofing sheets. Last but not least, you cannot skip several thrilling ecological experiences such as buffalo riding, doing farming, and attending the cooking class to sample freshly-grown products while visiting this poetic village.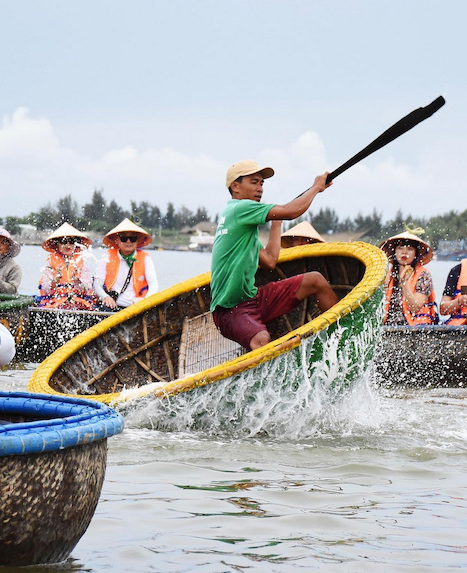 Photo: @schcex

Thuy Bieu Village
Hue boasts a treasure trove of tranquil villages spilling down the banks of Perfume River and Thuy Bieu is marked at the top list. Not yet overwhelmed with tourists, the village is characterized by serene surroundings and grey-hued hundred-year-old houses. Stroll down the cobbled streets to soak up the old-world citadel glamour and have a glimpse into the lives of village inhabitants. Not only is Thuy Bieu village a delight to wander around, but the village's Vong Canh hill is also the best spot to admire splendid scenery of the Perfume River and the peaceful fields of Hue City.
Well-known for Thanh Tra grapefruits, though at its best during the blossom season of pure white grapefruit flowers, the village is beautiful all-year-round and appealing to food lovers with the wonderful taste of this fruit.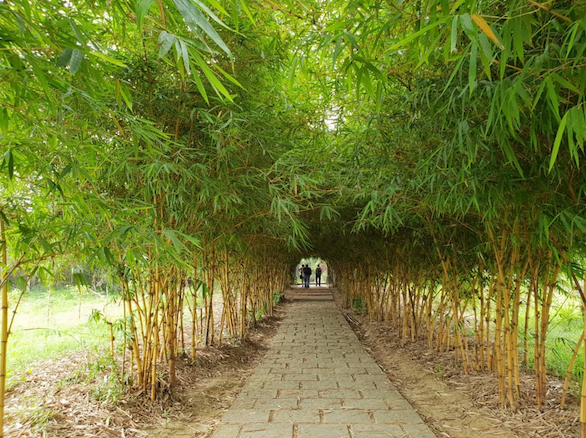 Photo: @youmustvisitandmusthaveitem

Sinh Village
Along with the annual wrestling festival, traditional paintings in Sinh Village gains an increasing prevalence across Central Vietnam. The craft has been in thriving existence for almost 400 years and requires plenty of skillful hands, creativity, and precision, making itself a brilliant adoration of local artisans.
Only 10 km from the center of Hue City, Sinh is unquestionably a village of artists where you come across ubiquitous individuals pressing enchanting pieces of painting against engraved woodblocks. Prepare yourself for a sensory overload with a variety of quintessential religious paintings and unique folk paintings. At present, Sinh craft village becomes especially crowded with tourists craving for a firsthand experience of creating a painting in summer.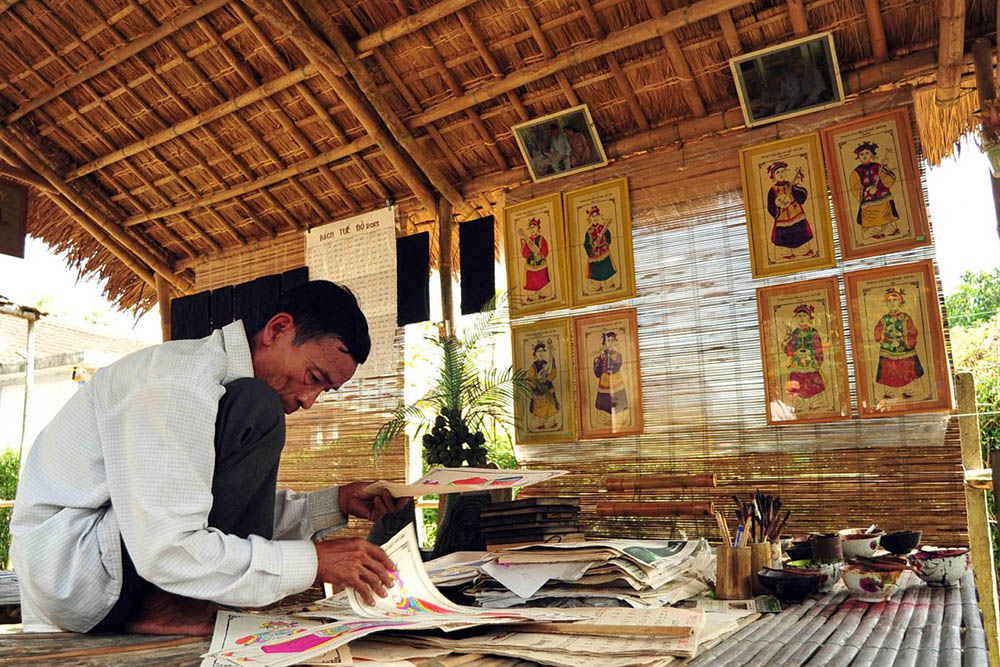 Photo: khamphahue.com.vn

Chicken Village
At the foot of Langbiang Mountain, Chicken Village is the stuff of postcards, a lesser-known tourist attraction of Da Lat City. The village's name itself exudes historic charm as your eyes stumble upon a 5-meter concrete chicken standstill for a hundred years. Loads of folklore have been told and the monument has unconsciously acclaimed the symbol of the village.
Although you won't find an upscale boutique with a fashion-forward crowd, breath-taking nature and warm-hearted tribes in this lost-in-time village make better immersion. There is an ample opportunity to greet ethnic people such as Lat, Chill, and K'ho and see how they make ends meet. Surprisingly, traditional handicrafts namely producing cottage, rice wine brewing, weaving mats, and making souvenirs have been kept in this peaceful village.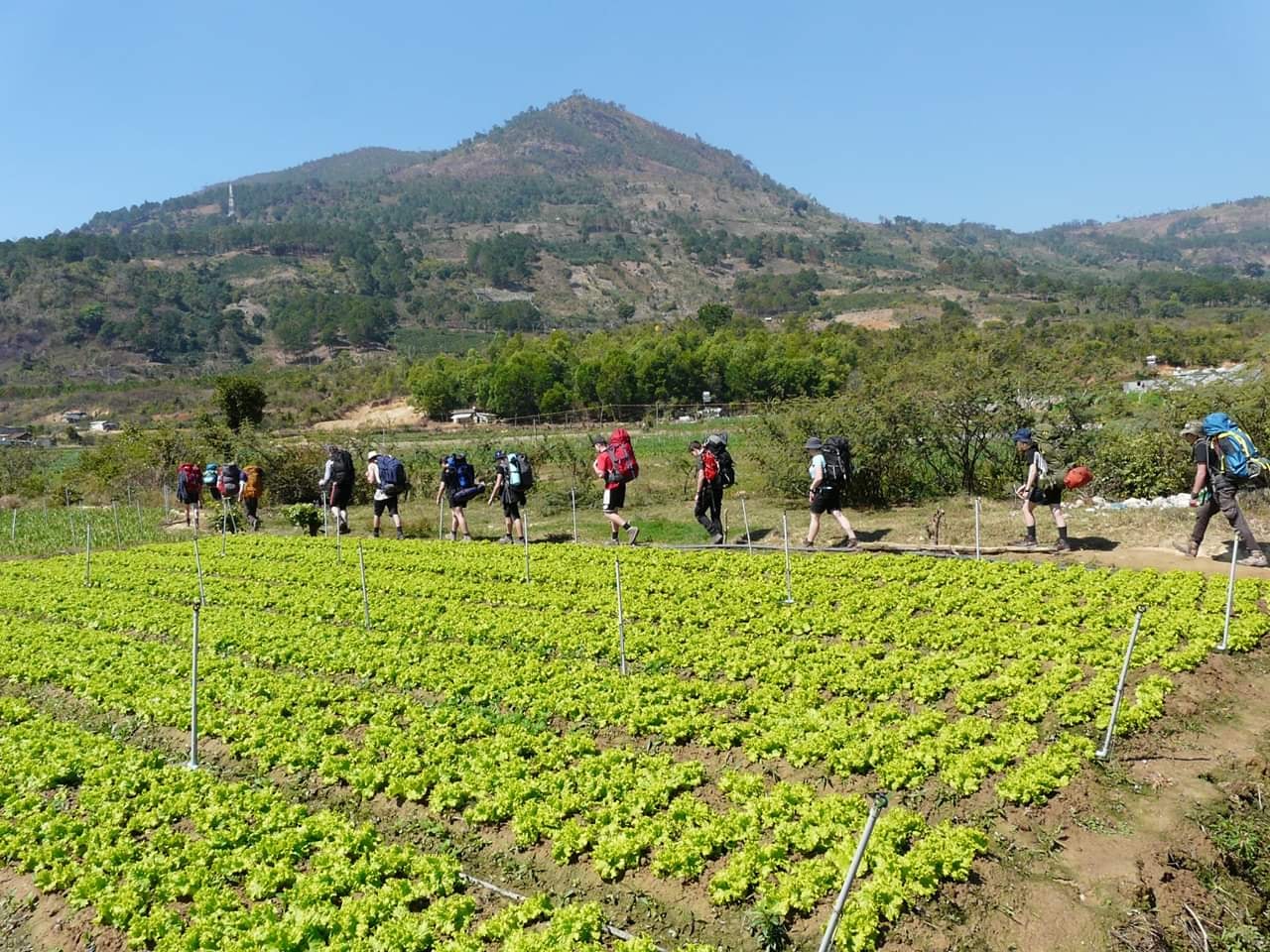 Photo: Làng Gà

Sa Dec Flower Village
As prominent heaven for flowering plants in Southern Vietnam, no less than a hundred genres of flowers and bonsai with gorgeous colors and aromas are recorded in Sa Dec Flower Village. This 500-ha village is best to marvel at during the Tet holiday when all flowers burst into bloom and are transported nationwide.
Easy accessibility by road (150km southwest of HCMC) draws flock of flower lovers and amateur florists alike to Sa Dec Flower Village in Dong Thap Province to witness nature's great spectacles every spring. Highlights include posing spectacular photos in Vietnamese traditional dress against a multi-colored backdrop of flowers, getting an insight into the 100-year-old village and its people, and purchasing some of the most exquisite bunches of flower.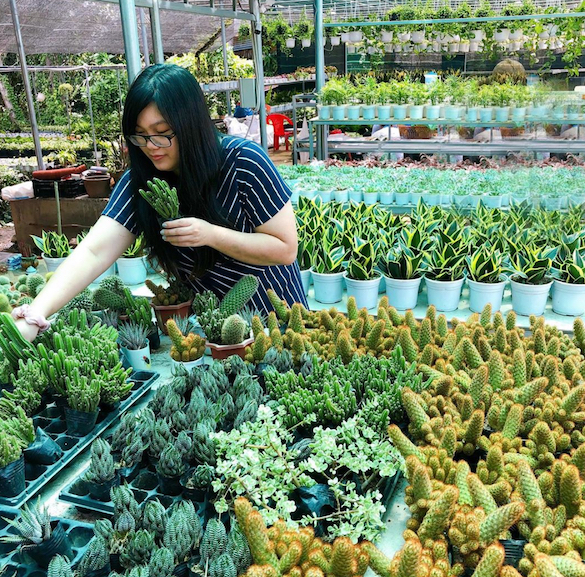 Photo: @n.g.o.c.l.u.x.u.r.y

Conversations (0)
Join the conversation
Conversations
Join the conversation
ALL COMMENTS (0)
There are no comments. Add your comment to start the conversation.
read next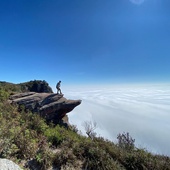 Moc Chau Town is among the top-rated tourist destinations in northern Vietnam brimming with ultramodern and natural sightseeing attractions.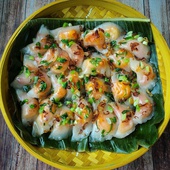 Vietnamese cuisine has long been known as among the most abundant and delicious cuisines in the world.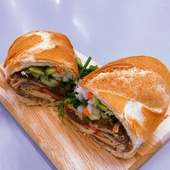 Long queues of Saigoneses, tourists, and shippers in front of the "banh mi" Huynh Hoa shop have long become a familiar scene every afternoon.