Nha Trang
The Classic Beach Town of Vietnam
To those who are familiar, Nha Trang immediately brings to mind the image of a beautiful long coastal stretch with crescent white sandy beach, a stunning bay with large and small islands, and a wide system of surrounding lush hills. Above and beyond the well-blessed natural landscapes, Nha Trang keeps travelers busy with dozens of recreational activities like visiting the historical sites of ancient Cham people, immersing in a seafood haven, joining lively nightlife, trying adventurous water sports, and especially mud bathing.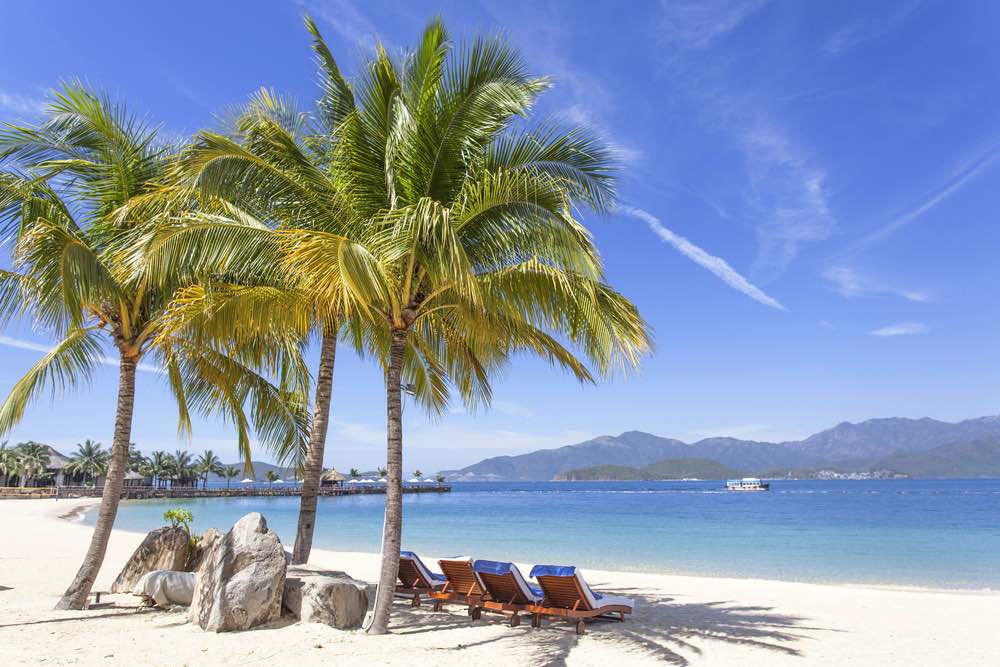 The most representative capture for Nha Trang sea, sand and sun

Besides, with a big number of high-rise hotels and resorts popping up every year along the coast, Nha Trang is suitable for all traveling styles, from a sun-kissed escape, a romantic journey, a family vacation to a business trip. No matter the reason you come to Nha Trang, this lovely beach city will offer you the best trip you can find from nowhere.
Climate & Best time to visit
Thanks to the location contiguous with the ocean, Nha Trang has warm and humid weather but relatively temperate. Nha Trang is less affected by storms than other places in the Central Region and has the ideal average temperature at 26 degrees Celsius, not too cold or not too hot like the North or the South, making it so tempting to tourists to come at any season in the year.
There are also 2 separate seasons in Nha Trang. The dry season lasts from January to August while the rainy one lasts from September to December. The hottest months of the year fall in July and August while the coldest months are in January and February. Therefore, the best time to visit Nha Trang is from March to June when you can feel free to enjoy the cool weather, the calm sea, and lots of sunshine.
Besides, June to September is the peak season for domestic travelers, thus you can consider going before that time if you want to avoid the crowds.
Besides, if you choose Nha Trang for a weekend vacation or quick getaway in the monsoon season, fewer tourists at the attractions and lower traveling costs are advantages. Just be well prepared for heavy rains and maybe thunderstorms during this time.
Top attractions
Po Nagar Cham Towers
Used to belong to Champa, Nha Trang still owns some historical sites of the ancient Cham people. Featuring not only unique architecture but also a long-lasting history, Po Nagar Cham Towers (or Po Nagar Temple Complex) is one of the most typical sites. Impressed by the terraced pyramidal roof, Po Nagar Temple was built between the 8th and 10th centuries on top of a small hill to worship the Goddess of Country - Po Nagar. Although the complex originally contained 10 towers but now only 4 left, Po Nagar Towers are still the popular worshiping places for Cham and Vietnamese Buddhists nowadays.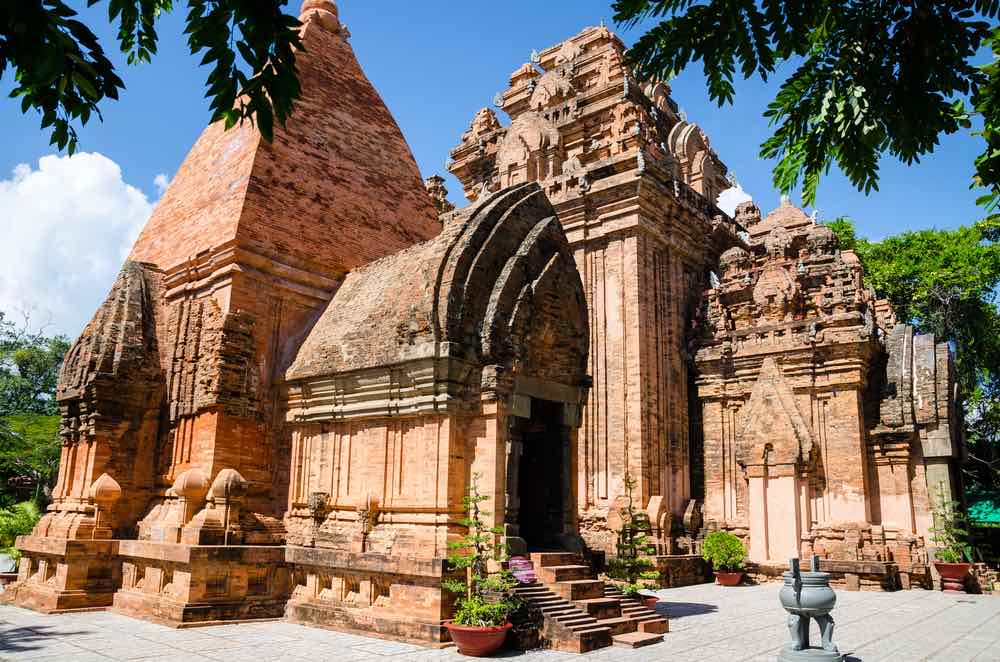 Po Nagar Cham Tower in Nha Trang

Long Son Pagoda
Located at the foot of Trai Thuy mountain, Long Son or White Buddha Pagoda is one of the most well-known pagodas in Khanh Hoa. Built over 100 years ago, the pagoda boasts an amazing design of dragon made with glass and ceramic tiles. From the pagoda, travelers can climb up 193 steps to witness the 24m-high White Buddha sitting on a lotus throne on top of Trai Thuy Mountain and have an overview of Nha Trang bay.
Long Son Pagoda - Nha Trang

National Oceanographic Museum of Vietnam
Lying at the end of Tran Phu boulevard, the National Oceanographic Museum of Vietnam is a noteworthy attraction when visiting Nha Trang. This is one of the earliest scientific research facilities in Vietnam and the largest storage of marine artifacts and researches in Southeast Asia. Established in 1922, the museum includes over 20,000 specimens of around 4,000 types of live and preserved marine. Besides, travelers will have a chance to admire the live specimens raised in the glass tanks like reef sharks, sturgeon, lionfish, sea turtle, coral, etc.
Island Adventures
Your trip will be incomplete without a visit to the islands in Nha Trang. Hon Mun, Hon Tre, Hon Mieu, and Hon Tam are among the most famous and beautiful islands that you should not miss. Get ready for an active day with scuba diving and snorkeling on Hon Mun; discovering Tri Nguyen Aquarium with unique sea creatures on Hon Mieu; kayaking or windsurfing on Hon Tam; and try out hundreds of games at VinWonders – the most famous amusement park on Hon Tre island. Furthermore, don't forget to immerse yourself in the blue jaded water and unwind on the alluring sandy beaches on the island to finish your day. That relaxation moment definitely can't be beaten.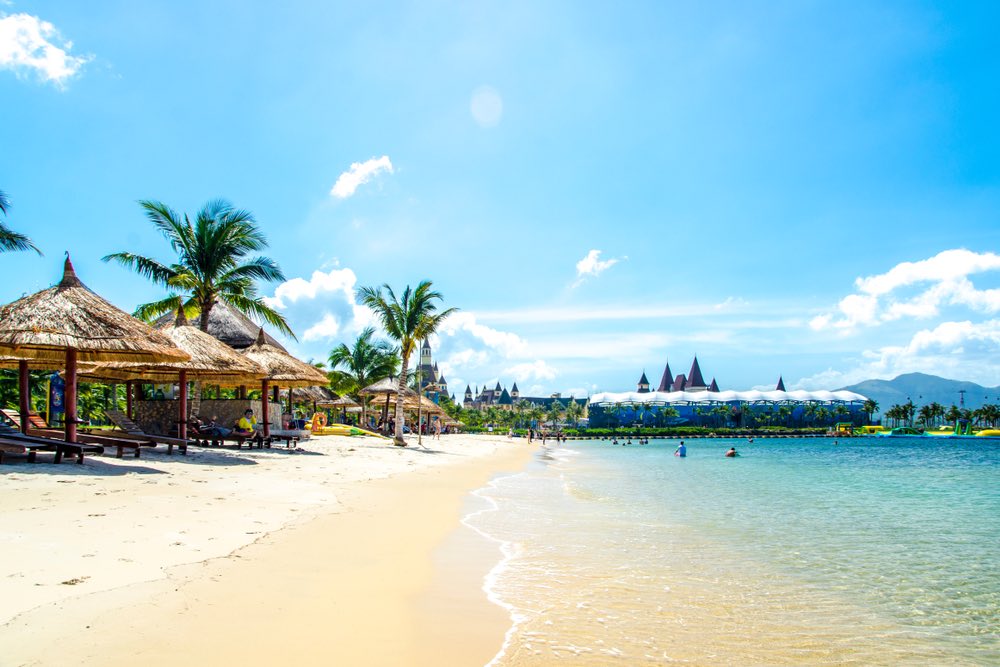 Nha Trang - Pearl Island

Thap Ba Hot Springs Centre
Last but not least for a perfect Nha Trang trip is Thap Ba Hot Springs Centre. Just around 4 km from Nha Trang center, behind Po Nagar Towers, Thap Ba Hot Springs Centre is an ideal place for travelers to rejuvenate after a long day of city exploring. Mud bathing and hot spring bathing are the most popular services that every traveler will try when coming here. Besides, herbal bathing, relaxing under the waterfall, sauna, jacuzzi, or acupuncture therapy is also available for you.
Best food to try
Seafood
It goes without saying that Nha Trang is a paradise for seafood lovers. Being a coastal city, Nha Trang offers a variety of fresh seafood like crab, squid, clams, fish, lobster, sea urchin, etc. You can easily enjoy seafood right at the food stalls along the coast or some seafood restaurants in the city like Nhat Phong 3, Hai San Bo Ke, Gio Bien, Nha Trang 6 Ngo Si Lien, and so on.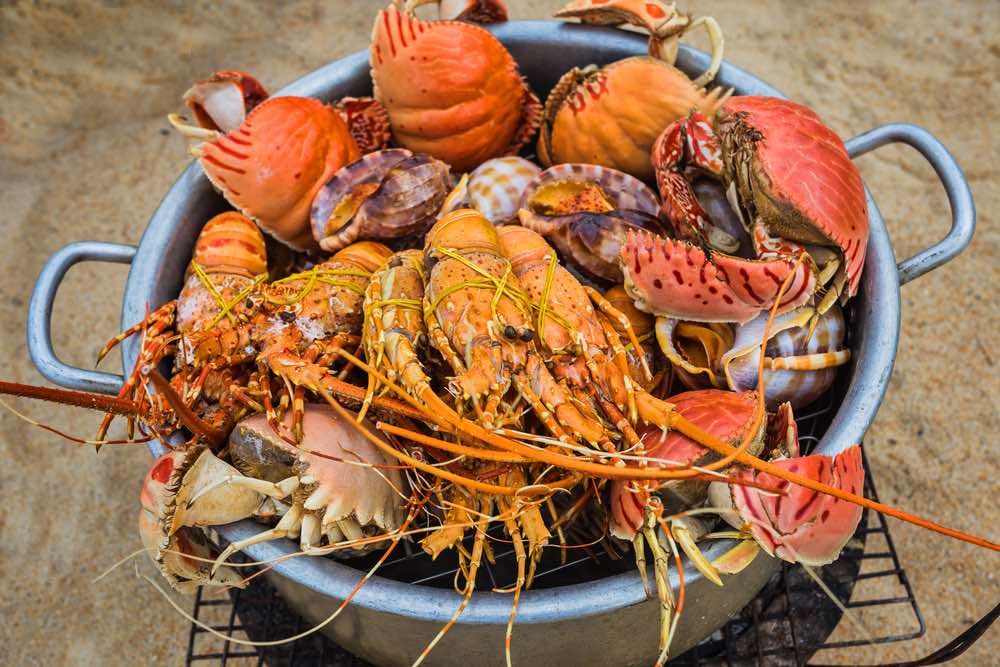 Seafood pot for sale in Nha Trang

Nem nuong Nha Trang (Fermented Pork Roll)
Nem nuong or grilled fermented pork roll has become an iconic dish of Nha Trang for years. The pork is rolled with rice vermicelli, carrot, cucumber, lettuce, green mango in rice paper and dipped into a sweet, sour, and spicy dipping sauce. Since all ingredients are set aside, you can feel free to wrap things you like and make your own perfect Nem nuong Nha Trang.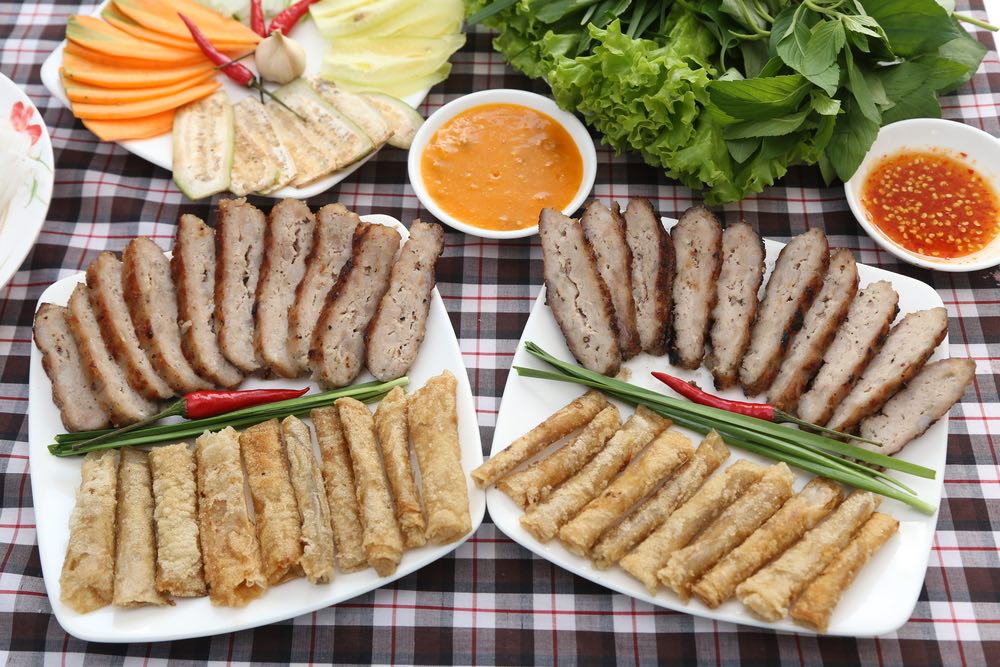 Grilled pork sausage served with dipping sauce

Bun cha ca Nha Trang (Fish cake noodle soup)
If nem nuong is favored for a snack within a day, a bowl of Bun Cha Ca Nha Trang is very suitable for your breakfast, lunch, or dinner. The broth is made from fish mackerel bones. The thicker rice vermicelli is put into the broth and enjoyed with fried fish cake, fish balls, vegetables, tomatoes, green onion, and some slices of pineapple. All flavors are well mixed and matched, not too fishy, and bring a perfectly natural sweet taste of fish.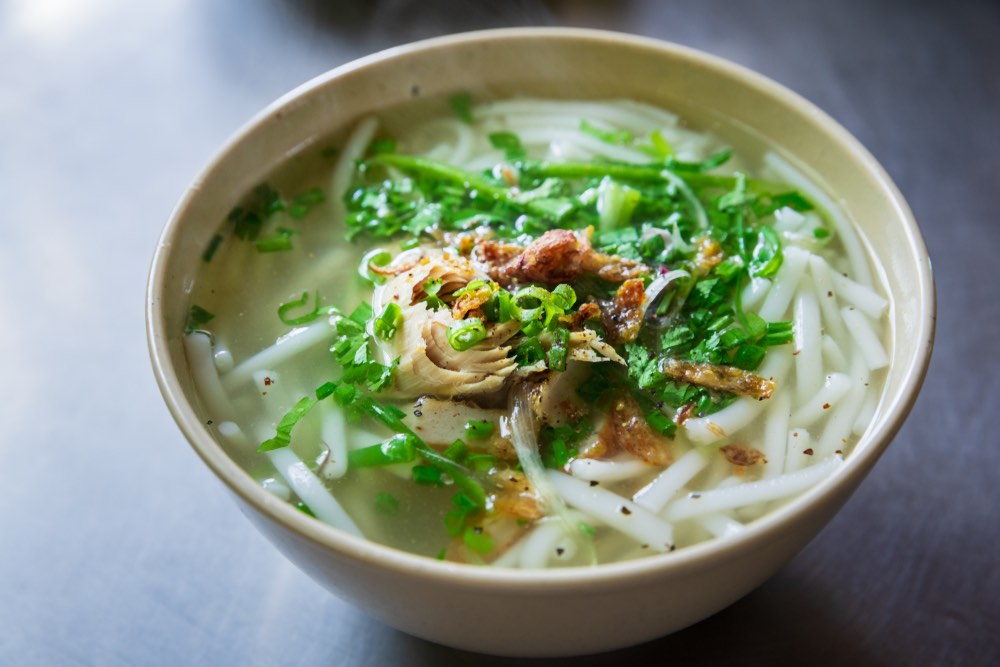 Bun Cha Ca - Nha Trang Specialty
Where to stay
Travelers have a bunch of accommodation options from budget to luxury, from homestays, hotels to world-class resorts, inside the lively city, or along the peaceful beaches. Depending on your preference and travel style, you can choose the best for you.
For party-goers and those who want to discover dynamic Nha Trang nightlife, hotels and resorts along Tran Phu Boulevard are always recommended because of the beachside location, the centerpiece of the city, and a myriad of recreational activities, restaurants, and bars available. However, if you are privacy-seekers, accommodation on Nha Trang Bay & Islands with off-the-beaten-track beaches and stunning ocean view giving the most quietness suits you much better.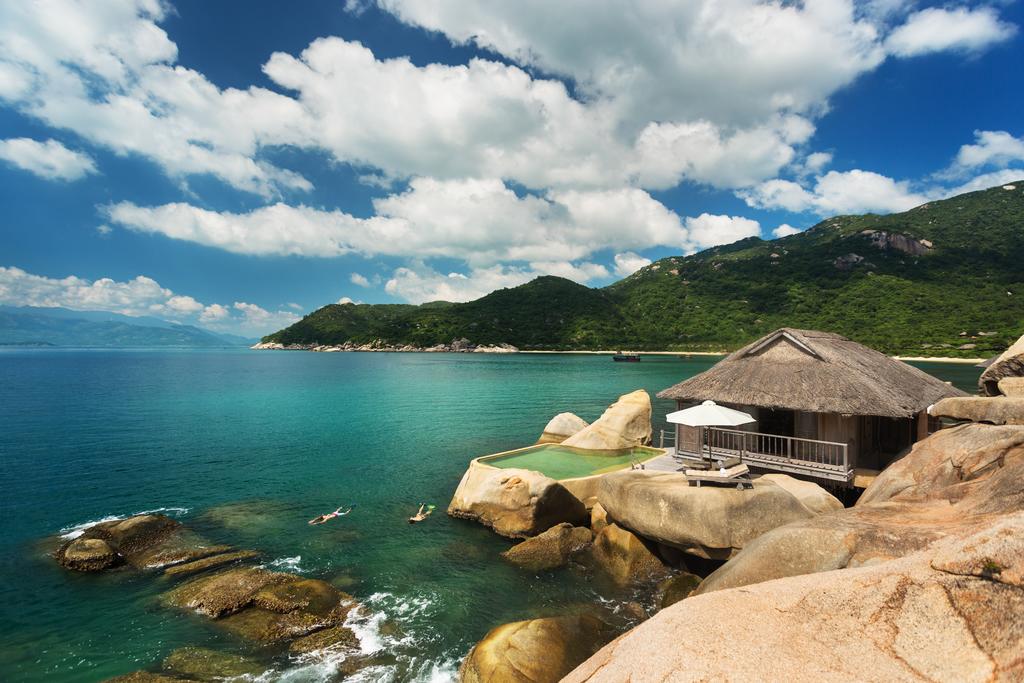 Six Senses Ninh Van Bay - One of Vietnam's best resorts in Nha Trang

For budget travelers, choosing hotels and homestays inside the city which are reasonably priced, well equipped, easy to access city spots, and just a short driving distance to get to the beach would be a great choice.
How to get there
Situated around 450km from Ho Chi Minh and 1290km from Hanoi, Nha Trang is very convenient to access by road, rail, or air.
From Hanoi, the most popular way to get to Nha Trang is by plane. It takes you around 2 hours from Noi Bai Airport to Cam Ranh airport, and about 50 minutes to go from there to Nha Trang center. If you have more time and want to have a railway experience throughout Vietnam provinces, many trains including SE1, SE3, SE5, SE7, SE9, TN1, TN3 depart from Hanoi and stop in Nha Trang daily with a traveling time of around 24-28 hours. Among them, SE5 and SE7 are the two most ideal trains for starting from Hanoi as the arrival time is in the morning, so you can start your journey right then.
From Ho Chi Minh City, apart from daily 1-hour flights from Tan Son Nhat Airport, local sleeping buses and trains are preferable thanks to the reasonable price. Some popular buses for Ho Chi Minh – Nha Trang route are Phuong Trang, Minh Dung, Lien Hung, Hanh Café, or Quang Hanh bus. It costs travelers just VND 250,000/ticket/way (~US$11) and 8 hours on the bus. Additionally, train SE6 and SE8 with the arrival time in Nha Trang of 15:58 and 13:21 respectively are the two most suitable routes for those who like to get to Nha Trang by railway. It takes you more than 7 hours on the train only.
READ MORE
Weather / Temperature:
27.07°C
Humidity
88%
Wind
2.73 km/h
Sunrise
05:32 AM
Best Of Nha Trang
See, Eat, Sleep, Shop, Stay - The Best of Nha Trang
Frequently asked questions
How many days should I spend in Nha Trang?
The most recommended time should be 3 days, which is enough to see the city's popular attractions namely Po Nagar Tower, Long Son Pagoda, Christ the King Cathedral, Vinwonder Nha Trang and so on. If you want to skip some sights, you may make it for 2 days only; or if you wish to spend more time relaxing and exploring the offshore islands, so add 1-2 more days to your plan.
How can I buy entrance ticket to Vinwonder Nha Trang?
Vinwonder Nha Trang, former Vinpearl Land Amusement Park, is one of the entertainment highlights in Nha Trang that you cannot miss when visiting Nha Trang. Instead of buying the ticket at the counter, it's advised that you can buy the tickets in advance to save time for queuing up. You can book it on the Vinpearl's official website and get a QR code, or purchase the physical card at the local travel agents in the town. The ticket fare is 880,000 VND
How much does it cost to rent a motorbike in Nha Trang?
The cost of renting a motorcycle in Nha Trang City is from 100,000 VND to 150,000 VND per one, please note that the rate does not include petrol. You can easily find motorbike rental services at plenty of stores on Tran Phu Street, Hung Vuong Street, and Hoang Hoa Tham Street, or book it directly at your hotel or the travel agencies.
Where should I stay in Nha Trang?
The downtown, especially around Tran Phu Beach, is the popular choice of most tourists thanks to its diversity of hotels and easy access to the beaches, restaurants, bars, shopping malls, and night markets. In case you are looking for more peaceful places with luxurious service, some high-class resorts in the islands off of Nha Trang's coast namely Hon Tre Island, Hon Tam Island, Ninh Van Bay are really worth trying.
When is the best time to visit Nha Trang?
Actually anytime except the rainy season from September to mid-December is great to visit Nha Trang. The weather in Nha Trang is particularly pleasant from February to May, with an average temperature of around 26-27 degrees C, while if you prefer some water activities like diving, April to August should be the best time when the rainfalls are at the lowest.
Vietnam's Most Popular Destinations