Mui Ne
Tranquil Resort Town Near Ho Chi Minh City
Mui Ne is a coastal resort town in Phan Thiet – the capital of Binh Thuan province, about 4 hours by bus from Ho Chi Minh City.
The name 'Mui Ne' interestingly has many origins. The first meaning comes from the fishing people in the past. They usually faced sea storms, so they used to hide in a cape, which was called 'Mui' in Vietnamese, and 'hide' meant 'Ne'. The second one originated as the name of the youngest daughter of Cham King – who was known as the owner of this land. Her alias was Ne, therefore, the cape where her temple was built, was called 'Mui Ne'.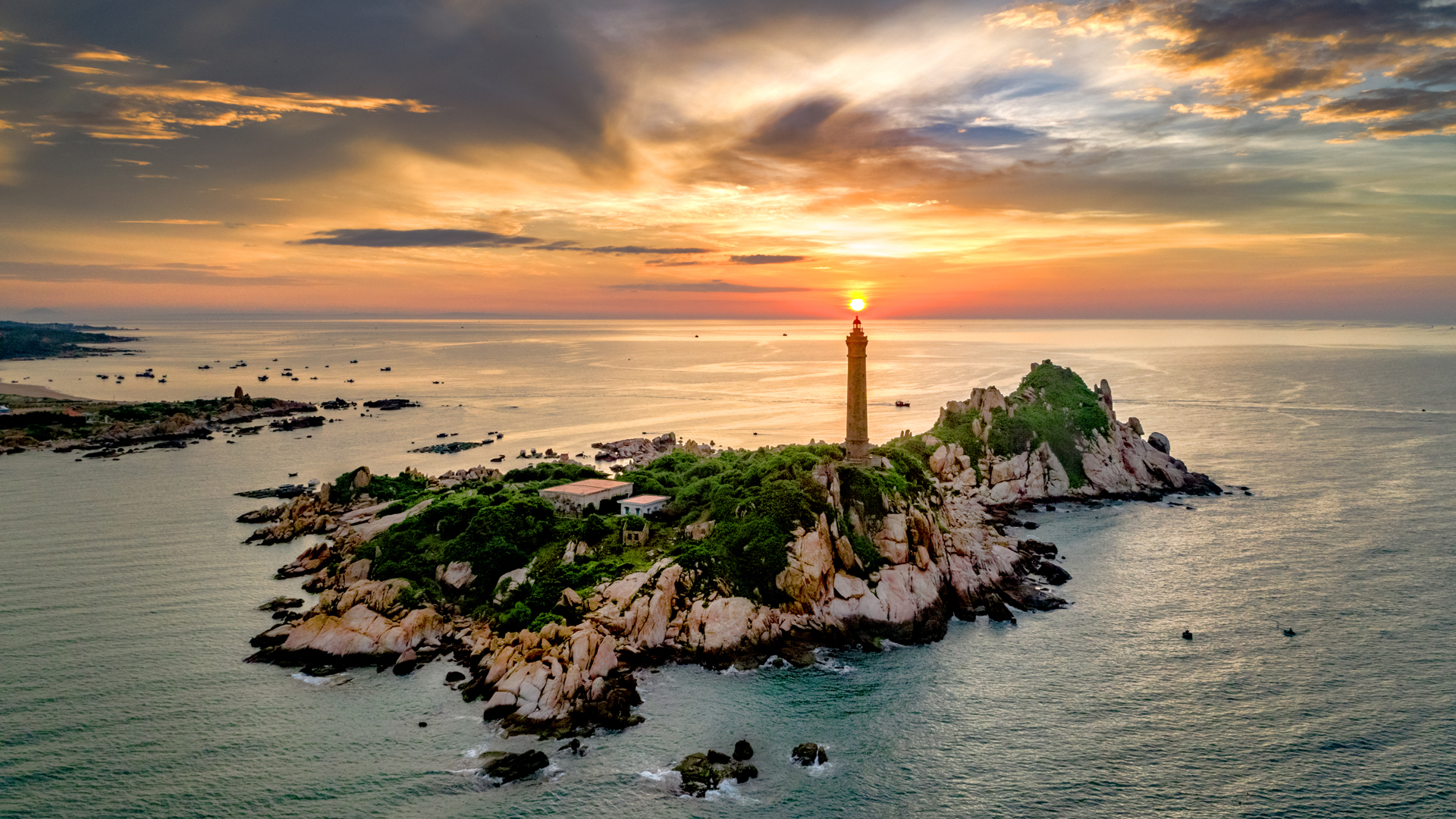 Photo : vnexpress.net
Mui Ne is a tropical beach with wonderfully warm weather, which is ideal for swimming. However, since the area from the central stretch to the northern end is dominated by fishing industry, the southern part is more suitable for swimming.
With strong sea breezes, Mui Ne is most famous for kite and wind surfing. Days from November to March have clear skies with perfectly strong winds from 11 am until late evening. The rock-free water makes it relatively safe for the kite surfers. There are also some Kite Surfing Schools, in which kite surfing starters are helped to launch the kite by beach boys. For starters who want more self-practice, you can try the western part front around Kite Surfing School Windchimes, where there are not many surfers, so that you can avoid unwanted accidents.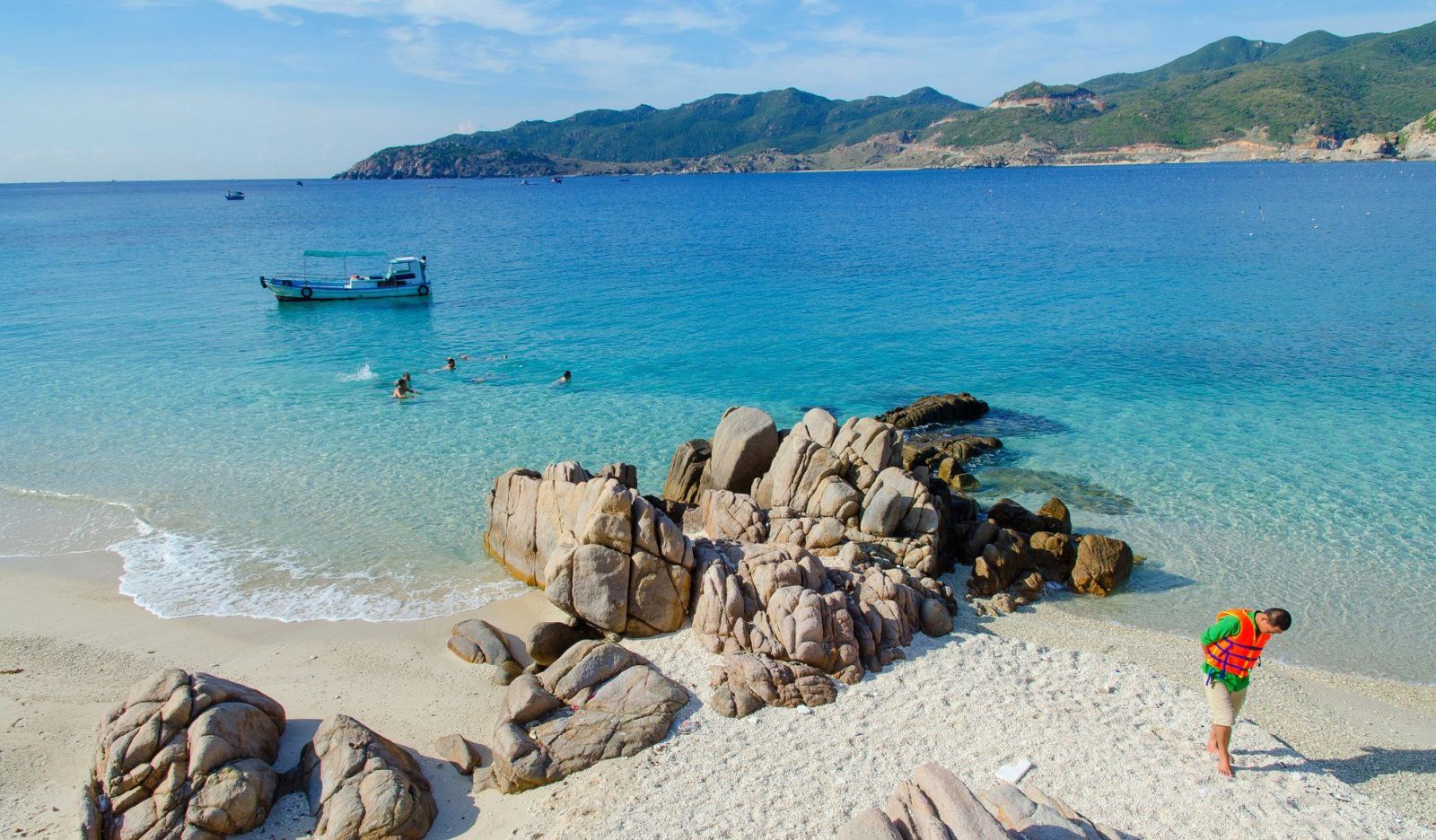 Photo : blogdulich.com.vn
Obviously, lots of beautiful spots in Mui Ne attract domestic as well as international tourists, such as Ca Na Beach, which takes a 2-hour drive from Mui Ne and provides probably the best coral reefs and diving opportunity in Vietnam, Fairy Springs (Suoi Tien) – a stream where people can sightsee the local wildlife (birds, crabs, fish, frogs, many exotic flowers, etc.), Fish Sauce Plants, where famous Phan Thiet fish sauce (nuoc mam) is produced and sold all over Vietnam, Phan Thiet Water Tower, designed by Prince Suphanouvong of Laos – also the symbol of Binh Thuan province, Takou Mountain – 1-hour drive from Mui Ne Beach, which has not only beautiful tropical rainforest, but also an old pagoda on top of the mountain, PoShaNu Cham Tower – a relic of Cham culture built in the 8th century, which should not be missed, etc. The most must-see one is the Sand Dunes (Doi Cat), where the dunes turn from white to gold (red dunes can be found further south in Mui Ne Village).
Tourists arriving in Mui Ne can also enjoy the atmosphere in Mui Ne Village Market, which sells lots of fresh fruits and inexpensive clothing. Best time to visit is early in the morning.
READ MORE
Weather / Temperature:
25.25°C
Humidity
87%
Wind
2.62 km/h
Sunrise
05:35 AM
Best Of Mui Ne
See, Eat, Sleep, Shop, Stay - The Best of Mui Ne
Frequently asked questions
Which mid-range resorts are recommended in Mui Ne?
If you are looking for a nice resort with full facilities but with a reasonable price, here are some suggestions for you:
• Pandanus Resort 4* - 03 Nguyen Huu Tho, Mui Ne, Mui Ne
• The Cliff Resort & Residences 4* - Zone 5, Phu Hai Ward, Mui Ne
• Sailing Club Resort Mui Ne 4* - 24 Nguyen Dinh Chieu Street, Mui Ne
• Victoria Phan Thiet Beach Resort & Spa 4* - Km 9, Phu Hai Ward, Mui Ne
• Blue Ocean Resort 4* - 54 Nguyen Dinh Chieu, Ham Tien, Mui Ne
What are attractions in Mui Ne?
If you come to Mui Ne for the first time, these are attractions that you should not miss:
• Mui Ne fishing village
• The Prince's Castle
• Mui Ne sand dunes
• Ta Cu Mountain
• Po Shanu Cham Towers
• Van Thuy Tu Temple
When is the best time to visit Mui Ne?
Mui Ne has tropical monsoon climate with 2 seasons which are rainy season and dry season. The best time to come to Mui Ne is from November to March (dry season) with blue sky, lots of sun, wind and calm sea.
What is Mui Ne famous for?
Mui Ne is well-known for its stretch white sand dunes, stunning beaches, tropical forest, fishing village and ancient structure. With the beach voted as one of 11 most beautiful beaches in Southeast Asia, Mui Ne has a lot of luxury and mid-range resorts along the coast attracting a lot of couples, families and groups to spend their vacations here.
How to go to Mui Ne from Hanoi?
There are 3 ways that you can visit Mui Ne from Hanoi.
Option 1: Book a flight from Hanoi to Ho Chi Minh city (more than 2 hours) then take a local bus from Ho Chi Minh to Mui Ne (around 200km and takes around 4 – 5 hours).
Option 2: Book a train from Hanoi train station to Binh Thuan statin, then take a local bus from Binh Thuan to Mui Ne (around 39km).
Option 3: Book a bus (Hoang Long, Mai Linh Express) from Nuoc Ngam Bus Station in Hanoi to Phan Thiet city (around 27 hours) then book a taxi/local bus to Mui Ne (around 12 km).
Vietnam's Most Popular Destinations