Vietnam in October: Weather and Event Guide
What weather to expect in October, what to do, what's on in Vietnam in October?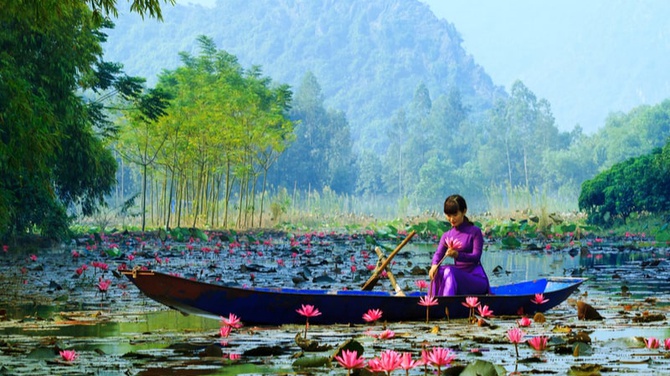 My Duc District, Hanoi in October

Weather Overview
One step to October is one step closer to autumn. The mild weather, sunny sky, and fresher air presents Vietnam with a wide range of flower kinds. Each part of the country is filled with a different blooming color, and all have their own unique feature.  If those scorching summer days are custom made for beach visits, then it is not overrated when saying October is the season of romance.
Temperature and humidity
During October, the Northern average temperature is 25°C at day and can drop to under 20°C at night. If you plan to make a camping trip in the mountains or just a late-night culinary tour in major cities, make sure to bring a cardigan or overcoat. There is still a small chance of rain in some higher-up land, but it will come and go quickly.
Cold air combined with tropical air turbulence in the East Sea makes the Central weather quite unpredictable. Heavy rainfalls or storms are guaranteed in early October, leading to flooding in some lowland cities.
Meanwhile, the Central Highlands still see great sunny days as they receive less sway from the tropical rains. However, it is wise to check the weather forecast before planning any travel trip to Central land in October.
If you want to avoid the rain almost entirely, head to the south as the entire region sees a dry and sunny season settling in. Accompanying it is the high UV level, so do prepare yourself with sunblock products like sunscreen, sunglasses, and hats to make the most out of your South beach travel.
| Regions | Temperature | Humidity | Rainfalls | Rain Days |
| --- | --- | --- | --- | --- |
| North | 29° / 22° | 74% | 77mm | 4 days |
| Central | 29° / 23° | 86% | 477mm | 14 days |
| South | 31° / 23° | 75% | 117mm | 5 days |
Events in October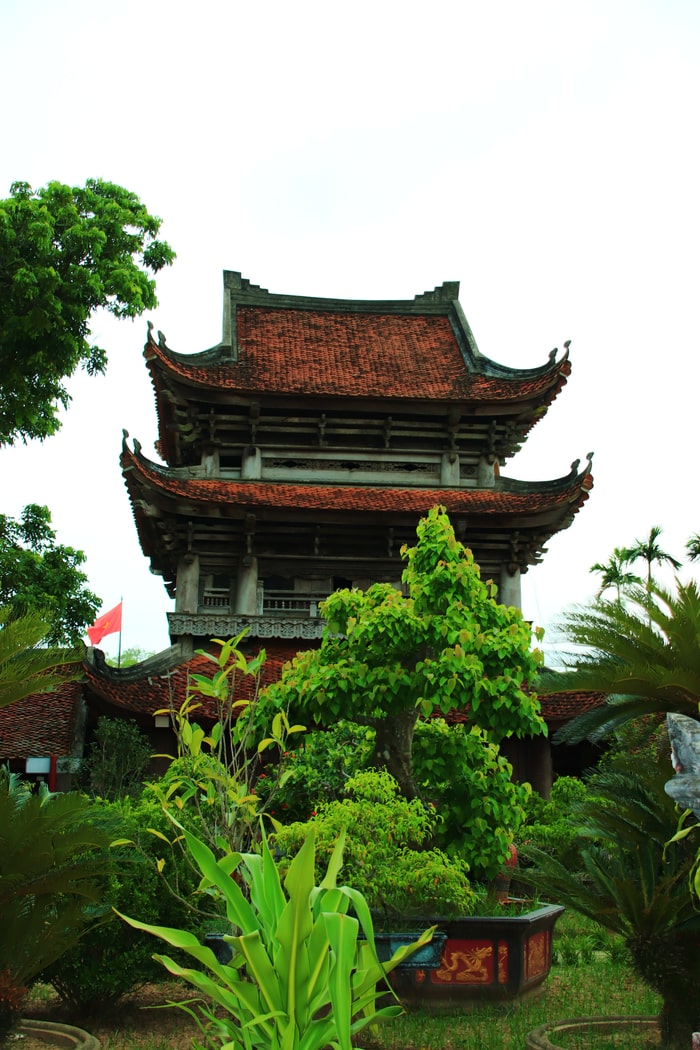 Keo Pagoda in Thai Binh province (120km from Hanoi)

Hanoi Liberation Day
October 10th is an important anniversary in Hanoi. The day celebrates both the event of 1010 - when King Ly Thai To decided to move the capital from Hoa Lu (Ninh Binh) to Thang Long, which becomes Hanoi today - and the date that Hanoi declared freedom from French colonialism. Since then, on Hanoi Liberation Day, the city has held many cultural events and outdoors performances in the downtown areas such as Dong Kinh Nghia Thuc Square, Ba Dinh Square and Ly Thai To Square.
Keo Pagoda festival - Nam Dinh and Thai Binh
Keo Pagodas are the one of its kind in Vietnam, holding 2 locations in Nam Dinh and the adjacent province of Thai Binh. It is one of the oldest religious architectures in Northern Vietnam, with a history dating back to over 400 years. Each year, at the full moon of the 9th lunar month (mostly falling in the middle of October), a festival is held at both Keo Pagodas to honor Buddha and celebrate the birth of the monk Khong Lo, who had successfully cured King Ly Nhan Tong from rare diseases and earned the title national doctor of Ly dynasty (Ly Quoc Su). Besides the spiritual rituals, the festival also has cultural activities such as dragon dance, boat racing, and Red river swimming competition.
Kin Lau Khau Mau festival - Lai Chau
Kin Lau Khau Mau is the thanksgiving festival of Thai ethnic people in Lai Chau. The festival takes place every 15th of the 9th lunar month. The event is held to celebrate a successful harvest, and for communities to get together. After the ritual ceremony ends, it is time for Gong (ethnic instrument) performance, Xoe and Sap dancing and other festive activities such as rice pounding, Con throwing. People will then enjoy traditional dishes like Khau Mau (new green rice), Khau Nua (sticky rice), Chin Giang (smoked beef), Pa Binh (grilled fish), and sip some straw wine together.
Kate festival - Ninh Thuan
This is the biggest festival of Cham ethnic in Ninh Thuan. The festival frequently takes place in early October in three areas, including Po Ina Nagar Temple - Ninh Phuoc, Po Klaong Garay tower - Phan Rang, and Cham tower and Po Rome tower - Ninh Phuoc. This festival is held to tribute the Cham gods, heroes, and ancestors. During October, every Cham village will be filled with the sound of Saranai trumpets, Ginang drums, and the dazzling dances from beautiful Cham women in their traditional clothes.
Halloween
Halloween is a new "imported" event in Vietnam. Despite that, you can still find the country immersed in the spooky atmosphere and major streets packed with children wearing cute costumes to go "trick or treat." Many restaurants, bars, and entertainment venues also offer special events for guests on this day.
What to expect
Witness a variety of weather patterns as you travel across the country
Beware of the sudden change in weather in the North. The temperature may vary hugely from morning to late at night, so different clothes layers are recommended.
As October is a low season for beach, you can save a great deal, besides taking advantage of the empty beach.
Celebrating Halloween in major cities is a fun experience and you will soon see the meaning is not the exact same as where you come from
Best destinations to travel
A sunny day in October in Dalat Vietnam (Photo: Shutterstock)

Immerse in the bright color of Hanoi
Every year in late October, the streets of Hanoi are engulfed with the tiny but glamorous daisy. Walking around the Old Quarter or West Lake areas, you will find street vendors carrying daisies for sale. The flower's white color lightens up the city and brings to it a romantic feeling in the golden autumn.
It is the perfect time to take photos of the poetic streets with local girls wearing ao dai while carrying a bouquet of daisies in their hands.
If you are bold enough to try, get a bite of Cha Ruoi - a local specialty of October. Cleaned and whisked sandworms will be mixed with minced meat, eggs, tangerine peels, and fried till golden.
Take side trips to Binh Lieu or Moc Chau
A trekking trip to the Dinosaur Spine in Binh Lieu - Quang Ninh is also a great choice for those who want to explore new destinations. The first impression that Binh Lieu gives its visitors is the endlessly white reeds fields, covering both sides of the small dirt road, also known as dinosaur spine because of its spiky terrain. Taking one step closer to the peak is one step closer to releasing the stress of ordinary life. It is advisable to wear warm clothes as the wind on top of the mountain is strong, and there is a high chance of drizzle up there in early October.
Another destination in the North that's worth considering for October road trip is Moc Chau. The northern highland is chilly with fewer sun rays but lots of mist and white canola flowers. The flower fields stretch out from every hill and valley of Moc Chau. You can also make side trip to Ang village, Ba Phach village, and Ngu Dong On village areas to witness mountain people life and enjoy the magnificent natural beauty.
Moving further north to Ha Giang, Tam Giac Mach (buckwheat) flower begins to show off its color. As the season starts, the flower hills are mainly covered in white, sometimes spotted with light purple. The weather in Ha Giang has a huge difference between morning and night, and the temperature can be 10-15 degrees in difference. You should bring with you a jacket or raincoat to prepare for the unpredictable weather. Other than that, it is the ideal time to experience the highland culture through visiting mountain markets and tasting authentic ethnic cuisine with Tam Giac Mach cake, Thang Co, and corn wine.
Witness the golden fields come to life in the Central Highlands
Gia Lai is a recommended place in Central Vietnam to travel to in October. This is the time when Gia Lai has just ended the rainy season and is welcoming the dry months. The weather is comfortable enough to make a leisure trip to explore the beauty of golden shower tree flowers. The best time to witness the blooming gold is at dawn, when the sun shines through the dense foliage, blend in one with the flowers to dispel the cold of morning fog.
Like Da Lat, Gia Lai during this time also has the appearance of the wild sunflowers. Every road leads to the rural tribes, on the streets and over the hillside are expected with bright gold color. But unlike the busy Dalat, visitors can feel the pine forest wind by looking at the calm surface of Bien Ho (Ocean Lake), visiting the majestic K50 waterfall, and praying at Minh Thanh pagoda without the crowd.
Experience the emerald water of the South
Contrary to the central beaches, which have just entered the rainy season, Phu Quoc enters its best season of the year. Phu Quoc in October has lesser rain, brighter blue sky, calmer emerald sea, and milder temperature from 20 to 30 degrees celsius.
Moreover, as tourists fletch away from beaches, the service and accommodation price is also more reasonable. You can consider taking part in water sports such as scuba diving, snorkeling or exploring attractions such as Vinpearl Land, Vinpearl Safari. Don't forget to try Phu Quoc specialties like Tram mushroom, sea cucumber, King Crab, Nhum, and sim wine.
You can also enjoy the festive atmosphere with the Nguyen Trung Truc temple festival in Ganh Dau, about 40km from Duong Dong town center. The event starts from the latter half of the 8th lunar month (mostly in September) and lasts till October.
To extend your trip to the South in October, Dong Thap is a good choice. In October, the water rising season, water lilies will bloom across every canal surface of the province. Growing in the green swamp but the flowers are pure white, making the river delta more lively. Gently floating on a small boat in the morning into the canals full of water lilies, breathing in the fresh air and the light aroma of the flower, your dawn trip is totally worth it. Besides, you can also take a boat journey to explore the floating markets and the life of the people on the river.
Conversations (0)
Join the conversation
Conversations
Join the conversation
ALL COMMENTS (0)
There are no comments. Add your comment to start the conversation.