Vietnam in February: Weather and Event Guide
What weather to expect in February, what to do, what's on in Vietnam in February?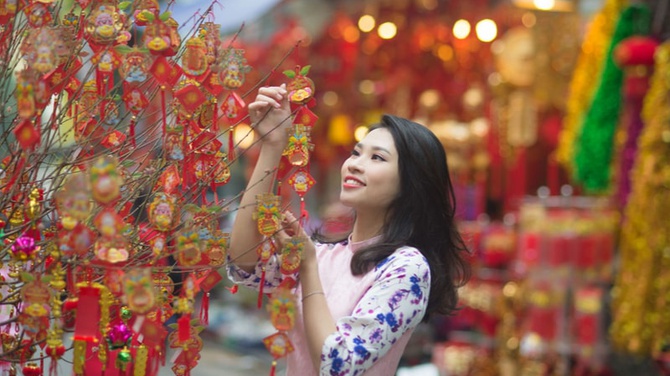 Tet Holiday in Hanoi (February 2018)

Overview
Marking the end of winter season in the northern part, February starts when the weather begins to warm up and you still feel a gentle touch of cold breezes lingering on your skin. 
Traveling to Vietnam at this time of the year can give you a glimpse of authentic culture and beliefs, from the vibrant festive atmosphere of Tet - the most important holiday of the year to the colorful festivals across the country that follow.
Travelers can also take a chance to enjoy Vietnam's breathtaking landscapes in blooming flower season and explore the hidden charm of the mountainous Northern area. February is truly a great time to come and discover the cultural aspects of Vietnam. 
Weather in February
Weather in Vietnam is deeply influenced by the monsoon season and its long S-shape which brings each region a different weather pattern. From December to February, the distinctions are obvious as the North is still in the winter mood while the South enjoys its dry and sunny days.
Temperature
In February, the temperature of the Northern area decreased to its low  of 16-17°C. Famous beaches in the North are unavailable for swimming during this time because of the cold bites. Though the temperature has already risen in comparison with January, in Sapa and other mountainous areas, it is still lower than the average, so you should prepare warm layers of clothes for the colder evenings here. 
Meanwhile, the weather in the Central and Southern Vietnam offers a great condition with clear, sunny sky and warm seawater. In some coastal cities of the South, the average temperature in February is around 27°C. In central regions, the mean temperature is slightly cooler at 25°C and the sea water is perfect for swimming. 
| Regions | Average Low | Average High |
| --- | --- | --- |
| North | 16.5°C (61.7ºF) | 23.4°C (74.12ºF) |
| Central | 19.5°C (67.1ºF) | 24.0°C (75.2ºF) |
| South | 23.3°C (73.94ºF) | 34ºC (93.2ºF) |
Humidity
In the North, rainfall decreases to its lowest level in February with low humidity although misty hazes and light drizzles may appear, especially in coastal areas of Quang Ninh, Hai Phong. In the other parts of the North, the weather is dry yet cold, especially at night, so warm layers of clothes are recommended.
In the Central and the South, temperature is high but great conditions remain. Featuring blue skies and low humidity, the weather is comfortable as the whole area is in dry season even for a few months later.
| Regions | Average Low | Average High |
| --- | --- | --- |
| North | 47% | 87% |
| Central | 77% | 92% |
| South | 48% | 69% |
Events in February
February is undoubtedly the bustling season of traditional festivals in Vietnam as the most important cultural festivals take place during this time. The weather is dry and temperature increases southward making it the best time for outdoor events and activities.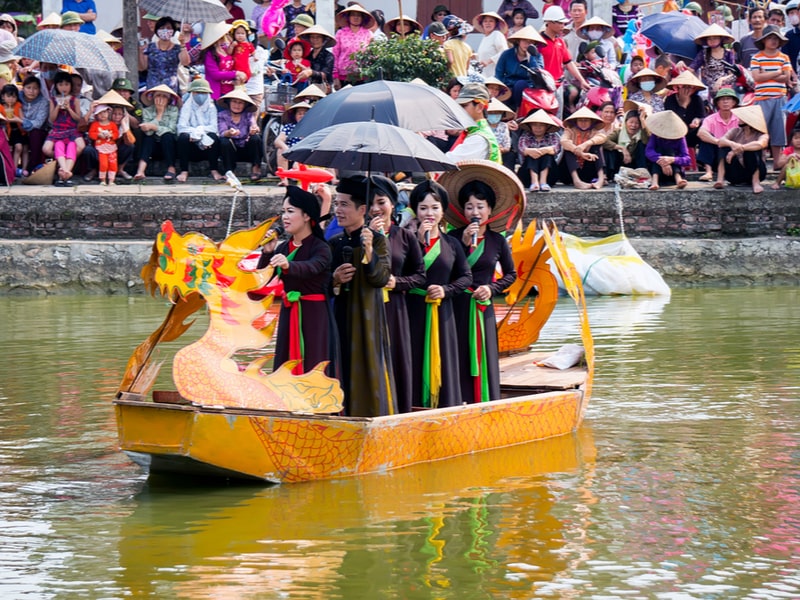 Quan Ho Singing in Lim Festival, Bac Ninh province
Tet Holiday - Lunar New Year
Tet holiday usually falls in late January or early/mid-February. Known locally as Tet or Tet Nguyen Dan, it is the most important and widely celebrated public festival of the year in Vietnam, time for paying tribute to ancestors and holding family reunions.
Lim Festival (Bac Ninh)
Among thousands of unique festivals that are organized across the country, one of the most remarkable ones is Lim Festival. This renowned cultural festival takes place on the 13th day of the first Lunar month. Travelers come to Lim village to enjoy performances of "quan ho", which are traditional folk songs sung by both local men and women from boats. The event's venue is a mere 20-minute drive from Hanoi and Lim Festival is worth a side trip to enjoy local cultural performance.
Perfume Pagoda Festival (Hanoi)
Considered Vietnam's most sacred destination for pilgrimages, Perfume Pagoda Festival welcomes thousands of visitors to come and pray for a lucky and prosperous year ahead. The festival is organized from the 6th day of the first Lunar month to the 15th day of the third Lunar month, with main festival days lasting from the 15th day to the 20th day of the second Lunar month.
Vieng Market Festival (Nam Dinh)
This unique traditional market takes place only once a year on the 8th day of the first Lunar month. Locals come to sell and buy things for household items such as handicraft products, antiques, utensils, tools for agriculture production, and many kinds of ornamental plants, as a traditional custom to bring fortune home in the new year.
Do you know: Tet Holiday falls in February for 2021, 2022 and 2024. In 2020 and 2023 the holiday is in January.
Things to Know Before You Go
As the Tet Holiday 2021 falls in mid-February, all kinds of transportation are often booked out. There is a mass exodus of Vietnamese returning home/going back on holiday. The most hectic route is Saigon - Hanoi before the Tet holiday and Hanoi - Saigon after the Tet holiday. Wherever you go, be sure to get your tickets early. 
Most hotels and home-stays are available during Tet Holiday, it would be easy to find accommodation. However, some hotels may charge a higher price if you stay during Tet.
As many restaurants and local stalls will be closed, the holiday may not be the best time for gourmets.
February is the peak season of cultural festivals. Dress properly when visiting temples or taking part in the rituals. Visitors should not wear short skirts or sleeveless shirts when entering the pagodas, temples and shrines.
February marks a continuity of the blooming flower season in the North of Vietnam which usually starts from January. 
In the North, the weather is dry yet cold, especially at night, so warm layers of clothes are recommended.
What to do and places to go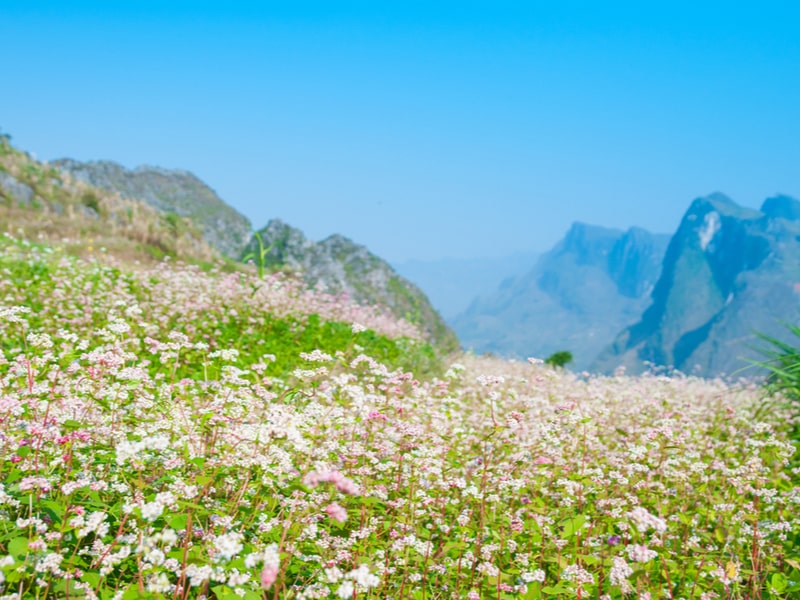 Buckwheat flower viewing season - A must-do when you visit Ha Giang, Vietnam
Experiencing Tet Holiday in major cities
The long-standing tradition of booming fireworks to celebrate Tet Holiday may be one of the first things you want to experience when traveling Vietnam on this special occasion. On the night of Lunar New Year Eve's, you can mingle with a crowd full of local residents to enjoy some spectacular firework displays, ushering in the new year with great expectations. 
Don't forget to pray and make best wishes at the very first moment of Lunar New Year under the beautifully colorful fireworks. The fireworks will take place at famous venues in most big cities across the country such as Hanoi, Da Nang, Ho Chi Minh City so you'd better be on the right spot.
On the first day of the Lunar New Year, traditional pagodas and temples in Vietnam are filled with local visitors who pray for health, peace and fortune. Phu Tay Ho and Tran Quoc Pagoda in Hanoi are among the most sacred destinations and will expose you to one of the most sacred practices in the new year.
Get lost in flowers bloom season across the Northwest mountains
February usually sees the Northwest area of Vietnam shimmering with pastel-pink peach blossoms, pure white plum and apricot flowers. The breathtaking scenery has charmingly attracted thousands of photographers to take their turns expressing and creating arts. Thanks to its distinctive terrain, weather,  and natural beauty, the Northwest area is undoubtedly a must-go destination for travelers in February. 
The chilly weather, generous sunshine and endless fields of colorful wildflowers in the North make a very romantic and comforting background for anyone who has the chance to contemplate.
Ha Giang, Moc Chau or Sapa are renowned spots to immerse in the fairy land of wildflowers. A trek through terraced rice fields is also be a memorable experience you may want to consider. Besides, visitors can learn about the unique culture of ethnic groups in the region.
A getaway to the South
The North is just at the end of wintertime while the South is already in full summer mode. February often means high temperature, clear blue skies and warm sea water to attract thousands of beach lovers across the country to sit back and relax.
It is increasingly popular for Vietnamese to celebrate Tet holiday at a beach, especially Phu Quoc. The town will become lively than any other month of the year, and you are more than welcomed to play a part. There are a great many options besides a resort stay: visit the many islets on the North of the island, or head south to splatter water at the most beautiful beach in Vietnam: Bai Sao. 
Nha Trang is also another ideal spot to travel in February. Not as crowded as Phu Quoc, Nha Trang is calm and the beach stretch is just as pretty. White sand beaches, island hopping, or scuba-diving are waiting for you to discover in Nha Trang.
Conversations (0)
Join the conversation
Conversations
Join the conversation
ALL COMMENTS (0)
There are no comments. Add your comment to start the conversation.