Quang Binh
Land of mind-blowing natural landscape
Quang Binh is located in the North Central Coast of Vietnam, endowed with various natural endowment, rich culture and long-established monuments. The province is renowned as the "Kingdom of World's biggest caves", with more than 400 caves carrying mysteries and wonders that attract humanity exploration. Since Phong Nha – Ke Bang National Park was recognized as UNESCO World Heritage Site and the complex of Son Doong Cave was discovered, Quang Binh has become a phenomenal destination for nature lovers and competent explorers all over the world.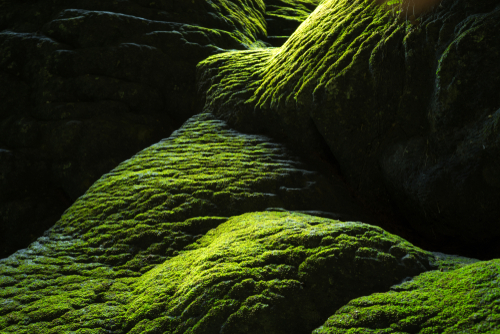 Climate & Best Time To Visit
Quang Binh shares the tropical monsoon with other provinces in the central regions, featuring two opposite seasons: dry season and rain season.
The dry season in Quang Binh is usually from April to September. At this time, the local weather is influenced by Lao winds, increasing the heat level. The average temperature in the dry season ranges from 36°C - 37°C and goes to the peak of over 40°C during the hottest days of July and August.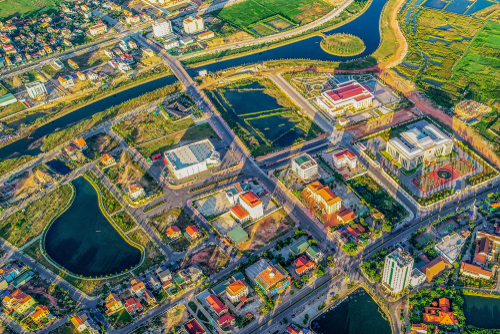 Aerial view of Dong Hoi ancient citadel - Photo: Scenic Vietnam / Shutterstock.com

The rainy season in Quang Binh lasts for the rest 6 – 7 months, from September to the following March. During the period, lots of heavy rain can be witnessed in the city with high average rainfall. Due to the steep terrain, flash floods can suddenly occur in case of heavy rain or tropical storms, causing dangerous conditions that prevent visitors from reaching the caves.
The peak season of Quang Binh tourism is from March to September, as the weather is very pleasant for outdoor activities. The late spring (from March to May), when the temperature is not so high is considered the most ideal time to travel to Quang Binh. However, for travelers who enjoy swimming and other water games, summer trips are exciting enough to cool down the local heat; especially when you enter natural caves to explore the magnificent beauty of the region. The off-peak months mostly belong to the rainy season, which is not recommended for amateur travellers. If Quang Binh is your destination during this period, make sure that you are continuously aware of the weather.
Major Attractions
Phong Nha – Ke Bang National Park
Phong Nha – Ke Bang National Park is a colossal complex of caves and grottos, which was inscribed on UNESCO World Heritage List. With many untouched landscapes, this area is also the home of a great number of plants and animal species, some of which are especially under high priority conservation. Rowing the boat along underground rivers, observing majestic formations of limestone and stalactite, visitors will be overwhelmed by the marvel of nature.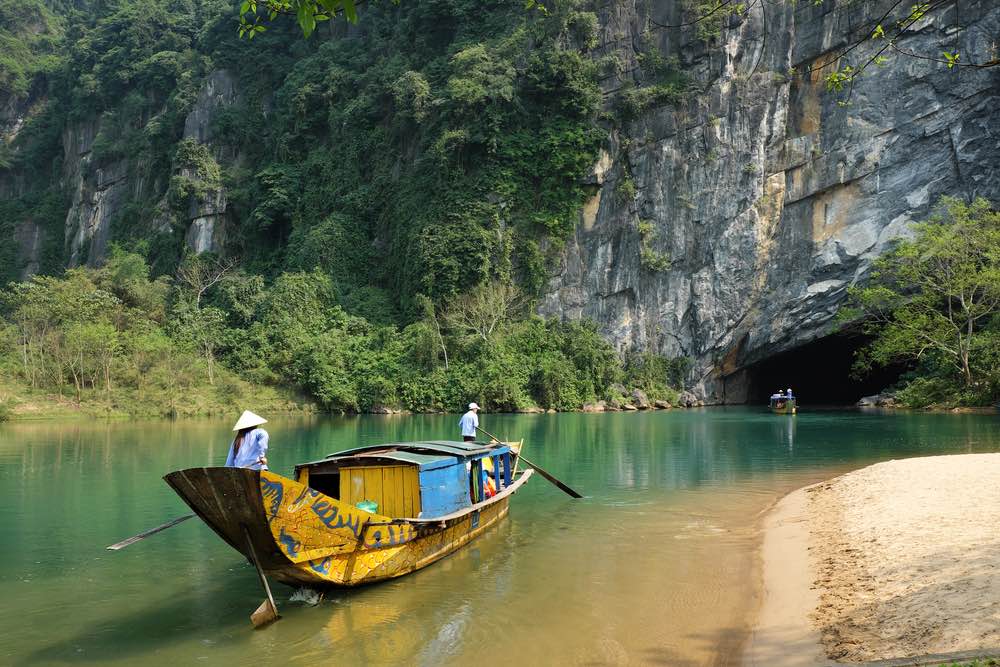 Son Doong Cave
Globally recognized by British Cave Research Association, Son Doong Cave is the world's largest natural cave with countless remarkable discoveries that entices science researchers, adventure enthusiasts and even amateur tourists who are curious about its reputation. As a part of conservation effort, Son Doong Cave exploring tour only welcomes a limited number of guest every year, so contact the local operator before planning your trip to have the best experience.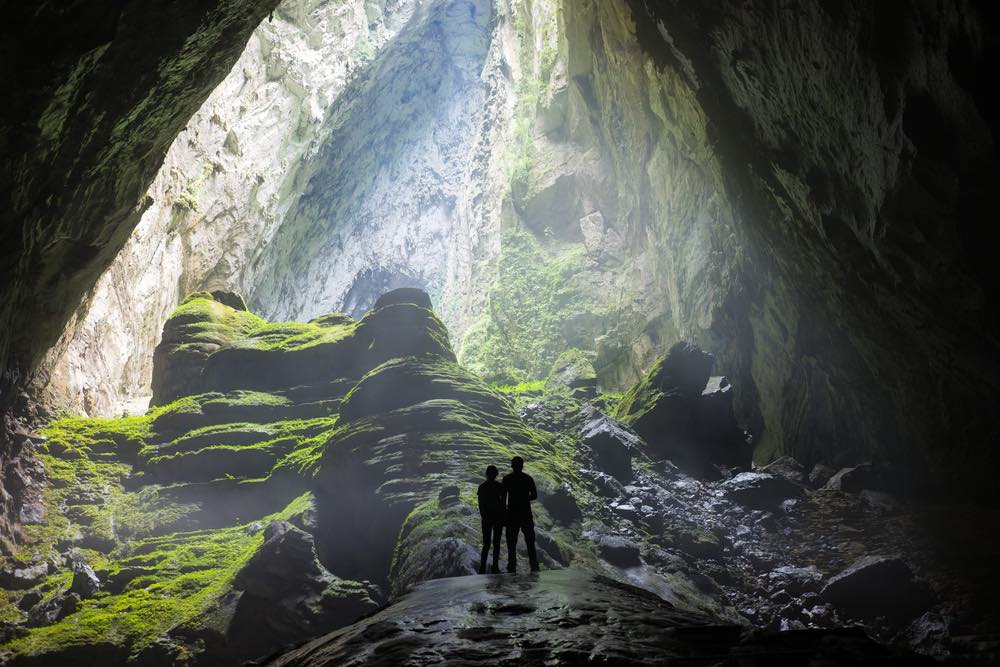 Jumping Rocks
Jumping Rocks (Da Nhay Beach) is about 25km from Dong Hoi City, which features rocky promontories sculptured by nature, creating various majestic shapes and colors. Due to the movement of the tide, you can observe different scenery everytime visiting the Jumping Rocks. It is also relaxing to walk along the spotless beach with soft sand and calm water, and enjoy a sumptuous array of fresh seafood. Popular seafood in the Jumping Rocks are shrimps, squids, and sea snails which you can buy directly from local fisherman and bring back to the mainland to make delicious dishes.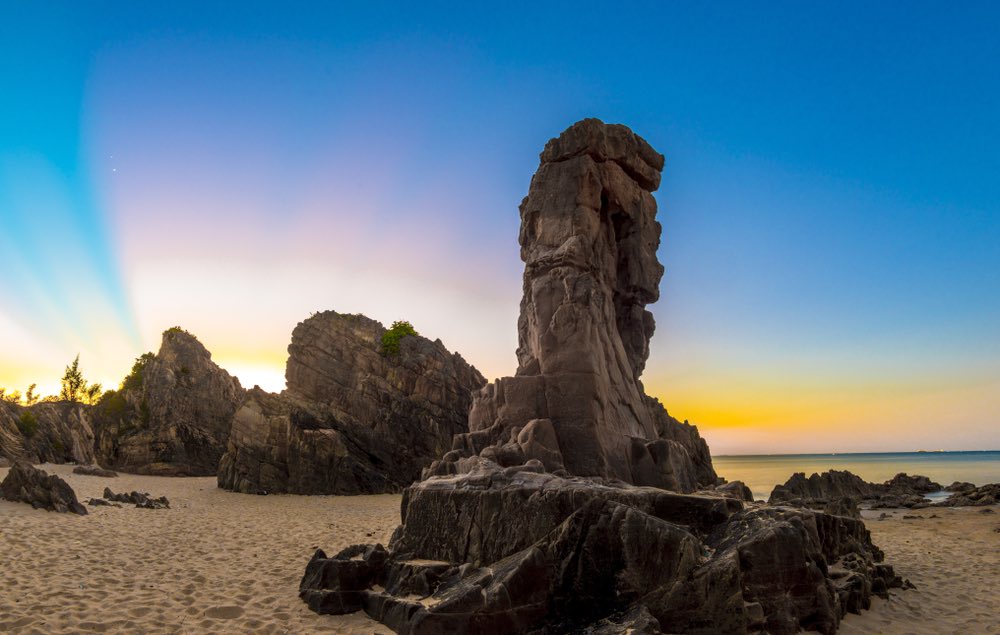 Bang Mineral Hot Spring
This is the only hot spring in Vietnam that reaches a temperature of over 100°C. The water source in Bang Mineral Hot Spring contains a rich amount of mineral elements, which is a wonderful treatment for health. Therefore, this is a favorite place for ecotourists or wellness travelers as doing hot spring bath is a practical therapy for people who suffer from complexion and skeletal issues.
Quang Phu Dune
Traveling 10km along Nhat Le Beach, you will find Quang Phu Dune, one of the most beautiful dunes in Vietnam with the unspoilt charm. The sand bank stretches out, carpeted with dazzling light and dotted with green hues of wild bushes. The color of sand changes many times during the day, which is an impressive experience to observe. The peaceful feeling when you walk on the sand will be totally opposite with the excitement when you join sand sliding.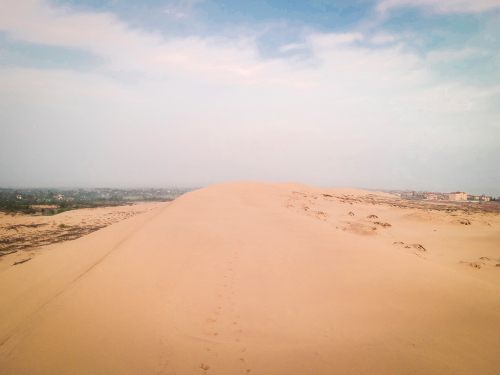 Where To Stay
Quang Binh, with the famous Phong Nha – Ke Bang National Park, is among top favorite destinations in Vietnam for both domestic and foreign travelers. Therefore, the local accommodation service is fully developed with assorted choices of all kinds.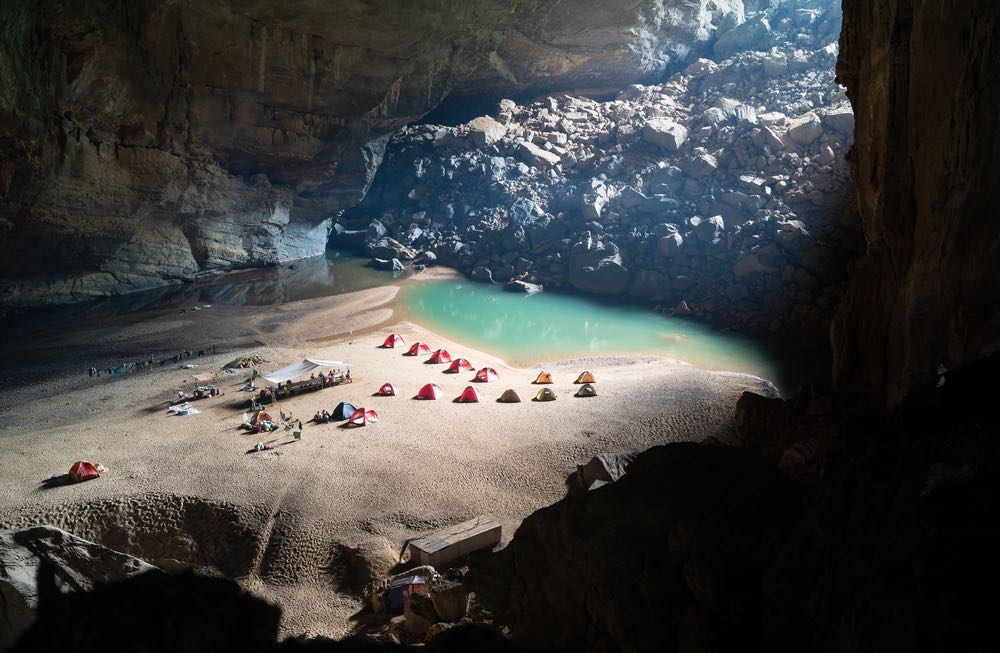 Dong Hoi City center gathers most of the big hotels, including international outlets and local city properties. There are over 60 options for you when searching on online travel platforms. If you seek luxury travel with private areas along Nhat Le Beach, Sun Spa Resort & Villa and Gold Coast Hotel Resort & Spa are the two 5-star choices that offer international-standard services at walkable locations.
Meanwhile, for explorers who aim to discover Phong Nha – Ke Bang National Park, many local homestays and guesthouses are available in the surrounding areas. These accommodations also a favorite selection due to the simple, rustic style that enable guests to indulge in the refreshing atmosphere and natural landscape. Staying in such residences also provides you interesting experience with genuine guidance and appealing stories of local lives.
How To Get There
Spotted in central Vietnam, Quang Binh has a very convenient location that enables travelers to select among different means of transportation.
Air
Flying to Quang Binh is the fastest way if you want to save time for the upcoming adventures. Flights from Hanoi and Ho Chi Minh City are operated everyday and cost you about VND 1,000,000 ($50) for a round-trip ticket. It takes approximately an hour to fly from Hanoi, and 30 minutes more regarding the route that departs from the southern city.
Train
If you are traveling from Hanoi and Da Nang, it is recommended that you get to Quang Binh by train. The distance of more than 500km from Hanoi to Quang Binh makes it a 10-hour journey while it takes you 6 hours to travel 270km from Da Nang. The best way to enjoy this rail trip is to book your ticket with night departure, select the soft bed on separate compartments for a comfy sleepover, then enjoy the sunshine and scenic view along the railway.
The Hanoi – Da Nang – Hue railway route is named among the world's most beautiful train journeys with paddy fields, pagodas, and central coasts carpeting in front of your eyes. The ticket for a soft bed at the compartment of 4 passengers is VND550,000 ($24) and there are also cheaper options with 6-bed compartment and soft seats as well. To buy the ticket online, visit the website of Vietnam Railway (https://dsvn.vn/) or go directly to the ticket counter at the train station.
Bus
The coaches to Quang Binh are available at stealing price, as it's VND200,000 – VND250,000 ($9 - $11) for a trip from Hanoi and VND150,000 – VND 180,000 ($6.5 - $8) to go from Da Nang. The traveling time is about 5 – 9 hours depending on the distance length. For travellers departing from Ho Chi Minh City, coach is not a smart choice due to its high cost and long travel time. It is possible to book your trip with a service agent or hotel concierge where you previously stay.
READ MORE
Weather / Temperature:
19.73°C
Humidity
99%
Wind
0.13 km/h
Sunrise
06:15 AM
Best Of Quang Binh
See, Eat, Sleep, Shop, Stay - The Best of Quang Binh
Frequently asked questions
Are there any resorts in Quang Binh?
Quang Binh does offer several resorts to meet the needs of some travelers who come here to relax and enjoy the beautiful beaches. Below are the recommended resorts from luxury to budget in Quang Binh that you can consider for your vacation:
• Sun Spa Resort Quảng Bình 5* – Vo Nguyen Giap Street, Dong Hoi, Quang Binh
• Gold Coast Hotel Resort & Spa 5* – Vo Nguyen Giap Street, Dong Hoi, Quang Binh
• Bao Ninh Beach Resort 4* - Truong Giap Street, Dong Hoi, Quang Binh
• See Star Resort 4* - 9 Truong Giap Street, Dong Hoi, Quang Binh
• MANLI Resort Quang Binh 3* - 379 Truong Phap Street, Dong Hoi, Quang Binh
What are interesting things to do in Phong Nha Ke Bang National Park?
Besides the amazing landscapes, Phong Nha Ke Bang National Park offers many engaging activities that will certainly fulfill your different interests. Taking a trekking tour to explore the beauty of nature, kayaking in Chay River, playing zipline, or simply enjoying the mud bath, you will never feel bored here.
What are Quang Binh's main attractions?
Quang Binh has various spectacular sightseeings so make sure you plan your schedule carefully to visit all the sites you want. Here are some suggestions for your reference:
• Phong Nha Ke Bang National Park: Thien Duong Cave (Heaven Cave), Hang Toi (Dark Cave), Suoi Mooc (Mooc Stream)
• Jumping Rocks (Da Nhay Beach)
• Son Doong Cave
• Nhat Le Beach
• Quang Phu Dunes
When is the best season to visit Quang Binh?
The dry season from April to August is highly recommended for visiting Quang Binh. While the weather in April and May is cooler, many visitors prefer the hotter period from June to August to thoroughly enjoy the water activities. From September to November is the time for some sudden storms so if you intend to visit Quang Binh this time, make sure you check the weather forecast regularly.
How to get to Quang Binh?
There are varied trains or sleeper buses from Ho Chi Minh or Hanoi to Dong Hoi every day, making it extremely convenient to get to this city. Or Dong Hoi Airport is only 5 km from the downtown, you can consider taking airplanes to save your time.
Vietnam's Most Popular Destinations