Long Bien Bridge
"Hanoi" - the name means "surrounded by river" is the city of ponds, lakes, rivers and bridges. If Hoan Kiem Lake with special green water and the red bridge named The Huc is the symbol of an elegant and charming ancient city; Red river and Long Bien bridge may be seen as the symbol of courageous capital in wars. 
History
The Long Bien Bridge was constructed from 1989 to 1902 during French's occupation of the country. Though the bridge was designed by French, it was built directly by Vietnamese workers with indigenous construction materials like woods from Phu Tho, Yen Bai, Thanh Hoa province, cement from Hai Phong, Long Tho lime from Hue.
The bridge was formerly named Paul Doumer by the French, but Vietnamese have called it Long Bien or Cai River Bridge for a long time, and Long Bien becomes the most popular name of the bridge. Originally, Long Bien had 19 spans and it was the first steel bridge across Red river in Hanoi, and one of four greatest bridges in the world at the time it was built.
Long Bien was considered the pride, symbol of architecture in the Far East. The bridge was a connection point to transport tons of rice from Northern and Northern Central area of Vietnam to Dien Bien Phu battle, and contributed to the win of Vietnam army against French, 1954.
More than 100 years with decades of war, Long Bien Bridge was bombed many times by air attacks by American army in 1967, 1972; and many spans of the bridge were destroyed. The left spans still remaining today remind us of an unforgettable past. The bridge, hence, is not only a traffic construction, a nice architecture, but also a living historical relic.
What to see
Today, Long Bien is only one of the five bridges crossing the Red river of Hanoi. However, it may be the most special bridge with unique historic, architectural, and cultural value. It is the only bridge in Hanoi where all the riders have to go in the left hand side, where tourists can take a walk and taste mouthwatering desserts offered by vendors (see 5 street vendors you should not miss out in Hanoi), where Hanoians can buy fresh vegetable or fish for the dinner from the small afternoon market on the bridge.
Many people living and visiting Hanoi said that Long Bien Bridge is the best place to look at the sunrise or the sunset and taking nice photos of alluvial patch. Many brides and grooms choose Long Bien Bridge as nice background in their wedding albums. Many tourists come here to visit a historical construction and view nice scenery. Many youngsters, teenagers take nice photos to keep memories of youth on the bridge or in the middle of alluvial patch with full of green tree. Many vendors and housewives still come here every afternoon for an open air market.
And many trains pass the bridge each day.
That way, Long Bien – the oldest bridge in Hanoi is still living and sharing the daily life with Hanoians silently. If you have a chance to visit Hanoi, do not forget to take a walk on Long Bien Bridge for sight seeing, feeling the daily life of Hanoians, and enjoying peaceful moments at the present but not forgetting memorable past.
How to get there
You can rent a motorbike and remember go on the left hand side of the bridge, or walk from the centre of Hanoi to here ( just more then 1km from the Old Quarter to Long Bien bridge).
See full list of hotels in Hanoi for more options..
Useful Information
Location: Long Bien Bridge
Best for: Solo, Couple
Entrance: Free
Hours: All Day
Distance to city center: 3.2km (2.0 mi)
Conversations (0)
Join the conversation
Conversations
Join the conversation
ALL COMMENTS (0)
There are no comments. Add your comment to start the conversation.
read next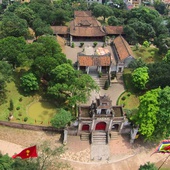 Being a cultural heritage, a testament to the creativity and technical skills of the old Vietnamese, Co Loa Citadel is definitely an ideal tourist destination that visitors cannot ignore when visiting Hanoi.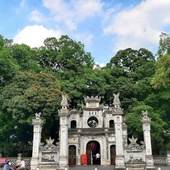 Located on Thanh Nien Street, Quan Thanh Ward, Ba Dinh District, Hanoi, Quan Thanh Temple is a Taoist temple and known as one of Hanoi's four sacred temples which were built to worship four protectors in four directions.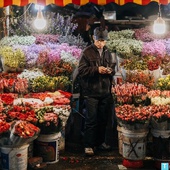 Without the normal hustle and bustle of normal markets, Quang Ba Flower Market is charming in its own way.