A Full Day Walking The Streets of Hanoi Old Quarter
Hanoi's Old Quarter has a long history of 2000 years of development which is the beating heart old the city.
Hanoi Old Quarter has a long history of 2000 years of development which is the beating heart old the city. In here, bustling life of Hanoians is reflected in the most vivid way with crowded streets of people trading with each other. The quarter consists mainly of 36 Old Streets divided and named according to their craft guides in the past, and remain most of that working system until now. This area is also the eternal soul of Hanoian cultural architecture, historic relics and religious center. This itinerary is written with the purpose to help tourists having a complete walking tour around this indispensable destination.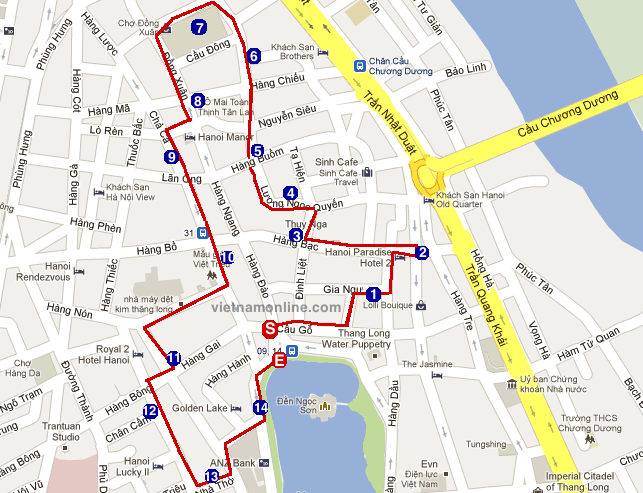 A quick map for walking in Hanoi Old Quarter

Starting off from the beginning of Cau Go Street, passing the famous Avalon Coffee Lounge, walking about 100m, you'll see a small lane to the left which leads to Gia Ngu Street, which is major for a variety of scarves, and underwear, in thousand sorts and colors as well as rows of clothes stores for middle-aged people.
Following the map above, you can turn right on Gia Ngu to reach Hang Be market (numbered 1), cross the street to Nguyen Huu Huan for a bowl of Xoi Xeo (numbered 2) at Xoi Yen restaurant and do people-watching.
From the Xoi Xeo crossroads, turn to Hang Bac Street and keep walking. You should stand at the middle of Hang Bac Street where your eyes are dazzled by sparking gold and silver shops. Valuable jewelers here are not a bad idea to be souvenirs for your friends.
At the conjunction (numbered 3) go straight ahead is Luong Ngoc Quyen Street – a venue of snack food-stalls with a variety of traditional cakes like Banh Day, Banh Gio or Banh Chin Tang May. At this criss-cross, there are crowd in summer and winter alike sitting and drinking beer. You may join them later in the afternoon and who know if you will make new friends?
Passing Luong Ngoc Quyen is the 208 meter-long Hang Giay Street selling Vietnamese specialty "Thit Bo Kho" (Dried spiced beef) and pottery products.
The next stop is Hang Buom Street which used to play a critical part during the resistance war against French colonists as a trading center. At present, this street still remains its old days with numbers of grocery and wine stores. Located at 76 Hang Buom Street is the ancient Bach Ma Temple (numbered 5) - one of the Four Protectors of Thang Long, which visitors are advised to visit.
After finishing your trip on Hang Buom Street, turn back to the junction with Hang Giay and keep walking till you meet Hang Chieu Street. Turning right and witness one of the 21 castle gates of Thang Long: O Quan Chuong (Quan Chuong Gate). Suffering from the damage of time, the gate is still remaining its original shape with one main gate 2 two small gates in both sides.
Another indispensible destination is Dong Xuan Market whose main gate is located on Dong Xuan Street (marked 6 and 7). Howevers, tourists can enter this busy market from Cau Dong or Hang Khoai Street with just a few minutes walking from the last stop. The market was established at the beginning of 20th Century and now being the biggest wholesale market in Hanoi. Goods being sold there are very diverse, ranging from electronic household appliances, silk, clothes to fresh food like chicken, meat, vegetable. Specially, the market is a venue of Hanoi's night gastronomy with numbers of street-food stalls.
Exit Dong Xuan Market through its main gate on Dong Xuan Street, turn right and move forward to get Hang Duong Street, where is homeland to dried sweetened fruits or vegetables called "ô mai" and "mứt" (marked 8). On this street, one can visit Cau Dong Pagoda, buit during 17th century, worshiping the Prime Minister Tran Thu Do, who made a major contribution to give birth to Tran Dynasty (1225-1400).
Passing a small street called Hang Ca to arrive at Cha Ca Street. The name "Cha Ca" of this street is named after the famous dishes "Cha Ca" which is the quintessence of Hanoi's gastronomy. "Cha Ca La Vong" at no. 14 (numbered 9 on the map) is the birthplace of this honorable food that ones are wholeheartedly recommended to taste.
After enjoying the delighted dish, keep moving along forward, passing Lan Ong Street where you can smell Northern medicine aroma to meet Hang Can Street. Continuing your path till you reach a venue of toys on Luong Van Can Street (marked 10); go to the end of this street and turn right you'll see Hang Gai Street – the paradise of silk-lovers with shimmering scarves and stoles, finely tailored men's and women's clothes, heavily embroidered and sequined evening gowns and handbags.
It may take you 5 minutes to get Ly Quoc Su Street to the left of Hang Gai; the street is crowded with clothes shop and is the address of Ly Quoc Su Temple, erected in 1131 during Ly Dynasty which possess ancient architecture. The end of this street is the magnificent Saint Joseph Cathedral at 40 Nha Chung Street, where often hold religious activities for all Christian believers. The church was built in 1882 and designed according to Gothic architecture that still remains its original beauty.
Turn right when you see the first lane to get Le Thai To Street, which is one side of the famous Hoan Kiem Lake. It would be great to take a small tour around the lake side and take some photos or watching the green water surface of it. If you are lucky enough, you may have chance to see the holy turtle turning up.
Reaching the fountain on Dinh Tien Hoang Street is also the finish of this walking tour. Although there are still some old streets we haven't looked at like Hang Ngang, Hang Dao or Hang Ma Street, passengers are suggested to save them for the night trip because Hanoi's night is most wonderful on those streets, when the busy trading stores giving their seats to street-food stalls and souvenirs stalls, adorned by twinkling red lanterns on Hang Ma Street.
More:
Conversations (0)
Join the conversation
Conversations
Join the conversation
ALL COMMENTS (0)
There are no comments. Add your comment to start the conversation.
read next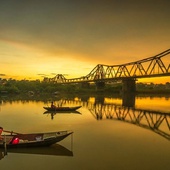 A suggested itinerary for travelers spending about 3 days in Hanoi.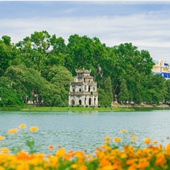 Want to see the essence of Hanoi in 1 day - here we tell you how.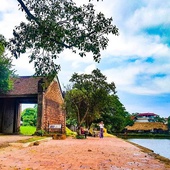 Why don't we just open the latest version of Hanoi map, rent a motorbike or catch a bus to go a little further to the outskirts of Hanoi, where there are many beautiful traditional villages still waiting for you to come and spend your day in the most meaningful way?