Hanoi Traditional Village Tours
Why don't we just open the latest version of Hanoi map, rent a motorbike or catch a bus to go a little further to the outskirts of Hanoi, where there are many beautiful traditional villages still waiting for you to come and spend your day in the most meaningful way?
You've been in Hanoi for a several days and explored most of the famous sites in the inner city and haven't got any idea about where to go next in this city? Why don't we just open the latest version of Hanoi map, rent a motorbike or catch a bus to go a little further to the outskirts of Hanoi, where there are many beautiful traditional villages still waiting for you to come and spend your day in the most meaningful way?
There are several options for you to choose from:
Bat Trang Pottery Village
The village is about 13km to the south east of Hanoi, crossing Chuong Duong bridge, so you are recommended to go there by motorbike, there are many stores renting motorbike in the Old Quarter area, or else, you can catch bus number 47 at bus station on Yen Phu Street with very low price (3,000 vnd/ ticket).
There's still no document can affirm when Bat Trang Village was established, but anyone can tell about its fame as the homeland of high quality ceramic and pottery products. Coming to the village and seeing its ceramic products like dishes, bowls or vases, ones may realize seeing similar products in some developed countries like Japan, Korea, England, Netherlands or Portugal, because since thousand years ago, Bat Trang ceramic products have been favorite by and exported to those countries.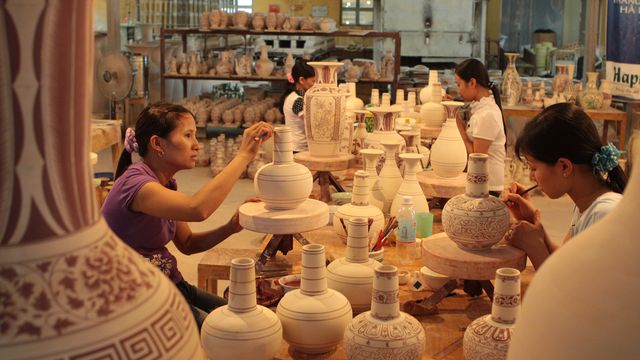 Photo: baodautu.vn
Bat Trang village does not only offer you a variety of the best ceramic products in term of quality, style and galaze for your souvenirs, but also give you golden opportunity to make a ceramic product for by yourselves. Skilful crafters here will dedicatedly guide you to make sure that you'll get satisfied products in the end.
Van Phuc Silk Village
The village is only about 8km to the south west of Hanoi centre which may take you 30 minutes to arrive. Like its name, Van Phuc village is famous for its traditional sericulture, weaving and silk products. Van Phuc has a very proud long-lasting history which silk products here have helped Vietnamese silk-making industry to be a universal phenomenon since two thousand years ago. Van Phuc is undoubtedly the cradle of Vietnamese sink where the best silk products can be found in the world. In the past, silk products are exclusively available to the rich and powerful people due to its rareness and price.
Delighting shirts, crafts, ties and dresses made of silk here are standing out thanks to its light weight and smooth appearance, high quality and a variety of colors that will definitely be suitable for any skin tones. Going further into the village, visitors might be dazzled by glisten colorful blocks of silk sold by approximately 1000 silk-shops along the town. If 1000 silk-shops is not voted to be the number of the day, you should carefully consider 2 millions meters of silk produced by this wonderful village annually.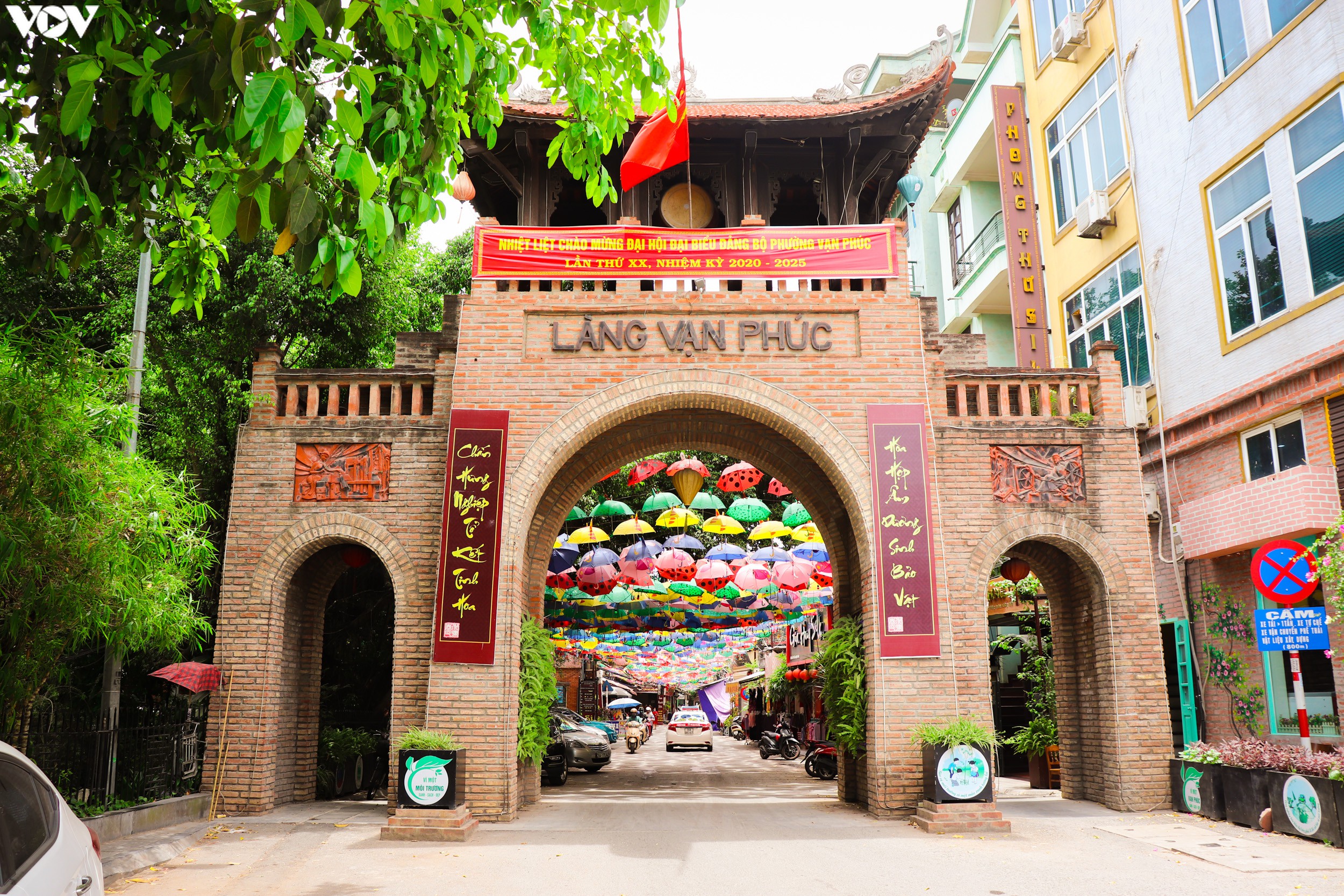 Photo: Internet
It's even more meaningful if you are having your last day in Hanoi but haven't figured out what you should buy for souvenirs yet, because silk is currently a trendy fashion material thanks to its wide-range of application that is suitable for any facet of life, so what would be better than silk clothes for family, friends and yourselves. Moreover, this type of souvenirs really possess Vietnamese glimpse inside.
How to get there: nothing to worry about if you take a taxi, which may cost around $10, you'll be delivered to the intended place. Traveling by motorbike maybe more adventurous and exciting that you'll have to drive along Nguyen Trai Street to the border of Ha Dong District, then turn right about 3km more. For ones who are confused by Hanoi map that contains hundred strange street names, you are recommended to catch a bus, number: 01, 02, 19, 21, 27, 39 and 57 (3,000vnd/ ticket) to Ha Dong post office then turn left and walk for about 500m you'll reach Van Phuc Village.
Duong Lam Ancient Village
Duong Lam ancient village is located in Son Tay City, which is about 60km far from the central of Hanoi. The village is proudly the first village to be perceived as a national relic by the Ministry of Culture and Information.
Deserving that honor, Duong Lam has a history of more than 1200 years, consisting of many ancient houses with their age of 400 years and above. This is also the only village in Vietnam which gave birth to two kings of Vietnam, who are King Phung Hung (761-802) and King Ngo Quyen (896-944). Both the kings are national heroes who drove back Southern Han invaders and kept independence for the country. Their temples are built inside Duong Lam village for worshiping.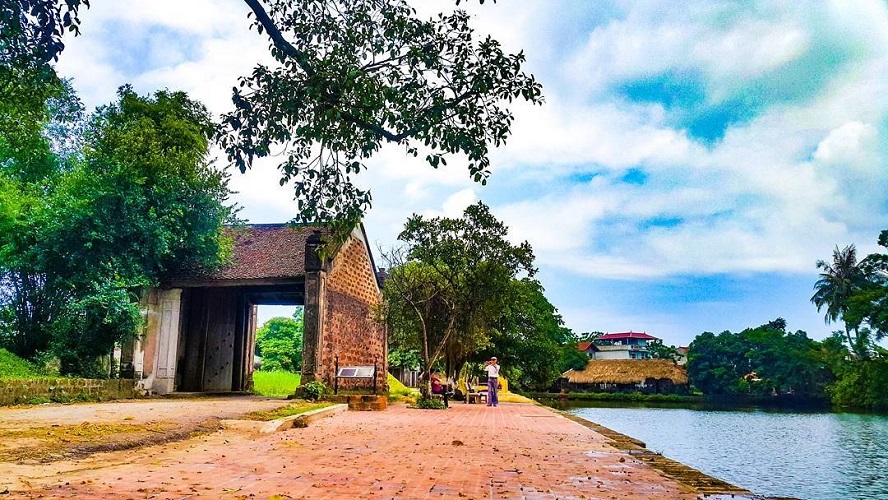 Photo: dulichvietnam.com.vn
Duong Lam's cultural and historical values are the main attractions of this village. The sacred village is separated into more than six hamlets. Each hamlet has its own communal house, which are the worshiping places for gods and village founders. Those communal are really spotlights of Duong Lam because each one possesses unique ancient sophisticated decoration details. Mia Pagoda, Phung Hung Temple, Ngo Quyen Temple and Mong Phu communal house are recommended as priorities. The whole village is a complex of 21 relic sites which are all recognized as national and provincial vestiges.
Tourists coming here can enjoy relaxing glimpse while sigh-seeing beautiful landscape of ancient lateritic and mud houses, small lanes and green fishponds and taking some photos as Duong Lam has been being a venue of inspiration for photographers coming here. Also, the Vietnamese agricultural local life is presented much more vividly than any report on TVs.
If you have a tour-guide or go on a tour of a tourism company, you may have chance to taste local foods for lunch in ancient houses. However, if you travel without any tour-guide, you should prepare some foods beforehand for lunch because there is no restaurant in this village. 21 relics of Duong Lam Village are free for you to pick whether after or before lunch.
Conversations (0)
Join the conversation
Conversations
Join the conversation
ALL COMMENTS (0)
There are no comments. Add your comment to start the conversation.
read next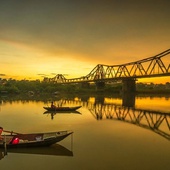 A suggested itinerary for travelers spending about 3 days in Hanoi.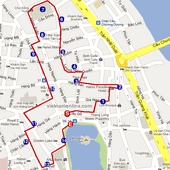 Hanoi's Old Quarter has a long history of 2000 years of development which is the beating heart old the city.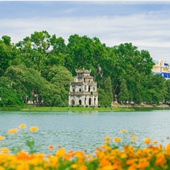 Want to see the essence of Hanoi in 1 day - here we tell you how.