15 Best Boutique Hotels In Hanoi Old Quarter
The Old Quarter of Hanoi has been thriving since the 19th century, when it was a major trading area among Hanoians in the old time. Much still remains today and the best way to enjoy the charm of the Old Quarter is to stay inside the place. There are a number of hotel choices, from the world prestigious five star Metropole Hotel to the basic yet popular La Siesta hotel chains. A great place to stay would be near Hoan Kiem Lake, since you can avoid all the noise, while walking to the Old Quarter center is within minutes. Staying in the Old Quarter also offers the benefits of restaurants and foods.
The huge number of boutique hotels in the Old Quarter will not break your bank and offer all that you need for your stay, and in style. Browse our listings above and pick what you need.
La Siesta Classic Lo Su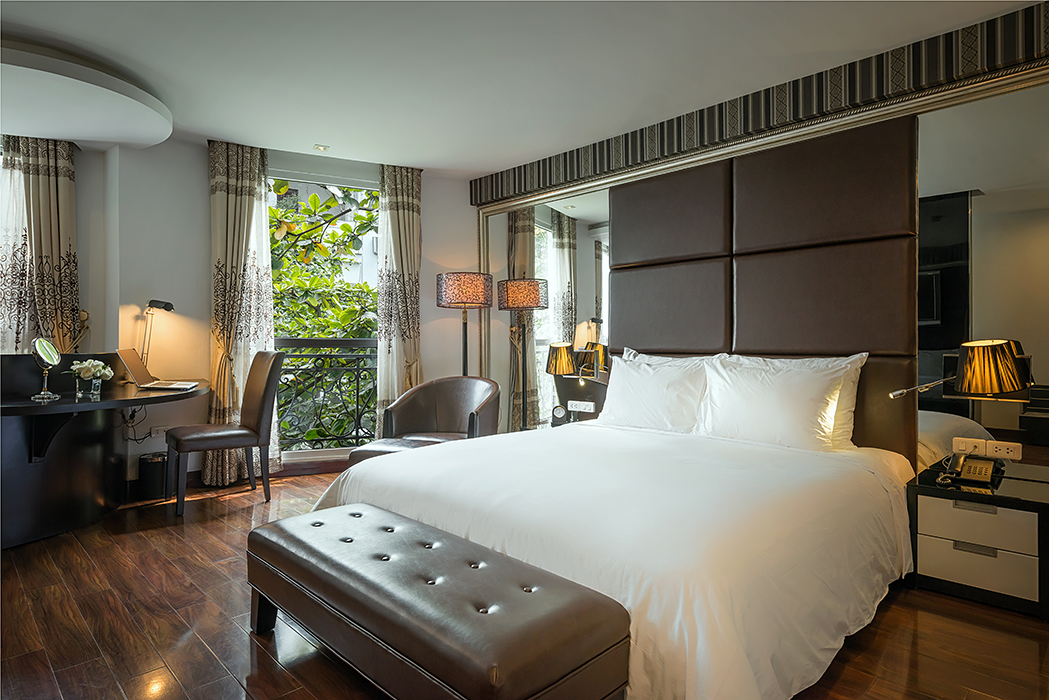 La Siesta Lo Su Guest Room

Being an integral part of the La Siesta eco-system, La Siesta Classic Lo Su offers a decent stay at reasonable price. You will not have any difficult to walk to Hanoi Water Puppet Theatre, the cafe street Nguyen Huu Huan and especially Hoan Kiem Lake – undoubted most popular attractions in Hanoi. Besides, the artful decoration of the hotel is a captivating feature for many visitors who have stayed. This will promisingly be a diamond in the heart of travelers to Vietnam like its old name (Elegance Diamond Hotel).
Address: 32 Lo Su, Hoan Kiem, Hanoi
Oriental Suites Hotel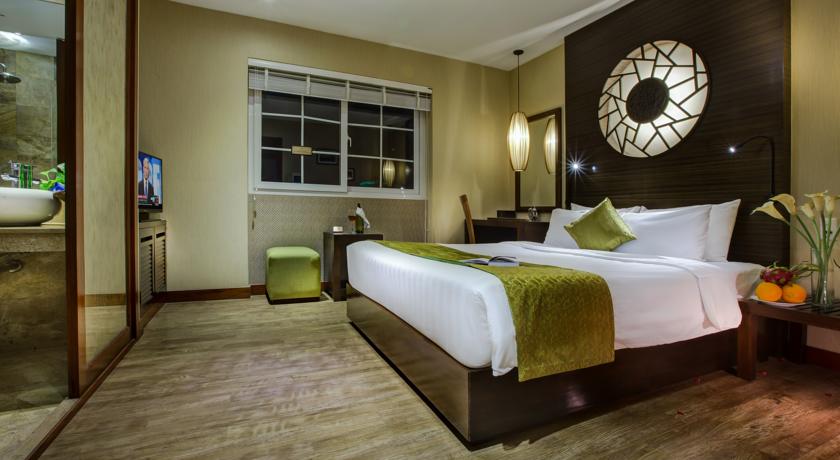 Oriental Suites with Indochine style

Walking along Hang Dao Street, one of the most famous and ancient streets in Hanoi, travelers will be giddy with a skillfully designed hotel. It is that Oriental Suites Hotel that invokes the feeling of serenity and charm. You will soon find the stylist and luxurious beauty of the hotel revealed from every walk. As travelers expect when starting their journey to look for different things for their life, the hotel provides modern technology on relaxation and entertainment so as to have business and leisure travelers better served. From the work manner to the quality of services, everything is promisingly to be perfect to make sure that Oriental Suites is your best convenient choice.
Address: 58 Hang Dao, Hoan Kiem, Hanoi
La Siesta Classic Ma May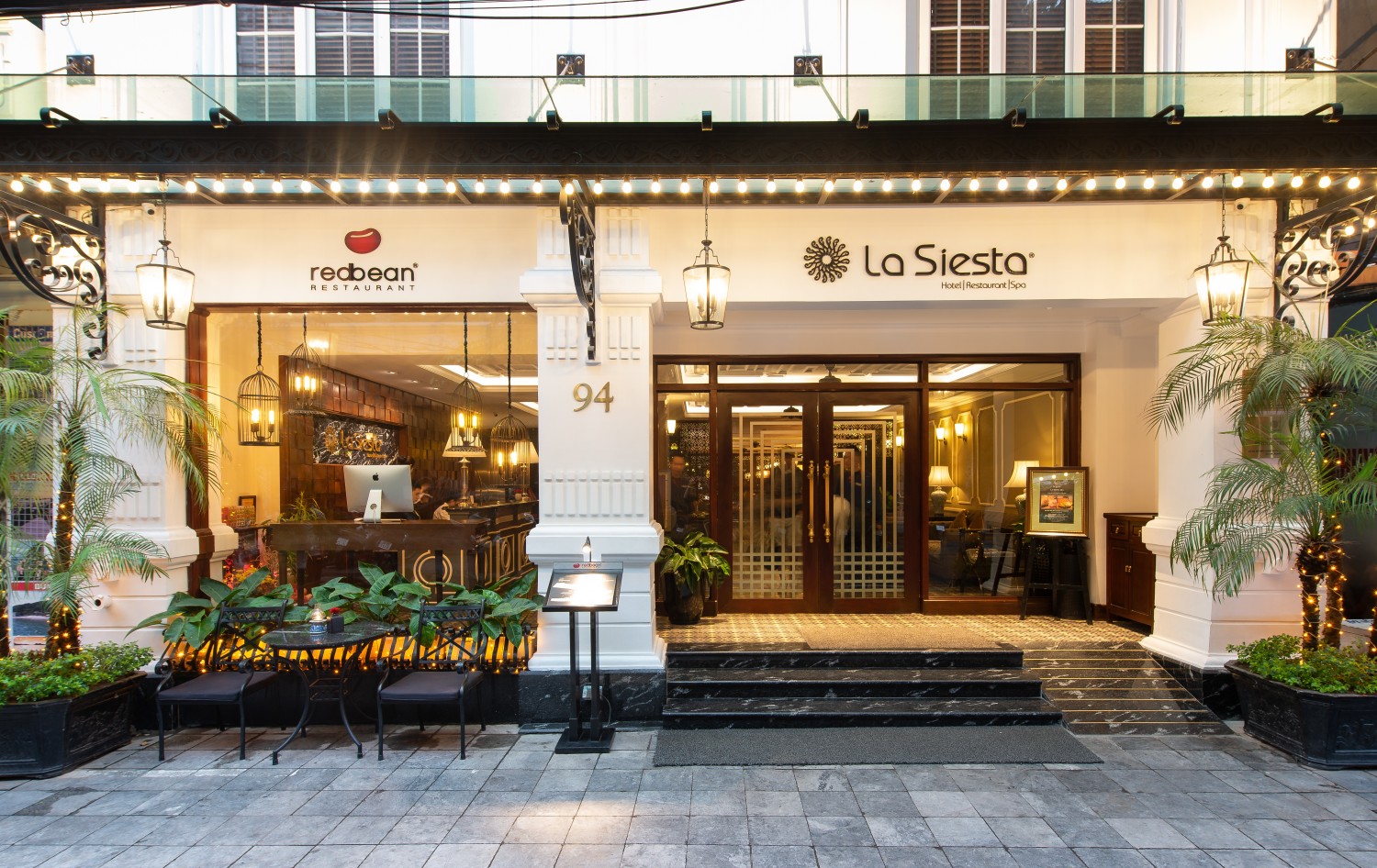 La Siesta Ma May entrance

If we are to vote for our favorite and most longstanding boutique hotels in Hanoi, it would undoubtedly be La Siesta Classic Ma May. The 75 quaint yet uniquely decorated guest rooms and suites are complemented by a beautiful rooftop bar overlooking Long Bien bridge, a gym and the famous Red Bean restaurant. Staffs always go out of their way to please in-house guests, and bring little surprise on special occasions such as birthdays or honeymoons. La Siesta Classic truly sets a standard for luxury boutique concept in Hanoi Old Quarter.
Address: 94 Ma May, Hoan Kiem, Hanoi
Imperial Hotel & Spa
Imperial Hanoi's recent facelift

Imperial Hotel & Spa is a reputable boutique 3-star hotel that sits close to many attractions of Hanoi, and within 3 minutes walk from Hoan Kiem Lake. The hotel contains of 40 luxurious rooms with newly renovated amenities of international standard, in addition to the unique design with huge windows that have sight to the whole ancient streets. In addition, Imperial Hotel is placed right at Hang Hanh Street which is next to many famous eateries and nightlife such as Pizza 4P's or Politico Pub. Staff team at this hotel is also enthusiastic, professional and hospital, so guests will feel more intimate and cozier living at this hotel.
Address: 44 Hang Hanh
Quoc Hoa Premier Hotel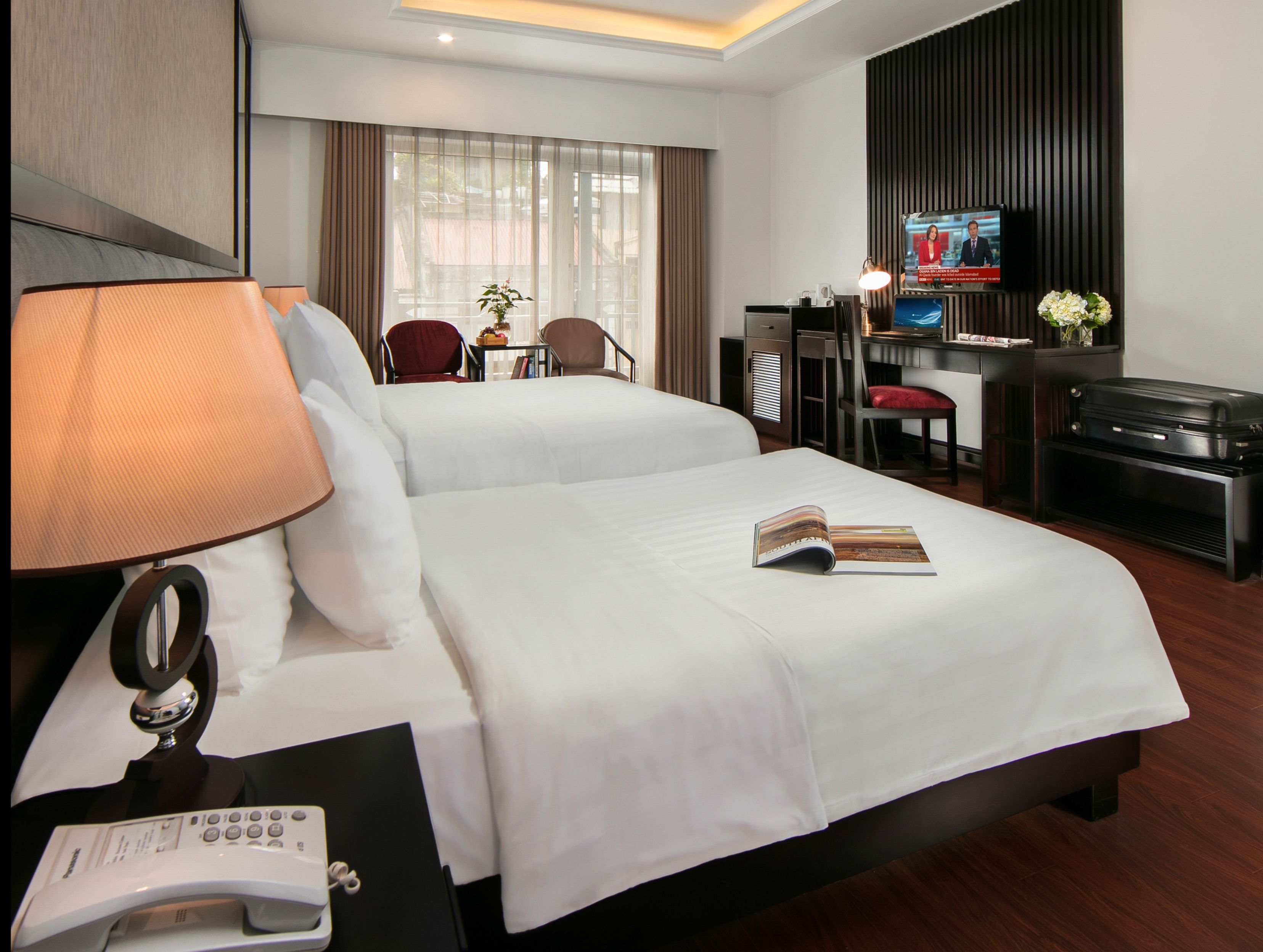 Quoc Hoa Premier Hotel

Set in the heart of Hanoi, having a bird view at the terrace, offering the reasonable price are some of superior and advantageous features of Quoc Hoa Premier Hotel. Opening the window from your rooms seems to enable you to touch each Hanoi's local breath, temporarily living like an original Hanoian.That is special feeling this nice hotel gave many foreigners clients who have once been here as they shared. With total of 37 well equipped rooms and restaurants served many Vietnamese specialties, business centers and other special service could meet the demand of even the most difficult customers.
Address: 10 Bat Dan, Hoan Kiem, Hanoi
Hanoi E-Central Hotel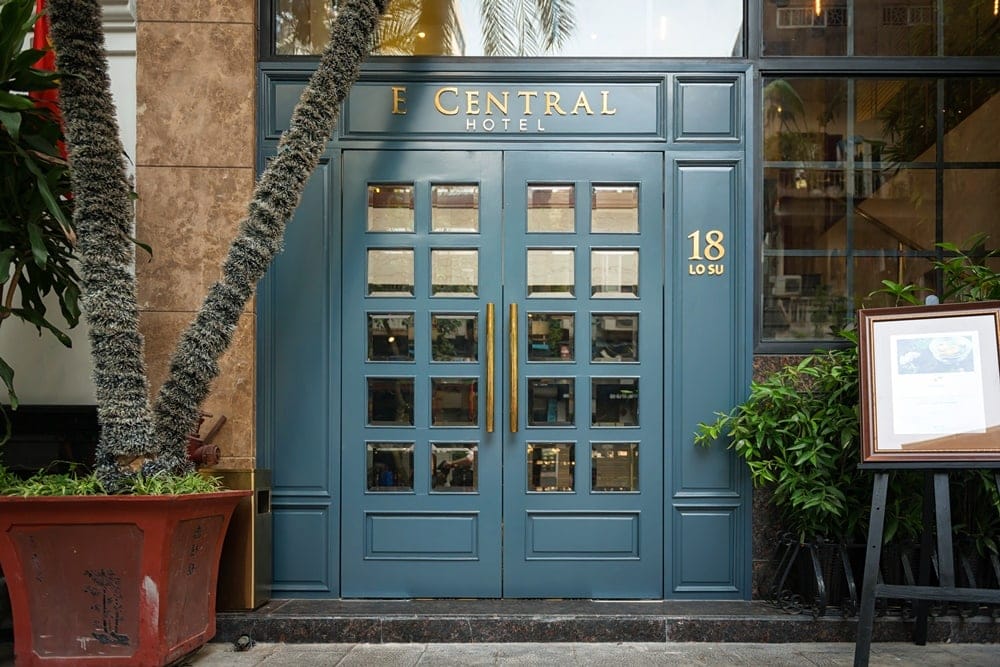 Hanoi E-Central Hotel

Being located in the central area of Hanoi City, Hanoi E-Central is truly an ideal place to rest for travelers. With only a few minutes wandering from the hotel, tourists are standing in front of many popular attractions in this charming city such as Hoan Kiem Lake, Hanoi Opera House or Thang Long Water Puppet Theatre. Passing the entrance of this hotel, the first thing guests can be sensed is cozy atmosphere of inner space. This feeling derives from intimately luxurious decoration inside, as well as courtesy of friendly staff of the hotel. 
Address: 18 Lo Su, Hoan Kiem, Hanoi
La Dolce Vita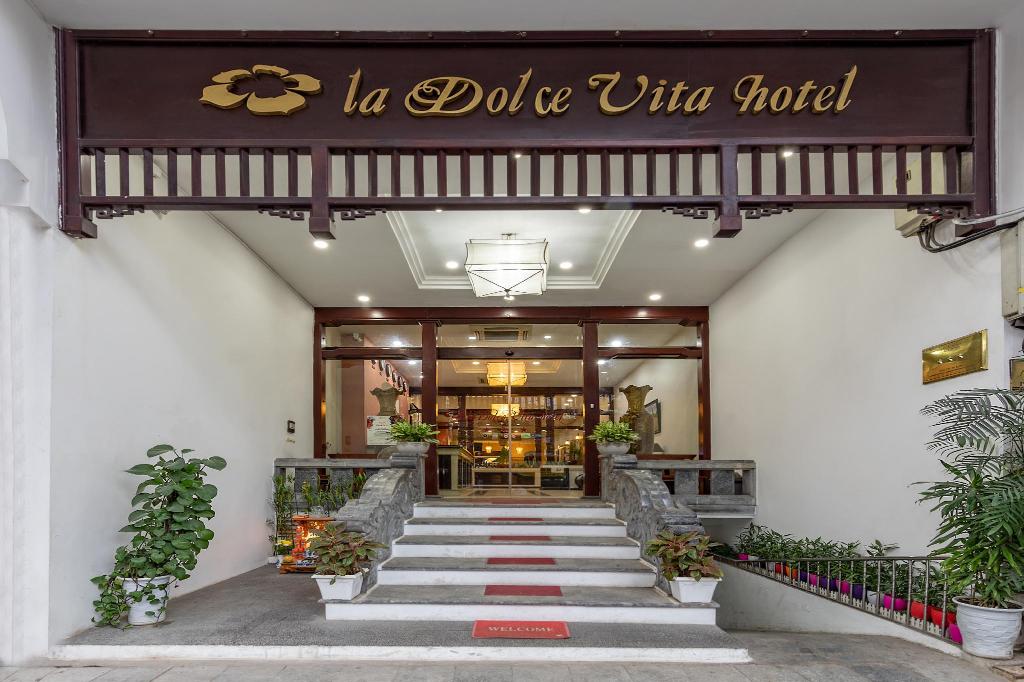 La Dolce Vita Hotel

La Dolce Vita is located on the busy trading street of Hang Bo, where visitors are exposed to real local life. From the hotel, it only takes you 10 minutes to walk to Hoan Kiem Lake and other popular tourism destinations of the city. Nearby La Dolve Vita is a number of sit-down and casual dining venues: one can have a plenty of choice from Pho Ga at the crisscrossing with Hang Thiec at night, to the Dong Phu (now Bep) restaurant nearby on Hang Dieu. At present, the hotel is providing three main types of rooms to guests, consisting of Superior room for budgeting accommodation, deluxe room for guests who prefer spacious resting places and VIP rooms for travelers who value luxurious accommodation and top class amenities.
Address: 53 Hang Bo, Hoan Kiem, Hanoi
La Siesta Premium Hang Be
Lavish penthouse at La Siesta Premium

What used to house the dated Hoa Binh Palace Hotel now becomes a luxury fully functioned boutique building operated by La Siesta chain. La Siesta Premium Hang Be is steps away from Hang Be wet market, one of the most popular of its type in Hanoi Old Quarter, where visitors can get a glimpse of day to day life in the city. A further walk south-west and you can reach Hoan Kiem Lake, while north-east and you will come across the legendary Ta Hien bia hoi corner. That explains well the strategic location of the hotel, not to mention the state-of-the-art rooms and suites, restaurants and spa all in the the same building. A stay at La Siesta Premium is worth every of your penny.
Address: 27 Hang Be, Hoan Kiem, Hanoi
Brilliant Hotel Hanoi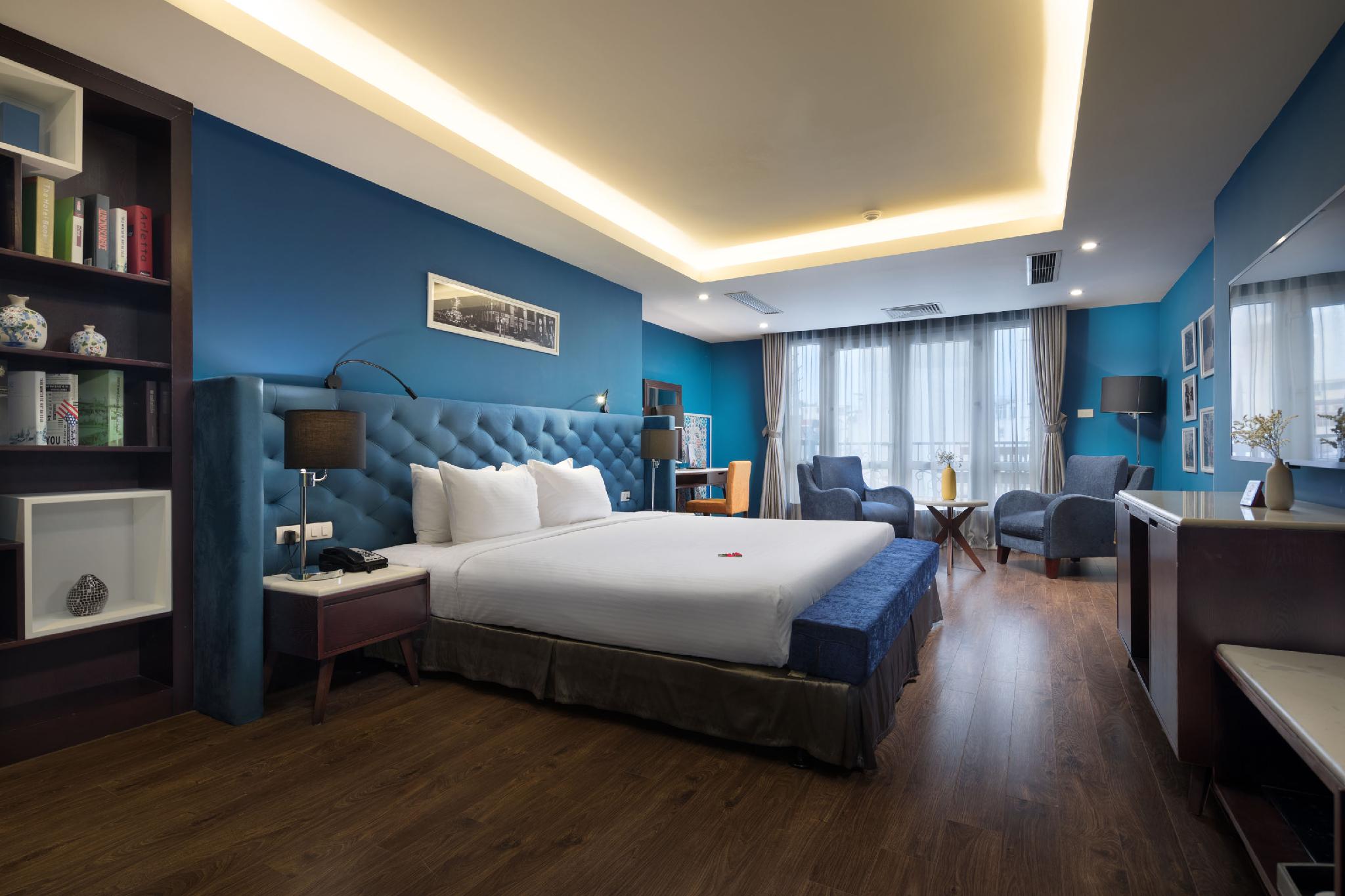 Hanoi Brilliant Hotel airy and comfy bedroom

Following a blue theme, Brilliant Hotel Hanoi is a treat for the eyes. The hotel is conveniently located on Hang Trong street, close to everything and accessible by car, as the street is not yet listed as walking street like Ma May or Hang Be. The hotel offers 25 well decorated and reasonably sized rooms, with family and connecting suites available. Breakfast are served on top floor, offering a bird eye view of the more urban area of Hanoi Old Quarter.
Address: 44 Hang Trong, Hoan Kiem, Hanoi
Solaria Hotel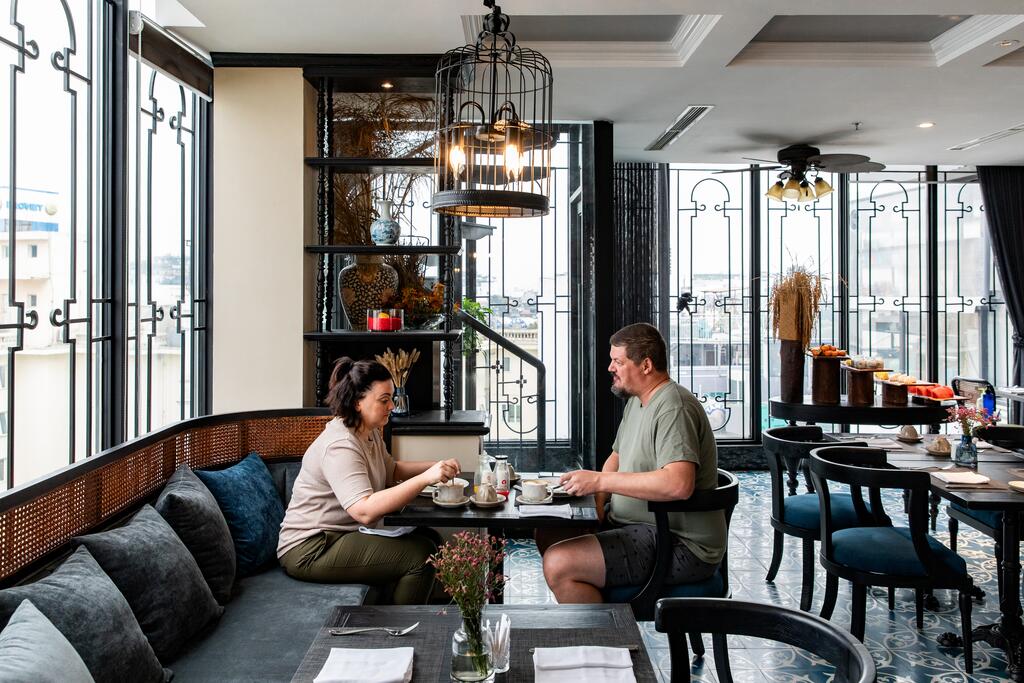 Solaria restaurant a treat in itself

A recently built and wildly popular option for Hanoi visitors, Solaria will appeal to all your senses from your first step. Each detail in the hotel, from the lobby to the guest rooms, is carefully picked and crafted to make it a unique experience for in-house guests. The hotel sits on Bao Khanh, the short alley that leads from Hang Trong to Hoan Kiem lake, and one of the most quiet yet lush and romantic area of Hanoi Old Quarter. A stay to remember - that is!
Address: 22 Bao Khanh, Hoan Kiem, Hanoi
The Chi Boutique Hotel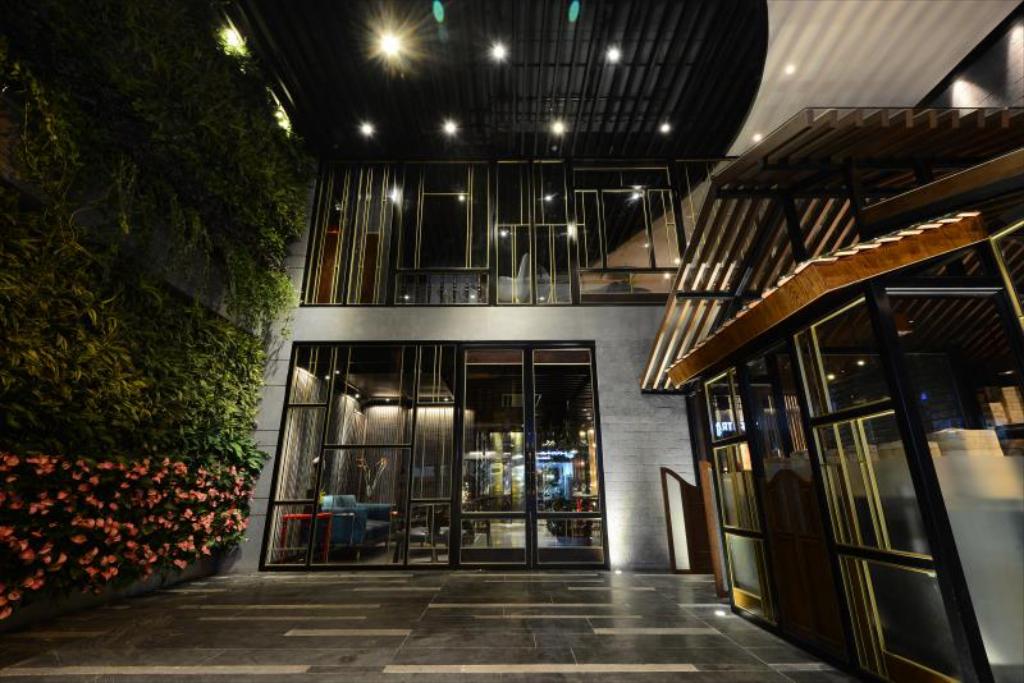 The Chi Boutique Hotel Entrance

One of the few hotels that are up and running throughout 2020 difficult period without a single pause, The Chi Boutique has been a favorite choice for both domestic and foreign visitors. The hotel offers contemporary rooms and suites with hard-to-beat location: only 2 minute walk to Saint Joseph Cathedral where you can find yourself swamped with restaurant and cafe choices. If you have time, it may also be an enriching experience to walk in the opposite direction: instead of delving deeper into Hanoi Old Quarter, you will find yourself next to Hang Trong park, a national library, and Quang Trung/ Trang Thi junction with many local eateries and a vibrant area that not many tourists get to see.
Address: 13 Nha Chung, Hoan Kiem, Hanoi
La Sinfonia Majesty Hotel & Spa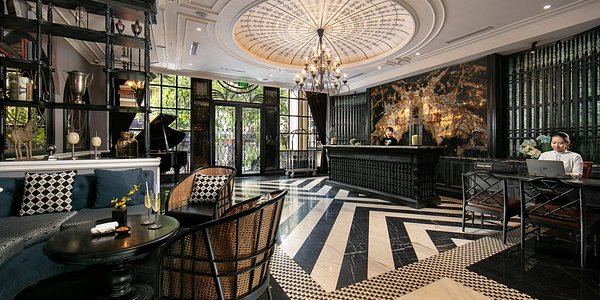 La Sinfonia Lobby

One of the prettiest among new boutique luxury hotels in Hanoi, La Sinfonia Majesty is put into use since 2021. The hotel's rooms and suites are outstandingly designed following neo-classical style, with Indochina's traditional touch. Offering a rooftop bar with view of Hoan Kiem Lake and Hanoi Old Quarter in a nutshell, and set at the busy Cau Go neighborhood, La Sinfonia is both convenient and comprehensive: you don't have to go far to get more than your need.
Address: 1 Cau Go, Hoan Kiem, Hanoi
Delicacy Central Hotel & Spa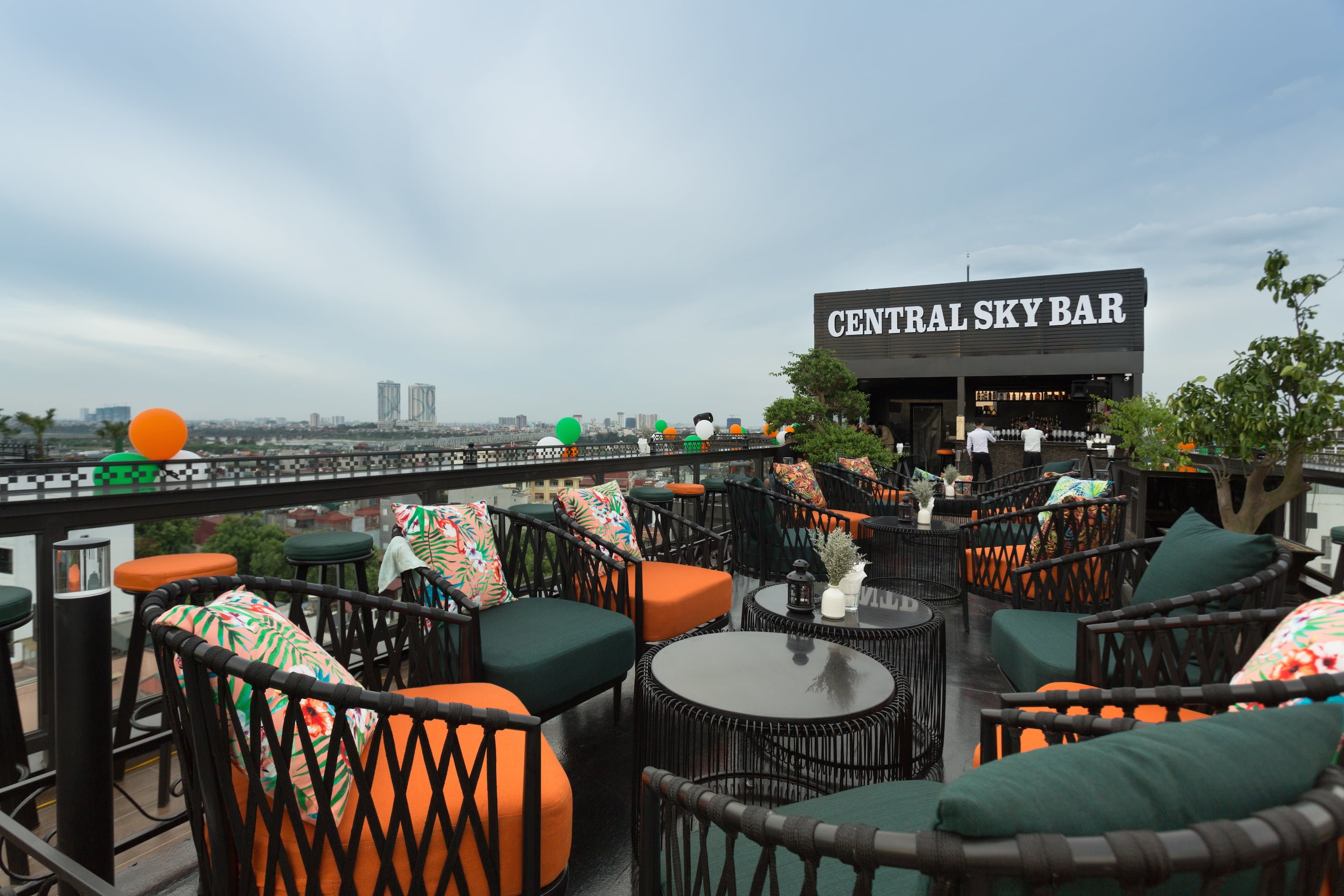 Tropical night at Central Sky Bar

Another tasteful hotel choice on Hang Be street, Delicacy Central offers 50 spacious rooms and suites that can rival any 5 star accommodation in Vietnam. The hotel is within walking distance to Nguyen Huu Huan coffee street, Hang Dau shoes street, Hang Be wet market and Ma May - the tourist hub. If you have an evening to spare, make sure you take a cocktail sip at Central Sky Bar on 12th floor and enjoying the 360 degree view of the Old Quarter.
Address: 61 Hang Be, Hoan Kiem, Hanoi
JM Marvel Hotel & Spa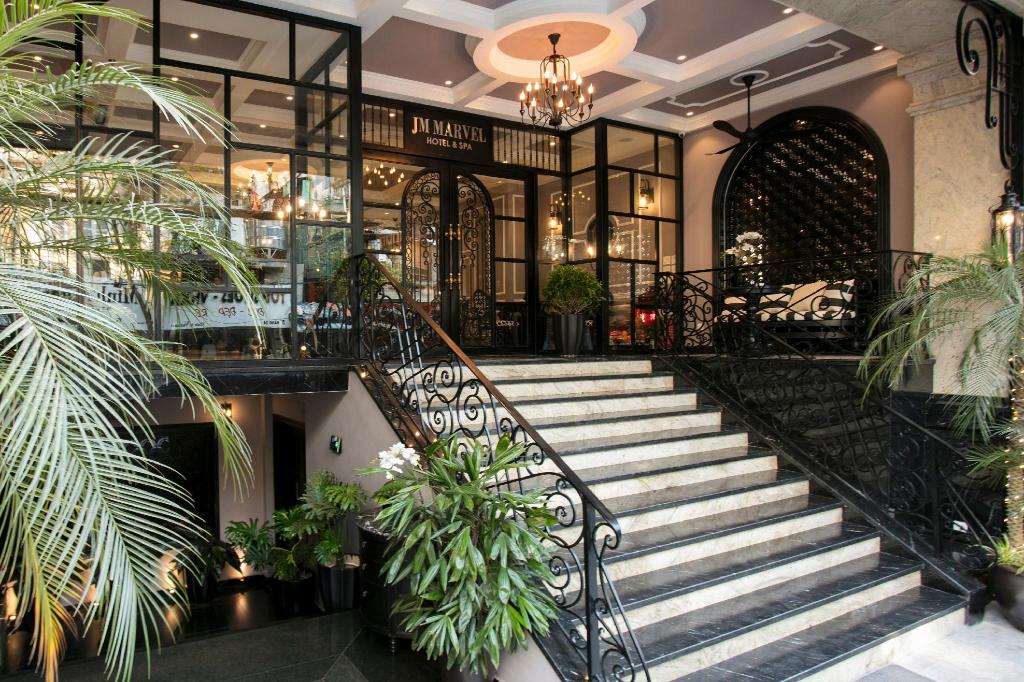 JM Marvel Hotel & Spa splendid lobby

One of the more splendid choices that emerge during the 2019 tourism boom, JM Marvel Hotel & Spa is worth considering if you are looking for boutique hotel but on the higher end spectrum. You can feel the ambience from the lobby decorations to staff's polished uniform, both of which gives an endless impression of charm and welcoming. JM restaurant and spa are also among the top choices in Hanoi Old Quarter, and worth vested your time once you are there.
Address: 16 Hang Da, Hoan Kiem, Hanoi
O'Gallery Premier Hotel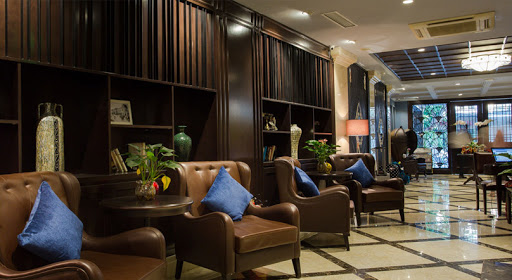 O Gallery Premier Hotel lobby

Before the pandemic hit in 2020, O'Gallery Premier was always fully booked - so full that the hotel group owners have to extend services to 2 more outlets. As it is regaining its vibe in 2021, the hotel is worth every of your consideration, and a standout on the hotel-filled street of Hang Bong. The hotel is 2 minute walk to Cua Nam junction, the Hanoi's image you would see in the 1990s, with lines of traffic from all corners amid billboards and sizzling street vendors. Make sure you get a taste of Hanoi at one of many vendors on Tong Duy Tan street, just a block away from the hotel, or see the train street which is 2 block away. The ideal location does not get to discount any of the hotel's quality rooms and exceptional services. In fact, it is among the most outstanding in Hanoi Old Quarter to the modern day.
Address: 122 Hang Bong, Hoan Kiem, Hanoi
Conversations (0)
Join the conversation
Conversations
Join the conversation
ALL COMMENTS (0)
There are no comments. Add your comment to start the conversation.
read next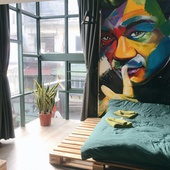 When you visit Hanoi, a city of long-lasting history and rich culture, won't it be a bargain to stay in an Airbnb that you could have the most genuine travel advice from local host while enjoying your own private space with well-supplied amenities? If you are a fan of this alternative accommodation, find our short-list below.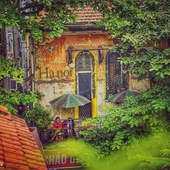 Hanoi Old Quarter, with its myriad of cafes, is the ideal place to start your coffee hunt, all the way watching the continuous rush of people and the time lapse on each street.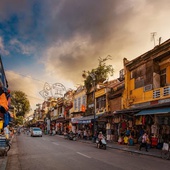 For those who visit Hanoi with a genuine desire to have a grasp of the city's culture or a curiosity to travel back in time, Ha Noi Old Quarter is a must-go place that they definitely should not be missed by any means.