Hang Dao
For many, Hanoi capital may not be the most picture-perfect city in the world but its unique charm still draws crowds of tourists. Perhaps, nowhere on the world is as culturally and historically rich as the old streets of Hanoi's Old Quarter that makes it a dynamic destination. Renowned as the richest and busiest shopping street in the Old Quarter, Hang Dao is much more than a normal walking street that many visitors desire to explore.
Located closely to Hang Ngang – Hang Bac intersection, Hang Dao Street has been a busy market place for silk and embroidery products for centuries.
Although this traditional business has shifted to its neighbor – Hang Gai Street, here you can still feel that vibe and see a lot of people come to buy silk and other textile products.
Hang Dao today belongs to Hoan Kiem pedestrian zone and is especially animated at night every Friday, Saturday and Sunday with the establishment of Hang Ngang – Hang Dao night market.
History
Hang Dao Street was called Rue de la Soie (Silk Street) during the French colony selling an abundance of commodities, especially silk. Later, when many Western tailor shops became more popular, silk stores started disappearing and the whole street slowly transformed into a luxury shopping street which remains until today.
Presently, Hang Dao Street plays a vital role of being the busiest center of Hanoi's Old Quarter. Dozens upon dozens of fashion & jewelry shops, watch shops and shoe stores can be found there to meet the increasing demand of local citizens and tourists.
What to see
Not only being a busy trading place and vibrant walking street in the weekends, Hang Dao Street has also preserved some important historical sites. At number 38 Hang Dao, there is Dong Lac Temple where worships Thang Long Tu Tran – Thang Long's Four Guardians.
Besides, at 51 Hang Dao, visitors will find a painter's house that passed on the tradition of painting portraits of people. Surprisingly, no photoshop technology can compare the manual skills of these painters.
Meanwhile, opened since 2013, walking night market in Hang Ngang – Hang Dao is a perfect nightlife venue. On weekends (Friday, Saturday and Sunday night), the streets are filled with vendors, performers and sometimes artists creating a very festive atmosphere.
What to eat
Make your own way stroll on the Hang Ngang – Hang Dao night market, you'll be rewarded by fascinating atmosphere and a wide range of typical street foods in Hanoi. There is plenty of eating to be done there.
Banh mi
There you can expect to try Vietnamese typical "banh mi" filled with grilled meat, cucumber and local herbs. It's easy to order a steaming hot one because street vendors usually grilled meant and sell "banh mi" at the same time.
Thit xien nuong 
If you want to enjoy pure taste of delicious grilled meats, there are "thit xien nuong" (grilled pork sticks). The prices are very reasonable with only 15000-20000 VND/ stick.
Tra chanh 
Lemon tea is a super-popular drink in Hanoi. You and your group and gathers for lemon-tea in the evening and enjoy the bustling atmosphere of the night market as well as people watching.
Nem chua ran
Vietnamese grilled fermented pork roll is another great dish to try that is grilled over charcoals. It's usually served with some fruits such as star fruits, green mango and cucumber to reduce the fatty taste.
Where to stay
Finding a place to stay on Hang Dao Street is not a difficult task. There are several opportunities for small budgets to stay in some low-cost accommodation as well as high-end options for high income groups.
Oriental Suites (58 Hang Dao)
This is a luxury accommodation featuring comforts and modern facilities. From there, it's only a few steps to many tourist attractions such as Hoan Kiem Lake, Dong Xuan Market, Night Market and Water Puppet Theater.
Hoa Linh Hotel (35 Hang Bo)
The hotel is an inexpensive choice for visitors with adequate amenities in room. It's on the intersection of Hang Ngang and Hang Dao Street, providing an easy access to the night market.
Conversations (0)
Join the conversation
Conversations
Join the conversation
ALL COMMENTS (0)
There are no comments. Add your comment to start the conversation.
Featured Streets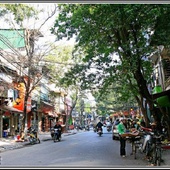 Historically the place to see and be seen, and still the place to go shop, Hang Thung Street has been challenged by rapid changes and it now becomes quite a miss and match.
0.6km (0.4 mi) from city center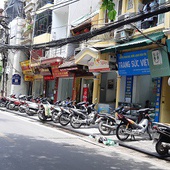 Hang Bac, meaning silver in Vietnamese, is often recommended as one of the most happening streets for a walking tour.
0.8km (0.5 mi) from city center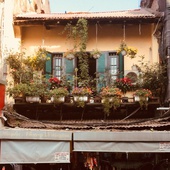 Hang Ngang is a one-way street which measures 152 meters long. It bridges Hang Dao Street and Hang Duong Street to form one of the busiest market places of Hanoi.
1.0km (0.6 mi) from city center