Hang Bac - Street Of Silver
Hang Bac, meaning silver in Vietnamese, is often recommended as one of the most happening streets for a walking tour.
Hang Bac Street is in the proximity of Hang Bo Street where is filled with haberdashery and other renowned ones namely Hang Dao, Hang Ngang and so on. The 500-meter street has enjoyed the greatest reputation for jewelry shopping and photographed attraction.
History
Hang Bac Street was established from Le Dynasty. This was a busy market for merchants at that time. Hang Bac Street was used to be called Rue des Changeurs during French colonial time in the end of 19th century. Later, the name "Hang Bac" was changed and used until present day since 1945.
This old street has its roots in silver making dating back to the 13th century. More interestingly, this is one of a few streets in Hanoi Old Quarter that has preserved its traditional business. Presently, it's easy to recognize dozens of small shops selling a variety of jewelries from inexpensive rings, necklaces and bracelets, precious items made from gold and jade and the aged-old silver casting handicrafts. You'll also find shops selling handicrafts and other souvenirs as well as places for exchanging money.
What to see
If you want to buy some silver products as a gift, the Hang Bac Street is the best choice. Being a part of the tourist hub in Hanoi Old Quarter, Hang Bac Street lined with many elegant shops and buildings is where those who can afford it splurge on fashion, jewelry and antiques. Even if you can't afford any of them, you can always dream as you window shop.
Meanwhile, if you are a culture addict, don't miss a great opportunity to venture into Kim Ngan Temple, a sacred relic dated back from centuries before as well as a familiar place for culture and spiritual activities of locals. Located at 42 Hang Bac, Kim Ngan Temple worships Hien Vien, the founder of all crafts.
What to eat
Not surprisingly, walk along this street, you'll find some of the best meals are on the street with sidewalk vendors and push carts. They're cooking and serving crowds who pack around their stands simultaneously.
Bun rieu cua
Renowned as one of the most delicious street food in Hanoi, bun rieu cua (Vietnamese crab paste vermicelli) with round rice vermicelli and topped with pounded crabmeat, deep-fried tofu and, often, congealed blood is a must for any travellers to dish up while visiting Hang Bac Street. You can try it at 11 Hang Bac.
Coffee 
Debates over where to get the best coffee never end. Despite not being the best, drinking a cup of café nau da (iced coffee with condensed milk) at Café Nang, No.6 Hang Bac Street while people watching on other busy side of the street is one of Hanoi's greatest pleasures.
Che
Vietnamese sweet soup is one of the top desserts after meal. On Hang Bac Street, you can stop over che Huong Hai (Huong Hai Congee Shop) numbered 93 which is famous for sweet soup for almost 30 years.
Where to stay
Grab some of the best hotels in Hang Bac to stay and you'll be a short walk from main tourist sights, shopping and nightlife areas. Along this street, cheap hotels abound so do expensive ones.
Hanoi Legacy Hotel (108 Hang Bac)
For travellers who want to take in the sights and sounds of Hanoi, Hanoi legacy Hotel is the perfect choice. It's pretty close to popular attractions such as Hoan Kiem Lake, Green Tangerine café and restaurant, night market and so on.
Luminous Viet Hotel (77-79 Hang Bac)
The hotel is near the legendary Hoan Kiem Lake and only three minutes of walking to find everything you can expect from the city.
Asia Backpacker Hostel (127 Hang Bac)
The address is the first place for budget travelers to start looking for. The hotel caters all needs of backpackers and provides the best in services and amenities as well as wonderful recreational facilities such as game rooms.
Conversations (0)
Join the conversation
Conversations
Join the conversation
ALL COMMENTS (0)
There are no comments. Add your comment to start the conversation.
Featured Streets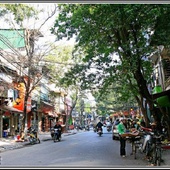 Historically the place to see and be seen, and still the place to go shop, Hang Thung Street has been challenged by rapid changes and it now becomes quite a miss and match.
0.6km (0.4 mi) from city center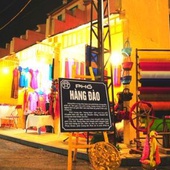 Hang Dao today belongs to Hoan Kiem pedestrian zone and is especially animated at night every Friday, Saturday and Sunday with the establishment of Hang Ngang – Hang Dao night market.
0.8km (0.5 mi) from city center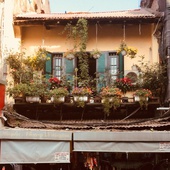 Hang Ngang is a one-way street which measures 152 meters long. It bridges Hang Dao Street and Hang Duong Street to form one of the busiest market places of Hanoi.
1.0km (0.6 mi) from city center