Best Time To Visit Hanoi
Overview
Generally, climate in Hanoi is typical of tropical monsoon climate in the North of Vietnam with the hot - wet summer and cold – dry winter. The best time to visit Hanoi should be autumn months which include normally September, October and sometimes November. The climate in these months is perfect with the comfortable atmosphere of the beginning of the winter coupled with the slightly cool wind and light mizzle. Due to fresh air and light sunshine, the scenery becomes more impressive, sparkling and attractive. The fall in Hanoi is an endless inspiration to many artistic works.
Photo by @Kyumok Jung
Weather by month
Many people take it for granted that Vietnam is a tropical country, which can be translated into a year-round over-heated weather. In fact, Hanoi has four seasons and each month differs from another in terms of humidity, temperature and of course, seasonal fares.
You think London has the most unpredictable weather in the world? You will need to think twice after visiting Hanoi! Many Hanoians often envy their Southern brother - Ho Chi Minh City - for their stable and consistent climate. Conversely, Saigonese has reason to prove otherwise: Hanoi's weather is way too exciting to miss.
Below you can find an overview of weather by month in Hanoi:
Weather in January
Hanoi in January is far from warmth, that being said, the entire month is amongst the coldest days of the year. Without searing heat and humidity, the average temperature ranges from 14°C (57˚F) to 20 °C (68˚F). Overnight and early morning temperatures may plummet to below 10°C. It can be freezing cold and the humidity accounts for 70%.
January weather in Hanoi seems wet and moist. About 7 to 14 days this month will see light rains with a low amount of precipitation, 21mm on average. Bright sunshine exists for just around 3 hours each day while the maximum UV levels can be high since there are 11 hours of daylight.
| | | | |
| --- | --- | --- | --- |
| Month | High/ Low (°C) | Average rainfall (mm) | Rainy days |
| January | 20°C/14°C | 21mm | 7 to 14 days |
Pros and cons for visiting Hanoi in January
Pros:
Being bright and cool, January is among the most favorable times to engage in outdoor excursions around Hanoi.
It marks the arrival of spring and the weather is increasing warmer at the end of the month.
This is also an off-peak season for domestic tourists.
Cons:
Drizzling rains may cause some inconveniences during your travel.
You may not have a chance to soak up the urban vibrancy because many shops and restaurants are closed for the Tet holiday.
Weather in February
During February, the most festive month of the year, Hanoi enjoys moderate and mild weather since spring is almost at the door. Temperatures increase slightly with the average low temperature is 15°C (59°F) and the average high-temperature is 21°C (69°F). Daily low temperatures can sometimes drop down to 10°C (50°F). Gloomy vibe and drizzles are mostly seen in the morning as there are only 2 hours or less of sunshine each day.
Hanoi in February will receive a slightly larger amount of rainfall compared to January's rainfall, 26mm on the average of 13 days. The number of wet days is from 11 to 17 days. Humidity remains at about 73%, resulting in a dry atmosphere.
| | | | |
| --- | --- | --- | --- |
| Month | High / Low (°C) | Average rainfall (mm) | Rainy days |
| February | 21°C / 15°C | 26mm | 13 |
Pros and cons for visiting Hanoi in February
Pros:
Enjoyable, pleasant climate enables visitors to join various activities without feeling tired and exhausted from dehydration.
A variety of interesting events and festivals await you in Hanoi in February.
Cons:
Temperatures drop very low at night.
There is a higher possibility of rains that may discourage you from going out.
The city is more crowded due to flocks of locals coming back from their lunar Tet holiday.
Weather in March
March, no doubt, makes a sweet spot on the calendar when the worst of winter is already behind you and replaced by sunnier and warmer weather. Hanoi in this month is cool, not too hot with average temperatures varying between 18°C (64.4˚F) and 23°C (73.4˚F). There are a few scorching hot days when the mercury peaks at 32°C (89.6˚F). This weather corresponds to an average of 2 hours of sunshine each day. Additionally, the humidity level makes up around 76%.
Hanoi in March witnesses a much higher amount of precipitation, at around 40mm and 50mm, falling on an average of 15 to 22 wet days. Moreover, rains are more frequent towards the second half of the money.
| | | | |
| --- | --- | --- | --- |
| Month  | High/ Low (°C) | Average rainfall (mm) | Rainy days |
| March  | 23°C/ 18°C | 40mm to 50mm | 15 to 22 |
Pros and cons for visiting Hanoi in March
Pros:
The mid-time of spring showcases the resplendent beauty of Hanoi and appeals flower-lovers to admire the blooming of grapefruit flowers, Ban flowers, and Sua flowers.
You can spend the majority of the day meandering Hanoi's hectic under the sunshine.
Although the Tet holiday has gone, you are still able to take part in various interesting festivals.
Cons:
March is flu season due to the change of humidity and temperature.
It's also one of the months with the highest UV index.
Weather in April
Hanoi in April witnesses the transition between spring and summer. Increasing warm temperatures range from 21˚C (69.8˚F) to 28˚C (82.4˚F). And, the highest temperature recorded soars to 35˚C (95˚F). As the month progresses, you will feel much hotter, especially from noon onward. Hanoi will receive 12 hours of daylight, mostly covered by clouds and 2 to 3 hours of sunshine each day.
April also marks the beginning of the rainy season. There will have more unexpected downpours in a short period of time but drizzles are still the domination. The amount of precipitation increases significantly to about 91mm on an average of 13 to 18 wet days. Similarly to March, the average humidity level stands at around 75%. However, there is a possibility for a considerable rise of humidity to nearly 90% at the end of the month.
| | | | |
| --- | --- | --- | --- |
| Month  | High/ Low (°C) | Average rainfall (mm) | Rainy days |
| April | 28˚C/ 21˚C | 91mm | 13 to 18 days |
Pros and cons for visiting Hanoi in April
Pros:
Tourists can still enjoy cool, mild weather of spring in the morning.
This is an ideal time to visit Hanoi before the monsoon starts in May.
The daytime is longer, meaning that you'll have more time to explore the city.
Cons: 
Flu continues to rage that may risk your health.
There are not many significant festivals and recreational activities during this month.
The downtown is much quiet at the end of the month because of the national holiday.
Weather in May
Summer is just around the corner as you unquestionably will feel scorching hot in amidst the capital. The average temperatures rise up from around 24˚C (75.2˚F) in the morning to 32˚C (89.6˚F) from noon onward. Occasionally, the mercury rockets to 37˚C (98.6˚F) and the hottest period of time during the day is from 2 pm to 5 pm. In the evenings, it can be a bit chilly with lows at 20˚C.
Rainy season really arrives with around 191mm of rainfall falling on 14 to 18 days that doubles the previous month's statistic. During this month, drizzles are gradually replaced by torrential downpours. The average relative humidity, by contrast, decreases slightly to 69%. Therefore, there are fewer chances for muggy and mist day.
| | | | |
| --- | --- | --- | --- |
| Month  | High/ Low (°C) | Average rainfall (mm) | Rains |
| May | 32˚C/ 24˚C | 191mm | 14 to 18 days |
Pros and cons for visiting Hanoi in May
Pros:
Warm daytime temperatures make it great for outdoor sightseeing trips.
Tropical depressions cause some cooler nights for a better night's sleep.
This is a peak season for both locals and foreign travelers.
Cons:
Although sudden rains do not last long, it causes inconveniences and annoys tourists more or less.
Many international visitors may not be able to adapt to changes in the weather.
Many shops and entertainment attractions will be closed on Labor Day 1st May.
Weather in June
June marks the arrival of summer in Hanoi when the weather is getting increasingly hot and there is plenty of rainfall. The average high temperature usually peaks at 32.6°C and the minimum drops to 25.8°C. Besides, the temperature can even up to 38°C on the hottest days.
The number of sunshine hours is around 5 hours that accounts for 38% of 13 daylight hours. This figure remains constantly compared with May. Additionally, Hanoi in June receives a huge amount of precipitation, at around 229mm on 14 rainy days. That heavy downpours occur more often results in a relatively high humidity level of 78%. Also, the possibility of storms can take place anytime.
| | | | |
| --- | --- | --- | --- |
| Month  | High/ Low (°C) | Average rainfall (mm) | Rainy days |
| June  | 32.6°C/ 25.8°C | 229mm  | 14 |
Pros and cons for visiting Hanoi in June
Pros:
Days are longer affording tourists more chances to explore the city.
Cons:
Strong sun rays may damage your skin and make you feel tired.
Many streets and blocks can be flooded.
All tourist attractions are overcrowded with both domestic and international tourists.
Weather in July
The hot climate and lots of rains lead to very high humidity and thunderstorms in Hanoi in July. As the hottest month of the year, the temperatures increase dramatically with highs of 33°C and lows of 26°C. The average night temperature remains at around 27°C.
Similar to June, this extreme weather in July is usually accompanied by pouring rains with precipitation of about 225m, falling on 19 wet days. Unexpected storms are also a popular type of weather in Hanoi. Sunshine hours rise steadily to 6 hours each day but you will feel very humid most of the time as the humidity makes up 72%.
| | | | |
| --- | --- | --- | --- |
| Month  | High/ Low (°C) | Average rainfall (mm) | Rainy days |
| July  | 33°C / 26°C | 225mm | 19 |
Pros and cons for visiting Hanoi in July
Pros:
Some days of the month have nice weather for outdoor trips.
You can get tanned skin just by strolling around the streets.
Cons: 
A minority of travelers from temperate climate zone cannot stand this severe weather.
Big storms and showers can interfere with your travel.
Hanoi in this month is tedious without any interesting events.
Weather in August
Milk flowers blossom and heavy downpours signal autumn in Hanoi. August is the transitional month between the extremely hot, humid weather and cooler climate. Upon autumn arrival, the average temperatures start to fall slightly, ranging between 27°C and 32°C. The daytime remains at 13 hours but the number of sunshine hours also decreases to 5 hours. In addition, the first half of the month is cloudier than the second half.
In terms of humidity, there is not a significant change as the level stands at around 75%. By contrast, August in Hanoi is the rainiest month with 18 wet days and the monthly precipitation soars to 340mm. You can witness severe weather such as pouring rains, thunderstorms, and lightning.
| | | | |
| --- | --- | --- | --- |
| Month  | High/ Low (°C) | Average rainfall (mm) | Rain |
| August  | 32°C/ 27°C  | 340mm | 18 days |
Pros and cons for visiting Hanoi in August
Pros:
You can enjoy unique aromas of milk flowers, green sticky rice and admire tangles of trees turning to yellow under the blazing sunshine.
The atmosphere is comfortable, perfect for going outdoors.
Hanoi's tourist attractions become more appealing with great decorations and fewer crowds of tourists.
Cons:
The peak rainy season may discourage you from joining outdoor trips and activities.
Changes in weather carry the possibilities of several illnesses.
Weather in September
Autumn is officially in Hanoi as you can enjoy pleasant temperatures as the month progresses. The capital will be covered by vivid sunlight and yellow fall foliage. While the average high temperature dips generally 1 degree to 31°C, the average low accounts for 26°C. During the most romantic time of the year, Hanoi receives a constant number of 5 sunshine hours compared to August.
Though September in Hanoi is still a wet month, the ending of the fierce rainy season reduces the total amount of precipitation to 251mm on average of 15 rainy days. And, thunderstorms are common after rains. Additionally, the city has a relatively high humidity level at 73%.
| | | | |
| --- | --- | --- | --- |
| Month  | High/ Low (°C) | Average rainfall (mm) | Rain |
| September  | 31°C/26°C | 251mm | 15 days |
Pros and cons for visiting Hanoi in September
Pros:
Hanoi weather in September is moderate and very comfortable.
The scene is beautiful with blue sky and soft sunlight.
This is a perfect opportunity for doing sightseeing trips as your plans are less likely to be interrupted by sudden torrential rains or big storms.
Cons:
The weather is inconsistent that it is a bit difficult for you to choose suitable outfits.
Weather in October
October in Hanoi typically brings much milder temperatures and fewer chances of heavy downpours. It usually doesn't get hotter than 28°C and the average low temperature 23°C. Evenings are chill too as it can drop to below 20°C.
In accordance with lower temperatures, the average rainfall experiences a sharp decrease to 146mm, falling on 14 days that signals the beginning of the dry season in Hanoi. Similarly, the humidity reduces to 69%, leaving a little bit less humid weather. Therefore, muggy and oppressive conditions are unlikely to occur. There is also an insignificant decrease in the number of daily sunny hours to 4 or 5 hours on 12 hours of daytime.
| | | | |
| --- | --- | --- | --- |
| Month | High/ Low (°C) | Average rainfall (mm) | Rain |
| October  | 28°C/23°C | 146mm | 14 days |
Pros and cons for visiting Hanoi in October
Pros:
In the middle of autumn, you'll often see a charming atmosphere of cooling wind blow, lighter showers, and to be bounded by fallen leaves.
This is an off-peak season for local visitors.
Cons:
It can be very cold at nights and you need to pack more kinds of clothing.
There are not many significant events during this month.
Weather in November
November is a cold month in Hanoi that signals winter-like weather with a stronger monsoon, dry atmosphere, and low rainfall. The average temperatures decrease remarkably, varying between highs of 24°C and lows of 19°C. This makes Hanoi much cooler than the previous month and even chilly at nights. During the month, sunlight is weakened and the whole sky is usually covered by clouds. Hanoi will enjoy only 2 to 3 hours of sunshine each day. This type of weather is not only pleasant for the locals but also bearable for visitors from temperate weather countries.
The number of rainy days plummets to only 5 days which results in insignificant average precipitation of 46mm. Most of the rains in November occur due to the effect of monsoon. Similarly, there is a slight reduction in terms of humidity level to 68%.
| | | | |
| --- | --- | --- | --- |
| Month  | High/ Low (°C) | Average rainfall (mm) | Rains |
| November  | 24°C/19°C | 46mm | 5 days |
Pros and cons for visiting Hanoi in November
Pros:
Enjoyable weather will please all visitors.
Hanoi street food is vibrant this time a mix collection of both hot and cold food.
There are a few risks that your travel is suspended by rains or storms.
Cons:
Hanoi in this month is rather boring with no interesting events.
Weather in December
In brief, Hanoi weather in December is characterized by the coldest winter month, low temperatures, dry climate, and short daytime. This month sees highs of 22°C and lows of 19°C. Nighttime can reach a chilly average of 11°C. As the day is getting dark early at 5:30 pm, the sunshine level in December starts to drop quickly to only 3 hours per day on average.
The relative humidity accounts for 67% so you may feel lack of moisture. In addition, Hanoi receives a small amount of rainfall which is even much lower compared to the previous month with only 14mm falling on 7 wet days. Also, the number of sunshine hours decreases gradually as the month progresses.
| | | | |
| --- | --- | --- | --- |
| Month | High/ Low (°C) | Average rainfall (mm) | Rain |
| December  | 22°C/19°C | 14mm | 7 days |
Pros and cons for visiting Hanoi in December
Pros:
The cool and mild weather without heavy downpours is ideal for tourists to partake in any activities and outdoor trips such as cyclo or biking tours around the Old Quarter.
It is also great for savoring hot and delicious specialties of Hanoi such as 'pho', 'banh cuon'.
A broad range of fascinating events and celebrations await you in Hanoi this December.
Cons:
The dry weather may make your throat hurt.
Daytime is short so you may not have enough time to explore the city.
Conversations (0)
Join the conversation
Conversations
Join the conversation
ALL COMMENTS (0)
There are no comments. Add your comment to start the conversation.
read next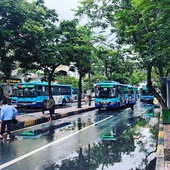 If you are traveling on a budget and want to fully experience Hanoi, bus is definitely worth considering.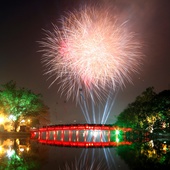 If you've ever stayed in Hanoi over Tet holiday—Lunar New Year—you know this: it's desolate.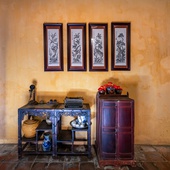 If you do not know how to navigate through the mountain of information published on Vietnam Online and elsewhere in the world about Hanoi, this is your one stop guide to travel and living in Hanoi.