Travel Tips: Taking Local Bus Like A Local
Traveling by bus has become more and more popular in Hanoi due to the low cost and its convenience. If you are traveling on a budget and want to fully experience Hanoi, bus is definitely a worth considering choice.
How to recognize the bus and bus stop on the street?
Bus in Hanoi is very eye-catching with the typical paint of three main colors: white, red and yellow. Each bus has a number in red, centered in a white circle and made visible in front of the bus.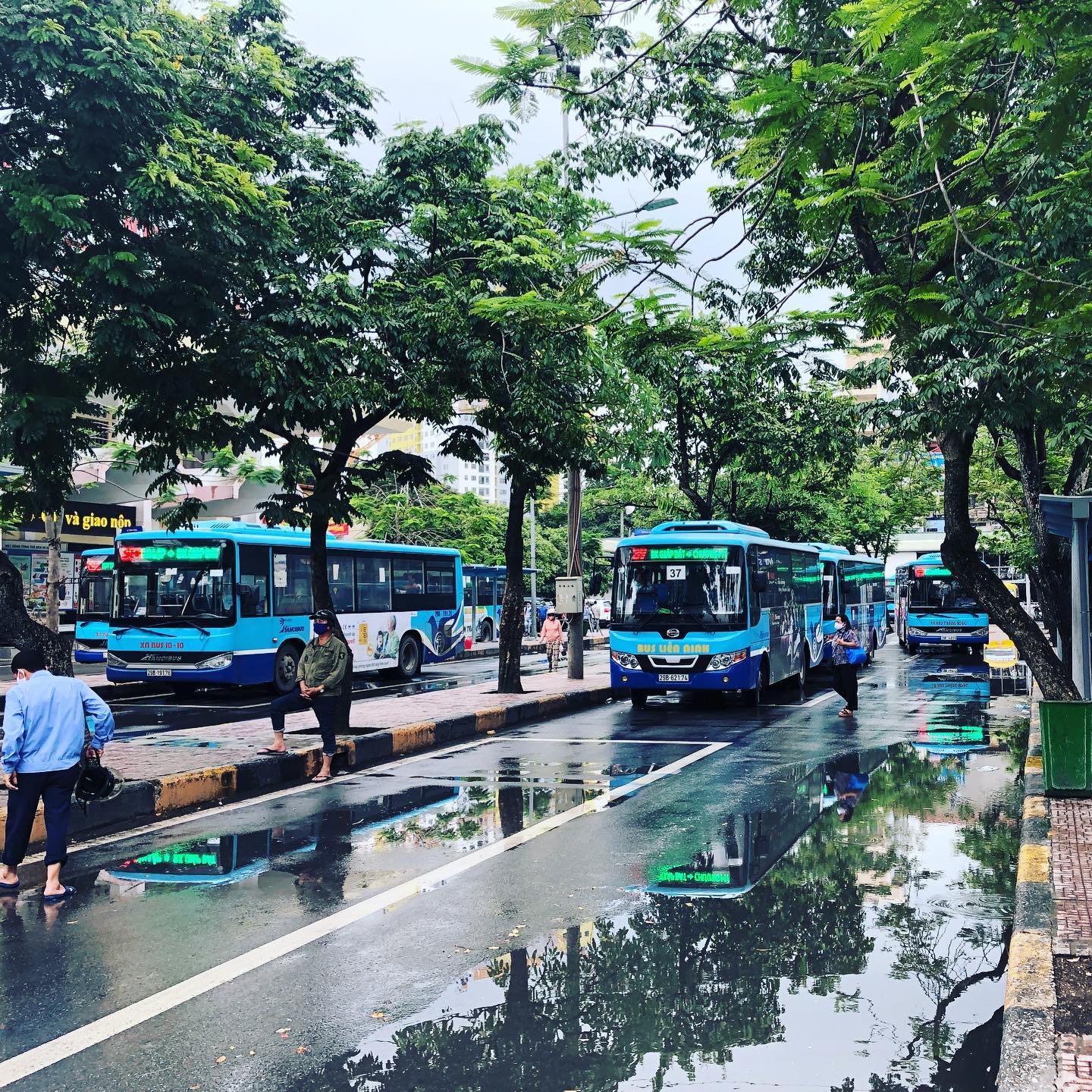 Hanoi Bus

The bus stops are located along the streets, with the signal of blue boards which provide the detailed routes for the bus lines. At the major bus stops, there are also the city map and all the other routes. Bus is available every 5-15 minute, from 5.00 a.m. until 9.00 p.m.
Ticket price
If you choose bus as your means of transportation in the city, no need to worry about the price! Bus ticket price is pretty cheap and it has somehow managed to stay that way for a very long time.
The price of a bus ticket depends on the distance of the route:
Inside Hanoi: VND7000
Buses number 07 and 17 to the airport: VND15000
Buses going to nearby provinces: VND25000-VND50000
The ticket price of each bus is written clearly as the small line with red letters along the window of the bus. The price is the same to everyone, both locals and foreigners, so pay attention to it and you can totally forget your concern about being overcharged.
Each ticket can be used one time for one route only. Remember to keep it while you are on the bus in case of a random inspection. Tickets are purchased directly from the conductor on bus and you have to pay in cash. So if you plan to travel by bus, please bring small notes with you for the convenience of both the ticket seller and yourself.
Need-to-know bus routes
Bus is, at the moment, the only public transportation in Hanoi so it reaches almost every main street in the city. The city has only recently broken ground on its urban metro network. Many bus stops are very handy for famous and attractive tourism destinations such as Hoan Kiem Lake, The Old Quarter, Hanoi Train Station (Ga Hanoi), Ho Chi Minh Mausoleum, Literature Temple and museums. You may want to keep in mind some important bus routes:
Bus numer 7 and number 17: these two are the public buses that stop at Noi Bai Airport- the most essential gateway in the North of Vietnam. Bus number 7 crosses Thang Long Bridge and head to Cau Giay, while bus number 17 goes to the Old quarter via Chuong Duong Bridge.
Bus number 9 and bus number 14: these two buses will drop you at Hoan Kiem Lake, and you can start exploring the lake's area as well as the Old quarter downtown. Bus number 9 will also stop at Le Hong Phong and Dien Bien Phu Street, from here you can visit Ho Chi Minh mausoleum and the surrounding area. Meanwhile, bus number 14 will take you to the West Lake with famous tourism destinations like Tran Quoc Pagoda, Quan Thanh Pagoda.
Bus number 33 and bus number 2: these buses will bring you to the area near Ho Chi Minh Mausoleum and from here; you can wander along the famous tree-lined boulevards of Hanoi, like Dien Bien Phu, Le Hong Phong or the double-lined Phan Dinh Phung, before heading to the Ho Chi Minh complex.
Bus number 47: hop on this bus which departs from Long Bien terminal and it will take you to Bat Trang pottery village!
To be well-prepared, you can purchase the bus routes map at the bus terminal, which covers detailed information about the bus numbers, the bus stops and the full route. You can decide where to go and make your own itinerary using bus with this useful map.
Be a "local" passenger
You have now gotten all the information about Hanoi bus: which number to catch, how to buy the ticket… and now, you think that you are ready to become a passenger! Wait a minute! There are still many other things that you need to know. There are some problems that you may encounter while using bus in Hanoi.
The bus will be very crowded in some exact times of the day (mostly from 6.30 to 8.00 a.m. and 4.00 to 7.00 p.m. – the peak hour), and the bus will be full, mainly with students who use the bus the most frequently. The rush hours will also make for very jam-packed streets, which grind traffic to a halt and cripple behemoth-sized buses in a sea of mopeds. You are strongly advised to not travel by bus during these hours, especially when you are in a hurry.
Moreover, when the bus approaches your intended destination, do your best to make the way to the back door (if the bus is too crowded to pass through, you can ask the driver to use the front door). Take a deep breath and prepare for a fast move because bus drivers in Hanoi are notorious for barely pulling over and stopping for a very short amount of time. Get ready to get out of the bus as fast as possible, or else enjoy the half kilometer walk back from the next stop.
Some of the buses which go to the Old quarter will have speakers announcing the next bus stop. However, it is in Vietnamese so it will be a little bit hard for you to recognize the name. If there is something that you are not sure or you do not know when to get off, just ask the bus driver, the ticket collector or fellow passengers (the youngsters will be more supportive as their English is better), they will be more than willing to help you. You can also write down the place you need to go in a piece of paper, it will be very convenient lest the locals find it difficult to understand your accent.
As intimidating as it sounds, travelling by bus in Hanoi is a truly local experience.
Conversations (0)
Join the conversation
Conversations
Join the conversation
ALL COMMENTS (0)
There are no comments. Add your comment to start the conversation.
read next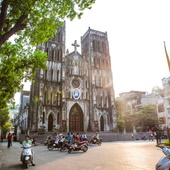 Generally, climate in Hanoi is typical of tropical monsoon climate in the North of Vietnam with the hot - wet summer and cold – dry winter.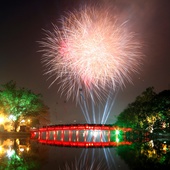 If you've ever stayed in Hanoi over Tet holiday—Lunar New Year—you know this: it's desolate.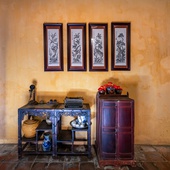 If you do not know how to navigate through the mountain of information published on Vietnam Online and elsewhere in the world about Hanoi, this is your one stop guide to travel and living in Hanoi.