Hang Tre - Street Of Bamboos
Hang Tre street is a 290m stretch from Hang Mam crossroad to Lo Su junction. A rather quiet one way street, Hang Tre is mainly a residential area for locals, which reflect in the pace of life and local businesses.
History
Hang Tre Street was close to the Red River bank, convenient for loading and unloading bamboos. Thus bamboos and timber were once the key contributors to infrastructure and major business on this street date back to hundreds of years ago. In the 19th century, the street was called Hang Cau Street because there were many stalls selling betel nuts at the end of the street. And after the August Revolution, it was renamed Hang Tre.
Presently, Hang Tre is home to a collection of kiosks for rent as well as a big entertainment hub for tourists and locals to frequent. To be found there are a large number of shops, restaurants, hotels and nightlife venues.
What to see
Unlike other old streets, Hang Tre Street is not typically featured by any types of goods or services. However, it is one of the chicest places to stroll, see and be seen in Hanoi Old Quarter. You hardly can take your eyes off the very lively picture of people's lives and then be lured into an array of hotels, fashion boutiques, exciting stores and bars & restaurants.
What to eat
Popular, delicious, cheap, rustic but still polite are key features any visitors will agree with when delving into local cuisine on Hang Tre Street.
Indeed, the street will take you into a magic hot spot to enjoy tasty treats created by passionate hawkers. During your food trip, you also meet other food lovers and have great experiences.
Bia hoi
After a long, exhausted day of exploring, we're pretty sure that you may need something to chill out. If so, head to Lan Chin draught beer restaurant at 22 Hang Tre to chill out and enjoy some cups of draught beer.
Pho
Needless to say, Vietnamese noodle soup is an easy soup to fall in love with. Along the street, you'll see many restaurants and food stalls selling various types of 'pho' topped with beef or chicken.
Coffee
Need something to feel awake? A cup of coffee is always the best choice. On Hang Tre Street, there are several exciting coffee shops that you can stop by such as Analog café (16 Hang Tre), Always café (8B Hang Tre) and KAFA café (15 Hang Tre).
Where to stay
There's just as much choice when it comes to choosing a place to stay on Hang Tre Street, from chic boutique hotels to low-cost ones. And whatever takes your fancy, these properties definitely make your stay the best ever.
Asia Palace Hotel (44A Hang Tre)
This two-star hotel offers pet-friendly accommodation in Hanoi. It features comfort, spacious rooms and a seating area for your convenience. The hotel is only 200m from Thang Long Water Puppetry Theater while Hoan Kiem Lake is just 500m from this property.
Hoang Gia Hotel (20 Hang Tre)
Hoang Gia Hotel boasts a low-budget accommodation that suits many backpackers and visitors whose budget is tight. Despite the low room rate, you can still stay in modern comfort with a full range of facilities.
Blue Paradise Hotel (34 Hang Tre)
The hotel is raved about by many visitors for high quality services and reasonable price. Each room in this hotel is equipped with an air-conditioner, private bathroom, a flat TV and other amenities for an indulgent night's sleep.
Conversations (0)
Join the conversation
Conversations
Join the conversation
ALL COMMENTS (0)
There are no comments. Add your comment to start the conversation.
Featured Streets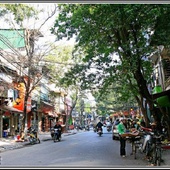 Historically the place to see and be seen, and still the place to go shop, Hang Thung Street has been challenged by rapid changes and it now becomes quite a miss and match.
0.6km (0.4 mi) from city center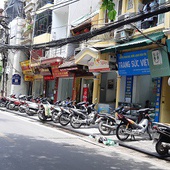 Hang Bac, meaning silver in Vietnamese, is often recommended as one of the most happening streets for a walking tour.
0.8km (0.5 mi) from city center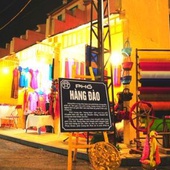 Hang Dao today belongs to Hoan Kiem pedestrian zone and is especially animated at night every Friday, Saturday and Sunday with the establishment of Hang Ngang – Hang Dao night market.
0.8km (0.5 mi) from city center