10 Best Airbnbs For Your Stay In Hanoi Old Quarter
When you visit Hanoi, a city of long-lasting history and rich culture, won't it be a bargain to stay in an Airbnb that you could have the most genuine travel advice from local host while enjoying your own private space with well-supplied amenities? If you are a fan of this alternative accommodation, find our short-list below.
The rise of Airbnb
Airbnb is an innovative platform that connect independent local hosts who have available accommodation with tourists demanding a rental for the upcoming journeys. Millions of travelers, especially young enthusiasts, choose Airbnb over a hotel or guesthouse for different reasons. 
First of all, the price is more advantageous. Airbnb is particularly convenient for big group travel as the limitation for tenants if more flexible than that of hotels. Moreover, it's a great opportunity to localize your experience when staying, interacting with local people who are your host, your neighbors. It highlights your sense of belongings, which help you naturally immerse in the people and culture for meaningful and … memories. 
Many Airbnb "superhost" are designers and architects, so you can even indulge yourself in a stylish and enticing accommodations hidden in the Old Quarter as listed in this article.
Jardin D'ete
Located in a small alley, this house is just a step from all the central attractions, yet standing out from all the hustle and bustle of the city life. The 5-floor house embraces 3 bedrooms and separate living room and kitchen, which is most advisable for family or group of friends up to 6 guests. It features nostalgiac design with creamy white walls, cement tiles, and rattan weavings that brings a comfy and relaxing vibe. Especially the rooftop loft is unpretentiously stunning with full of plants and wooden chair and swing for you to have a peaceful laid-back morning. The host is, more than expect, generous, helpful when preparing food & drink, in addition to all basic amenities, as well as reaching his guests at any request.
Location: Hang Ma Street, Hoan Kiem District, Hanoi
Cozy House - Le Giay Boutique Homestay
With a decent location in the Old Quarter, Le Giay Boutique homestay is truly a hidden gem for tourists who look for a walkable accommodation. Just pouring to the street and you can already see the display of food stalls and night market. The appartment, fully furnished with snazzy connection of bed, living room and dining table, is extremely spacious for a couple of guests. The most impressive feature in Le Giay Boutique Homestay is the Jacuzzi bathtub that would definitely give you the most relaxing moment after a long day trip exploring the hurry scurry Hanoi.
Location: Hang Giay Street, Hoan Kiem District, Hanoi
AIRY Homestay
If you are looking for a simple place to rest your back after long walks, this would be a lovely and practical option. You cannot beat the location as it is just foot steps away from Dong Xuan market and other tourist sites. As a 6-room building with separate bedrooms, you can arrange your trip with big group of friends to gather in the same place while enjoying each other's own privacy. Everything is plain and sufficient enough for all your basic needs. At a very reasonable budget, Airy Homestay is such an optimal selection for backpackers and young tourists when staying in Hanoi.
Location: Hang Luoc Street, Hoan Kiem District.
The Terrace
The Terrace is propitiously another convenient escape when hiding itself away from the most vibrant streets of Hanoi. Especially at night, its quiet neighborhood, along with comfy bed, makes its perfect for a good night sleep after spending all day immersing yourself in the vigorous city. The interior is simple yet pleasant enough to feel like home. The green patio is also a highlight with occasional lovely visits of neighboring kittens. If you have any struggling in your travel plan, don't hesitate to reach the hosts as they are all responsive and supportive, which would provide you the best advice to customize your own trip.
Location: Hang Bo Street, Hoan Kiem District.
Lotus Homestay
Bringing the tranquil and placid sense of nature, Lotus Homestay design is influenced by the image of lotus – Vietnamese national flower. Furniture is motsly wooden, with the color of yellow, white and light brown as the key tone, which initiates typical Asian warm and cozy ambience. The studio is well located in the verge of Old Quarter that split you a bit from hectic central streets, but still keep you close to all famous stops. This super-host shows great hospitality and intimation as they not only welcome and support upon your stay, but they are willing to answer and give you the best tips for a authentic local experience.
Location: Hang Voi Street, Hoan Kiem District.
La Perle Rose 89 Homestay
The homestay provides you an antique, elegant charm of 19th century with the Indochina design and decoration, which evoke the retirees yet luxury livings. You can feel the vibrancy of the city just behind the window on the second or third floor, where the open balcony overlooks one of the most huddled streets in the old town. The building's first floor serves as a restaurant, so that you can put it in your plan B for convenience. Sit back with some beers and bites to enjoy the pace of life from such unwinding seats.
Location: Hang Bo Street, Hoan Kiem District.
Levai homestay
Don't miss out this cool little place when you have chance visiting Hanoi! Located in the heart of Hanoi's Old Quarter, Levai Homestay wears a contemporary architecture, which creates a compelling fusion between the long-established streets and modern living space. The condo provides all the essential amenities, so that you don't have to worry too much of preparation for your trip. The most favored feature is perhaps the rooftop bathtub, which is a spectacular getaway. To provide you thoughtful guide for your stay in Hanoi, the host is always available to communicate and assist you at any disposal. 
Location: Hang Vai Street, Hoan Kiem District.
Luxhome – Trang Tien
Luxhome is an extraordinary duplex right in Trang Tien street, which is just a stone throw away from Hoan Kiem Lake. This is a prime location because of its spacious and charming street during weekdays and exciting crowd with bunch of activities and performances on the weekends. The apartment is well suited for a group of 4 with two bedrooms separatedly in two floors. It is a great blend of the interior design, between the warm and minimal color of Scandinavian architecture and some Asian unique touches. If you have any difficulties in your stay or traveling, Minh, the super-host, will provide you best assistance, even customizing a travel schedule that best match your interests.
Location: Trang Tien Street, Hoan Kiem District.
Bamboo Studio
This place is no doubt a perfect landing for people who values the convenience and intimacy of a "home away from home" experience. In such a typical Hanoian neighborhood, the studio is just a few minutes walking from top destinations such as Hoan Kiem Lake, St. Joseph Cathedral, Hoa Lo Prison Memorial, etc. With modern and echanting décor, tidy and neat facility, Bamboo studio appeals any guest at its first sight. Right at the ground floor, you can find a nice coffee shop where the staff would not refuse to help you with any unexpected issue while serving decent Vietnamese coffee. Its super-host even support you to arrange for your trip with transportation, ticketing, etc.
Location: Hang Trong Street, Hoan Kiem District.
Annam Maison
Favoring a place where you can join the vibrancy of Hanoi by right at your door step? Select Annam Maison for your time here. Wearing the typical architecture of Hanoi old houses with stylish renovation, Annam Maison is a cozy real treat. All amenities are well equipped that ensure the best comfort of stay-over guests. The small balcony offers you great chilling moment with bamboo short table chairs, a symbol of traditional Vietnam. From the studio, you can immediately melt into the crowd and discover the Old Quarter's specialties.
Location : Hang Be Street, Hoan Kiem District.
Conversations (0)
Join the conversation
Conversations
Join the conversation
ALL COMMENTS (0)
There are no comments. Add your comment to start the conversation.
read next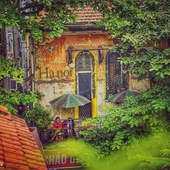 Hanoi Old Quarter, with its myriad of cafes, is the ideal place to start your coffee hunt, all the way watching the continuous rush of people and the time lapse on each street.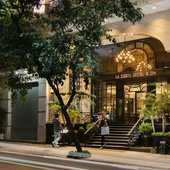 The Old Quarter of Hanoi has been thriving since the 19th century, when it was a major trading area among Hanoians in the old time. The huge number of boutique hotels in the Old Quarter will not break your bank and offer all that you need for your stay, and in style. Browse our listings above and pick what you need.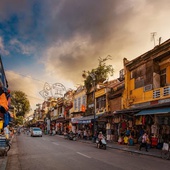 For those who visit Hanoi with a genuine desire to have a grasp of the city's culture or a curiosity to travel back in time, Ha Noi Old Quarter is a must-go place that they definitely should not be missed by any means.