Germany
A complete guide for German citizens visiting Vietnam: Visa requirements, application and tips.
German passport. Photo: Shutterstock
Visa Information
German citizens do not require a visa to visit Vietnam for temporary entries less than 15 days for tourism purposes. For staying beyond the period allowed, a visa is required.
Option 1: Applying online for a visa on arrival
You can submit your visa application online and get the visa stamp at the Vietnam airport.
 The process is simple with three main steps including:
Applying for your visa-on-arrival online and pay the processing fee
Receiving the approval letter via email and print it out
Get the visa stamp at the Vietnam airports.
Processing time and the fee is deducted significantly if you use this method. The time to process you application is lower to 3-5 workings days, and the fee is about 20 USD for a one month visa and 35 USD for a three month visa depending on agencies (excluding 25 USD for the stamping fee paid at the airport).
Option 2: Submitting application at the embassy
You can submit your visa application at the Vietnam Embassy in Berlin or Consulate in Frankfurt. The application must be submitted in person with the fee of around 25-80 US$ depending on types of visa.
Download Vietnam embassy visa application form (https://visa.mofa.gov.vn/_layouts/registration/ApplicationForm.aspx)
Embassy of Vietnam in Berlin
Address: Elsenstraße 312435 Berlin-Treptow
Phone: +49-30-536 30 108
Fax: +49-30-536 30 200
Email: sqvnberlin@t-online.de
Website: vietnambotschaft.org
Consulate General of Vietnam in Frankfurt
Address: Rubensstr.30, 60596 Frankfurt am Main, Germany
Phone: (+49) 69 795 336 50
Fax: (+49) 69 795 336 511
Email: tlsqvietnam_frankfurt@mofa.gov.vn
Travel Tips for German Citizens
Unfortunately, the local people in Vietnam are not familiar with German language, so that you will find it hard to speak and communicate with them. If you know English or Vietnamese, it is great but you are not, you should take some time before your trips to learn some basic English or Vietnamese words. If you haven't got time to learn it, don't go around without your tour guide or local friend.
Weather in Vietnam is very different from the weather in Germany with hotter atmosphere and more humidity, especially in the summer. Therefore, you might need to carry light clothes such as t-Shirts, short and flip flops to feel more comfortable when traveling around. Also, please bring with you an umbrella or raincoat whenever you go out to avoid getting wet from the heavy rain.
You should be aware of the insects in Vietnam because they are everywhere and also the tools to spread the tropical diseases like malaria, dengue fever or diarrhea. Therefore you should use the mosquito nets provided by your hotel, and buy some insect repellent in any local pharmacy. When you feel not good or signs of diseases, please go directly to the nearest hospital to examine. You should also remember that the hospital fee in here can only be paid by cash or international credit card, and your Germany insurance cannot be used in Vietnam.
The street vendors in Vietnam often ask for higher price of products or services to the foreigners, so you should be aware. Try to be nice with them, and bargaining is the effective method to lower the price of the goods that you intend to buy.
German Passport Renewals in Vietnam
The procedure and process to renew your passport is exactly the same as the new passport application, except you need to fill the renewal form instead of the application form. Passport renewal can only applied in person at the local registration office, Germany embassy or consulate. Renewal fee is the same as application fee and made in cash or money order.
German Embassy and Consulates in Vietnam
If you need assistance during your trip in Vietnam, please contact the representatives of the German government in Vietnam for information:
The Embassy of Germany in Vietnam
Address: 29 Tran Phu, Hanoi, Vietnam
Tel: (+84-24) 3 267 3335
Emergency: +84 90 340 7033
Email: dsb-1@hano.diplo.de
Germany Consulate-General
Address: Deutsches Haus Ho Chi Minh City, 33 Lê Duẩn, Phường Bến Nghé, Quận 1, Thành phố Hồ Chí Minh
Tel: +84-(0)28-38 288 100
Fax: +84-(0)28-38 288 101
Email: info@hoch.diplo.de
This information was lasted updated on February 05, 2021
Tourism Statistics
This table shows the number of German passports visiting Vietnam in recent years:
| | | | | | | | | | |
| --- | --- | --- | --- | --- | --- | --- | --- | --- | --- |
| Country | 2019 | 2018 | 2017 | 2016 | 2015 | 2014 | 2013 | 2012 | 2011 |
| Germany | 226,792 | 213,986 | 199,872 | 176,015 | 149,079 | 142,345 | 97,673 | 106,068 | 86,162 |
Data sources: Vietnamtourism.gov.vn, Worldbank.org
Comments (0)
Your comment...
Conversations
Join the conversation
ALL COMMENTS (0)
There are no comments. Add your comment to start the conversation.
read next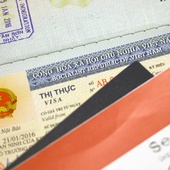 Vietnam applies its new policy for e-visa effective from 1 February 2017.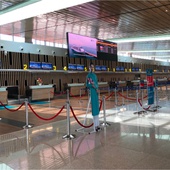 Ever wonder how the immigration takes place? Here is what happens as you leave your country for Vietnam.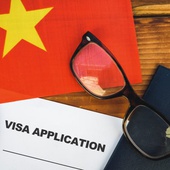 In this page, you will find the detailed guide to fill out a Vietnam visa application forms and entry/exit form.