Australia
A complete guide for Australian passports visiting Vietnam: Visa requirements, application and tips.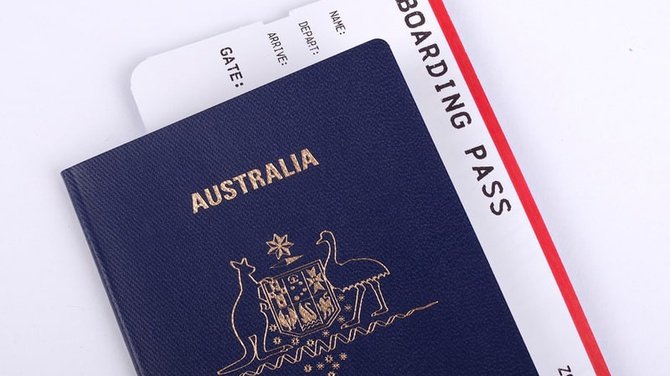 There were about 386,245 Australians visiting Vietnam in 2018
Visa Information
Australian citizens are required to obtain a valid visa when visiting or conducting business activities in Vietnam.
Visa on arrival
Apply for a visa approval letter online and get the stamp at Vietnam Airport. This can be arranged by a number of travel agencies who possess an international tour operator license. The process is as follows:
Apply online for a pre-approved visa letter.
Receive an approval letter by email in 2-3 working days.
Print the letter along with photo and stamping fee in cash.
With this option, your visa will be issued by the Vietnamese Immigration Department. Verify your name, passport number, date of birth and arrival date to avoid extra charge of re-applying.
As of February 2021, the stamping fee at Vietnam airport for Australian passport holders is 25 USD ~ 33 AUD for a 30 day single entry visa.
Prior visa at Vietnam embassy
Submit the following documents, by post or in person to Vietnam Embassy or Consulate:
Original Passport - Your passport must have at least 01 blank page and 6 months of validity remaining.
Completed and signed application form with 01 photo (4x6 cm)
Visa fees (Cash, Money order or Bank cheque) payable to "The Embassy of Vietnam".
Prepaid return envelope, if you plan to receive your visa by mail.
Download the visa form here.
Vietnam embassy in Canberra, Australia
Address: 6 Timbarra Cres, O'Malley ACT 2606, Australia (link)
Tel: +61 2 6169 4917
Vietnam Consulate in Sydney, Australia
Address: 205/203-233 New S Head Rd, Edgecliff NSW 2027, Australia (link)
Tel: +61 2 9327 1912
Updates: From Feb 2020, Australian passport holders are eligible for a 30-day tourist e-visa.
Travel Tips for Australian Citizens
People in Vietnam have a special hospitality towards Australians - you will find out soon enough how much you enjoy visiting Vietnam.
Don't worry about the weather in the Central and Southern Vietnam because it is fairly similar to Australia with hot and humid climate, especially in the summer. However, if you come to the North of Vietnam in winter or autumn, don't forget to bring winter coat and sweaters to keep you warm from the terrible cold in the winter, which you might have not experienced before.
Overall, Vietnam is considered a very safe country for travelers. The only worry is about petty crimes such as robbery and pocket picking. The suggestion to you is do not carry too many valuable items on your trip and always keep an eye on them when you are out on the street.
Emergency: In case of emergency beyond the office hours, you can contact the 24 hour consular emergency center in Australia and Vietnam:
+84 24 3774 0100 (Hanoi)
1300 555 135 (within Australia)
+61 2 6261 3305
Australian Passport Renewals in Vietnam
You can renew your passport if you are over 18 years of age and have a passport less than 12 years old. Please note that damaged, lost or stolen passport holders or those changing names and other personal details will need to apply for a new passport instead of requesting a renewal.
Application
Fee
The fee for passport renewal is the same as new passport application: A$226 for ordinary fee and $340 for frequent traveler fee.
Where to apply
In Australia
To find an agency closest to you, visit Australian Post outlet website: http://apps.nowwhere.com.au/austpost/PostOfficeLocator/default.aspx Choose Application & Form Lodgement and click on Australian Passport New or Renewal.
In Vietnam
See the Australian Embassy and Consulates in Vietnam below.
Australian Passport Application
What you'll need to provide:
Applications
To apply for your Australian passport, you will first need to complete the online form and print the completed form to an A4 paper (https://www.passports.gov.au/Web/Forms/EntryPoint.aspx). Hard copies are available to pick up in main post outlets or passport office and can be filled with hands.
Photo requirement: 3.5 x 4cm
At the time of lodgment, you are required to submit this application form, two passport photos and attend a short interview where you will be paying the passport application fee.
Fee
Fee can be paid in cash or credit cards if you are in Australia. If you are currently outside of Australia, please inquire the local embassy or consulate for information.
No cheque payment will be allowed.
Ordinary passport fee is A$226; Frequent traveler passport fee is $340 AUD.
Processing time
10 working days from the date of receiving documents. Priority processing service takes 2 working days.
Australian Embassy and Consulates in Vietnam
This is a list of Australian Embassy and Consulates in Vietnam:
Australian Embassy in Hanoi
8 Dao Tan Street, Ba Dinh District, Hanoi
Tel: (+84-4) 3774 0100
Australian Consulate in Ho Chi Minh city
5th Floor, Landmark Building, 5B Ton Duc Thang, District 1, HCMC
Tel: (+84 8) 3521 8100
Tourism Statistics
This table shows the number of Australian passports visiting Vietnam in recent years:
| | | | | | | | | | |
| --- | --- | --- | --- | --- | --- | --- | --- | --- | --- |
| Country | 2019 | 2018 | 2017 | 2016 | 2015 | 2014 | 2013 | 2012 | 2011 |
| Australia | 382,622 | 386,245 | 371,539 | 319,258 | 304,121 | 322,129 | 319,235 | 289,243 | 289,561 |
Data sources: Vietnamtourism.gov.vn, Worldbank.org
Comments (0)
Your comment...
Conversations
Join the conversation
ALL COMMENTS (0)
There are no comments. Add your comment to start the conversation.
read next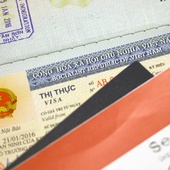 Vietnam applies its new policy for e-visa effective from 1 February 2017.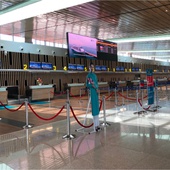 Ever wonder how the immigration takes place? Here is what happens as you leave your country for Vietnam.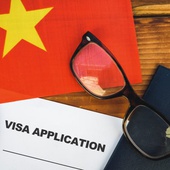 In this page, you will find the detailed guide to fill out a Vietnam visa application forms and entry/exit form.