Hang Voi - Streets Of Quicklime
Hang Voi Street goes from Lo Su Street connecting Hang Tre Street to Ngo Quyen and Tong Dan Street in Hoan Kiem Lake. Used to be adjacent to the banks of the Red River, this was home to dozens of boats to dock and load heavy cargo and places to manufacture and sell limestone. The street is 400m long.
History
Previously, Hang Voi Street was the land of the two old villages Kiem Ho and Tay Luong. And under the French period, it was named Rue de la Chaux which covered Hang Voi and Tong Dan Street. Since 1945, the name Hang Voi has been officially set for this street.
For many years, Hang Voi Street was famous for trading limestone but at present, the street is a seriously beautiful place, with walks to many shops, eateries and nightlife venues.
What to see
Hang Voi Street is lined-up with trees that make it super cool under high temperatures and dusty. Walk around to see a number of colonial architectures as well as colorful shops is a remarkable experience.
In terms of ancient monument, currently, there is a temple at No.7 that worships King Le Loi. The temple was built around 1920 and formerly located at the house number 20-22 Ly Thai To.
What to eat
Consuming delicious food is not only a completely pleasurable experience but also the best way to learn about a city and culture. For Hang Voi, by foot or motorbike, from hawker stalls to high-grade restaurants, mouth-watering traditional dishes are worth a long journey.
Pho
It's a must to try this award-wining traditional dish wherever you travel in Vietnam. While being on Hang Voi Street, just stop by "tiem pho Vi" 28 Hang Voi and enjoy delicious taste of a bowl of beef/ chicken noodle soup.
Bun bo Hue 
Spicy beef rice vermicelli at the crossroad of Lo Su and Hang Voi Street is worth a try. Its name is recognized as a label and leads you to probably one of the best delicacy in central Vietnam.
Bun ngan
Bun ngan Dung beo at 20 Hang Voi is especially renowned for Vietnamese musk duck noodle soup which can enjoy in many versions. You can enjoy this wonderful dish for more than 3 main courses per day. The prices are just from 25000-30000 VND.
Where to stay
Most accommodations on Hang Voi enjoy great locations, high quality services and warm hospitality. Whether you've been there before or this's your first trip, you can always stay in trendy property and ultimate comfort.
Eclipse Legend (36 Hang Voi)
Enjoy warmest greetings at Eclipse Legend Hotel. The property is centrally located and close to many tourist highlights, especially Hoan Kiem Lake. Inside the hotel, there are full range of amenities including restaurants, cafés and free WIFI.
Thai Son Palace (7-9 Hang Voi)
The hotel exceeds your expectation for business or leisure stay with full amenities and high quality rooms. Visitors can easily access to restaurants, attractive and excellent attractions, shopping areas and many historical sites around Hanoi Old Quarter.
1788 Serviced Apartment at Old Quarter Hanoi (20 Hang Voi)
The apartment is clean, nicely decorated and furnished with traditional style. Rooms are super spacious, beautiful and well-equipped.
Tips
There's nothing better sip a cup of condensed milk coffee in the early morning or after trying best specialties of Hanoi. Hang Voi is filled with a number of cafés such as Ngoc Khanh café, Highlands Coffee and Floral Coffee.
Conversations (0)
Join the conversation
Conversations
Join the conversation
ALL COMMENTS (0)
There are no comments. Add your comment to start the conversation.
Featured Streets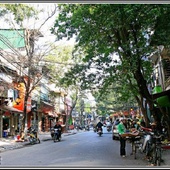 Historically the place to see and be seen, and still the place to go shop, Hang Thung Street has been challenged by rapid changes and it now becomes quite a miss and match.
0.6km (0.4 mi) from city center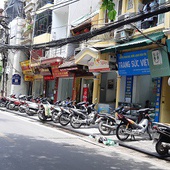 Hang Bac, meaning silver in Vietnamese, is often recommended as one of the most happening streets for a walking tour.
0.8km (0.5 mi) from city center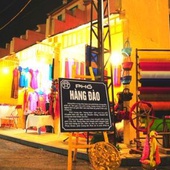 Hang Dao today belongs to Hoan Kiem pedestrian zone and is especially animated at night every Friday, Saturday and Sunday with the establishment of Hang Ngang – Hang Dao night market.
0.8km (0.5 mi) from city center