Hang Vai - Street Of Fabrics
Among 36 streets and guilds, Hang Vai (Fabric Street) is one of the most tranquil and untouched by tourism. It boasts a great place to enjoy the traditional Hanoi image.
In the heart of the Old Quarter, Hang Vai Street belongs to Hang Bo Ward, Hoan Kiem District. The 240m street links between Thuoc Bac and Phung Hung Street, crossing intersection Hang Dong – Bat Su and Hang Ga Street. While a few streets have inherited their traditional trading products that made them well-known, Hang Vai is one of typical streets that have adopted other activity. Evolved from traditional textiles business, Hang Vai Street now is where you can come to find materials for construction and furniture made from bamboos or capture stunning photos of its tranquility and freshness.
History
Originally, Hang Vai Street was the union of two parts including eastern section filled with brown dyed fabrics and the other selling hoes. Under the French colonial time, the street was called rue des Etoffes and its official name 'Hang Vai' was changed since 1945.
Since the beginning of its establishment, the street was a populous gathering for trading different kinds of textiles, especially dyed textiles. Once to be found there were a big collection of textiles shops and crowds of buyers and sellers from adjacent regions who came to exchange textiles.
From the end of the 20th century, textiles business lost its domination which has been replaced with bamboo trading. Skilled craftsmen designed and processed different types of bamboos used for architecture, construction and furniture. Hang Vai Street these days is lively and becomes a favorite photographed attraction with spectacular images of green bamboos ranges along the street.
What to see
Apart from lines of vehicles carrying bundles of bamboos early in the mornings, a few streets can match Hang Vai Street in terms of cultural riches. On the way to explore the street, you may find out some remarkable historic sites that feature the locality's spiritual life.
Tan Khai Pagoda: currently located at 44 Hang Vai, Tan Khai Pagoda or Thai Cam Pagoda worships Buddhist and Mother Goddess as well as General Tran Hung Dao.
Dong Thanh Temple: numbered 7 Hang Vai, Dong Thanh is one of the most interesting temples in Hanoi's Old Quarter. The temple worships the Taoist deity Tran Vu, God of the North Star.
Where to stay
As you embark on an epic journey to wander around Hanoi, being able to keep your accommodation costs to a minimum while have a chance to stay closer to locals is always the first priority. With a number of standard accommodations on Hang Vai Street, you can stretch your travel budget and have great staying experience.
Hanoi Old Quarter Hostel (32 Hang Vai)
This is a small accommodation with 20 inviting rooms where you can stay in comfort and at affordable price. Besides, its prime location is easy accessible to some famous attractions.
Hanoi Charming 2 Hotel (31 Hang Ga)
Adjacent to the Hang Vai – Hang Ga crossroad, Hanoi Charming 2 Hotel is the first and foremost place to stay when your budget is not very high. The hotel charge is considered fair and the atmosphere is warm and very friendly.
Hanoi Family Homestay (19 Hang Vai)
This is just a small but unique homestay in the Old Quarter. Next door is Hanoi's most popular 'bia hoi' stretch where locals gather to eat and of course drink fresh keg beer.
Tips
With traffic jams and trendy food trucks pilling up both sidewalks, it's impossible to overlook the rich of street food on Hang Vai Street. There are some tiny street restaurants on the streets where you can enjoy great dishes and drinks all day.
Pho - Noodle soup
Beef noodle soup is so popular and it is hawked around the street. To appreciate 'pho' properly, you should enjoy it in restaurants with the atmosphere of people going in and out. On Hang Vai, you can try a hot steaming bowl of 'pho' at Pho Lam number 48.
Chao suon - Congee with ribs
Number 4A Hang Vai is another good place for you to enjoy a bowl of hot Vietnamese congee with ribs and fried bread sticks. This kind of gruel is best to be enjoyed in the cool weather of the early morning.
Nuoc mia - Sugarcane juice
After an exhausted walk exploring the street, especially in summer, it's great to stop over a drinks stall and get a cup of iced sugar cane juice. It is sold everywhere on the street and the price is very reasonable.
Conversations (0)
Join the conversation
Conversations
Join the conversation
ALL COMMENTS (0)
There are no comments. Add your comment to start the conversation.
Featured Streets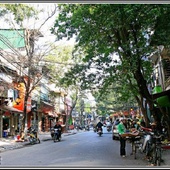 Historically the place to see and be seen, and still the place to go shop, Hang Thung Street has been challenged by rapid changes and it now becomes quite a miss and match.
0.6km (0.4 mi) from city center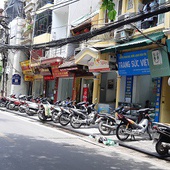 Hang Bac, meaning silver in Vietnamese, is often recommended as one of the most happening streets for a walking tour.
0.8km (0.5 mi) from city center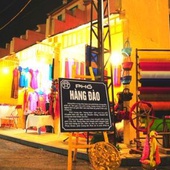 Hang Dao today belongs to Hoan Kiem pedestrian zone and is especially animated at night every Friday, Saturday and Sunday with the establishment of Hang Ngang – Hang Dao night market.
0.8km (0.5 mi) from city center