Hang Thiec - Street Of Tins
Just like other streets in Old Quarter, Hang Thiec street has a humble length of just 136 metres, stretching from Thuoc Bac Street to Hang Non Street, embracing many old small houses which look like overlapping match boxes. 
For such a long time, Hang Thiec street still carry on its traditional craft of tinsmiths making oil lamps, tea pots, tea tray, candle stands,etc. In the French colonial time, the craft of the street also expand its scope to other products made of sheet metal. Therefore, the French people give it the name " Rue Des Ferblanties". 
Up to now, Hang Thiec street still keeps its funny reputation as the noisiest street in the Old Quarter as business scene of the street remain the same with tin products. From dust to dawn, you can hear sounds of metal and see flickers of fire sparking somewhere out there on the street. Moreover, everytime Mid-Autum Festival comes, the street is even more exciting with toy-making work to serve for childhood's joy. Those are some ways to make the traditional craft alive when many alternative materials could be the threats. 
Coming to Hang Thiec Street, it is so clear to see that many essential needs and useful household utensils made from tins will continue its appearance in daily life of many families, creating the chance for a good work of preservation on traditional craft that partly make up Hanoi- Thang Long's quintessence.
Conversations (0)
Join the conversation
Conversations
Join the conversation
ALL COMMENTS (0)
There are no comments. Add your comment to start the conversation.
Featured Streets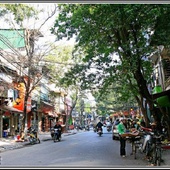 Historically the place to see and be seen, and still the place to go shop, Hang Thung Street has been challenged by rapid changes and it now becomes quite a miss and match.
0.6km (0.4 mi) from city center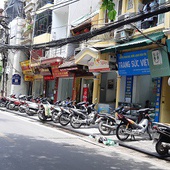 Hang Bac, meaning silver in Vietnamese, is often recommended as one of the most happening streets for a walking tour.
0.8km (0.5 mi) from city center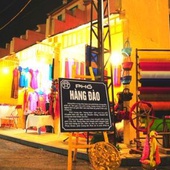 Hang Dao today belongs to Hoan Kiem pedestrian zone and is especially animated at night every Friday, Saturday and Sunday with the establishment of Hang Ngang – Hang Dao night market.
0.8km (0.5 mi) from city center