Hang Quat - Street Of Fans
Hang Quat street spreads about 200m, belonging to Hang Gai ward, Hoan Kiem, Hanoi. 
The street turns to West-east direction and it is the connection of Luong Van Can street and Hang Non street. In the French colonial time, the street brought the name Rue Des Eventails ( Street of Fan) and this name has been officially in use after August Revolution till now. As we could know it by name, Hang Quat street is the manufacturing site of fans as well as purchasing fans from other places for reselling. 
The fan-making craft owns its birth to villagers of Dao Xa (also known as Dau Quat), An Thi commune, Hung Yen province. They came here and settled down, making their livelihood with fan craft, building a temple to worship their craft ancestor at house number 4 under the name " Xuan Phien Thi" (Spring Fan Market). 
The fans on the street might come from various sources like Kim Lu village ( Thai Tri, Hanoi), Hai Yen village ( Hung Yen province), or Canh Hoach village ( Thanh Oai, Hanoi). Fans came in many different kinds: paper fan, silk fan, ivory-framed fan, bamboo fan, goose-feather fan,etc. 
Paper fans were artfully pricked by the needle to make beautiful patterns when spreading all its width in the light. Nowadays, Hang Quat street no longer sells fans as household switched their trade to selling altar, embroidery pictures and other stuffs for decoration. It would be a big miss without mentioning a small but well-known Bun Cha stall at number 74, which is always conspicuous with clouds of odorous meaty smoke at lunch time everyday.
Conversations (0)
Join the conversation
Conversations
Join the conversation
ALL COMMENTS (0)
There are no comments. Add your comment to start the conversation.
Featured Streets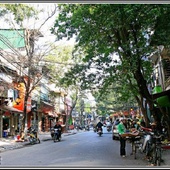 Historically the place to see and be seen, and still the place to go shop, Hang Thung Street has been challenged by rapid changes and it now becomes quite a miss and match.
0.6km (0.4 mi) from city center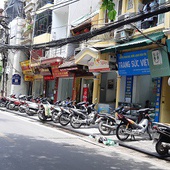 Hang Bac, meaning silver in Vietnamese, is often recommended as one of the most happening streets for a walking tour.
0.8km (0.5 mi) from city center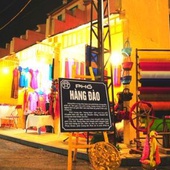 Hang Dao today belongs to Hoan Kiem pedestrian zone and is especially animated at night every Friday, Saturday and Sunday with the establishment of Hang Ngang – Hang Dao night market.
0.8km (0.5 mi) from city center