Hang Muoi - Street Of Salt
Located on the outer skirt of Hanoi Old Quarter, Hang Muoi Street (Salt Street) belongs Ly Thai To Ward, Hoan Kiem District. It's about 104m long connecting Tran Nhat Duat Street and Hang Mam Street. In the past, the street was adjacent to the wharf on the Red River, home to dozens of stores selling salt.
History
Hang Muoi Street was located on the land of Thanh Yen Village towards the gate of Uu Nghia, the old Tho Xuong District. The beginning of the street was once called Hang Trung Street. During French colonial period, it was called rue de la Saumure.
Named 'Hang Muoi', but in fact, only a few families there made and sold salt to provincial merchants and retailers at markets in Hanoi. In the early 20th century, many people on this street took advantage of vacant land near Red River and started business as timber traders and wood workshop owners.
What to see
As one of the oldest streets in Hanoi, it's not surprising that Hang Muoi Street should be so rich in masterpiece of art and colonial architecture. Besides architectural treasures, the street also features the authentic trading atmosphere of Hanoi that would be best experienced in the early morning.
Where to stay
On Hang Manh, any visitors can enjoy a comfortable stay in a bundle of cheap hostels without breaking your travel budget. With proper accommodation and modern amenities, you're sure to have a sound sleep in this street.
Hanoi Backpackers Hostel (13 Hang Muoi)
The hostel delivers quality accommodation with affordable price, most suitable to tight-budget travellers. It also features laidback, chilled out atmosphere with common airy spaces.
Zostay Hostel Backpackers (7 Hang Muoi)
The hostel offers cheap accommodation with great deals to suit the needs of today's travellers. From there, it's within walking distance to many city landmarks and nightlife venues.
Zostel (20-24 Hang Muoi)
In the heart of Hanoi's Old Quarter, Zostel Hostel provides spacious, comfortable rooms and several modern amenities. Guests can also enjoy meals and drinks at fast food stalls.
Tips
An epic journey is never complete until you taste enough Hanoi's specialties. Most people will be amazed by how many varieties of foods are at sight on Hang Muoi Street.
Pho Cuong
Pho Cuong Restaurant at 23 Hang Muoi has opened for long and gained great reputation for chicken/ beef noodle soup with many kinds of different spices. Living up to its fame, despite being overcrowded sometimes, Pho Cuong is very clean and serves super fresh ingredients.
Coffee
Sometimes, it's great just to sit back and watch people while enjoying the full flavor and relaxing aroma of a cup of coffee. On Hang Muoi Street, condensed milk coffee lovers can find some of ideal places to have a coffee sip such as 'ca phe Muoi' at 17 Hang Muoi and Hanoi Egg Coffee at 10 Hang Muoi.
Conversations (0)
Join the conversation
Conversations
Join the conversation
ALL COMMENTS (0)
There are no comments. Add your comment to start the conversation.
Featured Streets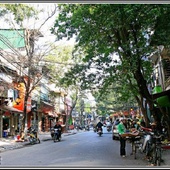 Historically the place to see and be seen, and still the place to go shop, Hang Thung Street has been challenged by rapid changes and it now becomes quite a miss and match.
0.6km (0.4 mi) from city center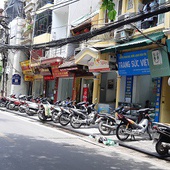 Hang Bac, meaning silver in Vietnamese, is often recommended as one of the most happening streets for a walking tour.
0.8km (0.5 mi) from city center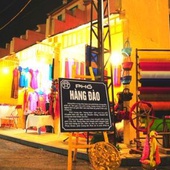 Hang Dao today belongs to Hoan Kiem pedestrian zone and is especially animated at night every Friday, Saturday and Sunday with the establishment of Hang Ngang – Hang Dao night market.
0.8km (0.5 mi) from city center