Hang Manh - Street Of Curtains
A simply walk along Hang Manh gives you great excitements with so many comings and goings. Measuring 152 meters long, Hang Manh Street connects Hang Non Street and Hang Bong Street.
Like other old streets and guilds in the Old Quarter whose names were closely attached to traditional trade, previously, Hang Manh Street used to gain reputation nationwide for making and selling bamboo curtains. A few stores also sold colorful handicrafts such as the miniatures of Vietnamese musical instruments.
Through the ups and downs of the history, until now there are a few stores selling these products. Instead, a tremendous variety of eateries, boutique shops and restaurants can be found here along with a huge number of pedestrians and people-watchers.
History
Hang Manh Street was formed on the land of Yen Thai Village and Kim Bat Thuong Hamlet dating back to a hundred years ago when some people of Gioi Village (Yen Phong District, Bac Ninh Province) came to settle down here. The name "manh" was originated from their traditional craft of making "manh" (meaning bamboo screens in Vietnamese). During French colonial period, the street was called rue des stores and after 1945, the name "Hang Manh" was legalized. Hang Manh at present time has changed its look with an array of cafes and restaurants, hotels and family-run businesses erected on an intimate scale that brings a bustling atmosphere and pedestrians into close contact.
What to see
Walking through this street, sooner or later you will run into some old artisans spreading blue colored curtain and creating their artworks. Additionally, if you're looking for a place to relax, re-align and re-energize, then you can head to Mido Spa at 11 Hang Manh. The spa offerings include skincare and a variety of spa therapies to rejuvenate your body, mind and spirit.
Where to stay
One way to immerse in Hanoi's culture and architecture is to stay in a boutique hotel. Wandering along Hang Manh Street, you'll find a number of lodgings from quaint hotels to basic hostels, good base for a perfect exploration of the city.
Hong Ngoc Dynastie Hotel (34 Hang Manh)
The hotel has a strategic location in the heart of Hanoi's Old Quarter. This is where you can enjoy exclusive architecture and perfect view over the city.
Golden Land Hotel (31 Hang Manh)
The hotel offers spacious rooms with wooden flooring and stunning city view. Bicycle and car rentals are available for you to explore the city. In addition, excursions can be booked at the tour desk and airport shuttles can be arranged.
Hay Hostel (19 Hang Manh)
The hostel features a budget-friendly for backpackers and families while still offering good accommodation and facilities. With prominent location, it's easy to access the city center within few minutes.
Tips
No journey can be completed with trying specialties around the area. Not surprisingly, Hang Manh is so lively with an abundance of choices when it comes to street food. There are so many options besides the legendary "pho".
Bun cha
A Hanoi's specialty and not-to-be-missed dish is made of grilled pork and noodle served with a platter of herbs and a bowl of savory dipping sauce. You can find little "bun cha" stops almost everywhere around Hanoi. However, "bun cha" Dac Kim at 1 Hang Manh is the best and attracts a lot of visitors throughout the day. The restaurant opens from 10am to 7pm daily.
Coffee
If you're a coffee fanatic, you probably want to check out some excellent local café stops on Hang Manh Street. Not too spacious and outstanding, Huong Mai Coffee at 15 Hang Manh is still a good place for you to frequent to enjoy the taste of real coffee. The décor is simple and neat. Prices range from 20000-100000 VND.
Conversations (0)
Join the conversation
Conversations
Join the conversation
ALL COMMENTS (0)
There are no comments. Add your comment to start the conversation.
Featured Streets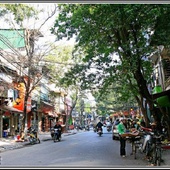 Historically the place to see and be seen, and still the place to go shop, Hang Thung Street has been challenged by rapid changes and it now becomes quite a miss and match.
0.6km (0.4 mi) from city center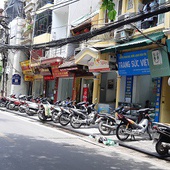 Hang Bac, meaning silver in Vietnamese, is often recommended as one of the most happening streets for a walking tour.
0.8km (0.5 mi) from city center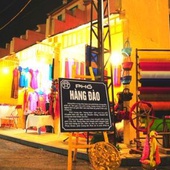 Hang Dao today belongs to Hoan Kiem pedestrian zone and is especially animated at night every Friday, Saturday and Sunday with the establishment of Hang Ngang – Hang Dao night market.
0.8km (0.5 mi) from city center