Hang Mam - Street Of Fish Sauce
While a few streets of Hanoi Old Quarter have inherited their traditional commercial activities, others have adopted various types of jobs to keep up with the frenzy development and fast pace of life. Hang Mam is one of them.
Stretching a humble 190m length, Hang Mam Street starts from Tran Nhat Duat Street, connecting Hang Bac Street at junction Ma May and crossing Nguyen Huu Huan Street. The exotic name "mam" is derived from its traditional business of manufacturing and selling various kinds of "mam" or fish sauces as well as sea products.
History
Hang Mam Street was formed based on the union of two old streets called Hang Trung in the east and the original Hang Mam where was originally home to massive fish sauce trade. However, this business didn't really evolve. In the 1940s, tombstone carvers came and made ceramics industry, some of memorial stone etching, coffins and tombstone the dominated products in this area.
Presently, Hang Mam Street no longer sells "mam". It has now transformed to a stretch of boutiques selling fashion items and tombstones.
What to see
As you pass Tombstone Street early in the morning, you'll be embraced by a relatively quiet and traffic-free atmosphere. It's a good chance to witness tombstone shop owners set up and arrange their stones ready for sale. These stones are mostly black or shades of gray while a few of gold or brass hues items can also be found. Number 30 Hang Mam is a popular destination to see plenty of tombstones just after dawn.
Where to stay
Accommodation on Hang Mam Street isn't plentiful but inexpensive and suits various types of budgets. Staying there is a good way to integrate into local life and save a great deal.
Hoa Duong Hotel (1 Hang Mam) 
The hotel is a perfect place to feel Hanoi and its surroundings. From here, it's easily accessible to major attractions such as Hoan Kiem Lake, Thang Long Water Puppet Theater and some of greatest nightlife venues.
Parkson Hotel Hanoi (7 Hang Mam) 
The 3-star hotel comprises of 30 non-smoking rooms for guests to relax in comfort and style. They are well-appointed with modern facilities and other services such as laundry/ dry cleaning, meeting facilities and executive floor.
Happy Backpacker's Hostel (29-31 Hang Mam)
This budget-friendly property is an ideal choice for backpackers and visitors with tight budget. The accommodation is fitted with proper facilities and close to many city highlights.
Tips
Cheap, authentic and supremely instagram-worthy, Hang Mam Street boasts a real stretch of street food where your foodie quest is satisfied with a lot of Hanoi's specialties for more than 3 main courses per day.
Xoi: This is a popular Vietnamese on-the-go breakfast item made from glutinous rice and other ingredients. "Xoi" is mostly sweet or savory and usually added with various kinds of topping such as fried onions, ground beans, teamed pieces of chicken, corn and peanuts. Xoi Yen at 35B Nguyen Huu Huan, a few steps from Hang Mam Street is a good place to try this specialty in the early morning.
Conversations (0)
Join the conversation
Conversations
Join the conversation
ALL COMMENTS (0)
There are no comments. Add your comment to start the conversation.
Featured Streets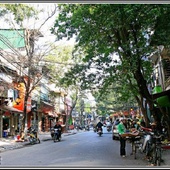 Historically the place to see and be seen, and still the place to go shop, Hang Thung Street has been challenged by rapid changes and it now becomes quite a miss and match.
0.6km (0.4 mi) from city center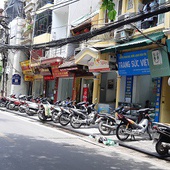 Hang Bac, meaning silver in Vietnamese, is often recommended as one of the most happening streets for a walking tour.
0.8km (0.5 mi) from city center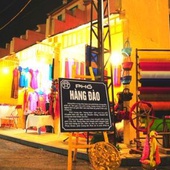 Hang Dao today belongs to Hoan Kiem pedestrian zone and is especially animated at night every Friday, Saturday and Sunday with the establishment of Hang Ngang – Hang Dao night market.
0.8km (0.5 mi) from city center