Hang Khoai - Street Of Tubers
Hang Khoai Street parallels the railway passing Long Bien Bridge in the north side of Hoan Kiem District. 
The street is 350 meters long, starting from Tran Nhat Duat Street to Hang Luoc Street, running along the left side of Dong Xuan Market- a great trading hub of Hanoi, crossing the intersection of Nguyen Thiep - Nguyen Thien Thuat as well as Hang Giay Street.
Walking along Hang Khoai street, the uniqueness could really be felt by the remaining ancient architecture of the 15th century. In the past, Hang Khoai street was a venue specilizing in selling potatoes and cassava of farmers living by the bank of Red River. For that reason, French people named the street as "Rue des Tubercules", which means "Street of Tubers". 
The name Hang Khoai has been in official use since 1945. On the south side of Hang Khoai and in the middle lies Dong Xuan Market. The goods of agricultural products come in many kinds. Sweet potatoes, potatoes, onions, garlic, ginger, turmeric and other kinds are up for big grab everyday. 
In the current time, Hang Khoai Street also has pottery or porcelain products of Vietnam, and crystal products of the Czech Republic and France. Wandering slowly through Hang Khoai street, visitors can truly contemplate the vintage touch as well as remarkable characteristics of this street which are being preserved not only by the authoriy but directly by the locals.
Conversations (0)
Join the conversation
Conversations
Join the conversation
ALL COMMENTS (0)
There are no comments. Add your comment to start the conversation.
Featured Streets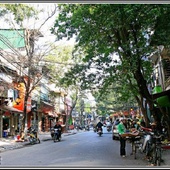 Historically the place to see and be seen, and still the place to go shop, Hang Thung Street has been challenged by rapid changes and it now becomes quite a miss and match.
0.6km (0.4 mi) from city center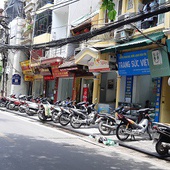 Hang Bac, meaning silver in Vietnamese, is often recommended as one of the most happening streets for a walking tour.
0.8km (0.5 mi) from city center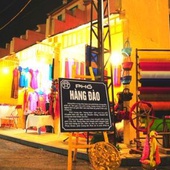 Hang Dao today belongs to Hoan Kiem pedestrian zone and is especially animated at night every Friday, Saturday and Sunday with the establishment of Hang Ngang – Hang Dao night market.
0.8km (0.5 mi) from city center