Hang Hom
Hang Hom street is one hundred and twenty meters in length, on the land of Co Vu village. 
In the mid 18th century, some villagers in Ha Vi (Thuong Tin - Ha Dong) bring along their hometown's traditional craft to Hanoi, settling down and developing woodwork. Residents living on Hang Hom street were mostly people from Ha Vi village. Later, there were also other people from Da Sy village. 
Hang Hom street mainly produced painted wood stuffs: trunk, clothes box, pen and paper containing trap. Around the 30s onwards, according to the new demands of market, Hang Hom street started producing leather goods necessary for people who go a long journey: suitcases, leather briefcases, travel bags.
 A few household also made turbans, hats and embroided shoes. Just like Cau Go or Hang Quat street, Hang Hom have old-fashioned house in the old town: the facades of houses may not be in a straight line, the floors are fixed in style of "piling matchbox". 
Due to the war started from late time of 1946, Hang Hom street was heavily devastated as this was where the two zones got connected. During nearly three months of fighting; French troops fired artillery into the area, destroying almost all the houses. The street was rebuilt later with new style. 
Today, Hang Hom has a diversity of business: house paints, clothes, clothes shops and many good spots of chicken noodle soups at night.
Conversations (0)
Join the conversation
Conversations
Join the conversation
ALL COMMENTS (0)
There are no comments. Add your comment to start the conversation.
Featured Streets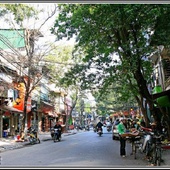 Historically the place to see and be seen, and still the place to go shop, Hang Thung Street has been challenged by rapid changes and it now becomes quite a miss and match.
0.6km (0.4 mi) from city center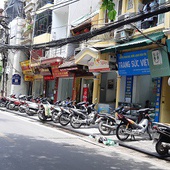 Hang Bac, meaning silver in Vietnamese, is often recommended as one of the most happening streets for a walking tour.
0.8km (0.5 mi) from city center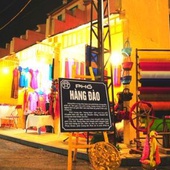 Hang Dao today belongs to Hoan Kiem pedestrian zone and is especially animated at night every Friday, Saturday and Sunday with the establishment of Hang Ngang – Hang Dao night market.
0.8km (0.5 mi) from city center