Hàng Giày - Street Of Shoes
Hang Giay is about 220m in length, within the area of HangBuom Ward, Hoan Kiem District, Hanoi. 
The street has three chunks, spreading through 2 junctions: Ngo Gach- Nguyen Sieu point and Hang Buom point. The last chunk has a bending path, leading to Luong Ngoc Quyen street.
In the French colonial time, Hang Giay street only spread from Ngo Gach- Nguyen Sieu point to Luong Ngoc Quyen, being the shelter of many villagers from Cham village (Tu Ky, Hai Duong province) who earned their living by leather shoes craft. They were people that set up Hai Tuong commune ("hai" means shoes, and " tuong" means craftsman) as well as set up memorial temple to worship their leather craft Founding Father at the house number 16 in Hai Tuong lane. 
The other chunk from Hang Chieu to Ngo Gach- Nguyen Sieu point was once named Hang Man (Street of Curtain) as there were several families making curtains, mosquito net and other sewing stuffs. On Hang Giay streets, houses are normally short and narrow. 
The last chunk was the concentration point of many small food venues providing limited space, with a stove placed right beside the entrance. People always gathered there to enjoy roasted meat, stewed beef,etc. 
Nowadays, Hang Giay streets is filled with many confectionery stores instead of shoes stores. The street is also a famous street food venue with stir-fried rice noodle and especially the delicious winter treat- floating rice cake of Mr. Pham Bang- a very popular Vietnamese comedy artist.
Conversations (0)
Join the conversation
Conversations
Join the conversation
ALL COMMENTS (0)
There are no comments. Add your comment to start the conversation.
Featured Streets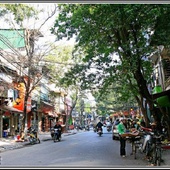 Historically the place to see and be seen, and still the place to go shop, Hang Thung Street has been challenged by rapid changes and it now becomes quite a miss and match.
0.6km (0.4 mi) from city center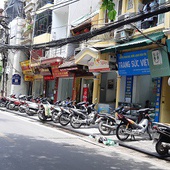 Hang Bac, meaning silver in Vietnamese, is often recommended as one of the most happening streets for a walking tour.
0.8km (0.5 mi) from city center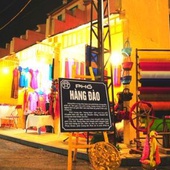 Hang Dao today belongs to Hoan Kiem pedestrian zone and is especially animated at night every Friday, Saturday and Sunday with the establishment of Hang Ngang – Hang Dao night market.
0.8km (0.5 mi) from city center