Hàng Giấy - Street Of Paper
Heading North-South direction, with the North end at Hang Dau street and the South end at Dong Xuan street, Hang Giay street has a length of 208m, lying within Dong Xuan ward, Hoan Kiem district. 
In the old days, there were many kinds of paper made by villager of Buoi Village, Cot Village sold on the street. They were: tissue paper, coarse paper, thin paper, china paper,etc. On the facades of ancient houses here, you can still contemplate brand names of famous paper stores made by cement relievo. 
The name " Hang Giay" started to be used from French colonial time as "Rue de Papier" and after August Revolution, it remained just the same. Long time ago, Hang Giay was initially an old dyke road from Northeast Hanoi . Before 1915, the street didn't have pavement and trees. Almost all the houses were huts or brick houses with tole roofs. 
The business scene was rather silent with a few houses selling haberdashery stuffs and some herbalists selling traditional medicine. On days with periodic trading sessions at Dong Xuan market, the street become busier than usual with villagers from Buoi village selling papers on both sides of the street, near Hang Khoai junction. 
After 1925, Hang Giay street gradually had more western-style houses of wealthy businessmen. Later, the scope of business expanded to other trades, not only paper. However, the name "Hang Giay" is still a deep mark of reminiscence about a richly traditional craft of Hanoi.
Conversations (0)
Join the conversation
Conversations
Join the conversation
ALL COMMENTS (0)
There are no comments. Add your comment to start the conversation.
Featured Streets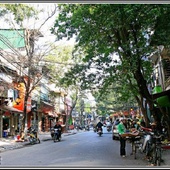 Historically the place to see and be seen, and still the place to go shop, Hang Thung Street has been challenged by rapid changes and it now becomes quite a miss and match.
0.6km (0.4 mi) from city center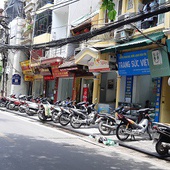 Hang Bac, meaning silver in Vietnamese, is often recommended as one of the most happening streets for a walking tour.
0.8km (0.5 mi) from city center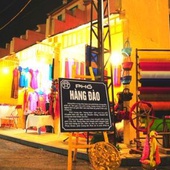 Hang Dao today belongs to Hoan Kiem pedestrian zone and is especially animated at night every Friday, Saturday and Sunday with the establishment of Hang Ngang – Hang Dao night market.
0.8km (0.5 mi) from city center