Hang Gai - Street of thorns
Being one of the most photographed streets in the Old Quarter, Hang Gai or Store of Thorn is certainly not one you would miss when visiting the area. Not all streets are created equal and Hang Gai is a relatively short one with length of just about 300 meters. This tiny yet boisterous street links Hang Bong Street in the west and Hang Dao Street in the east and the narrow lanes between houses make the whole neighborhood look even classier. As you make your way down this street, you'll feel like you've gone back in time.
History
Hang Gai is one of the oldest streets in Hanoi, formed on the ground of two wards Dong Ha and Co Vu, which both belonged to the old Co Vu village. This street actually comprises of several streets which had a 1000-year history. Despite being destroyed during the wars, many old buildings remain traditional architecture with fading yellow facades until present days.
Also known as Silk Street, Hang Gai gains a great reputation for silks, custom tailoring and hand-crafted souvenirs that have been operating for decades.
What to see
If you're looking for high quality, fashionable silk materials, fancy dresses, embroidered table cloths or ordering personally tailored suits, Hang Gai is the best place to go. Shopaholics will be definitely overwhelmed by a bundle of fashion boutiques and local tailor shops with numerous price ranges alongside the street. Among myriad of shopping stretches, we pick out some trusted addresses such as Tanmy Design (61 Hang Gai), Thao Silk (69-73 Hang Gai), and XQ hand embroidery (13 Hang Gai).
Meanwhile, culture lovers can plug into the rich history of the area by following the locals to visit several important historical sites. Numbered 85, the Co Vu Communal House is among the most noticeable ones. The structure is bordered by a large banyan tree with tangled roots where incense sticks and rice whiskey are usually offered.
Where to stay
If you walk the entire length of the street, you'll find numerous types of lodging to suit your vacation style. Whether you're looking for five-star luxury or wallet-friendly boutique properties, Hang Gai accommodation has something you may be interested in.
Church Boutique Hotel (58 Hang Gai)
35 rooms in this classy hotel are lavishly decorated with white line dark wooden furniture. It's close to many impressive boutiques showcasing silk and crafts and a short walking distance of Dong Xuan market.
Golden Silk (109-111 Hang Gai) 
The hotel features stunning views and Asian gracious style for a remarkably luxury experience to Westerners. Rooftop bar is a wonderful place to chill out with frequent promotions and discount.
Silk Queen Hotel (100 Hang Gai)
This 4-star hotel provides 60 rooms and suites with different prices to match your budget. It's an ideal choice for both leisure and business travellers with New Rooftop Bar and restaurant, outdoor swimming pool and large conference room.
Tips
There is no better way to spend a day exploring Hang Gai Street than hitting some of the great coffee shops for chilling out and browse the art galleries dotted along the streets after seeing plenty of stores and ancient monuments. Indeed, Hang Gai is filled with a lot of spots to stop and sip a drink or grab a bite to eat.
Banh troi tau (warm Chinese floating cake): it is a very well-known dish for local people through many generations which feature a sugar sauce and a hint of ginger. On Hang Gai Street, you can find many sidewalk venues selling this special dish.
Conversations (0)
Join the conversation
Conversations
Join the conversation
ALL COMMENTS (0)
There are no comments. Add your comment to start the conversation.
Featured Streets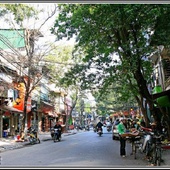 Historically the place to see and be seen, and still the place to go shop, Hang Thung Street has been challenged by rapid changes and it now becomes quite a miss and match.
0.6km (0.4 mi) from city center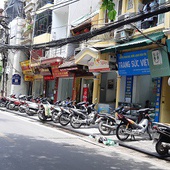 Hang Bac, meaning silver in Vietnamese, is often recommended as one of the most happening streets for a walking tour.
0.8km (0.5 mi) from city center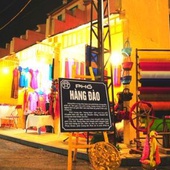 Hang Dao today belongs to Hoan Kiem pedestrian zone and is especially animated at night every Friday, Saturday and Sunday with the establishment of Hang Ngang – Hang Dao night market.
0.8km (0.5 mi) from city center