Hang Ga - Street Of Chickens
With an approximate length of 228m, Hang Ga street is within Hang Bo Ward, Hoan Kiem District, Hanoi.
 The street heads North-South direction, with two ends connecting Hang Dieu street and Hang Cot street. Hang Ga street was established on the land of Tan Lap- Tan Khai village, Tho Xuong commune. Currently, the temple of Tan Khai village is at number 44 of Hang Vai street and the pagoda ofTan Khai village temple was located at in the house 16A of Hang Ga Street. 
At first, people used to call the streets with 2 separated names. The part from Bat Dan to Cua Dong was called Thuoc Nam (Vietnamese Medicine) as this chunk had many households selling medicine. The other part from Cua Dong to Hang Cot was referred as Hang Ga because many poultry seller gathered here doing their business. 
A batch of 50 to 60 chickens is normally put into a big cage. In the French colonial period, the street was known as Tianjin, also known as Tientsin Street (Rue Tien Tsin), to commemorate the treaty signed between France and the Qing Dynasty in 1885. But people still called this familiar Hang Ga - Cua Dong, because many people here often bring poultry to sell in front of the East Gate, and to distinguish them from Hang Ga alley (near Pho Hue nowaday). 
After the August Revolution in 1945, the revolutionary government officially chose "Hang Ga" to name the street. Hang Ga Street is characterized with old narrow houses with low roof, just one floor or several garrets. 
Currently, Hang Ga Street is a quiet neighborhood compared to the bustle of the old town area. However, the street remains an interesting attraction for domestic and foreign tourists visiting Hanoi.
Conversations (0)
Join the conversation
Conversations
Join the conversation
ALL COMMENTS (0)
There are no comments. Add your comment to start the conversation.
Featured Streets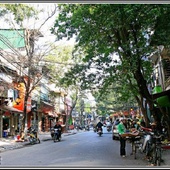 Historically the place to see and be seen, and still the place to go shop, Hang Thung Street has been challenged by rapid changes and it now becomes quite a miss and match.
0.6km (0.4 mi) from city center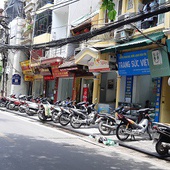 Hang Bac, meaning silver in Vietnamese, is often recommended as one of the most happening streets for a walking tour.
0.8km (0.5 mi) from city center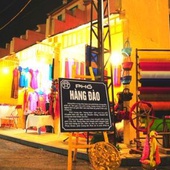 Hang Dao today belongs to Hoan Kiem pedestrian zone and is especially animated at night every Friday, Saturday and Sunday with the establishment of Hang Ngang – Hang Dao night market.
0.8km (0.5 mi) from city center