Hang Duong- Street Of Sugar
Quirky and spectacular streets in Hanoi Old Quarter are best explored on foot. Whichever route you choose, there are incredible places to visit and architectural sights to see. If you have a sweet tooth, then Hang Duong Street (street of sugar) is right place to go.
Belonging to the Old Quarter of Hanoi, Hang Duong Street is 180 meter long which connects Dong Xuan with Hang Ngang Street, crossing the intersection Hang Ca – Ngo Gach. The street owns the medal of the most famous place in Hanoi for processing and selling cane sugar, molasses and many kinds of cakes and sweets. From both sides, you may find yourself walking the stores wide-eyed taking in all sweet snacks in glass jar on display.
History
Located in the area of Dong Hoa Noi, Hau Dong Hoa Mon and Vinh Thai villages, Hang Duong, Hang Duong Street was used to be a dyke dating back to the 15th century. Previously, there was a market near Cau Dong Bridge called Cau Dong Market. After being moved to Dong Xuan Street, it's called Dong Xuan Market.
During the French colonial period, Hang Duong Street was named Rue du Sucre where housed an electric railway. In the 1960s, the locals started participating in other trades thus many other necessary products such as clothes, fashion accessories, souvenirs and portraitures were widely found on the street.
At present, while most old streets have changed its commodities together with the ups and downs of history, Hang Duong is an exception. By retaining its typical business through generations, Hang Duong Street becomes extremely bustling and animated all year round, especially during special occasions such as Mid-Autumn Festival and Tet holiday. In addition, the street is also belonged to Hoan Kiem pedestrian zone where crowds of visitors and locals usually frequent in the weekends.
What to see
Not only being famous for sugar and sweets, Hang Duong is where all historical values and architectures remain. Particularly, treasured old houses like Vinh Hanh Communal House, Duc Mon Communal House and Pagoda and Cau Dong Pagoda have been well-preserved and recognized as national historical relics.
While Duc Mon Communal House (38 Hang Duong) honors Ngo Van Long, a famous general under the legendary 18th Hung King, Cau Dong Pagoda at the same location worships Buddha, along with General Tran Thu Do and his wife Tran Thi Dung who had great contribution to the prosperity of the Tran Dynasty. Numbered 19B Hang Duong, the upstairs of Vinh Hanh pagoda was used to worship while the downstairs was used for business.
What to eat
There is no surprise to see Hang Duong a paradise for sweet lovers. Sooner or later you will run into at least a dozen shops selling traditional sweets such as sweet snacks, fried fruits and jam for Tet holiday.
O mai
A kind of homemade sweetened and spiced dried fruits, a culinary specialty of Hanoi is best sold on Hang Duong Street. It's a perfect blend of salty of salt, sweet taste of sugar, cool taste of licorice, pungent taste of fresh ginger and natural flavor of fruits. "O mai" can be made from a variety of dried fruits such as apricots, plums, peaches, tangerines, star fruits, mangoes and jackfruits and so on.
Chuoi nep nuong
Originally a Saigon's specialty but grilled banana has become a favorite snack of many people in Hanoi, especially in the beginning of winter. You can enjoy it at No.1 Hang Duong with prices ranging from 20000 – 25000 VND.
Che xoan
23 Hang Duong is among best places in Hanoi to enjoy great sweet soups in many different flavors such as durian, mixed caramel and yogurt mixed in creative way.
Where to stay
Hotels on Hang Duong aren't plentiful but very budget-friendly, especially for week-long short getaway excursions. These cheap hotels are more than just a bed to sleep on, they offer great location to explore the city and adequate amenities for your perfect stay.
A25 Hotel (54-56 Hang Duong)
In the heart of Hanoi Old Quarter, A25 Hotel Hang Duong is close to many famous landmarks of the city and several nightlife venues. The hotel offers great modern amenities as well as other services such as airport pick-up, motorbike rental and laundry.
Hanoi Rocks Hostel (56 Hang Duong)
It's a great choice for backpackers with limited budget as the room rate is very cheap. At the hostel, you can find most necessary services and a variety of types of entertainment.
Tips
As you return home, don't forget to bring along a few packs of little sour-bitter-salty-sweet "o mai". You can find "o mai" everywhere not only in stores on Hang Duong Street but also on other streets in Hanoi. The most famous places to buy are at Hong Lam (11 Hang Duong) and Gia Loi (8 Hang Duong).
Conversations (0)
Join the conversation
Conversations
Join the conversation
ALL COMMENTS (0)
There are no comments. Add your comment to start the conversation.
Featured Streets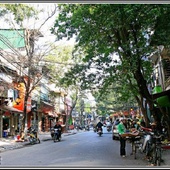 Historically the place to see and be seen, and still the place to go shop, Hang Thung Street has been challenged by rapid changes and it now becomes quite a miss and match.
0.6km (0.4 mi) from city center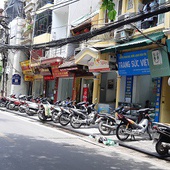 Hang Bac, meaning silver in Vietnamese, is often recommended as one of the most happening streets for a walking tour.
0.8km (0.5 mi) from city center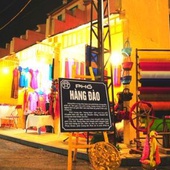 Hang Dao today belongs to Hoan Kiem pedestrian zone and is especially animated at night every Friday, Saturday and Sunday with the establishment of Hang Ngang – Hang Dao night market.
0.8km (0.5 mi) from city center