Hang Chieu - Street Of Mats
Hang Chieu street in right in the proximity with colorful Hang Ma street and the ever-exciting Dong Xuan Market of Hoan Kiem district in Hanoi. 
The street is 280m long, stretching from Quan Chuong Gate to the cross road Dong Xuan – Hang Ma – Hang Duong. Long long ago, homemade mats were made nearby the Red River bank and then sold on this street.
In the French colonial time, the street was named Rue Jean Dupuis and it specialized in trafficking weapons and ammunition for the French army. Through this street, Garnier had entered Hanoi and General Hoang Dieu. In 1888, the French colonial set fire to burn down the whole street. After that, they took up land to open shops and forced the people to buy bricks and build new houses in Western style. 
The street had sidewalks, green trees, lamp-posts like . This was the first street in Hanoi with western-style architecture and people called it Pho Moi (the modern street). Hang Chieu street was also a battlefield of Vietnamese troops fighting against French in many years. Quan Chuong Gate battlefield still stood firmly until the Capital Regiment withdrew from the city on 17/2/1947. 
Hang Chieu street today still somehow stay true to its name with a buch of shops selling grass mats. Additionally, the street is also a favorite destination for eaters who love to enjoy a nice bowl of wonton noodle soup.
Conversations (0)
Join the conversation
Conversations
Join the conversation
ALL COMMENTS (0)
There are no comments. Add your comment to start the conversation.
Featured Streets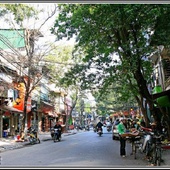 Historically the place to see and be seen, and still the place to go shop, Hang Thung Street has been challenged by rapid changes and it now becomes quite a miss and match.
0.6km (0.4 mi) from city center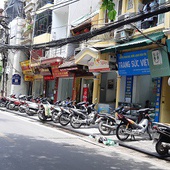 Hang Bac, meaning silver in Vietnamese, is often recommended as one of the most happening streets for a walking tour.
0.8km (0.5 mi) from city center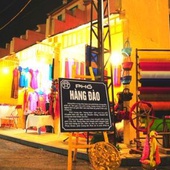 Hang Dao today belongs to Hoan Kiem pedestrian zone and is especially animated at night every Friday, Saturday and Sunday with the establishment of Hang Ngang – Hang Dao night market.
0.8km (0.5 mi) from city center