Food & Nutrition For Pregnant Women in Vietnam
It is never an exaggeration to stress the importance of eating well, both when you travel and when you are pregnant – and now you are doing both at the same time! The general food guides for pregnancy may not necessarily match in this case: say you are often warned against cold cuts or soft cheese, which Vietnam barely has any.
What Vietnam has that you want to take advantage of
Rice
The national staple is readily anywhere in form of the grain itself or the famous rice noodles. Sticky rice in particular is believed to help women produce more and better quality milk to breastfeed after childbirth. If you do not develop a food aversion to rice during your first trimester, this may be a great substitute for potatoes or bread that you usually have at home too.
Photo : baovanhoa.com
Tofu 
Great news for vegetarian mom-to-be, Vietnam has a lot of tofu coming with cheap price. For less than 50 cent you can have tofu enough for 2 or 3, or in restaurants, dishes that involve tofu will not cost you over $2.
Eggs
Eggs are a great source of protein and iron – both of which you are often in dire need as your pregnancy evolves. Vietnamese often make egg dishes by boiling or frying them until they are fully cooked so you will not have any problems from the sunny-side-up at home.
Fresh fruits and vegetable
If there was only one great thing about Vietnamese that could only be the fresh fruits and vegetables found everywhere. Because they are fresh and most are tropical, they are packed with vitamins and goodness that you may not have at home. The price is reasonable too, especially when you pick them up from the wet market. Western food guide recommends broccoli, avocado, asparagus for vegies and apple and grapefruit for fruits. Vietnamese traditions point you towards sugarcane and orange to strengthen your expecting baby's bones.
What you need a second thought 
Fish and seafood
There is a note of caution about sushi everywhere on pregnancy guide, as the raw fish may develop some bacteria, which are harmful to both you and your baby. In Southern Vietnam, goi ca or salad made with raw fish may be popular on the menu so make sure you leave that option out. Also avoid tuna when you are dining in the coastal cities and fish believed to be high in mercury (marlin, orange roughy, swordfish, mackerel, sea bass). On the other hand, there are other options that fish-lovers will make do with as well. For example, Vietnamese believe that if pregnant women can eat a lot of carp in the first 6 months will make the neuro-cell of the fetus develop faster and your infant will be very bright. Also do not look down on the tiny shrimps and other shell seafood such as crabs and clams – they are amazing in giving you calcium and much better than the same species of larger sizes. Try Bun rieu cua – noodle with crab meat paste – a favorite of many locals in Hanoi or Hue.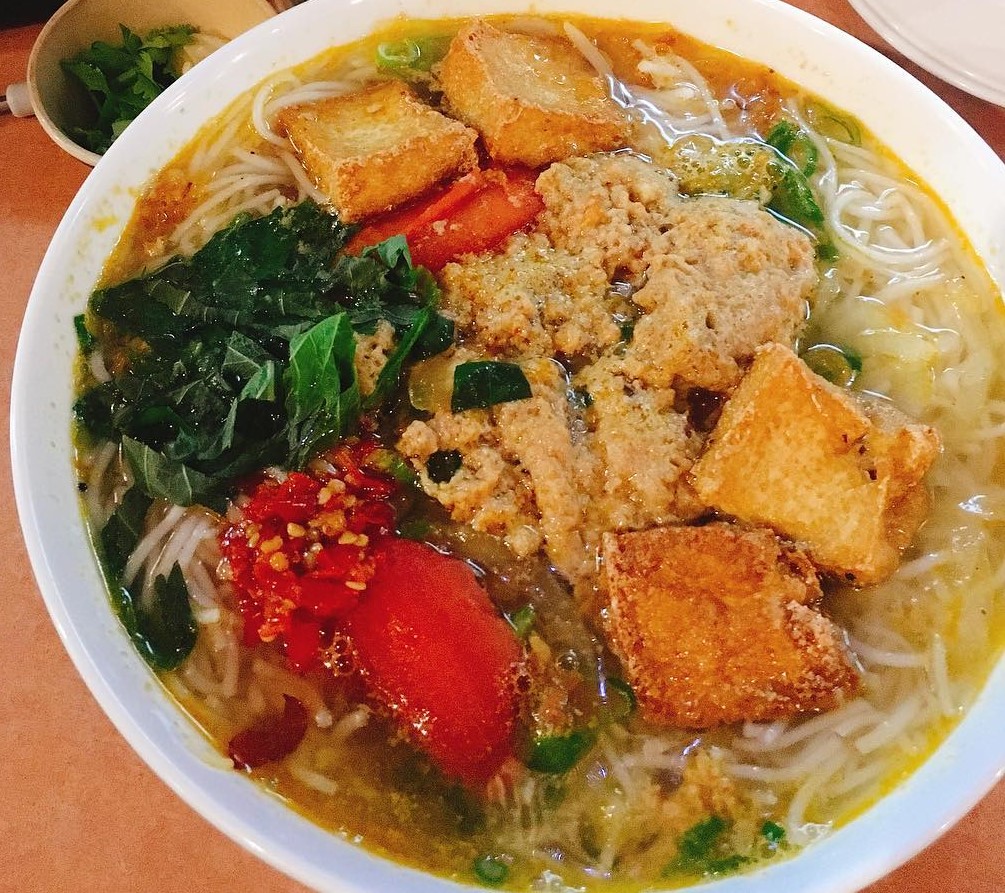 Photo : monanngon.vn
Pho bo tai
The half-cooked rare beef may not be the best to try when you are pregnant. Most guides for pregnant women warn against the use of uncooked meat so if you order a Pho Bo (Noodle with beef), ask for fully cooked meat.
Spring rolls 
The do-it-yourself rolls may seem a great thing to try out when you are in Vietnam – with all the hearty vegetables and noodles rolled in between, served with the mouthwatering tangy dipping sauce. Watch out for the bacteria from mixing meat or shrimp with vegetables! You may want to substitute the fresh rolls with the deep fried one instead to avoid all risks of food poisoning.
Cold cuts
Though ham and salami are not very popular in a Vietnamese diet, you may still encounter them at your hotel's buffet breakfast. Or if you are an expat living in Vietnam for a while, the idea of having a pate spread and cold cuts may be too attempting. Think twice about the potential bacteria that may come attached! In Vietnam, gio (pork roll) or nem chua (fermented roll) should be avoided at all cost for the unsafe process of making them.
Coffee and teas
What a great miss if you come to Vietnam without trying its coffee or tea! According to American Pregnancy Guide, an overdose of caffeine may cause birth defect and premature birth, while some other sources report that it is most harmful when you are in week 11-13. The conclusion: try to avoid caffeinated drinks in your first trimester, you may allow yourself 1 cup every once in a while but do not go over the border! Afterwards, one 12oz cup of coffee – translated into 1 or 2 shots of caphe sua da (Vietnamese coffee with condensed milk) is probably ok.
Other food items to avoid
Green papaya and longan are believed to be harmful to your pregnancy so try to avoid them. You may have to part with your favourite green papaya salad or the yummy slices found in Bun cha or Bun thit nuong (Noodle with sliced green papaya). Longan, a popular fruits omnipresent in Vietnam, may be substituted with other great tropical fruits like jackfruits or sugarcane pieces. Better prevention than cure!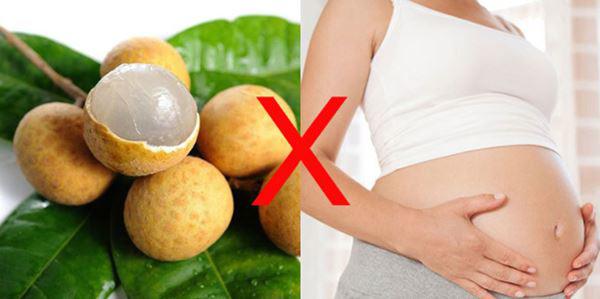 Photo : eva.vn
All in all, trust your instinct. You do not want to spoil your trip by being skeptical about every single food item you see on the menu yet at the same time, this is not the right moment to try your boldness in a country whose food you are probably unfamiliar with. Take extra precaution when you eat on the street or even in sit-down restaurants. Being pregnant is so great that sometimes it can involve several stressful moments. Be a happy and healthy diner, traveler and expectant mom!
Conversations (0)
Join the conversation
Conversations
Join the conversation
ALL COMMENTS (0)
There are no comments. Add your comment to start the conversation.
read next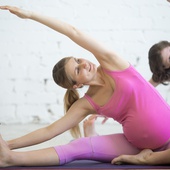 In Vietnam health and beauty services such as hair salon, make up or spas are almost an exclusive domain of women. Many Vietnamese women when pregnant crave for even more of these services.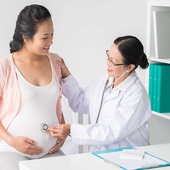 Whether you are travelling to Vietnam for a quick period of your pregnancy, or Vietnam is the place you see your whole pregnancy and childbirth happen, with this guide we hope to provide you with some tips and insights so as you can enjoy both the idea of having a baby and the joy of travelling, all together.