10 Best Places To Buy Handicrafts In Hanoi
Hanoi is definitely the best place to shop for handicrafts as most high-quality specialties throughout the nation are selectively curated in the capital. Although souvenirs in the central tourist area seem largely generic and mass produced at first glance, you can find hidden gems here and there. Or skip the random discovery and save time with our list of the best original boutique handicraft shops you can find in Hanoi below.
Mekong Quilts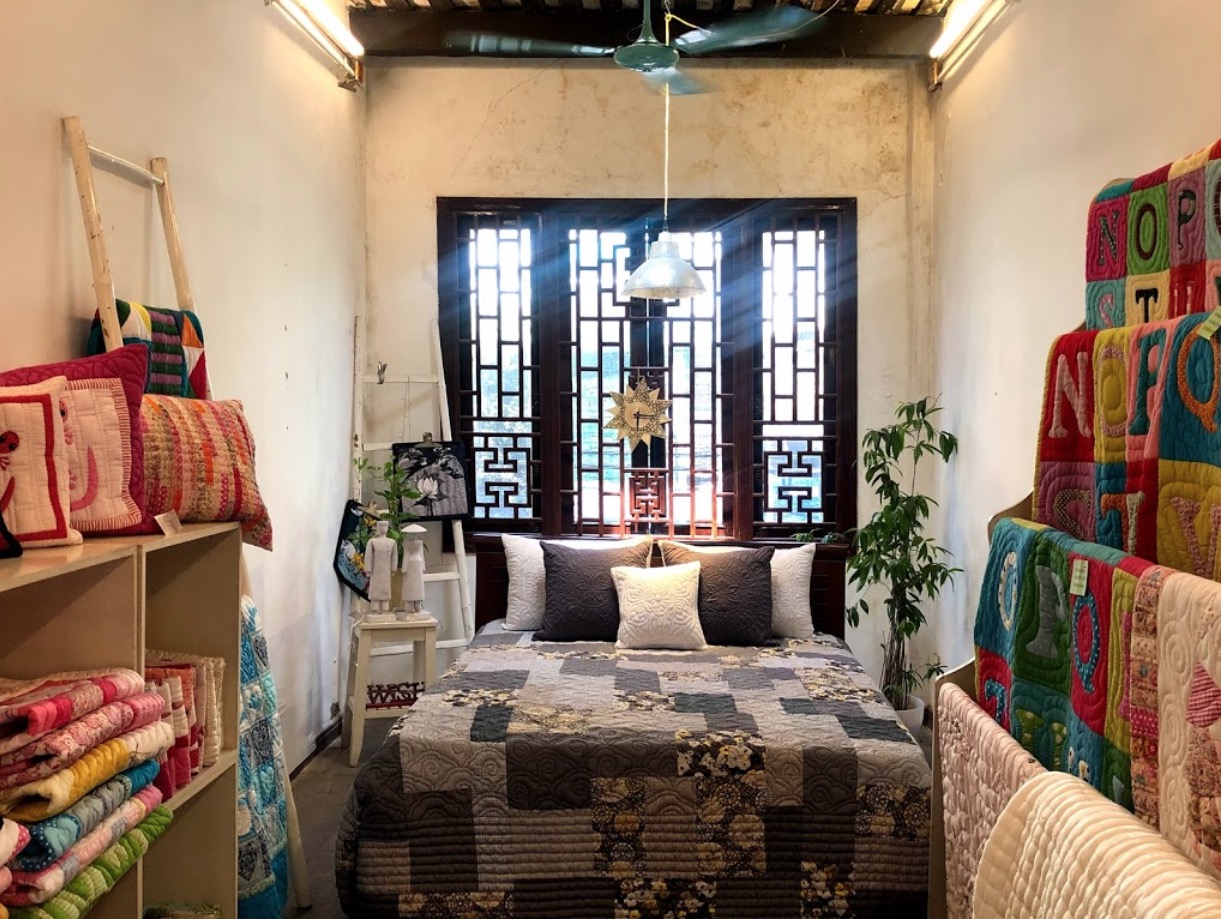 Photo by @Michelle KONG
Hand-stitched bedding and quilt accessories are the perfect gift from Hanoi. Such products at Mekong Quilts are displayed in an eye-catching manner, enticing tourists with colorful patterns and high-quality. Moreover, the special things about Mekong Quilts is that their products are all handmade by women living in rural areas of Vietnam and the profit gained from the business is distributed to their families to help them get by.
Address:: 13 Hang Bac, Hoan Kiem, Hanoi
Bat Trang Ceramic Village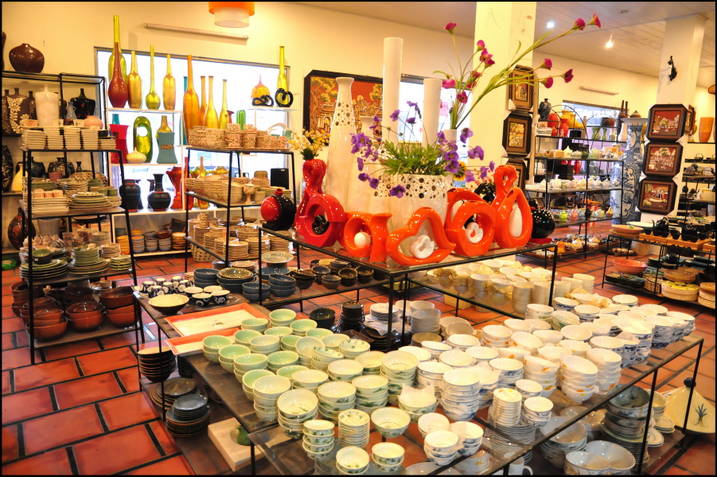 Photo : battrang.hanoi.vn
Ceramic products certainly cannot be more affordable anywhere else than in Vietnam. Bat Trang village is the ultimate world of ceramic where you can create household items on your own or buy them for just a couple of bucks. Floral patterns painted in plain white and ocean blue make the signature trait of this village, while other colors have also been incorporated in more modern designs for you to choose from.
Address: 68 Giang Cao, Bat Trang, Hanoi
The Real Stamp Shop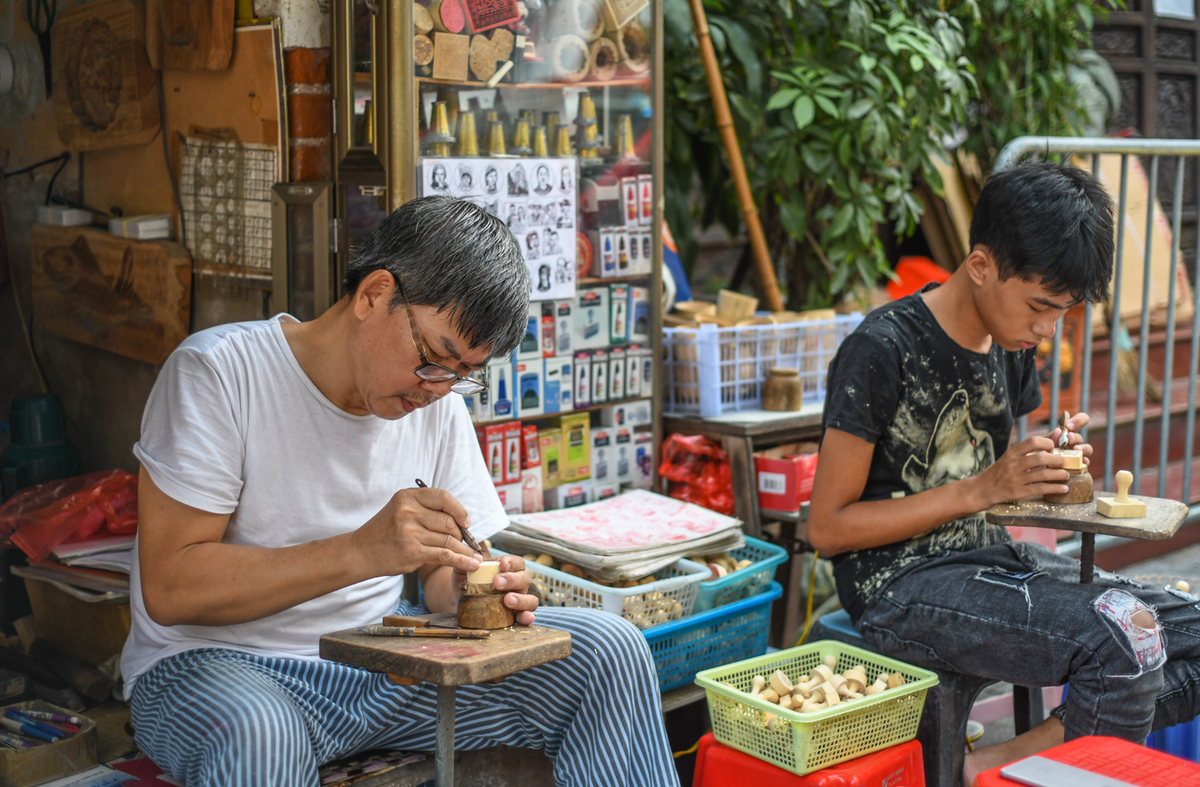 Photo : vnexpress.net
What can be more flattering than having a wooden stamp carved and customized to your needs by an old boutique? It is the perfect fusion of the artisan's meticulousness and your unique hallmark. You can sketch the result you want on paper first and then have them engraved accordingly, or simply choose from the broad range of stamps displayed to bring home as handicraft gifts.
Address: 6 Hang Quat, Hoan Kiem, Hanoi
Kay Decor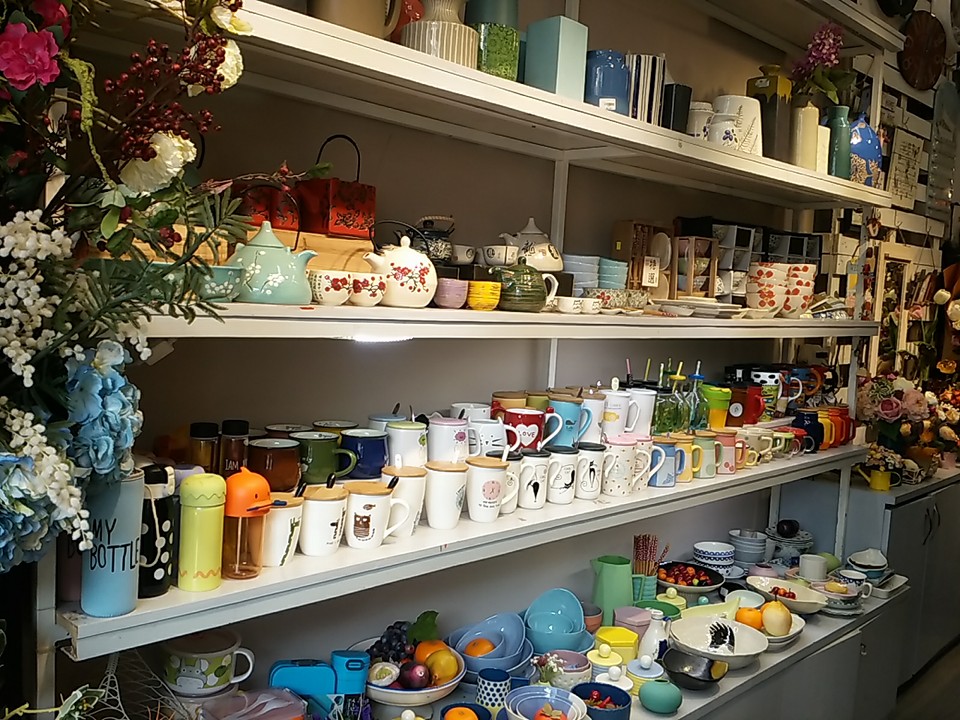 Photo by Facebook /KayDecorGift
Kay Decor is a little boutique located in walking distance to Sword Lake. As inconspicuous as it looks from the outside, this is such a world of its own kind that can amaze you once you step inside. Thousands of adorable handicrafts, realistic silk flowers and enticing giftware fill up the narrow space making it reminiscent of the magical store where Harry Potter buys his wand. Feel free to immerse yourself as the owner never minds your window shopping.
Address: 10 Tran Nguyen Han, Hoan Kiem, Hanoi
Old Propaganda Poster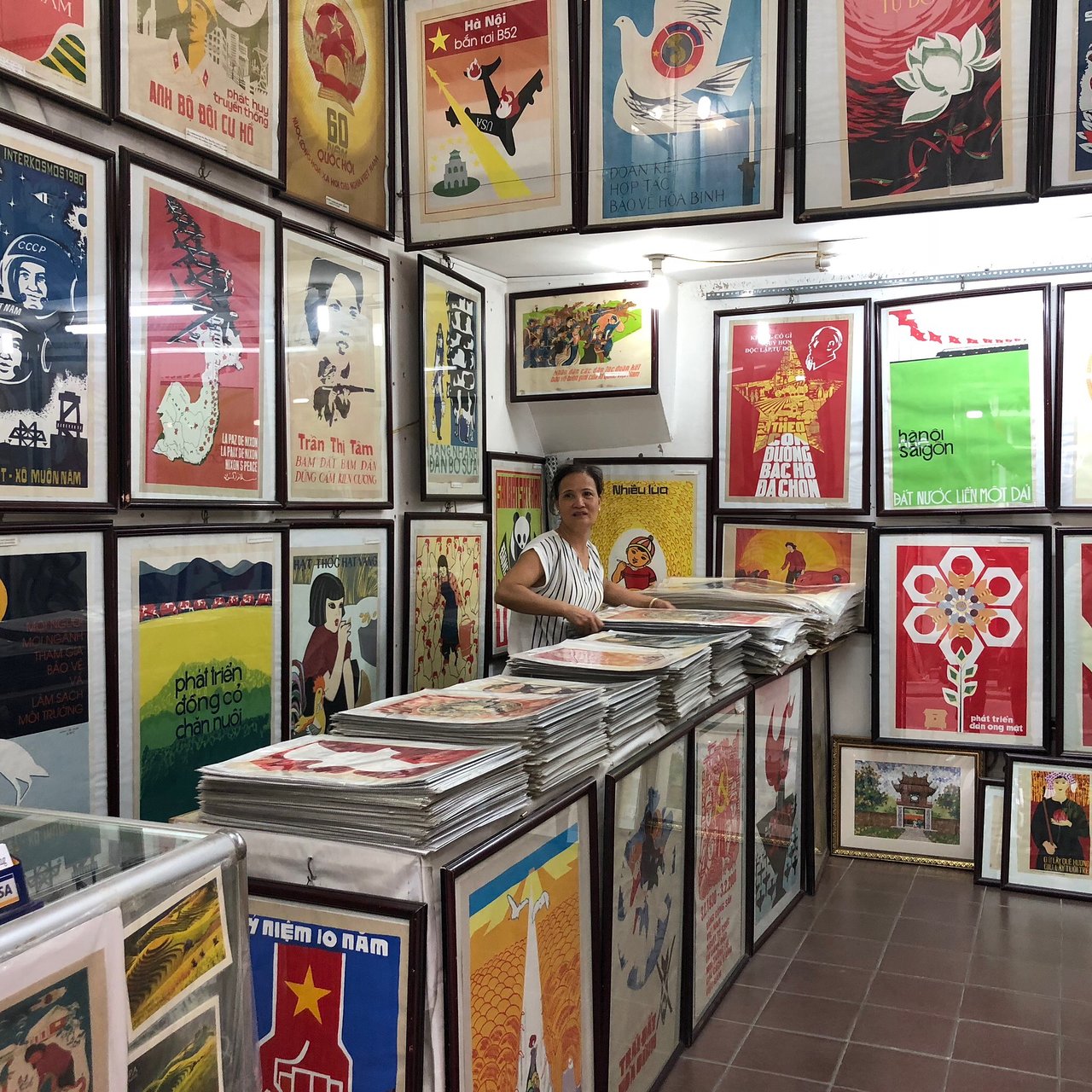 Photo by @Lambretta101
Old Propaganda Poster is a store that offers hundreds of such posters stacked on tables and hung on the walls, which creates a nostalgic and sobering ambience that tourists can immediately feel as they step in. Most of these posters demonstrate life during Vietnam wars, out of which survival and independence are recurrent themes. The artwork is evocative with vintage colour combination and serious messages conveyed. These posters certainly make meaningful gifts for the elder in your family.
Address: 43A Hang Be, Hoan Kiem, Hanoi
Tanmy Embroidery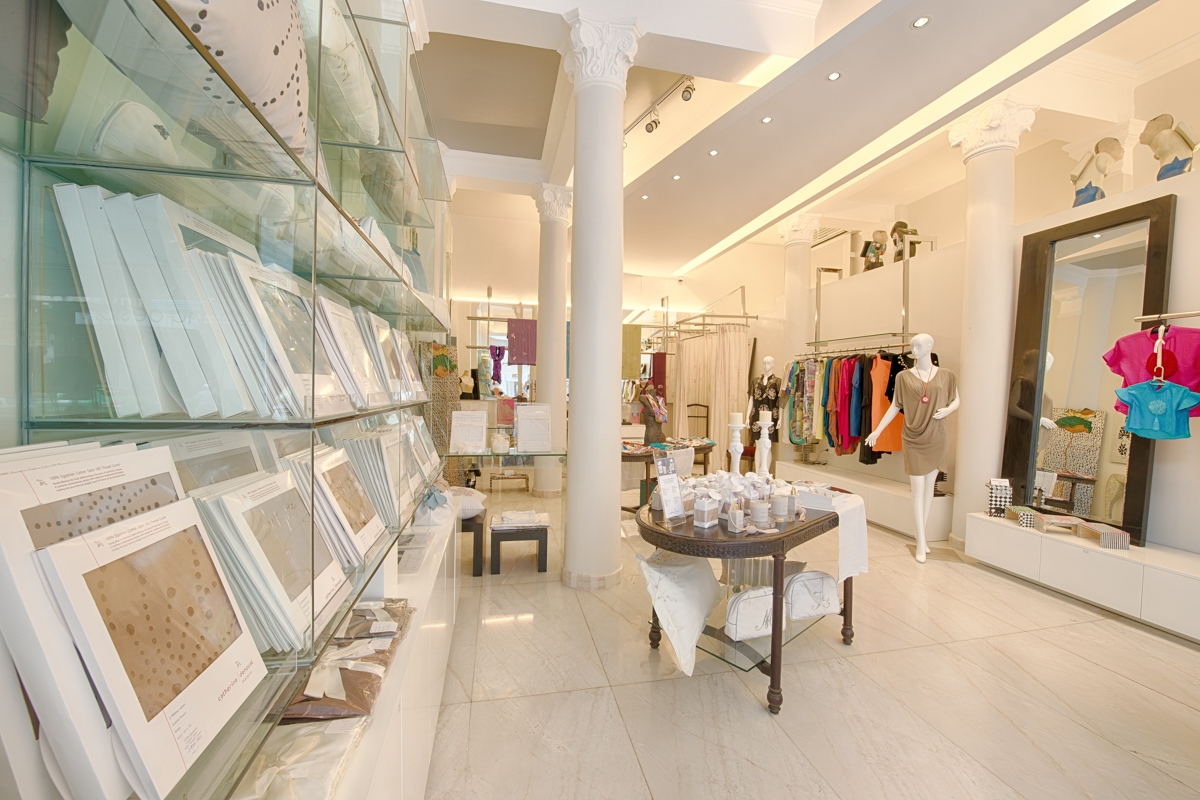 Photo : tanmydesign.com
Embroidered tablecloth is a specialty of Hanoi so take advantage of your trip to stock up these artistic products. Colorful, mozaic style, floral and animal patterns and the village life scenes are embroidered in such a sophisticated way that they look like paintings from afar. Tourists should visit TanMy to pick a favourite one because this is purported to be Hanoi's oldest embroidery shop.
Address: 61 Hang Gai, Hoan Kiem, Hanoi
54 Traditions Gallery of Minority Handicrafts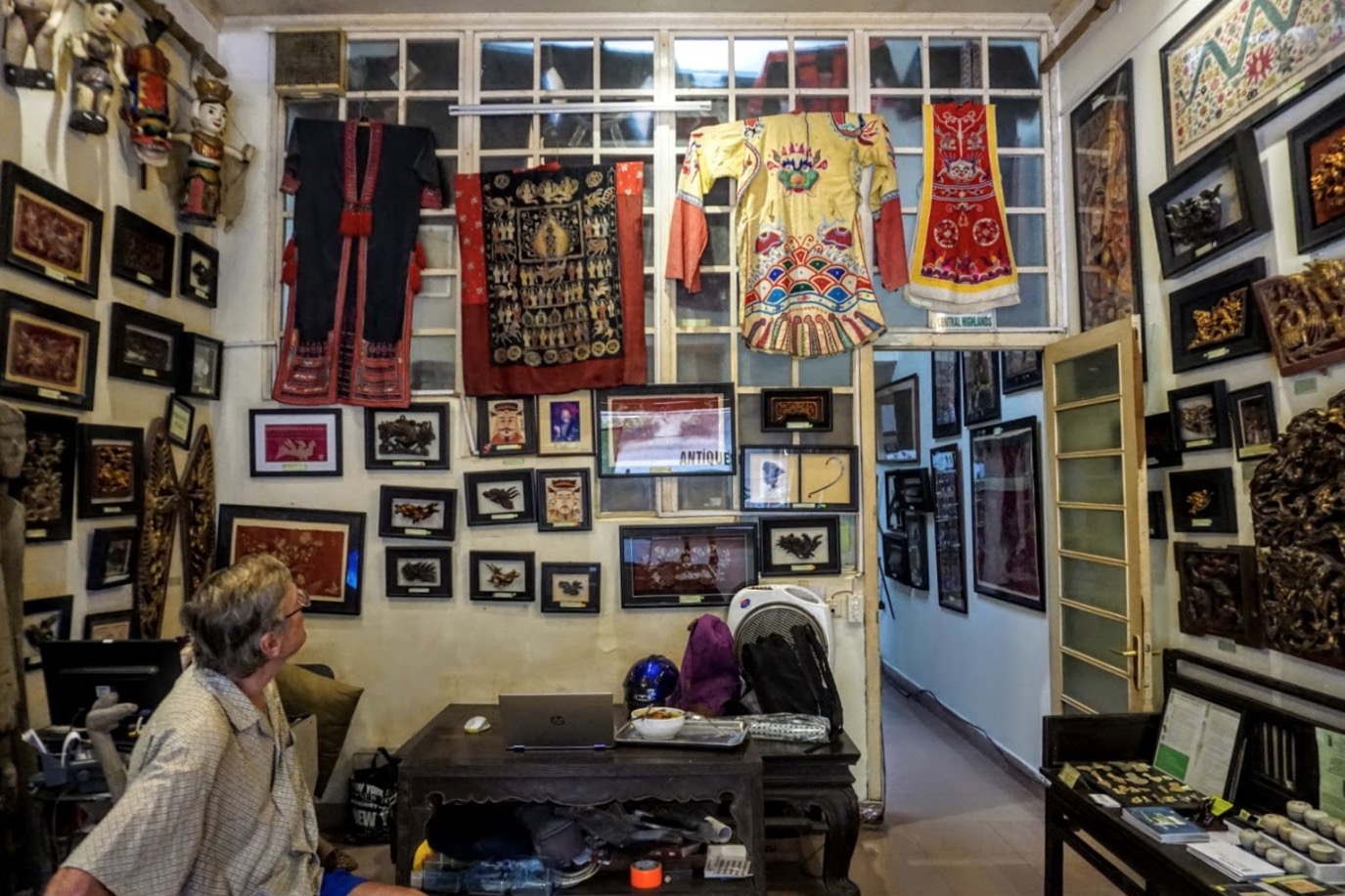 Photo by @Cate Poe
54 Tradition is renowned for the fusion of neon colors and ancient techniques in their ethnic handicrafts. They offer a wide range of caps, tapestries, jewellery and shirts that can make really special gifts for your friends. This gallery also give tourists an overview of the 54 distinct ethnic groups in Vietnam.
Address: 30 Hang Bun, Ba Dinh, Hanoi
Cheo Masks at 79 Souvenir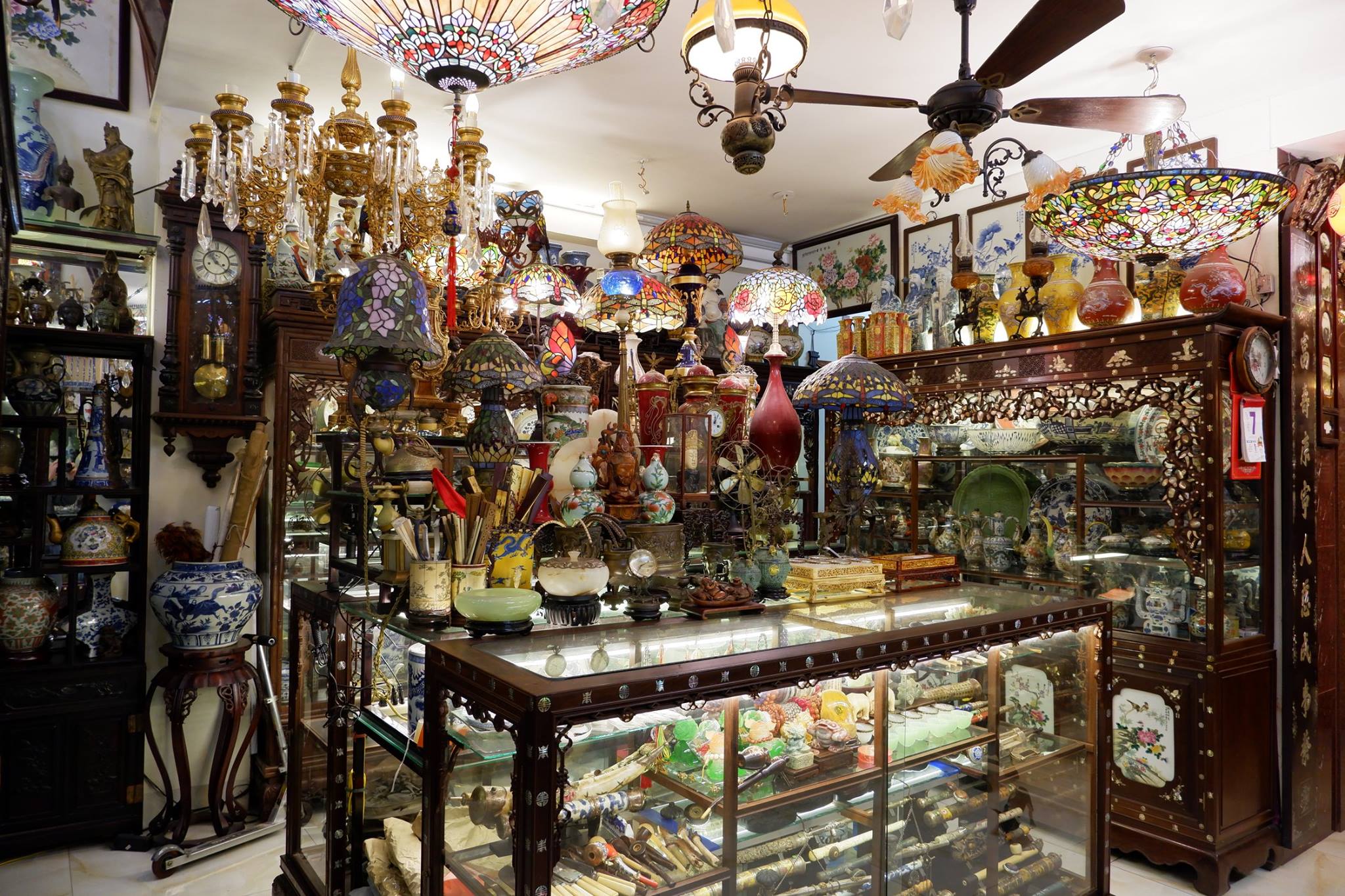 Photo by Facebook /79souvenirshop
As you wander through the winding lanes of Hanoi Old Quarter, you may well have seen eccentric bamboo tray masks hung here and there in souvenir shops. Painted with theatrically makeup faces, these are strongly reminiscent of the multi-faceted and dramatic characters in Vietnamese traditional Cheo performances. If you love folk arts and appreciate the inner moody side of human being, pick some to add an unique touch to your wall decoration!
Adress: 79 Hang Ma, Hoan Kiem, Hanoi
SilkyVietnam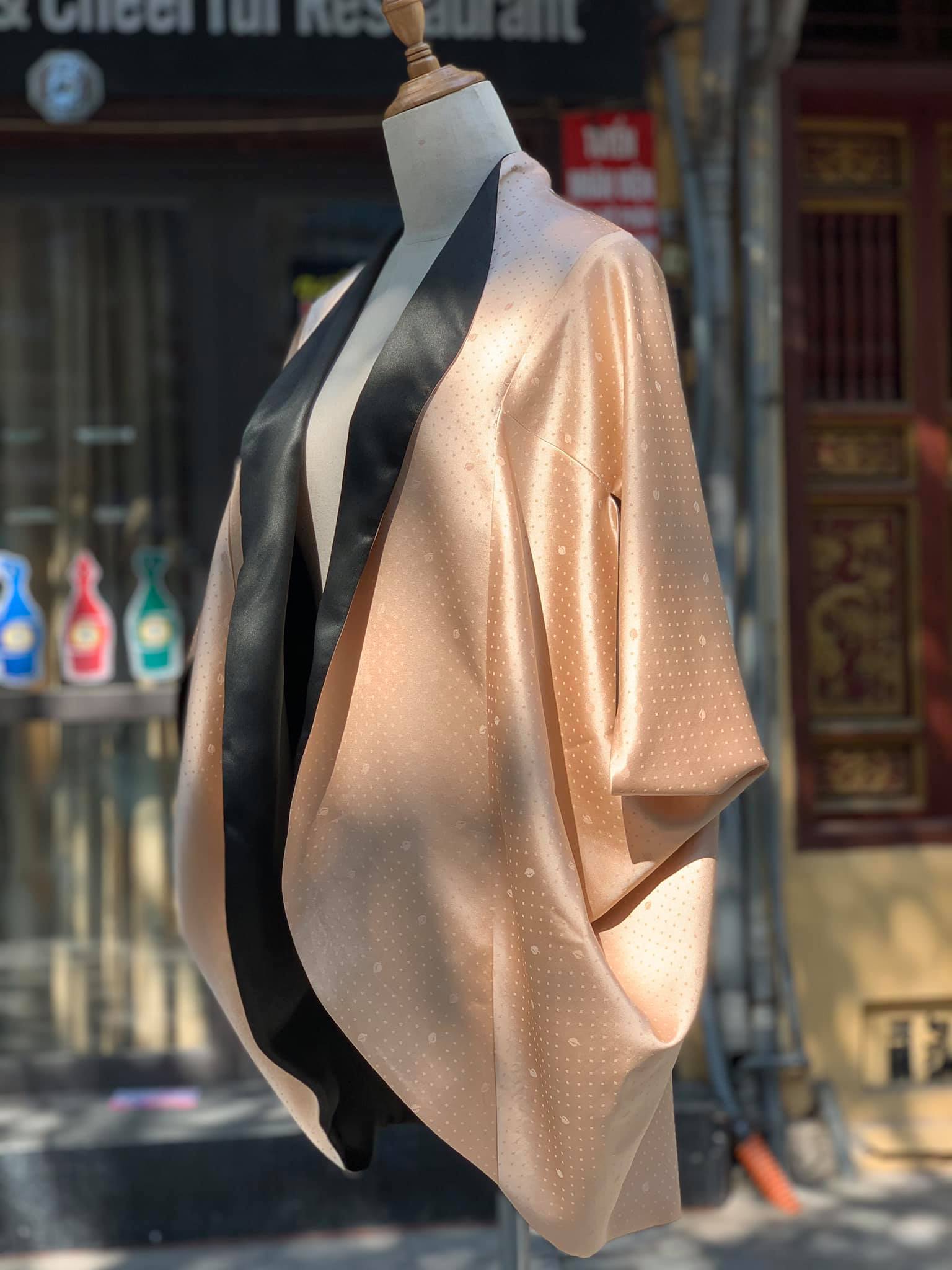 Photo by @SilkyVietnam
Vietnam is one of the few places where tourists can customize clothes at the cheapest price. At SilkyVietnam, all kinds of clothes are tailored to your needs or made off the rack. The wide range of Vietnamese organic silk makes SilkyVietnam distinguishable. The founder has followed an inspirational journey by leaving her senior post at Vietnam Television on a quest to promote Vietnam's best quality silk. A visit to SilkyVietnam will not give you the silk, but a way to support local production. 
Address: 5 Hang Bong, Hoan Kiem, Hanoi
Water puppets at Thang Long theater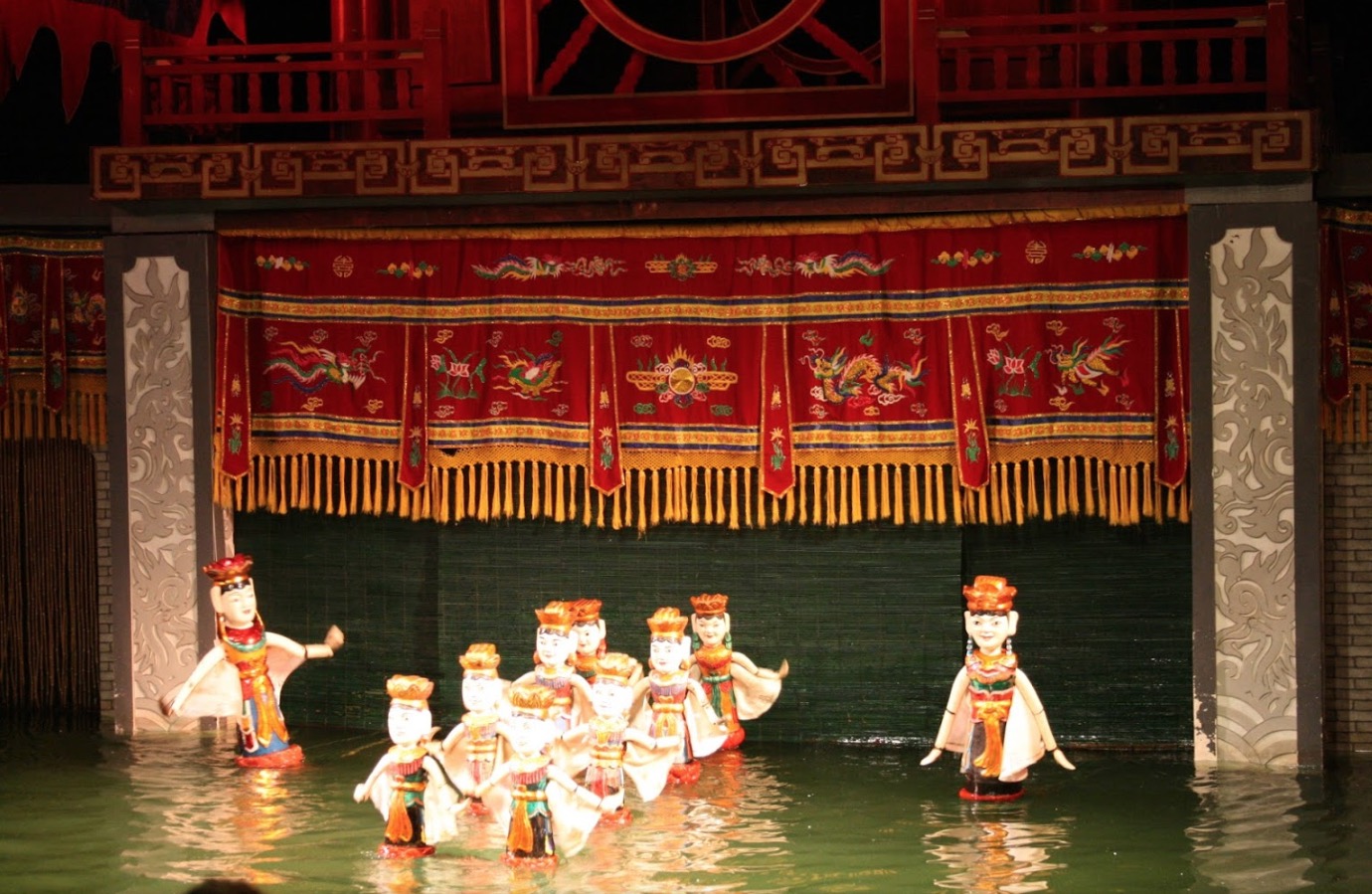 Photo by @Big Small
Water puppetry is a traditional art form of Vietnam that has been traced back to the 11th century. These little colorful puppets are wooden marionettes that dance on the water under the secret control of puppeteers hiding behind the stage. To keep the memories of such a wonderful show, you will love to decorate your bathroom with a whole set.
Address: 57B Dinh Tien Hoang, Hoan Kie, Hanoi
These 10 places can give you a wide range of decoration products and satisfy your wanderlust at the same time. Researching a little bit more into the traditional items will also reward you with deeper insights into the value of what you choose to bring home. Let's hit the road and start the exploration!
Conversations (0)
Join the conversation
Conversations
Join the conversation
ALL COMMENTS (0)
There are no comments. Add your comment to start the conversation.
read next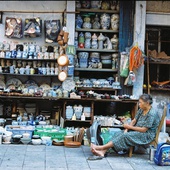 Shopping in Hanoi is not just about purchasing souvenirs - it can be a cultural experience.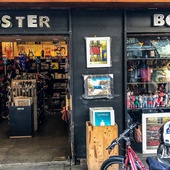 You are in Hanoi for the first time and being allured by its diverse range of goods that you don't know which ones are the essential you should buy? This article is going to make the complicated question become piece a cake!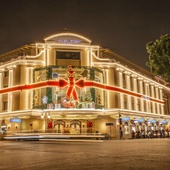 Located at Hanoi's center, looking over Hoan Kiem Lake, Trang Tien plaza has a shopping mall's prime location. Indeed, it has been recognized as one of the first luxury shopping centers across Vietnam.