6 Best Places for Dim Sum in Hanoi
Although very much underrated by region's standard and limited in options, Hanoi's dim sum scenes have enough to satisfy your taste bud. In the mood for some har gow, rice rolls, braised pork ribs or congee made the Chinese way? Visit the below for a sweet change.
Ming Restaurant
As a part of the 5-star Pan Pacific Hanoi luxury hotel, Ming Restaurant owns a luxurious and cozy culinary space with the main color tone of deep brown highlighting the eye-catching and typical Chinese dishes as well as dim sum dishes.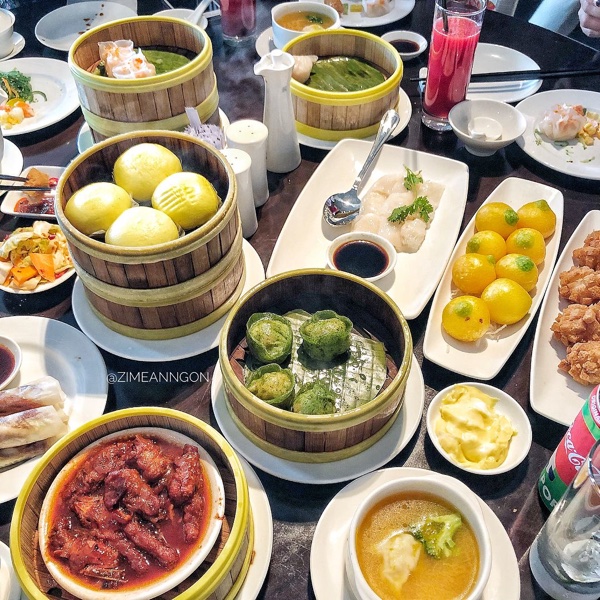 Photo: @zimeanngon
The restaurant comes with a cozy and quiet space with 3 separate rooms and is definitely the ideal venue for family gatherings or lunches with friends, and business partners.
In Ming Restaurant's elegant atmosphere, you are served with a numerous incredible dim sum dishes or "All you can eat" menu - which allows you to fully and comfortably enjoy the variety of delicious dim sum dishes as well as oriental cuisine and renovated dishes with its own mark.
Another plus point for Ming Restaurant is the enthusiastic and professional service of the staff. You will be introduced to dishes that suit your taste, as well as enthusiastically helped with child care if dining with your family.
Address: 2nd floor, Pan Pacific Hanoi, No.1, Thanh Nien Street, Ba Dinh District, Hanoi
Opening hours: 11:00 – 14:00, 17:30 - 22:00
Price: 550,000 VND++/adult for all you can eat dim sum lunch buffet.
Tim Ho Wan Restaurant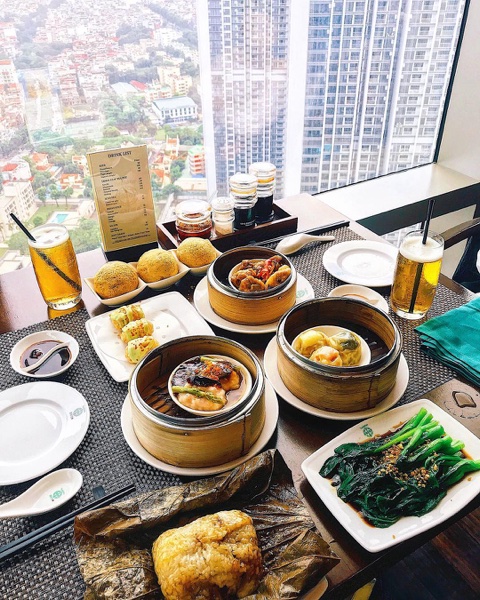 Photo: @the.mini.cindy
As a restaurant serving Hong Kong's iconic dim sum dishes, Tim Ho Wan Restaurant is located on the 36th floor of Lotte Hotel Hanoi - which allows you to admire the romantic panorama of the capital from above while enjoying a meal with friends and loved ones. The elegant and delicate design with the lanterns hanging from the ceiling gives dinners the feeling of being lost in the fragrant port of nostalgic beauty.
Made directly by Hong Kong chefs, the restaurant's dishes have original taste and quality, thereby providing an authentic and ideal culinary experience with a variety of dishes such as wasabi dumplings, shrimp wrapped in tofu skin, Chaozhou dumplings, pork and shrimp shumai, shrimp dumplings and diverse attractive desserts. Not only fascinated with the quality of the food, you will be completely satisfied with the staff's professional and enthusiastic service style, making your meal more flawless.
Address: 36th floor of Lotte Hotel Hanoi, No. 54, Lieu Giai Street , Ba Dinh District, Hanoi
Opening hours: 11:30 – 22:00
Price: From 61,000 VND
Minh Ky Dimsum & Noodles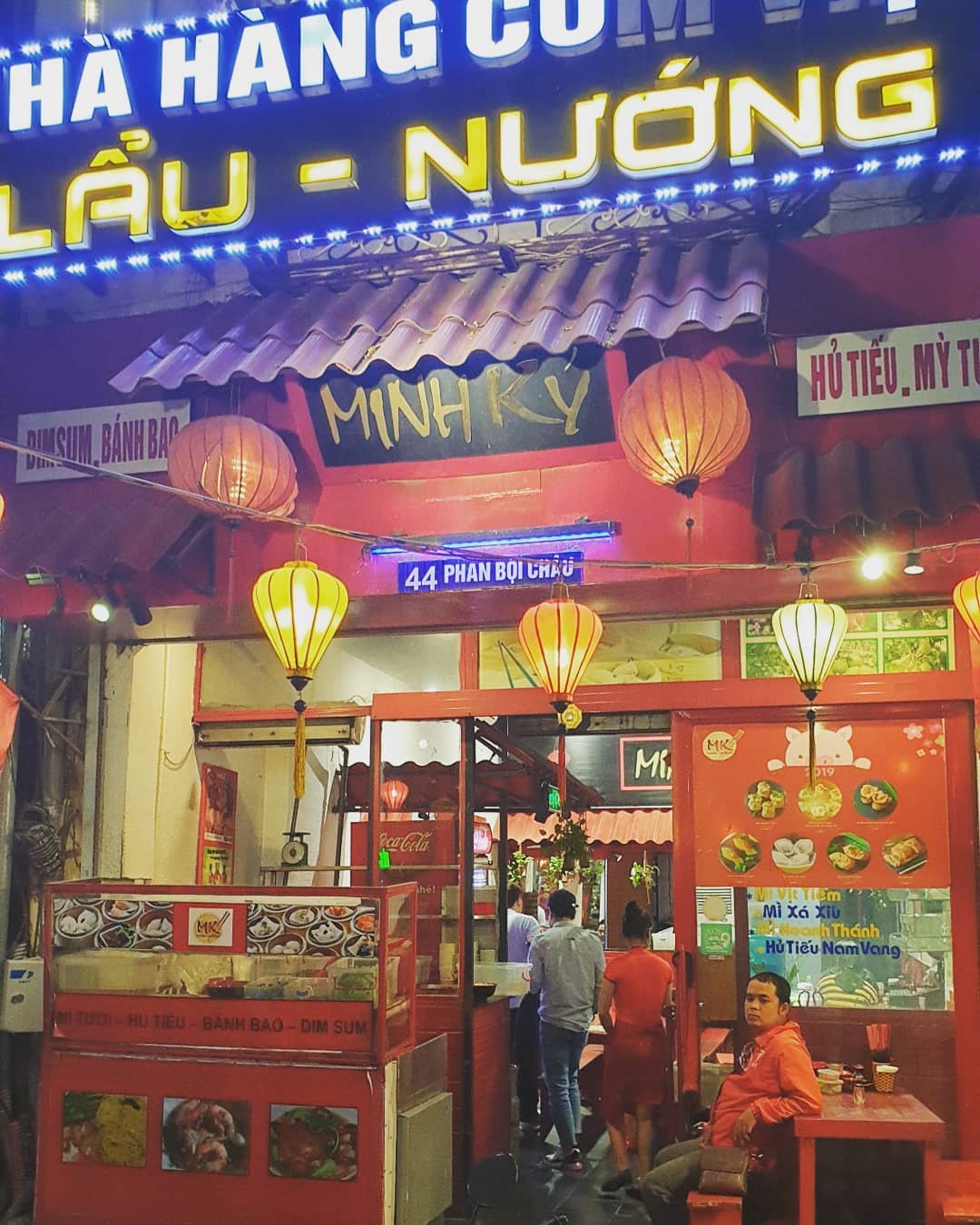 Photo: @sailom_daejeon
On cold and rainy days, stepping into the small and lovely space of Minh Ky Dimsum & Noodles to enjoy a delicious hot dim sum can be soul-soothing. The restaurant, although not the biggest in town, is ornately decorated with red color as the main tone. The cozy restaurant space is designed in many ways to create intimacy to diners.
Minh Ky Dimsum & Noodles has successfully completed its task of bringing a new soul, a new vitality into the super-delicious dishes like Char siu noodles, special duck egg noodle soup, noodles soup with stewed beef, shrimp wonton, mixed noodles, Char siu dumplings, shrimp corn cakes, etc.
The restaurant has received lots of good reviews from diners not only thanks to its cuisine, but also the enthusiastic, friendly and professional service attitude of the staff. If you love dim sum and Hong Kong noodles, do not miss this place with the cuisine paradise prepared by a professional chef.
Address: 44A, Phan Boi Chau Street, Hoan Kiem District, Hanoi / Park 11 of Times City, Hanoi
Opening hours: 8:00 – 14:00, 17:00 – 22:00
Price: 40,000 – 100,000 VND per plate
Fu Rong Hua Cantonese Restaurant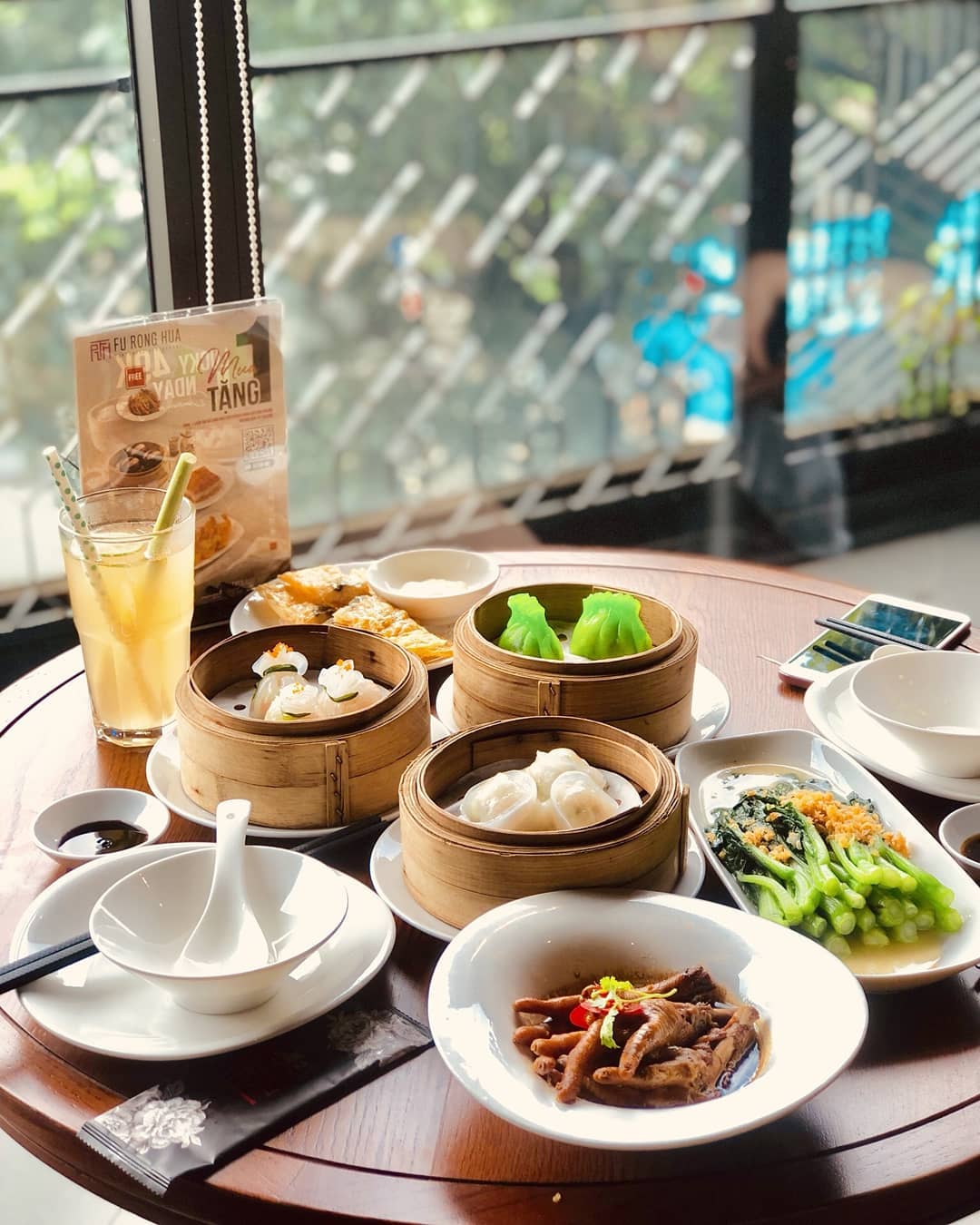 Photo: @kunikul1012
Situated on Dinh Tien Hoang Street, Fu Rong Hua Cantonese Restaurant will offer you a wonderful meal while admiring the peaceful and dreamy beauty of Hoan Kiem Lake - a memorable experience during your trip in Hanoi. Operated on the motto of sharing the taste and culture of enjoying dim sum to everyone, Fu Rong Hua Cantonese Restaurant has become a must-visit restaurant for those who love dim sums as well as Chinese cuisine. The restaurant's dishes are made from the freshest ingredients by the skillful hands of conscientious and professional chefs. The images, aromas, tastes and stories of dim sum here surely make you fascinated.
As a signature dish of the restaurant, dim sum is highly appreciated by diners with a variety of options such as Chaozhou dumplings, shrimp dumplings, scallop dim sum, Chinese black mushroom shumai. Don't miss the Cantonese stir-fried ribs - a fusion of sweet and sour tastes on a soft and sweet meat, a perfect dish to eat white rice or fried rice.
Address: No.9, Dinh Tien Hoang Street, Hoan Kiem District, Hanoi
Opening hours: 10:00 – 23:00
Price: 70,000 – 300,000 VND
Taoli Chinese Restaurant
The unique Chinese dishes and the rainbow-colored decorations are the reasons why Taoli Chinese Restaurant is always on the list of must-visit restaurants in Hanoi for visitors.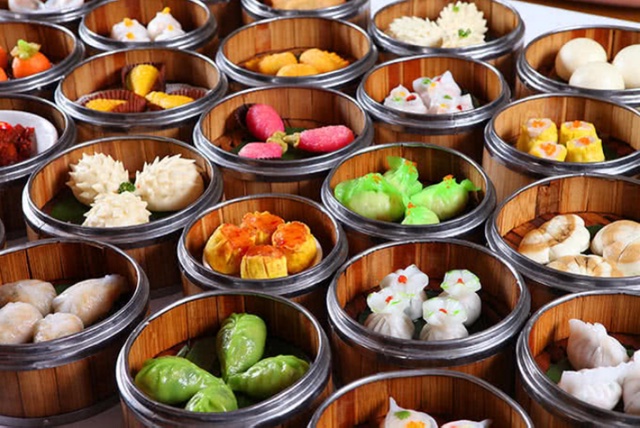 Tao Li Chinese Restaurant - Photo: Steemit.com
At Taoli, you can experience the "All you can eat" menu - a unique buffet with 60 dim sum dishes carefully and skillfully prepared by a 20-year-experience chef at 5-star Nikko Hotel. In particular, each dim sum dish contains its own flavor, shape, and separate story. Therefore, diners have not only a chance to enjoy the magic of cuisine but also a journey to learn about dim sum - a typical dish of Chinese cuisine.
Belonging to the 5-star Nikko Hotel, Taoli Chinese Restaurant has a capacity of up to 120 people with luxurious and airy space along with simple but sophisticated design. Besides a large restaurant serving the majority of diners, the restaurant also offers 3 private rooms suitable for families or clubs. Moreover, Taoli Restaurant also attracts visitors through various attractive promotions with a special dim sum menu at 11:30 - 14:00 every Saturday and Sunday.
Address: 2nd floor of Nikko Hotel, No.84, Tran Nhan Tong Street, Hai Ba Trung District, Hanoi
Opening hours: 11:30 – 14:00, 18:00 – 22:00
Price: 320,000 – 350,000 VND/person
Lucky Cuisine Restaurant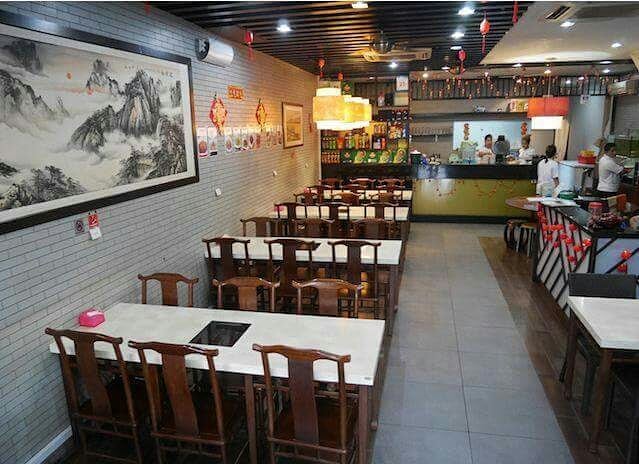 Photo: @luckycuisine
Located at the 5-star Fortuna Hotel, Lucky Cuisine Restaurant is like a delicate pearl, bringing diners happiness through each Chinese-cultural bold dish such as Yum Cha traditional tea, fried sticky rice cake, steamed chicken feet with soy sauce, spring rolls, dumplings, and especially dim sum. The restaurant serves single dish or set menus with more than 80 yummy dim sum dishes of typical flavors such as shrimp, tiny shrimp, crab, abalone, scallops, etc. made from the freshest ingredients by skillful hands of well-known Chinese chef Alex Zheng.
Besides the paradise of dim sum, you are also overwhelmed by the restaurant's luxurious and sophisticated space. The restaurant is covered with velvet carpet adorned with red patterns, creating a feeling of luxury and cozy. If you want to have a private space to enjoy Chinese dishes, 6 private rooms of the restaurant are always ready to welcome you. The non-hustle and quiet space along with the unique and diverse dim sum menu of Lucky Cuisine Restaurant will surely make you satisfied and want to return one more time.
Address: Fortuna Hotel, No. 6B, Lang Ha Street, Dong Da District, Hanoi
Opening hours: 11:00 – 22:00
Price: 99,000 – 400,000 VND
Conversations (0)
Join the conversation
Conversations
Join the conversation
ALL COMMENTS (0)
There are no comments. Add your comment to start the conversation.
read next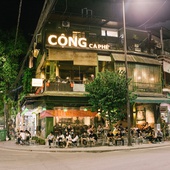 It would be just "wrong" not to write about Hanoi's coffee in its city travel guide, simply because coffee merits every mention, notwithstanding an icon of Vietnam's capital.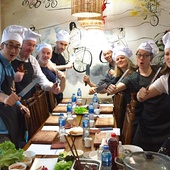 Hanoi reveals to be unbeatable when it comes to the affordability, accessibility, and quirky flavors of the food. Amidst a flurry of new restaurant openings, we pick out 10 of the newest and greatest brands that you can consider for a passionate evening out.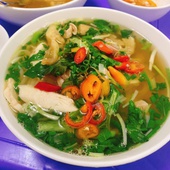 Pho is dearly considered as one of Vietnamese best foods with its unmistakable taste, which is famous over the globe.