15 Best Coffee Shops in Hanoi in 2021
Either you're a passionate coffee enthusiast or a thoughtful adherent of Vietnamese culture, you cannot miss a valuable opportunity to try the greatest cup of coffee. Thankfully, there is no dearth of coffee shops in the city center and below is the list of 15 best to-go coffee spots in Hanoi.
1. Cup Of Tea Cafe & Bistro
Starting business in 2014, Cup Of Tea is a familiar destination for local youngsters and international tourists in Hanoi. Sweeping views of West Lake, white-hued walls and warm color of wooden furniture dotted with ornamental trees create a minimalist and romantic atmosphere.
Cup Of Tea has been growing into one of the best coffee shops with exquisite assortments of innovative refreshing drinks and cakes. The menu accords seasons and every taste bud. Best sellers of the shop include sweet tea, green tea latte and tea enthusiasts can also choose from wonderful new drinks namely dalgona coffee, longan chia tea, and turmeric almond latte.
Address: 109 Nguyen Dinh Thi Street, Thuy Khue Ward, Tay Ho District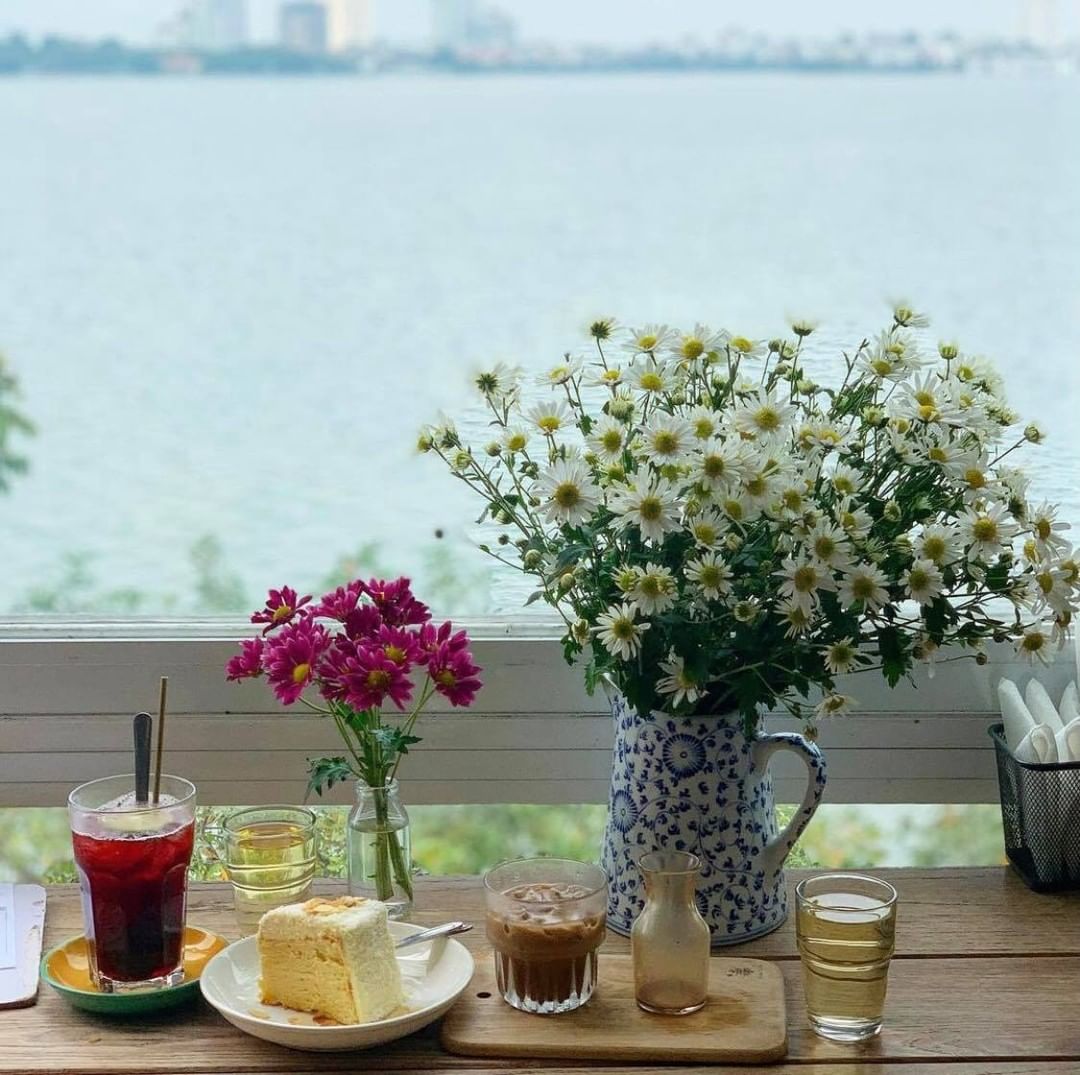 Photo: @cupofteavn
2. Xofa Cafe & Bistro
On the bustling Tong Duy Tan Street chock-full of bars, pubs, and restaurants, night owls cannot skip Xofa Cafe & Bistro which is among a few coffee shops that open 24/7. In a homely setting, every corner is beautifully-decorated with paintings, flowers and trees. The highlight of this café is the open-air stairs flooded with natural lights which becomes a stunning background for lovely photos. Relax on sofas and savor delicious European delicacies such as fried chips, cheese, British breakfast, crepes, pasta, and wine. Yet, the subtle sweetness of blueberry green tea is arguably the most flavor drink in this shop.
Address: 14 Tong Duy Tan Street, Hang Bong Ward, Hoan Kiem District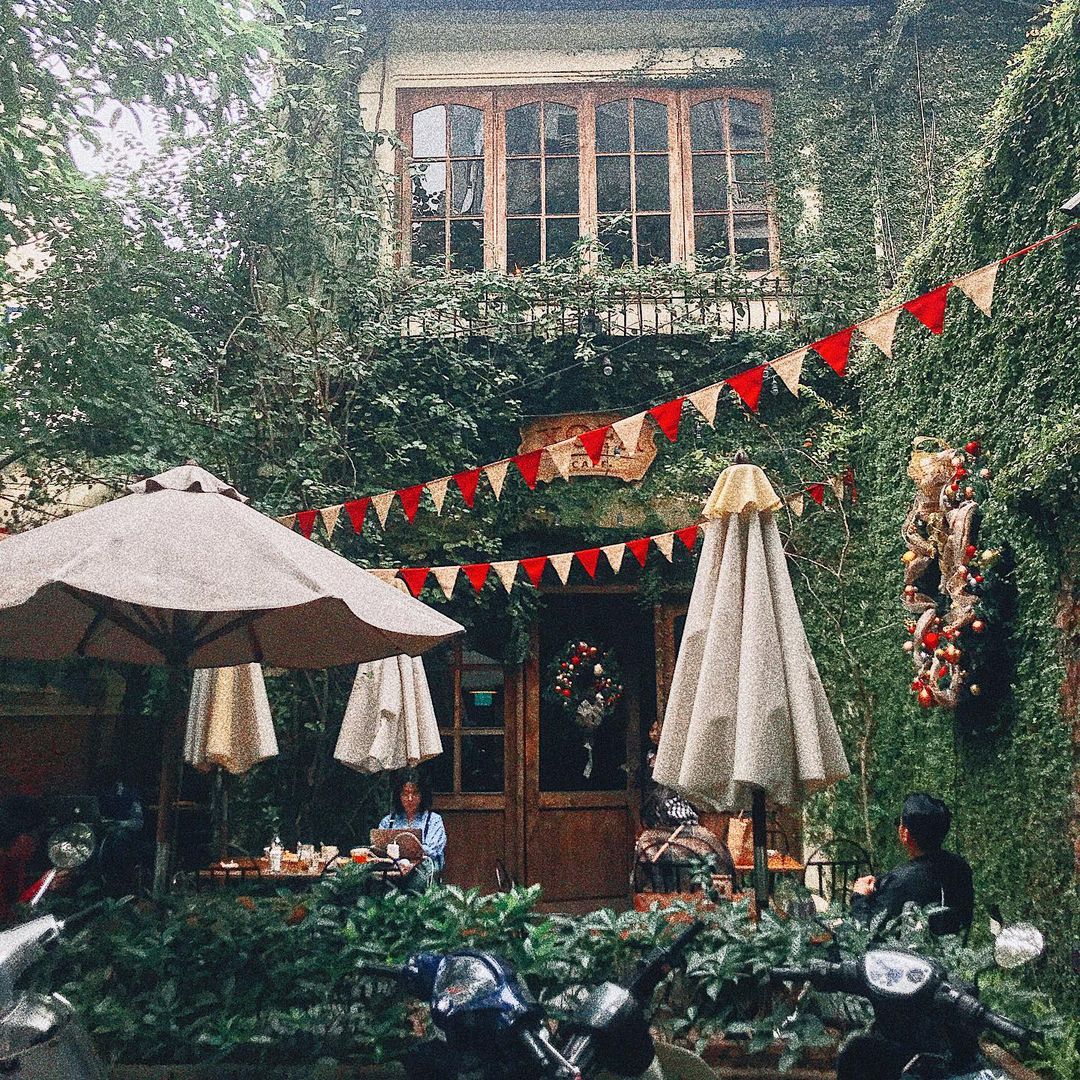 Photo: @jiny.life
3. Trill Rooftop Coffee
Looking for a fantastic coffee shop with the most beautiful bird's eye views? Trill Rooftop Coffee is a great option. The cafe is located on the rooftop of Hei Tower with an area of 420 sq. overlooking the vibrant city. Not only is the cafe a chilling space for drinking coffees with meticulous handmade items, but it also comprises plenty of recreational amenities like an outdoor swimming pool, a gym, and a restaurant. The extensive menu of conventional coffees, smoothies, yogurts, and fruit juices that vary seasonally keeps you linger around. Also, youngsters especially enjoy events and music shows held at Trill Rooftop Coffee.
Address: 26th floor (rooftop), Hei Tower, 1 Nguy Nhu - Kon Tum Street, Nhan Chinh Ward, Thanh Xuan District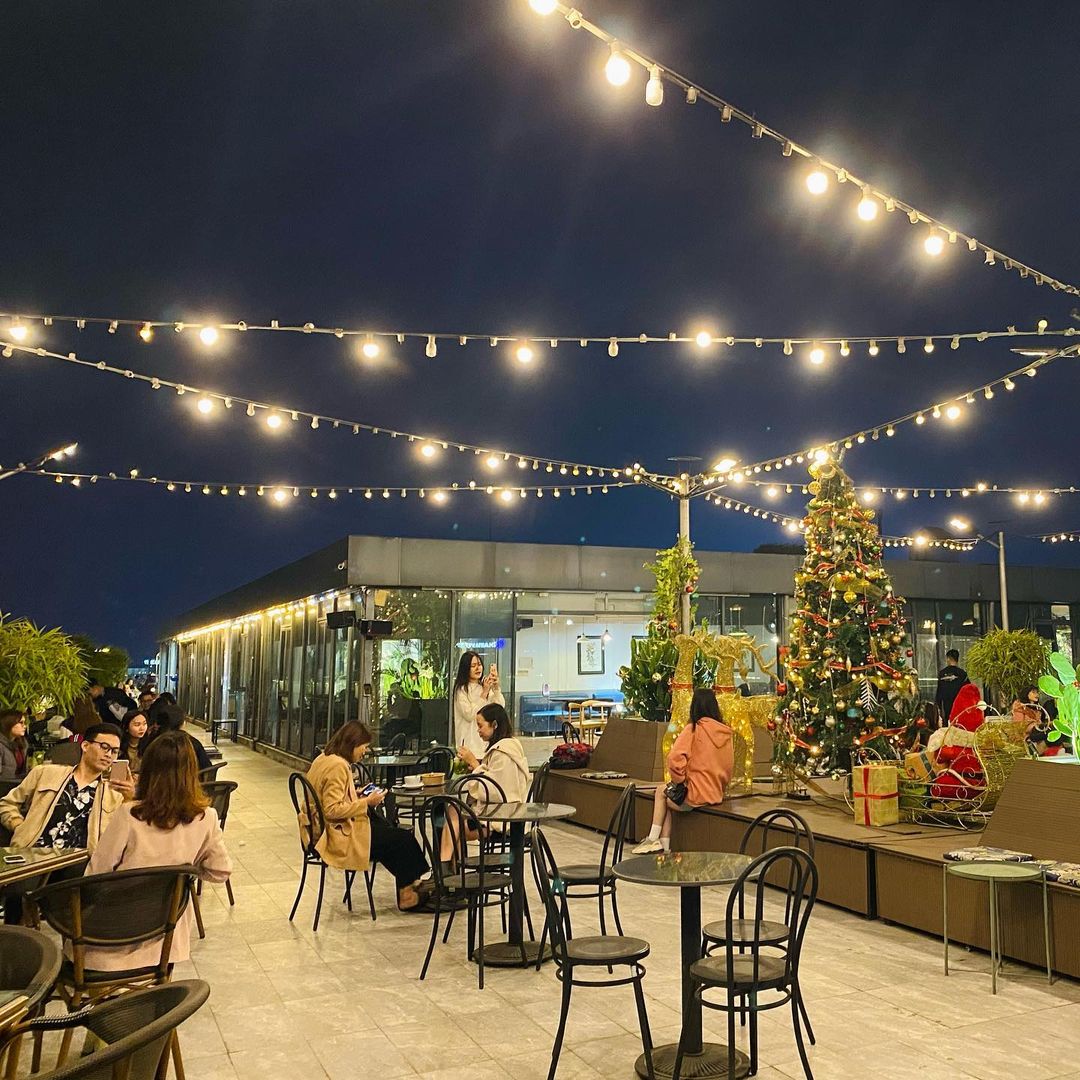 Photo: @trillgroup
4. Lofita - Paris Dream
Head to Pho Hue, one of the busiest streets in Hanoi Downtown, you'll check in a marvelous cafe in authentic Western style named Lofita - Paris Dream. The cafe belongs to Lofita Coffee, a famous coffee chain in Northern Vietnam with a total of 7 shops in Hanoi and Hung Yen province. On the 9 &10th floor, from large balconies, your eyes will either stumble upon dreamy clouds or look down the bustling city. Besides its unique and modern design, what attracts youngsters to come here is the list of healthy and trendy refreshments. From milk tea, cappuccino to latte, Lofita Coffee brings the best flavor to coffee lovers.
Address: 9-10th floor, 338 Pho Hue Street, Le Dai Hanh Ward, Hai Ba Trung District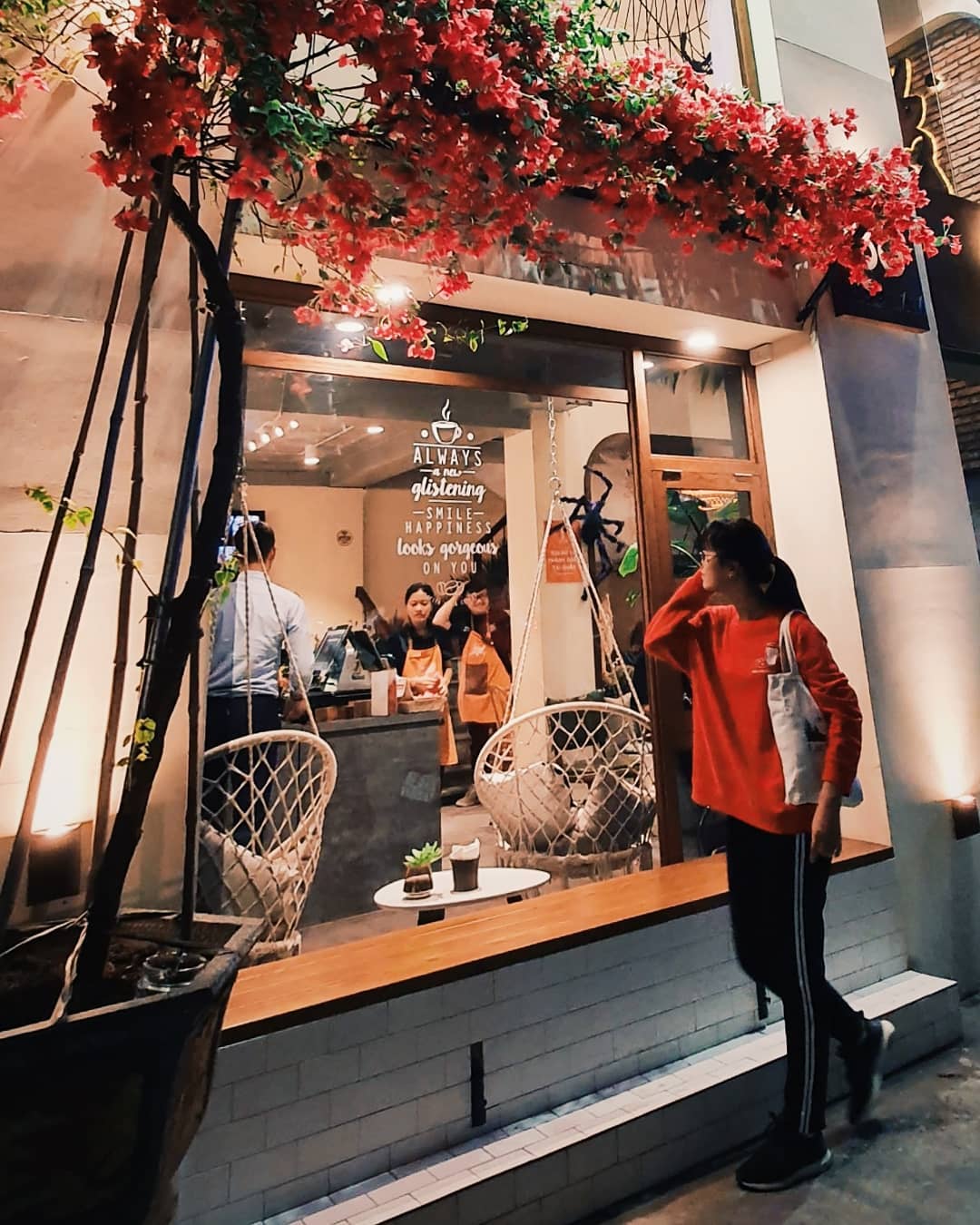 Photo: @just.chinsu
5. Lofita Tea & Coffee
Another branch of Lofita Coffee, Lofita Tea & Coffee is located in a 3-story property in the center of Dong Da District. The coffee shop is tastefully decorated with orange-brown warm colors and a scattering of lovely tree pots. The large open-air rooftop allows guests to sip a glass of drink and admire majestic views. Lofita Tea & Coffee Hao Nam offers a variety of products ranging from tea, coffee to healthy drinks like cashew milk, fruit juice, and peach-orange lemongrass tea.
Address: 36 Hao Nam Street, Cho Dua Ward, Dong Da District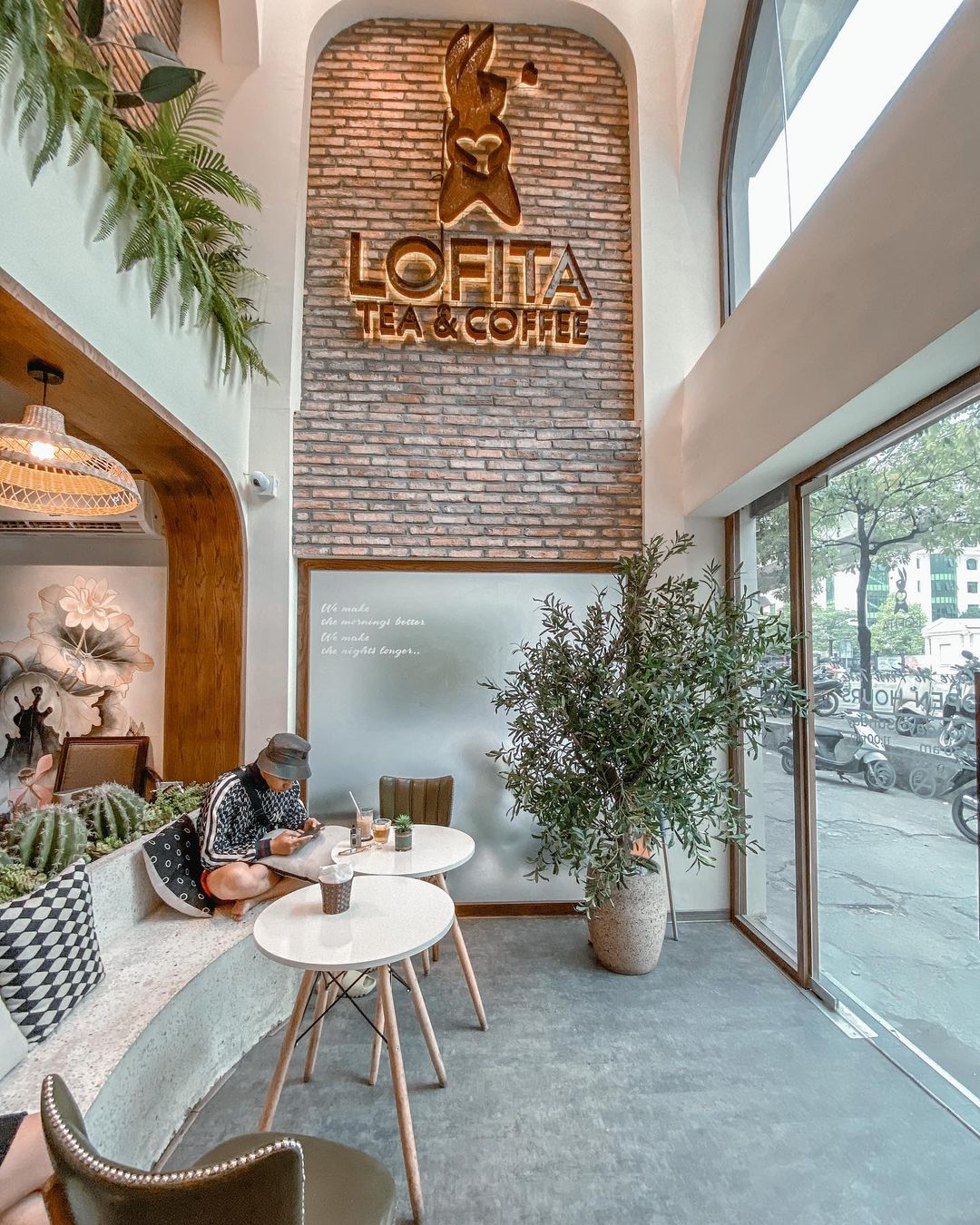 Photo: @nguyethoang.rosara
6. Lofita - The White Palace
If you don't mind traveling a little further out of the hectic Hanoi capital, Lofita The White Palace in Ecopark, Hung Yen Province is absolutely a wonderful getaway for coffee enthusiasts. This extraordinary Koi cafe looks like a contemporary white palace surrounded by verdant greenery. Tiny ponds are filled with colorful koi fish. Thus, you can either sit on a chair or lie on a hammock while drinking coffee and fish-watching. Lofita The White Palace specializes in detox juices, British afternoon tea, and milk tea.
Address: 45A Thao Nguyen, Ecopark, Van Giang, Hung Yen Province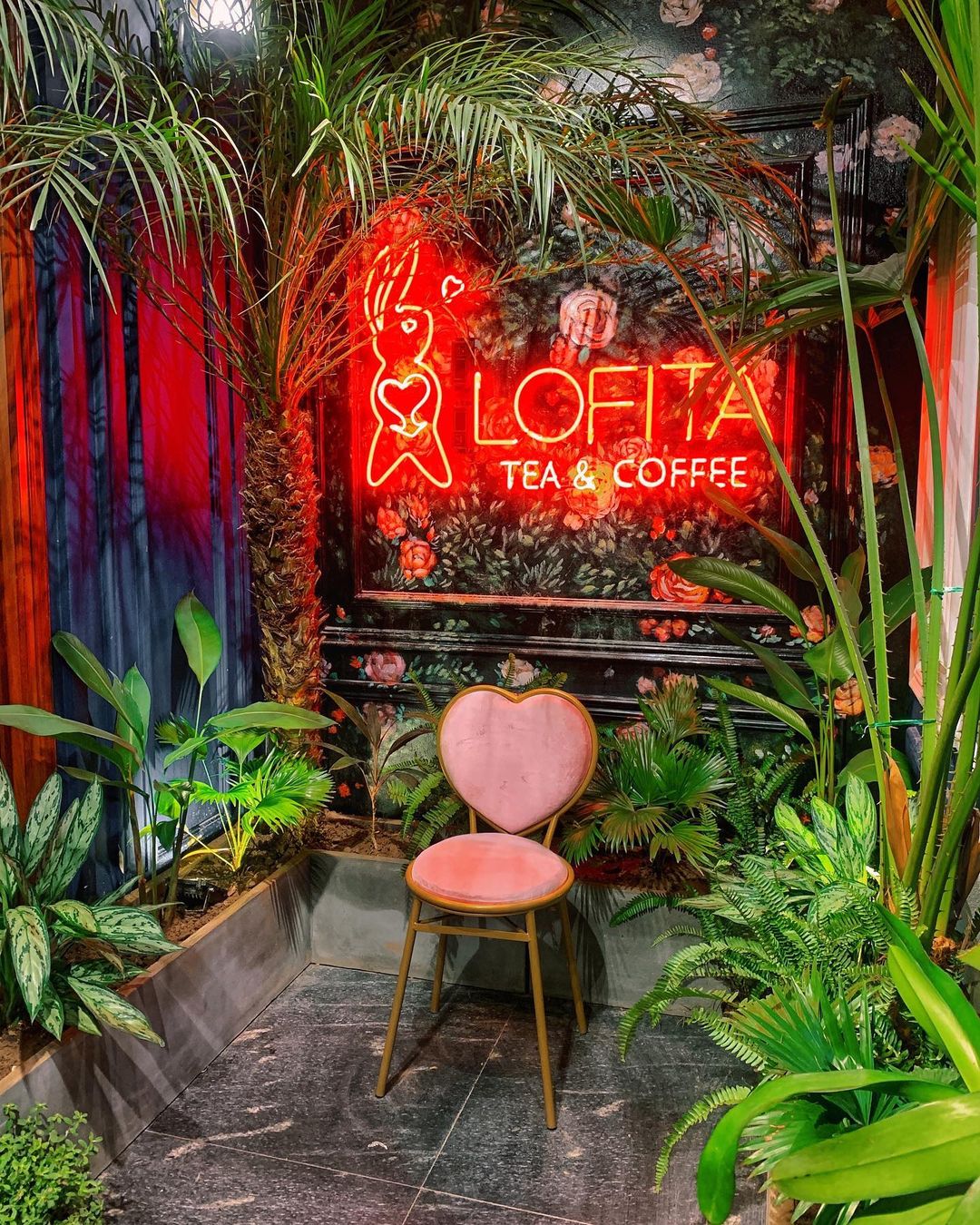 Photo: @trangnhimtron
7. La Chérie Bakery
The newly-operated La Chérie Bakery is tucked into an elegant villa on the bank of West Lake. The restaurant is a great place to come for brunch with light dishes. It particularly serves French cuisine enthusiasts mouth-watering French cakes and beverages. A la carte and set menu are available with many delicacies namely Hanoi Westlake shrimp cake, smoked pigeon, and apricot ice cream complete with tea and juices.
Address: 155 Nhat Chieu Street, Nhat Tan Ward, Tay Ho District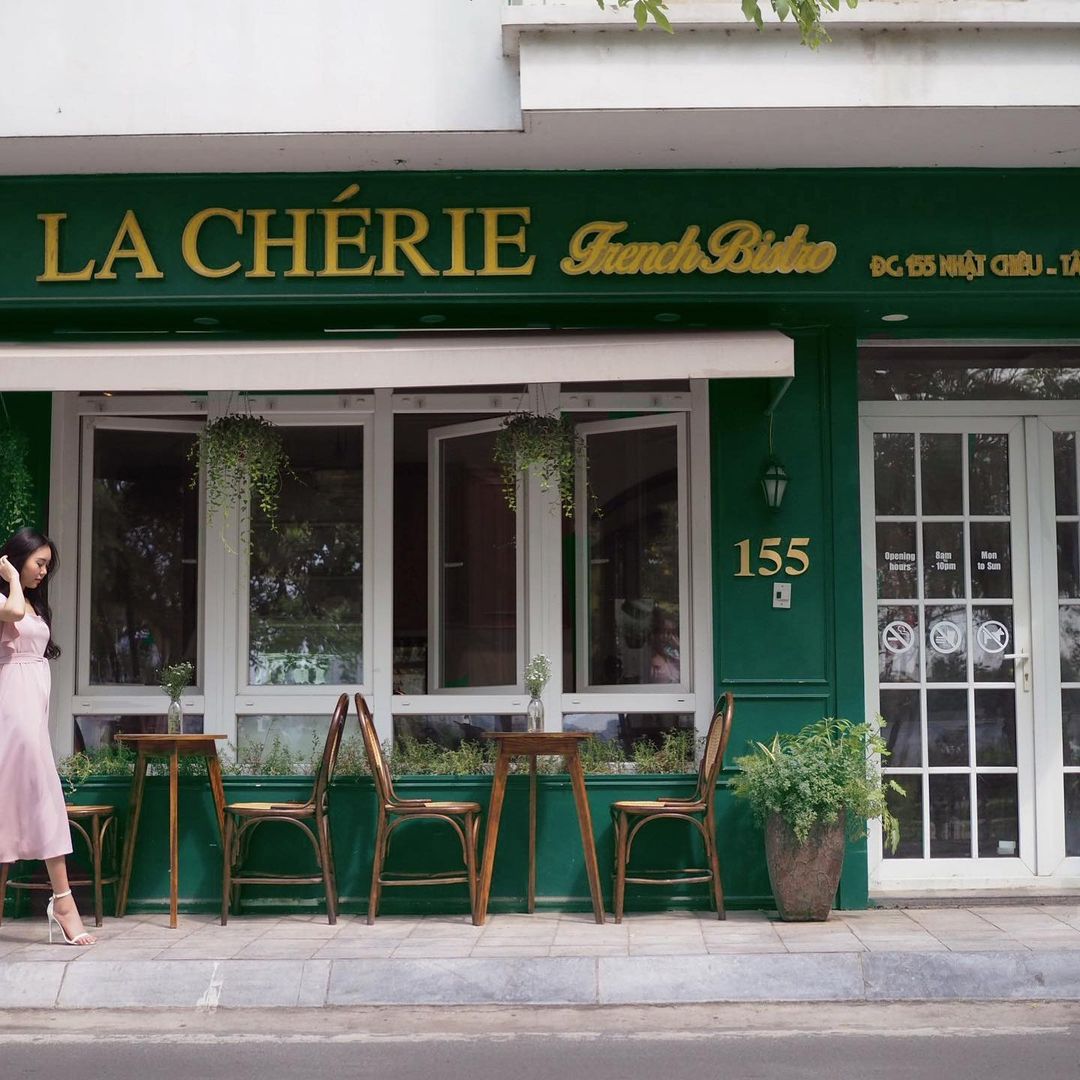 Photo: @lacherie.bakery
8. October Lounge Coffee & Studio
On a romantic lakeside road, the first floor of October Lounge Coffee & Studio exudes a sense of nostalgia with brick-exposed walls, dark-hued wooden furniture while the second floor is filled with ancient European decorations. Especially, the fourth floor is the best place for stunning and serene West Lake views and fresh atmosphere. Leaving all stress behind as you step into the cafe. Here you can choose from a diverse menu of tea, coffee, yogurt, smoothies, Tapas, Western-style snacks, garlic bread, fried sausages, smoked cheese, and so on.
Address: 115 Nguyen Dinh Thi Street, Thuy Khue Ward, Tay Ho District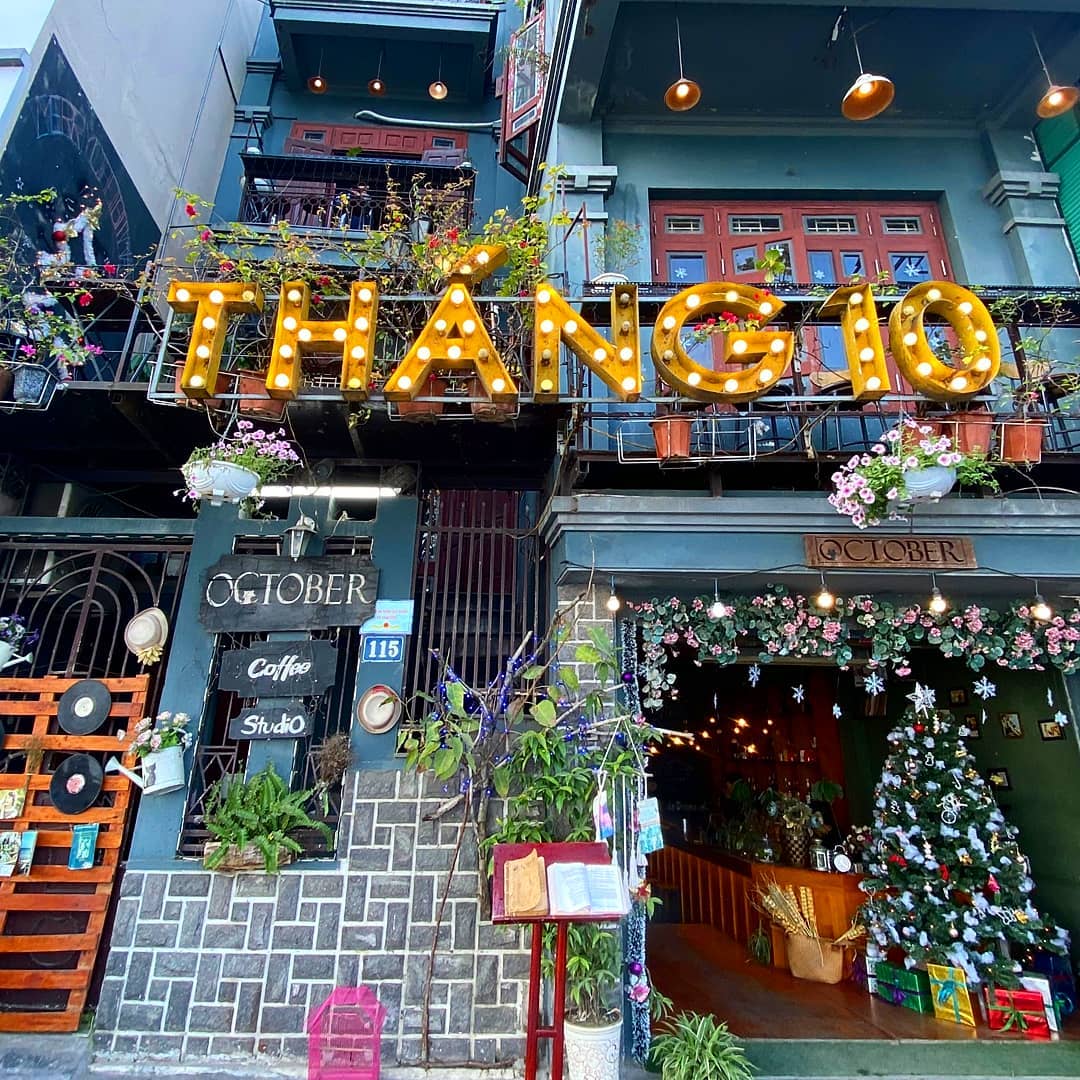 Photo: @phamduc_1_7
9. Kone Café
Kone Cafe is situated right at the Kham Thien - O Cho Dua intersection, a centerpiece of cafes and restaurants. Designed with minimalism in mind, the interior of Kone Cafe uses white and brown as the main colors. The experience of sipping a cup of coffee or black macchiato, smelling the pleasant aroma of tea and oils in a relaxing and homely atmosphere is well worth it! Although Kone Cafe has a limited number of drinks, the coffee shop focuses on authenticity and quality. Guests can enjoy some unique beverages such as caramel tea Macchiato, yogurt coffee, Hazelnut Macchiato, peach Mojito, and strawberry Mojito.
Address: 295 Kham Thien Street, Tho Quan Ward, Dong Da District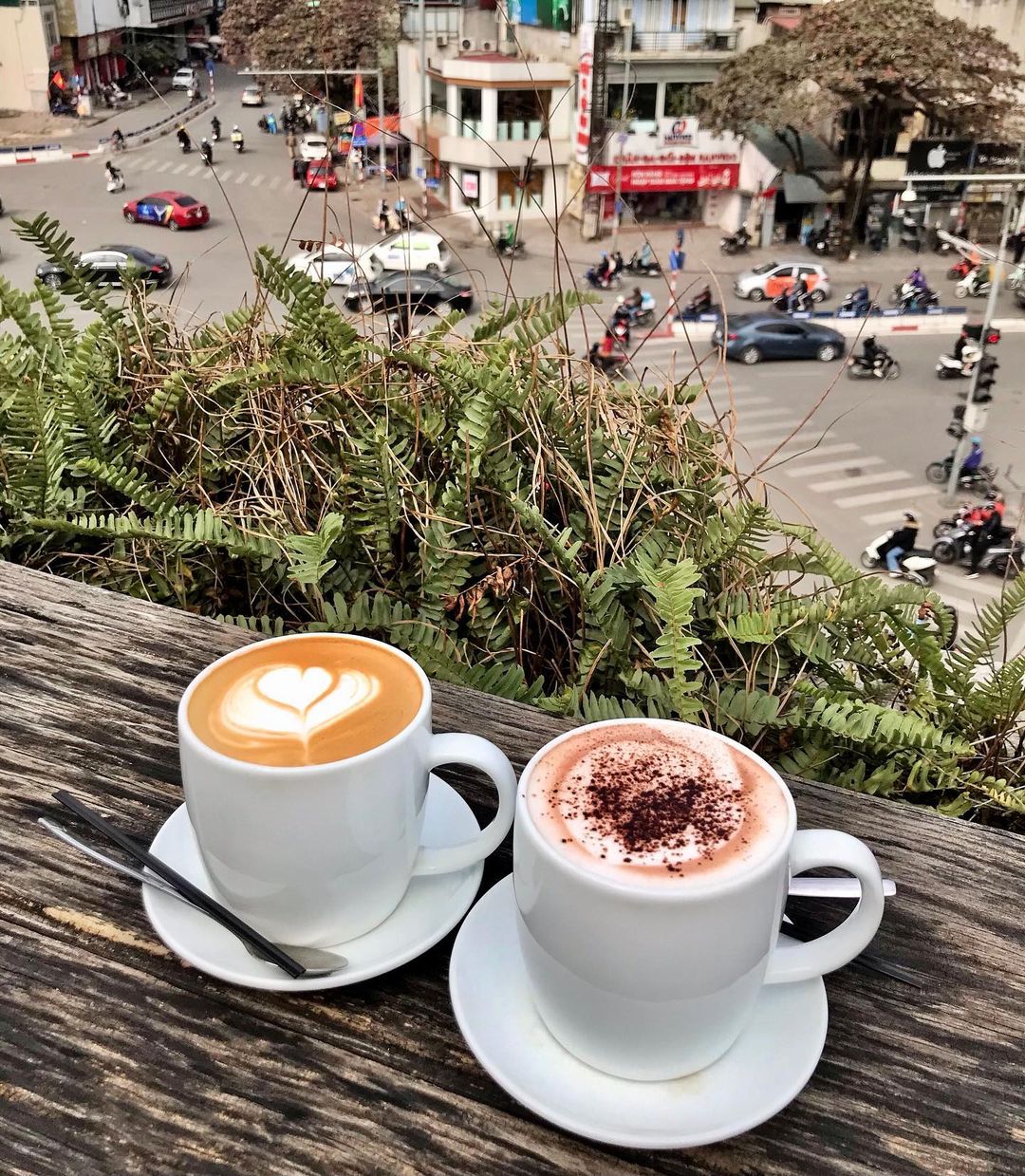 Photo: @son12sn
10. Toast 'n Tea Cafe
Toast 'n Tea Cafe boasts an excellent coffee - restaurant complex with many options for people to dine out. The cafe keeps its design simple and environmentally friendly with a lot of open spaces flooded with natural light and green trees. When it comes to dining options, the food menu is a perfect European-Asian fusion with vermicelli, Asian-fried rice, beefsteak, spaghetti, and burger. Meanwhile, drinks vary from milk tea to juices, sodas, coffees, smoothies, and so on. Guests in favor of sweets can also enjoy desserts like waffles and crepes.
Address: 7 Hoang Cau Street, Cho Dua Ward, Dong Da District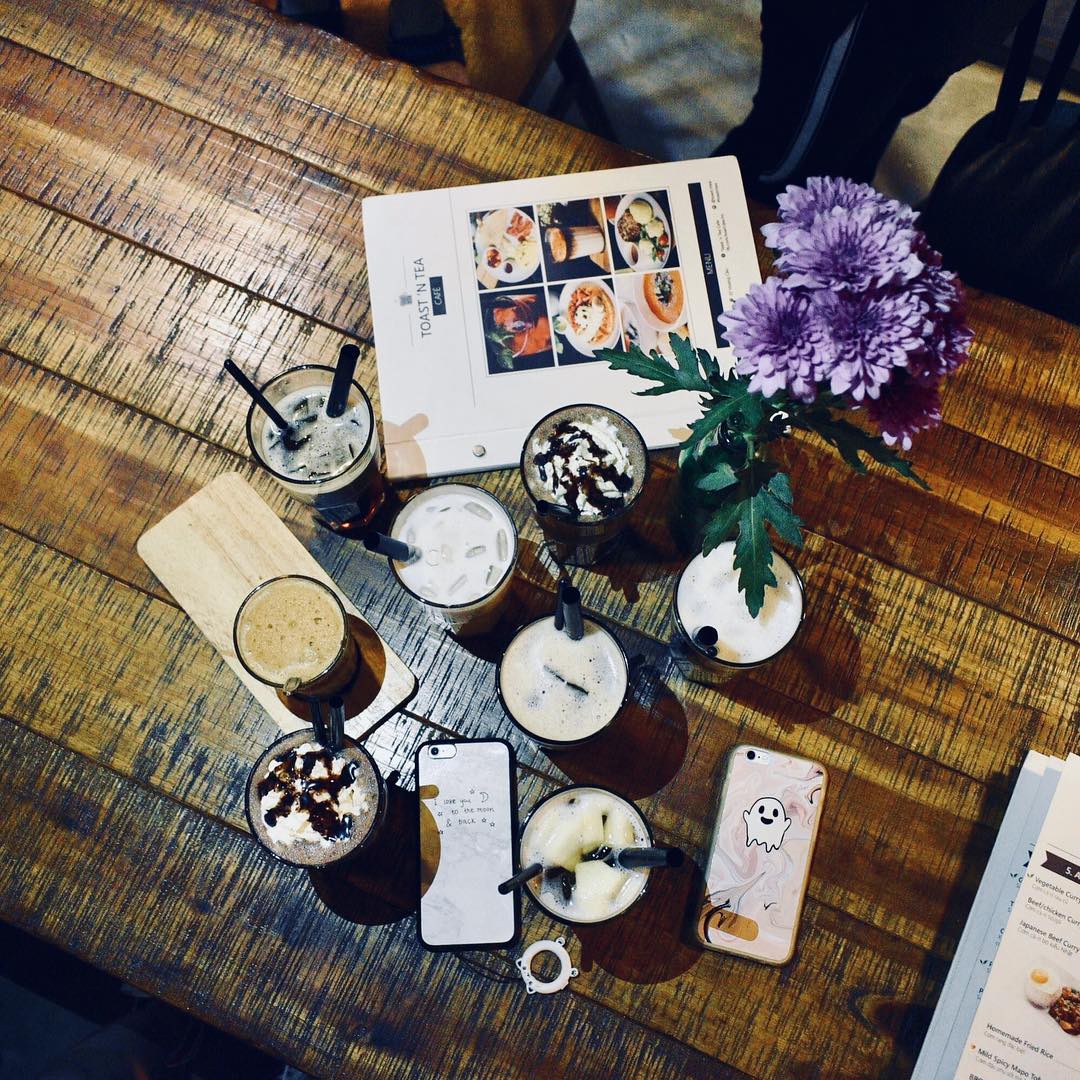 Photo: @_cun2311_
11. Maison de été
Meaning summerhouse in French, Maison de été is a favorite check-in point in European-architectural style for the young in Hanoi. Since the cafe is mostly for take-away, there are not many places for sitting yet every corner is bright and pleasant. Coming there, you can not only take beautiful photos but also try healthy, sugar-free drinks, fresh fruits, and yogurts. Especially, all drinks are put in glass bottles to remain the highest quality.
Address: D6 Trung Tu, Alley 4B, Dang Van Ngu Street, Dong Da District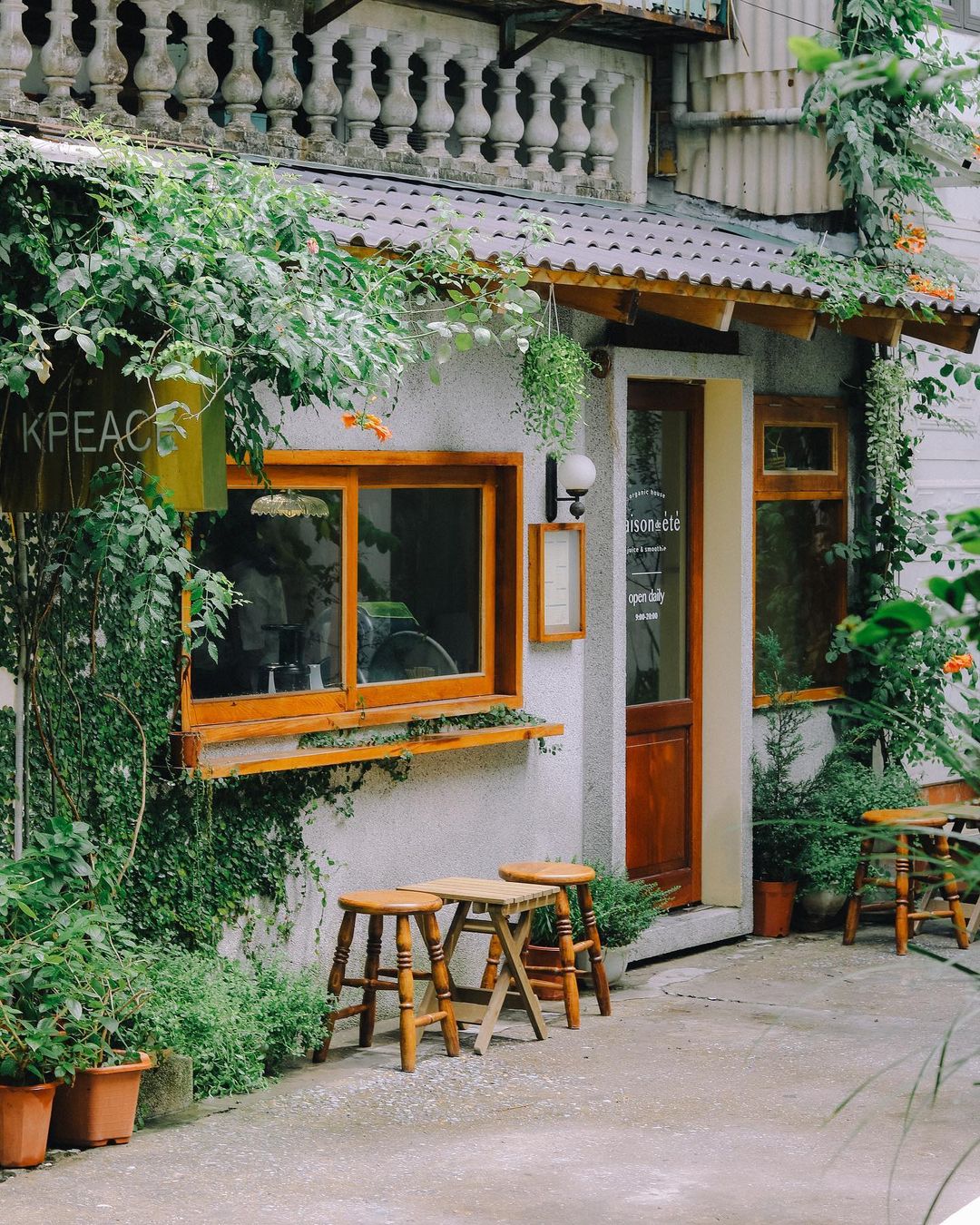 Photo: @irl.yolo
12. An's Garden Coffee
Interested in trying the best coffee in Ha Dong District, An's Garden Coffee is a notable brand. Walkthrough the entrance, you'll be embraced by a laid-back vibe and get close to nature. The coffee house uses steel frames and glass walls to absorb the ultimate sunshine. Hanging plant pots makes the airy space more poetic and comfortable. Egg coffee is the specialty in this shop. Also, guests can choose blooming tea, fruit juices, cappuccino, chocolate frappe alongside pizzas and fried squid.
Address: 19/5 Street, Van Quan Ward, Ha Dong District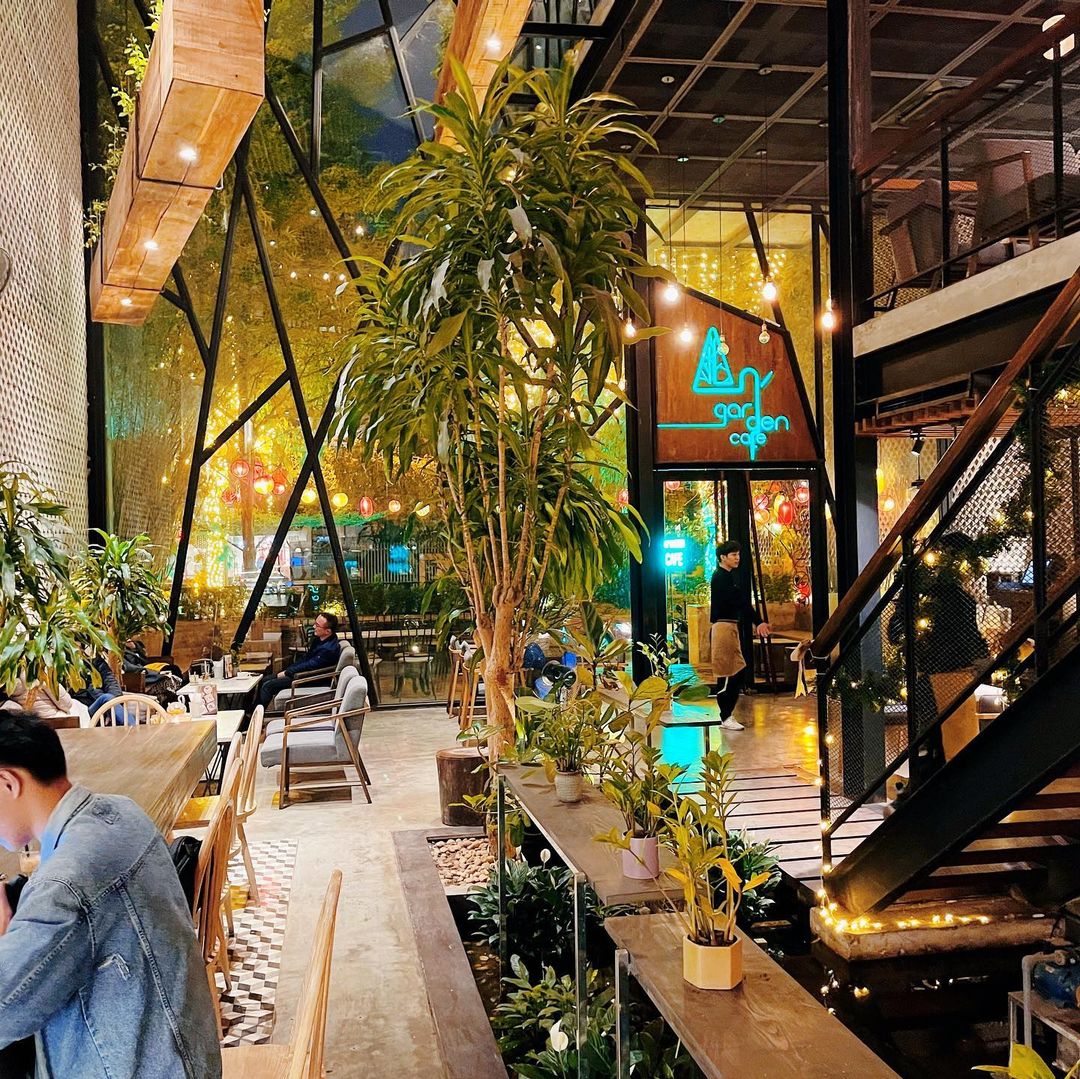 Photo: @___nguyenminhduc___
13. Leaf Cafe
Nestled in a small alley of Tay Son Street, Leaf Cafe features a humble design with airy space and lots of trees. The cafe's setting is pretty simple and quiet, suitable for studying as well as friend chatting. There is a balcony with tables and chairs for guests to drink and enjoy a cool atmosphere at night. Popular refreshments include cafes, smoothies, fruit juices, cakes, and snacks. Price is inexpensive which is around 50.000 VND. More significantly, Leaf Cafe makes use of glass cups and paper straws as main materials to protect the environment.
Address: No.79 298 Alley, Tay Son Street, Nga Tu So Ward, Dong Da District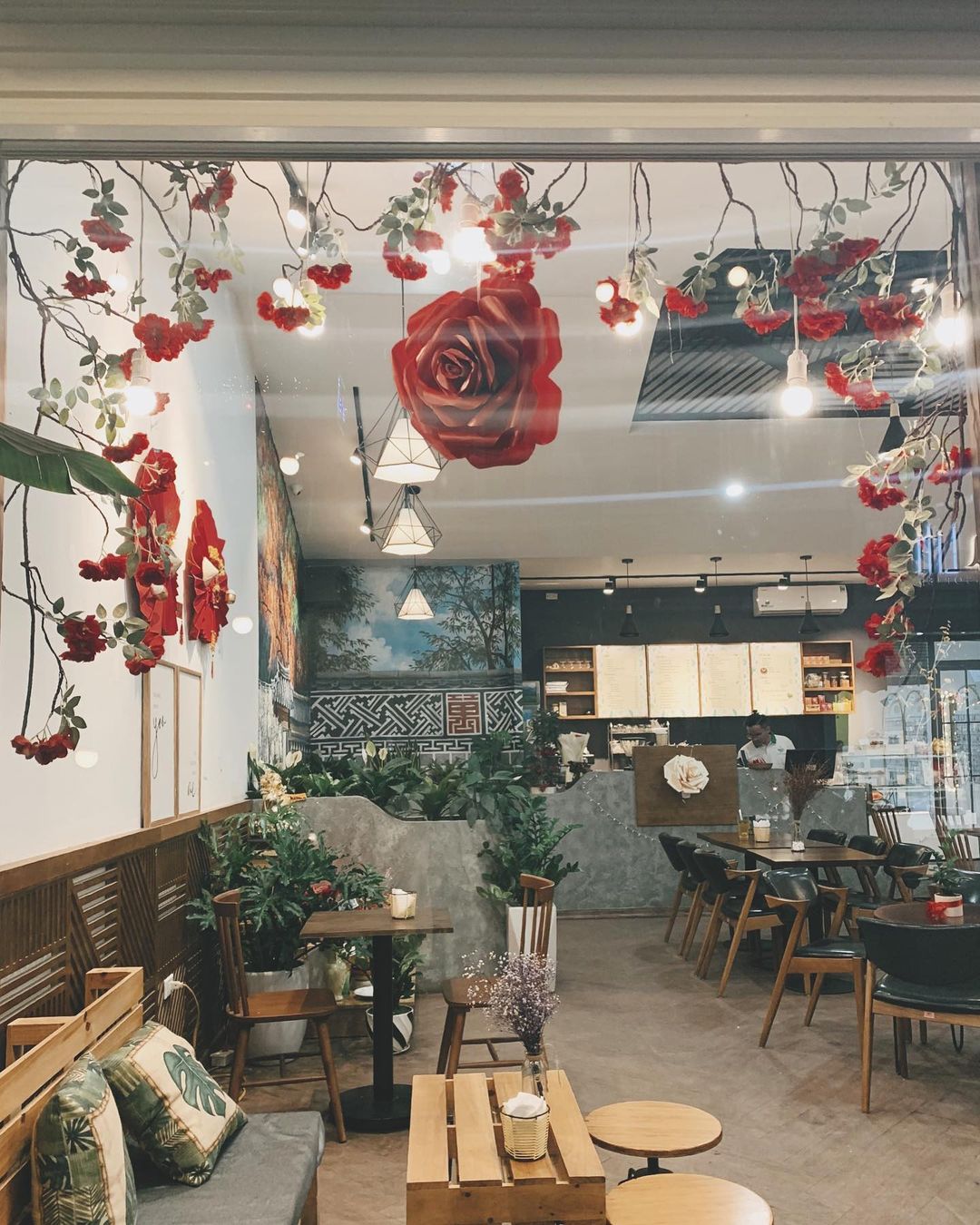 Photo: @leafcoffee79
14. Hanoi Time Coffee
Hanoi Time is among renowned coffee shops in Hoan Kiem District that you should not miss for the most mesmerizing views of Hoan Kiem Lake. Hanoi Time Coffee recalls the heyday of ancient architecture. From the balcony, you will see The Huc Bridge rising above the green-jade waters. Start off your day with a cup of tea or coffee while people watching on pedestrian streets. Signature drinks of Hanoi Time Coffee are egg coffee and egg cacao which are best served with a plate of sunflower seeds.
Address: 39 Dinh Tien Hoang, Hang Trong Ward, Hoan Kiem District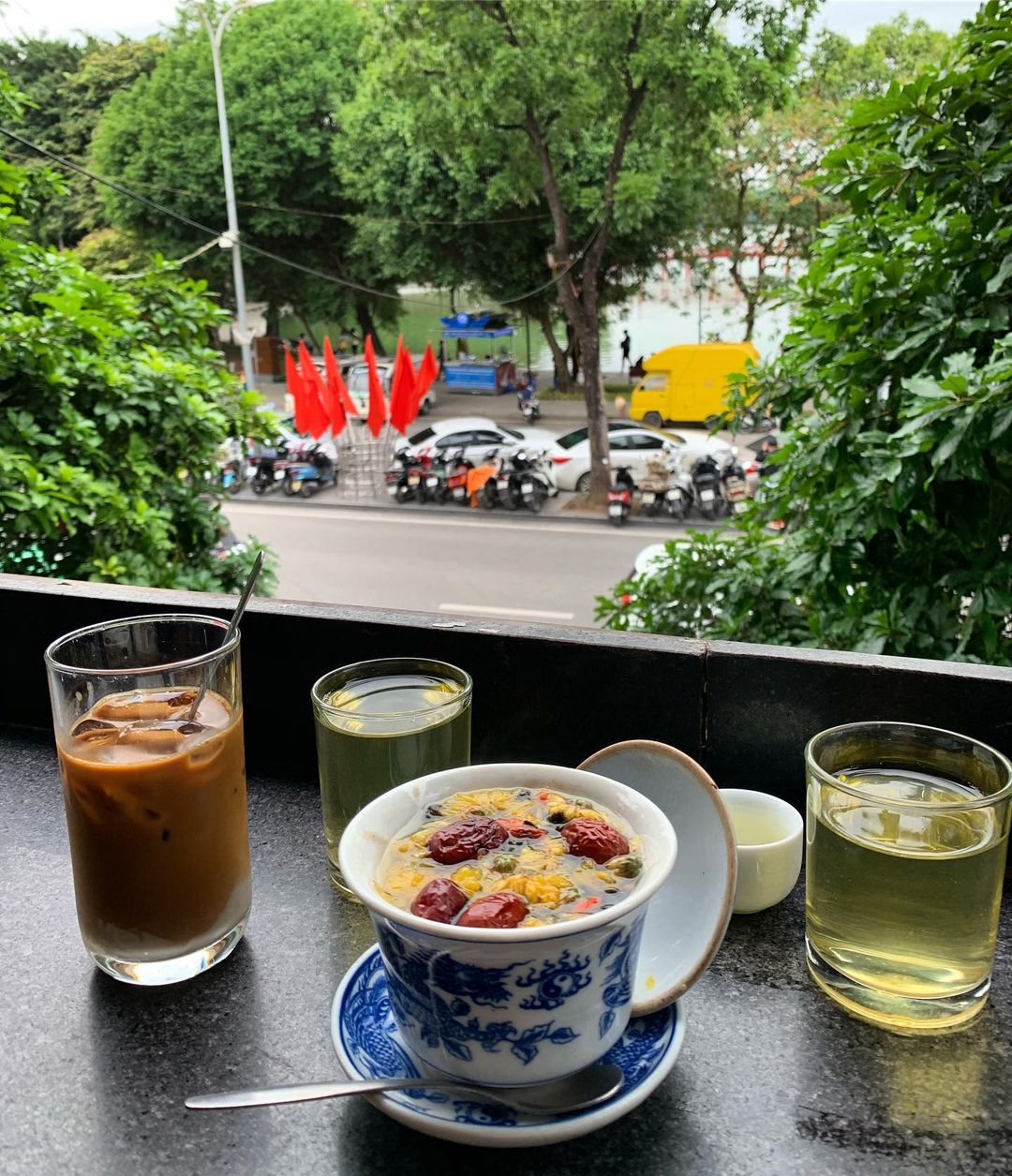 Photo: @heartofhanoi
15. Serein Cafe & Lounge
Admire the old Long Bien Bridge from an exotic angle in Serein Cafe & Lounge. The cafe sets its location on the 3rd and 4th floors of a white, luxurious building that is meticulously modeled after a sumptuous French villa. The space is especially warm and cozy with yellow lights, vintage-style wooden furniture, and melodious music. The soothing ambiance is perfect for sipping high-quality drinks, reading books, or tasting wonderful dishes.
Address: No.16, Long Bien Station, Hoan Kiem District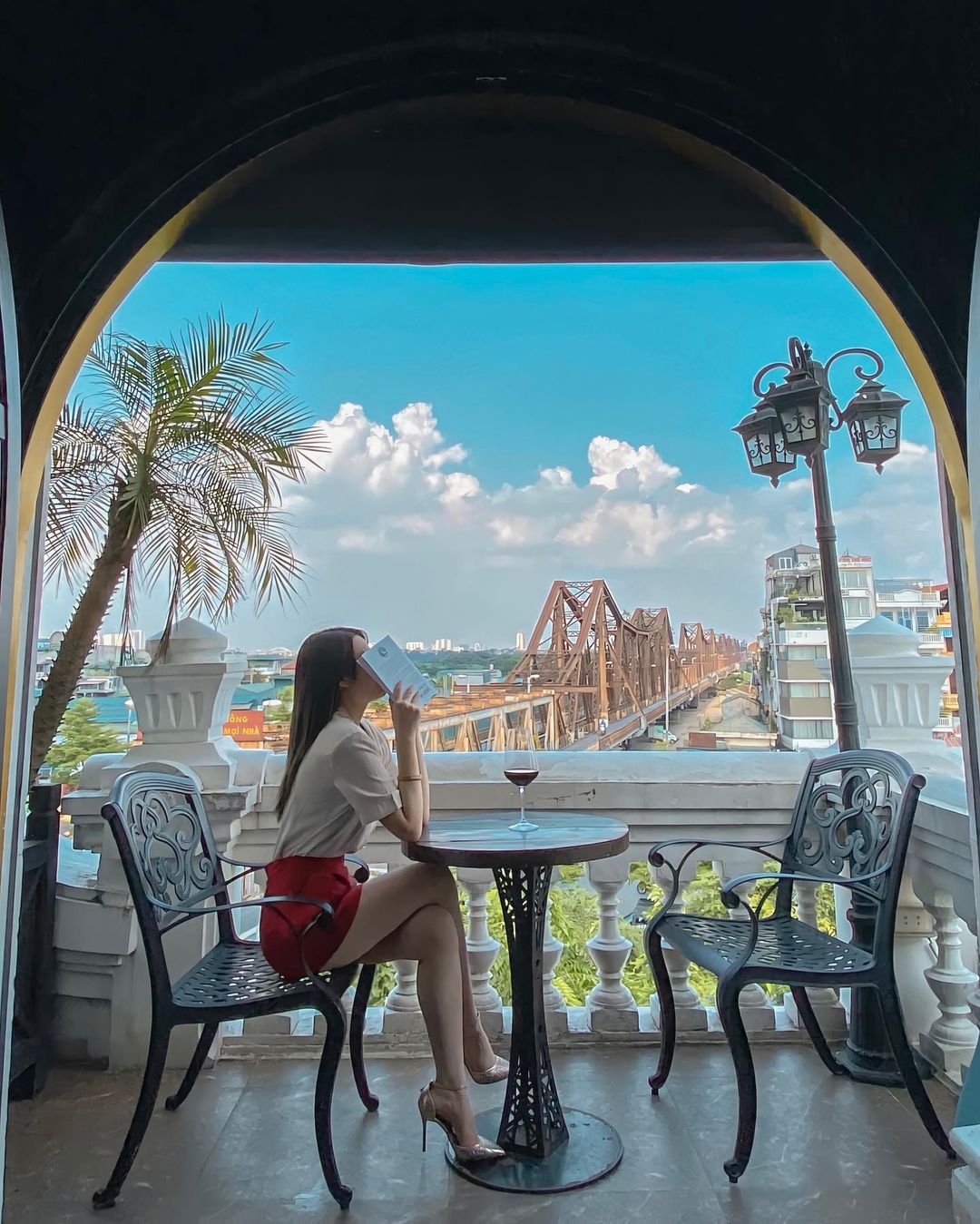 Photo: @serein_lounge
Conversations (0)
Join the conversation
Conversations
Join the conversation
ALL COMMENTS (0)
There are no comments. Add your comment to start the conversation.
read next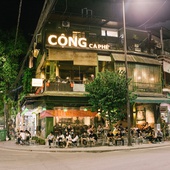 It would be just "wrong" not to write about Hanoi's coffee in its city travel guide, simply because coffee merits every mention, notwithstanding an icon of Vietnam's capital.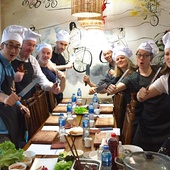 Hanoi reveals to be unbeatable when it comes to the affordability, accessibility, and quirky flavors of the food. Amidst a flurry of new restaurant openings, we pick out 10 of the newest and greatest brands that you can consider for a passionate evening out.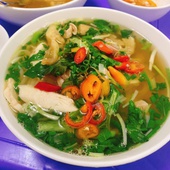 Pho is dearly considered as one of Vietnamese best foods with its unmistakable taste, which is famous over the globe.