Hoi An Chicken Rice
Preparation time: 20 minutes
Cook time: 45 minutes
Hoi An is small in area but by no way is its cuisine collection negligible. Chicken rice is one of the prides of Hoi An people and no tourists should leave the ancient town without trying it. And now, you can learn to make it at home too.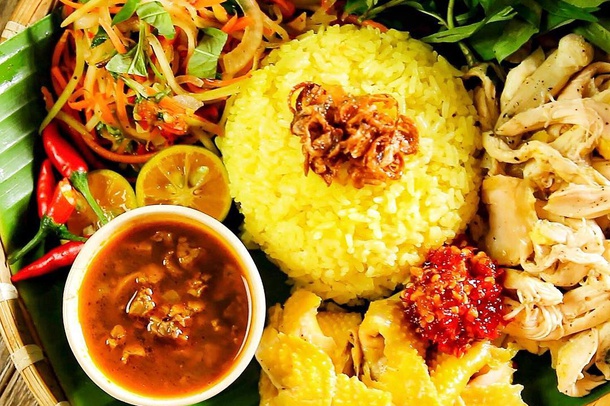 Photo: @cooky.vn
Detailed Instructions
Ingredients
1 whole chicken
2 cup uncooked white rice
1/4 cup uncooked sticky rice
1 white onion, thinly sliced, marinate with 1 tsp sugar, 1tsp fish sauce and 1 tsp vinegar.
1 clove of garlic, minced
1 lime
3 tomatoes, thinly sliced
2 bunches of lettuce
1 tsp turmeric
Vietnamese mint (rau dam), finely chopped
Salt and pepper to taste
For coating sauce: 1 tbsp sugar, 1 tbsp fish sauce and 1 tbsp lime juice. Mix these three ingredients together, add in 1/8 cup water and chili if desired.
Preparation
Wash the chicken thoroughly, boil to cooked and add 1 teaspoon of turmeric to the broth. Take the chicken out and place on a rack to cool.
Mix the white rice and sticky rice, rinse under running water for 30 seconds. Put the rice in the boiling chicken broth so that the level of water is about 1cm above the level of rice. Add 1 teaspoon of salt and bring to a boil. Lower heat and simmer the rice until cooked. The cooked rice should have a glossy yellow color.
Meanwhile, chop the boiled chicken into pieces or into quarter, depending on your preference. (in Hoi An, chicken breast is torn by hands into thin slices). Mix chicken with the marinated onions and add in Vietnamese mint.
Serve rice on a dish, topped with chicken and tomato slices. Add lettuce and pour the coating sauce over the chicken rice as desired.
Did you find this answer helpful?
Helpful (4) Not Helpful (0)
Conversations (0)
Join the conversation
Conversations
Join the conversation
ALL COMMENTS (0)
There are no comments. Add your comment to start the conversation.
read next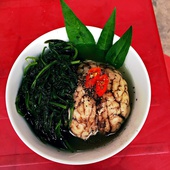 Óc trần lá ngải is listed among the most horror foods for foreign visitors in Vietnam.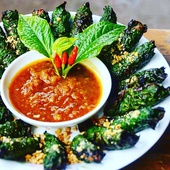 Riding along the crowded streets of Saigon in the afternoon, people can often be attracted by a fragrant and spicy smell of seasoned grilled rolls of beef, stemming from moving-stalls blurred in the smoke from charcoal flame. This dish, wrapped up in wild betel leaf, has become a favorite snack of Vietnamese, particularly Saigonese, to serve with beer or wine.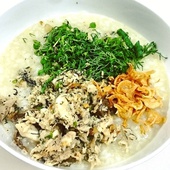 Snakehead fish congee can appear as a normal dish of the commoners, but to those who first taste, that dish served in hotpot style is quite a surprise.