Snakehead Congee
Preparation time: 20 min minutes
Cook time: 60 min minutes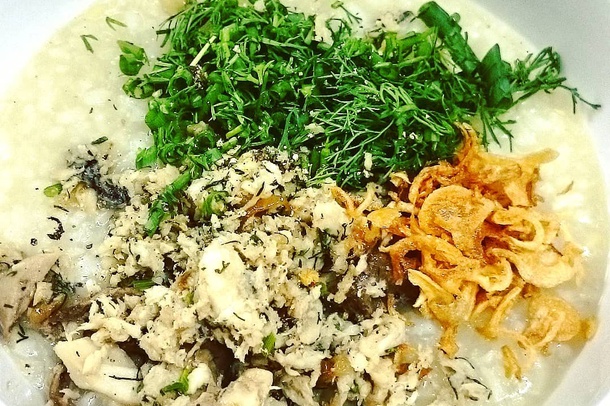 Photo: @trangthu_thutrang
Detailed Instructions
Ingredients
A snakehead fish
Rice, beans
Mushroom, ginger, onion, pepper
Vegetables similar to that of a hotpot
Prepare the fish and then stir-fry it for a minute. Rice cooked with beans and ground pork. The dish is served like hotpot.
Preparation
Snakehead fish congee can appear as a normal dish of the commoners, but to those who first taste, that dish served in hotpot style is quite a surprise. From the ingredients to cooking style, it bears much more resemblances to a hotpot, combined with the sweet fatty flavor of congee, chilly and fragrant pepperinside.
A different style of congee
Congee, and fish congee in particular, is a popular dish in Vietnam, especially when people feel ill or want to change to some plain flavor. However, amongst several simple-to-cook congees, it's quite interesting to find this type of snakehead fish one. Apart from being congee,it isa complex combination of many ingredients similar to those of a hotpot: plain rice porridge cooked with beans, meat, mushroom; a wide variety of vegetables (water-lily, egg-plant, balsam-apple, straw mushroom, bean sprouts, chilly, etc.) and then other adding ingredients like egg and ballut.
In fact, not only the ingredients but also the eating style of this congee is quite similar to that of hotpot: when it steams, people can deliberately add eggs or balut eggs, vegetables into the boiling container. In spite of many people's misunderstanding, it is indeed a type of congee. While hotpot is served with vermicelli noddles, this dish attracts eaters by the natural sweetness of rice and beans.
Congee of the South-West Vietnam
Originated in the South-West of Vietnam - the land gifted with an abundance of fish and other agricultural products, snakehead fish congee is an interesting mixture of local resources, from live big snakehead fish to various kinds of vegetables and eggs and the local widely available specialty: rice. Snakehead fish congee served in hotpot style, which used to be the normal dish in a family meal, has now become a well-known name of South-West cuisines. A dinner in the countryside with steaming pot of congee and pieces of fish dipping into fish sauce, ginger and chilly will remind anyone of simple yet unforgettable taste of the Mekong Delta.
Did you find this answer helpful?
Helpful (0) Not Helpful (1)
Conversations (0)
Join the conversation
Conversations
Join the conversation
ALL COMMENTS (0)
There are no comments. Add your comment to start the conversation.
read next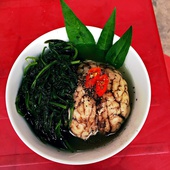 Óc trần lá ngải is listed among the most horror foods for foreign visitors in Vietnam.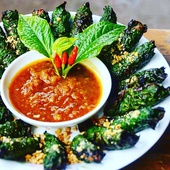 Riding along the crowded streets of Saigon in the afternoon, people can often be attracted by a fragrant and spicy smell of seasoned grilled rolls of beef, stemming from moving-stalls blurred in the smoke from charcoal flame. This dish, wrapped up in wild betel leaf, has become a favorite snack of Vietnamese, particularly Saigonese, to serve with beer or wine.