Óc trần lá ngải
Preparation time: 10 min minutes
Cook time: 40 min min minutes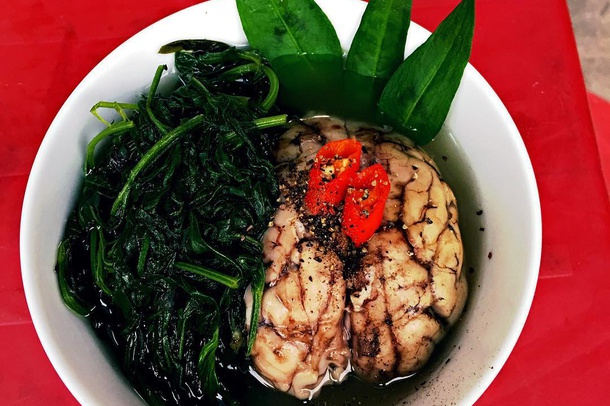 Photo: @nang1405
Detailed Instructions
Ingredients
Pork brain: 50 gram (2-4 piece)
Moxa: 3 bundle (500-600 gram)
Cilantro, ginger, pepper, seasoning powder
Preparation
Óc trần lá ngải is listed among the most horror foods for foreign visitors in Vietnam. Although it might scare you a little bit, ones who are brave enough to taste once may feel not only strangeness but a very deep culture feature of Vietnam inside.
A healthy food to dig in
People in Eastern Asia, including Vietnamese do not dispose any organ of a pig but make full use of them. If you come from Western countries, you may be afraid of eating dishes made from those organs and even feel horrified to have pig's brain for your meal, but in Vietnam, the food is very popular in even the smallest peddle ware.
According to oriental medicine experts, animal brain can treat neurological diseases and improve brain function. Besides, moxa with bitter flavors and calm characteristic can regulate the blood pressure, homeostasis and ensure safe pregnancy.
Moxa
Moxa, or Ngải cứu in Vietnamese, has its scientific name as Artemisia Vulgaris. This special plant grows wildly in the nature and also be grown by a lot of Vietnamese families thank to its miracle utility of not only an amazing ingredient but also a medicine.
It is bitter with calm characteristic, which support the operation of spleen, kidney and regulate the blood pressure and homeostasis. Until now, moxa is used in many remedies to cure diseases like backache, warts, acne and rash, cure strain and facial care.
Additionally, there are several more medical dishes with similar utility like steamed brain that use moxa such as Trứng gà ngải cứu (fired egg with moxa), Gà tần ngải cứu (Steamed chicken with moxa) and Rice soup with moxa.
The dish doesn't require complicated cooking process or too many ingredients. After being washed, the brain and moxa would be steamed in salty water for a couple of minutes. Then, pepper, ginger, salt and cilantro would be added during the next 15 minutes. This dish is best enjoyed while it is still hot.
Did you find this answer helpful?
Helpful (3) Not Helpful (0)
Conversations (0)
Join the conversation
Conversations
Join the conversation
ALL COMMENTS (0)
There are no comments. Add your comment to start the conversation.
read next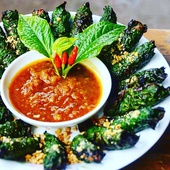 Riding along the crowded streets of Saigon in the afternoon, people can often be attracted by a fragrant and spicy smell of seasoned grilled rolls of beef, stemming from moving-stalls blurred in the smoke from charcoal flame. This dish, wrapped up in wild betel leaf, has become a favorite snack of Vietnamese, particularly Saigonese, to serve with beer or wine.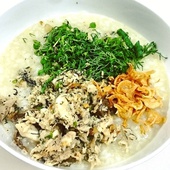 Snakehead fish congee can appear as a normal dish of the commoners, but to those who first taste, that dish served in hotpot style is quite a surprise.