Deep-fried Spring Rolls
Preparation time: 20 minutes
Cook time: 25 minutes
"Nem ran" (North) or "Cha gio" (South) (fried spring rolls) is one of the most famous dishes of Vietnamese cuisine.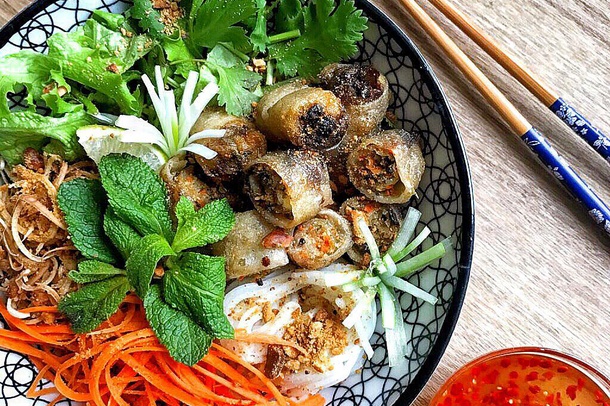 Photo: @socialdelicious
Detailed Instructions
Ingredients
1 pound ground pork
0.1 pound grass vermicelli or a pack of instant noodle
1 cup shredded carrot
4-5 ear mushroom
30-40 rice papers
2 eggs
Cooking oil
Salt and pepper
For Dipping sauce:
2 tbsp fish sauce
2 tbsp lemon/vinegar
2 tbsp sugar
Preparation
Mix all milled pork, diced vegetable, crushed mushroom, onion, eggs, sault, and pepper in one pot.
Roll up this mixture in a sheet of moist rice paper
Deep fry deeply the roll until the rice paper coat turns crispy and golden brown.
Display all the fried roll on the dish with herbs
Dipping sauce: mix sugar, fish sauce and lemon together, add in fresh minced garlic and chili if desired.
Requirement: The rolls are golden brown, not burnt, not cracky, crispy. If diced carrots and jicama are used, the stuffing might be a little bit crunchy, matching the crispy fried rice paper, but the juice from these vegetables can cause the rolls to soften after a short time. The ingredients, however, are not fixed
Servings: "Nem rán" can be eaten by itself, wrapped in lettuce, dipped into fish sauce mixed with lemon juice or vinegar, water, sugar, garlic and chili pepper, or served with rice vermicelli. Read more about Vietnamese Fried Spring Rolls on our Cuisine page.
Did you find this answer helpful?
Helpful (3) Not Helpful (1)
Conversations (0)
Join the conversation
Conversations
Join the conversation
ALL COMMENTS (0)
There are no comments. Add your comment to start the conversation.
read next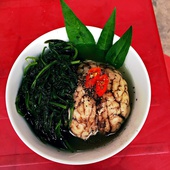 Óc trần lá ngải is listed among the most horror foods for foreign visitors in Vietnam.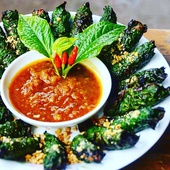 Riding along the crowded streets of Saigon in the afternoon, people can often be attracted by a fragrant and spicy smell of seasoned grilled rolls of beef, stemming from moving-stalls blurred in the smoke from charcoal flame. This dish, wrapped up in wild betel leaf, has become a favorite snack of Vietnamese, particularly Saigonese, to serve with beer or wine.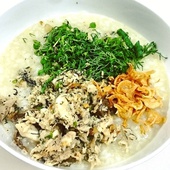 Snakehead fish congee can appear as a normal dish of the commoners, but to those who first taste, that dish served in hotpot style is quite a surprise.