The 5 Experiences For Adrenaline Boosters In Northern Vietnam
Looking for some activities that boost your adrenaline? Northwest Vietnam is one of the best choices for you.
Northwest Vietnam attracts many adventure tourists because of its terrain which is the highest and most fragmented in Vietnam. The area is mainly high mountains, featured by the most voluminous mountain range - Hoang Lien Son, which spreads a length of 180 kilometers, a width of 30 kilometers and most peaks over 2500 meters height.
Besides, Northwest consists of many deep valleys where many ethnics groups live such as Thai, Muong, Hmong, Dzao, Tay, etc. The fragmented and craggy terrain has preserved the diverse and rich traditions and customs of different groups until now. In the past, Northwest was a remote area of Vietnam, but the development of transportation networks has facilitated the exchange with other areas and make it approachable for tourists who love nature.
Below are some of our recommendations to get you started:
Climbing Fansipan Mount
Fansipan Mount should be on your must-go list. Called the Roof of Indochina, it is obscured by clouds all year round and sometimes is covered with snow. Cable cars are a popular way to get to Fansipan Mount. However, for truly adventurous tourists, trekking to Fansipan Mount will offer a challenging feeling.
Several trails can lead to the summit of Fansipan. One of the most popular trails is known as Tram Ton Pass trail with three stretches of road. In the first stretch, you will go along cool and pure streams to get to Hoang Lien primeval forest and enjoy Do Quyen flower which blooms brilliantly like a colorful silk carpet here. After resting and having meals in the forests, you continue the second stretch with the steep slopes. At the height of 2,800 meters, you can stop to camp overnight in the forest. Sitting around by the fire and immerse in the majestic Northwest mountains will be an unforgettable memory. The third stretch will be the most challenging part. You can test your courage with Dung Dung Cliff, Windy Mountain Slopes and Truc Forest to reach the summit of Fansipan Mount. At the height of 3143 meters, you can have an immerse view of Sapa town under the foggy and enjoy the sense of achievement when standing at the Roof of Indochina.
There are no villages or other facilities along the way so taking the compass, sleeping bag, food, stove, etc is necessary. Also, from the height of 2800 meters, the temperature will decrease by 1C for every 100 meters further so remember to bring heat-keeping clothes! The journey will take at least 3 days and be quite arduous. Therefore, a tour guide is compulsory for safe trekking of Fansipan Mount. You could book a combo tour from Hanoi or book a local tour right at Sapa town.
Equipment: Essential equipment (mountain gears, tents, sleeping bags, etc) is provided when you book a tour.
Best time to visit: October to November or February to March
Paragliding in Yen Bai
For paragliding lovers, Khau Pha Pass (Yen Bai) will be a good choice to challenge your courage and curiosity. Khau Pha Pass is one of the most famous "four great passes" because of its danger and year-round covered in the froggy and clouds. Flying at 1,200 meters above sea level, picturesque scenery would appear right in your sight. When the wind lifts the paraglider higher and further, you will be overwhelmed by a golden yellow color of Mu Cang Chai that stretches endlessly from one field to another. Moreover, the overlapping hills and mountains hidden in the middle of the clouds will make you feel more magical and romantic than ever.
You should book the paragliding in advance and check the weather forecast to avoid the long wait. Each year, Yen Bai authorities will hold a paragliding festival in June or September so you can schedule the trip in the festival time to meet the paragliding lover community. Also, you should choose spacious, comfortable clothes and only bring essential items when flying to make sure of a safe journey.
Equipment: The para-glides and safety tools are provided within the service
Best time to visit: May to July or September to October
Exploring the diverse terrain of Lai Chau
Known as a complex of plateaus at 1,500m above sea level with craggy terrain, exploring Lai Chau is an attractive activity for adventure lovers. The weather is quite cool and is mostly covered by the fog all year-round, which makes Lai Chai a mysterious appearance. Therefore, to fully discover the beauty of Lai Chau, asking a local ethnic resident to be the tour guide will be a wise choice.
Here are some activities for adventurers when coming to Lai Chau. Trekking to jagged mountains and dense tiers of thick forest in Lai Chau will be a great opportunity to enjoy the gorgeous landscapes. In which, O Quy Ho Pass - one of the four great peaks of northern Vietnam and Putaleng Peak - the second roof of Indochina after Fansipan are must-go places for those loving trekking. Besides, sailing along Da River, you can see magnificent waterfalls such as Nam Na, Nam Mu or Tac Tinh and fanciful villages of ethnic groups behind the fog. Also, Lai Chau is also known as Phong Nha Grotto of the Northwest so discovering pristine caves and grottoes such as Binh Lu and Tien Son grottoes will be an interesting activity.
Equipment: You can rent motorcycles at local shops such as Phuc An (0961 215 215), Hoa Sua Hotel (0394 312 640), etc. For other trekking equipment, you should prepare by yourself or rent from Hanoi.
Best time to visit: January to May or September to October
Note: You can visit by yourself but a local tour guide is recommended
Visiting Ha Giang by motorcycle
Beautiful roads and majestic passes which are one side is the abyss, the other is the rocky line is the signature of Ha Giang. Therefore, traveling to Ha Giang by motorcycle will be a great experience that you should try once. When delighting along winding roads, you can have a panoramic view to the end of the horizon and immerse yourself in the cool winds and clouds flowing around. There are some places that you definitely add to your journey in Ha Giang. Hoang Su Phi is the best place to admire the long, golden terraced fields during the harvesting season. Ma Pi Leng Pass is one of the most majestic and winding passes in Vietnam, which is a fascinating place for many adventure lovers all over the country. In addition, Lung Cu flagpole is the northernmost point of Vietnam at 1,700 meters above sea level. From this point, you can look down the jade-colored Nho Que River meandering at the foot of the mountain.
Getting to Ha Giang by shuttle bus and then renting motorcycles in the city to exploring around is the popular choice of tourists. You can ride the motorcycle from Hanoi but it will take over seven hours to get to Ha Giang, which will make you get tired. Therefore, you should consider the means of transportation carefully based on your health condition. Also, because the road in Ha Giang is quite crappy, make sure you have good driving skills before starting the journey by motorcycles.
Equipment: You can rent motorcycles at local shops such as Hong Dao (0353 982 928), QT Motorbikes and Tours (0975 278 711)
Best time to visit: January to March or September to November
Note: This is a possible DIY -  Some popular routes are Hoang Su Phi, Ma Pi Leng Pass, Dong Van Highland.
 Experiencing adventure games in Rong May Tourism Resort
Located just 17 kilometers from Sapa, Rong May Tourism Resort has a list of adventure games that you should try once. The first option is walking in the Cloud Dragon skywalk at the height of 2200 meters above sea level. The skywalk is entirely made of transparent glass, which enables tourists to freely witness the depth of the haze below and enjoy the stunning natural landscapes of O Quy Ho Pass. From the skywalk, tourists also can zoom their eyes away to majestic Hoang Lien Son mountain ranges. A bit upper level of adventure is the wooden overhead bridge. The player will be protected with a seat belt and try to step between the wooden slats with large gaps. The shaking of the bridge and the height when viewed from the bridge often makes many people scared, but also extremely refreshing. Besides, many other adventure activities such as Bungee jumping, Zipline skiing, paragliding, mountain climbing will be released soon in the next year.
Because there are many websites selling fake tickets, you should buy the ticket directly at the resort or book in advance through the official booking channels for Rong May Tourism Resort as follows:
Tel: 0994 666 888 / 0912 240 486
Email: caukinhrongmay@gmail.com
Facebook: https://www.facebook.com/caukinhrongmay/
Conversations (0)
Join the conversation
Conversations
Join the conversation
ALL COMMENTS (0)
There are no comments. Add your comment to start the conversation.
read next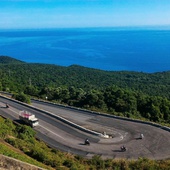 It is not exaggerating to simile Central Vietnam as a one-size-fits-all place where tourists can experience a whole lot of adventure activities.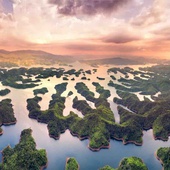 If you want to step off the beaten track and delve into this wilderness, here are some picks for your next adventure journey in Central Highlands.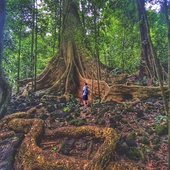 If you are interested in active traveling, you can always to make a detour by including the following destinations in your itinerary, instead of just following the guide book.