5 Best Trip Ideas For Adventure-seekers In Central Vietnam
Central Vietnam has long been known as a land of war sorrow and severe climates. As if to offset the pain and hardship it suffered, the mother of nature has bestowed this land with ravishing sceneries from sun-kissed beaches to mysterious wilderness concealed in immemorial forests. It is not exaggerating to simile Central Vietnam as a one-size-fits-all place where tourists can experience a whole lot of adventure activities. If you wonder how to make the trip to Central Vietnam adventurous than ever, here are some picks for you.
Cave visit in Quang Binh Province
Quang Binh is considered a prominent destination for adventure tourism in Vietnam because of its extremely rich cave system in Phong Nha - Ke Bang National Park. With more than 350 caves discovered in the past 25 years, Phong Nha - Ke Bang National Park is called the kingdom of caves including Son Dong cave, Phong Nha cave, Thien Duong cave, En cave, Tien cave, Tu Lan, etc. Coming to this place, you can enjoy the limestone system with strange and unique shapes created millions of years ago and immerse into poetic forests under the shade of thousand-year-old trees or walk on the wooden path along a peaceful stream.
There are a variety of tours with different difficulty levels in Quang Binh. If you are lacking time or health, a day tour will be a great choice. Usually, you do not need to book a tour from an agency, most tourism caves such as Phong Nha cave or Thien Duong cave in Quang Binh provide full services for exploring the cave, walking in the national park or kayaking. However, for long-day tours for exploring pristine caves such as Son Doong cave, Tu Lan cave system, En cave, Tien cave, etc, booking a tour with professional tour guides and safety equipment is needed.
For true adventurers, the 4-day-5-night tour discovering Son Dong cave is one of the most challenging ones. With about 3 million years old, Son Doong was recognized as the largest cave in the world in 2009. The cave has a length of nearly 9 kilometers and a width of 160 meters, in some locations, the ceiling is up to 200 meters, which can make tourists overwhelmed when just stepping into it. On the caving journey, you can go through a primeval forest with tall tropical trees such as coconut or palm and a large system of underground rivers formed from two rivers of Khe Ry and Rao Thuong. The huge size of the cave and underground rivers allows clouds to form inside the cave, which creates a mysterious but breathtaking scene. Therefore, conquering Son Dong cave will be a must-do activity of adventures when coming to Vietnam.
Equipment: Essential equipment is provided when you book a tour.
Best time to visit: April to August
Note: You will need a tour guide for a long-day tour exploring pristine caves
Diving in Nha Trang
Possessing beautiful islands, gorgeous coral reefs, colorful fish species and blue beaches stretching to the end of the horizon, Nha Trang is an ideal destination for beach lovers, especially those loving scuba diving and snorkeling. There are two popular places for diving in Nha Trang - Monkey Island and Hon Mun island. With a clear blue sea and beautiful coral reefs, Monkey island is a refuge for many strange and precious marine fish. This is the place many tourists choosing for diving. Meanwhile, Hon Mun island is still quite pristine. Tourists who want to dive have to take a boat to the middle of the sea, then jump down from the boat for diving.
It is easy to book diving services in Nha Trang. You can book from a tour agency or ask your hotel to help with booking. The price is from VND 450,000 to VND 700,000. The diving services will provide diving equipment, boat and professional tour guide so you just have to enjoy the journey. But remember not touching the coral to protect them from damage.
Equipment: Essential equipment is provided when you book a tour.
Best time to visit: March to August
Note: Two popular diving places in Nha Trang are Monkey island and Hon Mun island
Multiple Thrills in Mui Ne
Many people think that Mui Ne - Phan Thiet is famous only for its beautiful beaches, the fishing village and fresh seafood. However, Mui Ne also is a great place for those loving adventure with a list of interesting activities including stand-up paddleboarding, kitesurfing, jeep tour and sandboarding.
With the advantage of waves and winds, Mui Ne is an ideal choice for stand-up paddleboarding and kitesurfing. You can easily rent equipment or hire a trainer if you are a newbie at local stores right next to the beach. Also, White Sand Dunes and Red Sand Dunes which is like a desert right next to the beach is the best place for jeep tours and sandboarding. You can rent a jeep car to run to the top of the sandhill and experience the thrilling feeling when driving a strong engine. Then, you can rent a board from local people for sandboarding down from the sandhill.
Equipment: You can rent essential equipment at local stores right next to the beach
Best time to visit: December to February or June to July
Motorcycling through Hai Van pass (Da Nang) and Khanh Le pass (Nha Trang)
Besides beautiful beaches, Central Vietnam also is famous for majestic passes. In which, there are two popular passes that you should travel by motorcycles at least once - Hai Van pass and Khanh Le pass.
Hai Van pass is located between Da Nang city and Thua Thien Hue province on the last peak of Truong Son mountain range crossing the sea. With a height of nearly 500 meters above sea level, from the pass, you can enjoy the panoramic view of Da Nang city on the banks of the Han River, the pure blue water of Lang Co Bay or Son Tra mountain covered by clouds.
Khanh Le Pass is also known as Bidoup Pass, located between Khanh Hoa province and Lam Dong province. Motorcycling through this pass, you will be amazed and fascinated by its wild scenery. It seems that time here flows quietly and smoothly with the murmuring sound of streams and gentle winds flowing through pristine forests.
Equipment: You can rent motorcycles at Da Nang city (Binh Minh store - 0986 862 986, Han River store - 0905 304 050, etc) and Nha Trang city (VietCoral Tourist - 0934 993 599, Best Motor - 0329 161 516, etc)
Best time to visit: March to July
Note: Make sure you have good driving skills to take the trip
Trekking in Bach Ma National Park
Bach Ma National Park is located in Phu Loc district about 60 kilometers from the Hue city center. This is the home to more than 55 species of precious mammals and more than 500 species of plants, including many rare and precious plants. Along the small paths leading to the deep forest, you will easily encounter many strange-shaped animals. Therefore, you can truly immerse in the wildlife when coming to Bach Ma National Park.
There are some places that you should visit in Bach Ma National Park. The first place is Hai Vong Station where you can have a panoramic view of the majestic Bach Ma mountain. About 2 kilometers from the top of Bach Ma Mountain, you can see Ngu Ho - a scenic convergence of 5 small lakes, creating a quite big stream. Trekking from Ngu Ho about 3 kilometers, you can reach another beautiful destination - Do Quyen Waterfall. In March, azaleas bloom white in the whole area surrounding the waterfall so the waterfall is named after the name of this flower in Vietnamese. Besides, camping in Bach Ma National Park to enjoy the nightlife and sing at the campfire will be an interesting activity. However, you have to prepare tents or sleeping bags before starting the trip. Also, remember to bring heat-keeping clothes because the temperature will fall to 10-15C at night.
Equipment: You need to prepare essential equipment by yourself
Best time to visit: December to April or June to July
Note: Some famous destinations are Hai Vong Station, Ngu Ho and Do Quyen Waterfall
Conversations (0)
Join the conversation
Conversations
Join the conversation
ALL COMMENTS (0)
There are no comments. Add your comment to start the conversation.
read next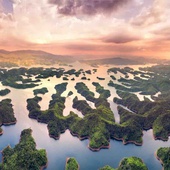 If you want to step off the beaten track and delve into this wilderness, here are some picks for your next adventure journey in Central Highlands.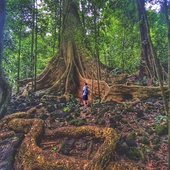 If you are interested in active traveling, you can always to make a detour by including the following destinations in your itinerary, instead of just following the guide book.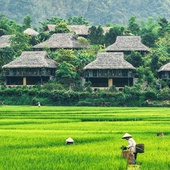 Vietnam's mountainscape is just as dramatic as its long stretch of beaches. The sloppy hills and mountains span across the country and offer plenty of options for adventure-seekers.