Beyond Sapa: 5 Alternatives to Consider For Your Next Trip
So many things to see, so little time
If you are looking for a change, something off the beaten track beyond Sapa, there are still many others for consideration for the same time and budget spent. Sapa, the wonderful combination of harmonious weather, pristine nature and uniquely ethnic minority groups culture; is definitely one of the most well-known tourist attractions in northern Vietnam. However, that is also the reason why this small town is always packed with tourists both local and foreign all year round. If you are looking for a change, something off the beaten track, in northern Vietnam, there are still many others for consideration for the same time and budget spent.
Tam Dao Hill Station - Cool climate and tranquil trekking trails
Only 80km away from Hanoi, Tam Dao Hill Station is a rather popular escape from the heat of the Red River Delta area. Hanoians come to Tam Dao every weekend and holiday, especially in summer when the temperature in the plain may be as high as 40oC. Thanks to the elevation of more than 1200m, the climate in Tam Dao is purely cool with average temperature of 18oC in summer and 10oC in winter, which could be ideal for tourists who are not familiar with the tropical heat and want to find a place as cool as Sapa.
Once the vacation resort of the French, Tam Dao comprised of numerous grand colonial villas. However, most of them are destroyed during the war time in the 1950s and what one can see today is a newly constructed mountain town that serves tourists' holiday. There are now a wide range of hostels, hotels and resorts; and plentiful local specialties for visitors to try out.
In addition to the cool climate, this region provides full opportunity for physical activities such as mountain sight-seeing, serious trekking and even bird-watching that Sapa has to compare. Nature lovers who are fascinated about Sapa's wild surrounding can also visit Tam Dao National Park with eight kinds of forest types distributed in different topographic and climatic areas, more than 2000 plants and 904 species.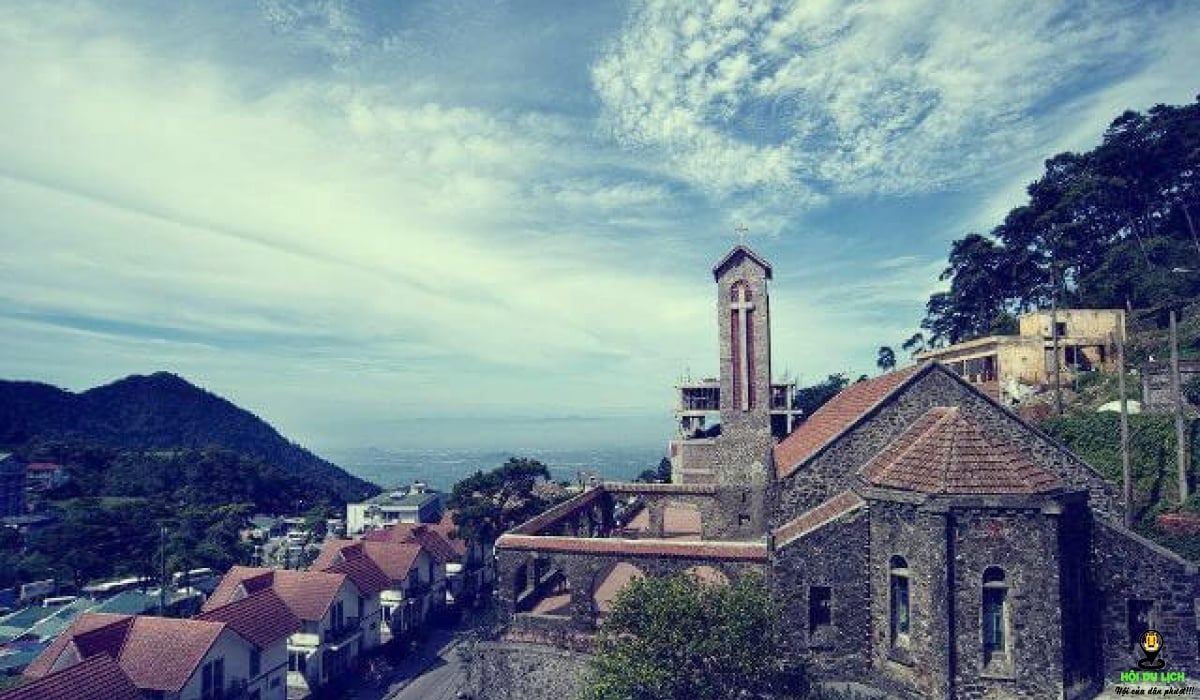 Tam Dao - Photo: @hoidulich
Read more about Tam Dao Hill Station
Mai Chau - Inhale the ethnic culture
It will be a 135km trip from Hanoi, or 60km trip from Hoa Binh City to reach Mai Chau, the green valley. If you love to discover more about the daily life of ethnic minority groups, especially Thai people, Mai Chau is surely a great choice. Stilt houses with exclusive Thai architecture line up on both sides of the road in the valley. Tourists can visit those houses or even try cooking and making clothes in Thai style. Homestay programs are available, and everybody will have great time watching traditional dancing and music instrument performances, while enjoying local specialties such as rice cooked in bamboo tubes and grilled meat on skewers.
There is a local market every Sunday with the participation of people from different minorities living in the surrounding areas. This is a good chance for tourists to feel the mixed culture, as in Hoa Binh Province, there are about six different minorities with distinctive languages, traditions and festivals.
From Mai Chau, one can also join one of the trekking tours to remote villages. Although Mai Chau's weather is not as cool as in Sapa, it has otherwise many things else to offer: the landscape, the people, the food, and the air. Currently, there are some agencies providing tours of Hanoi- Mai Chau-Sapa, in which tourists will travel to Hoa Binh and stay at Mai Chau, then passing Son La province and Dien Bien Phu Loop before reaching Sapa.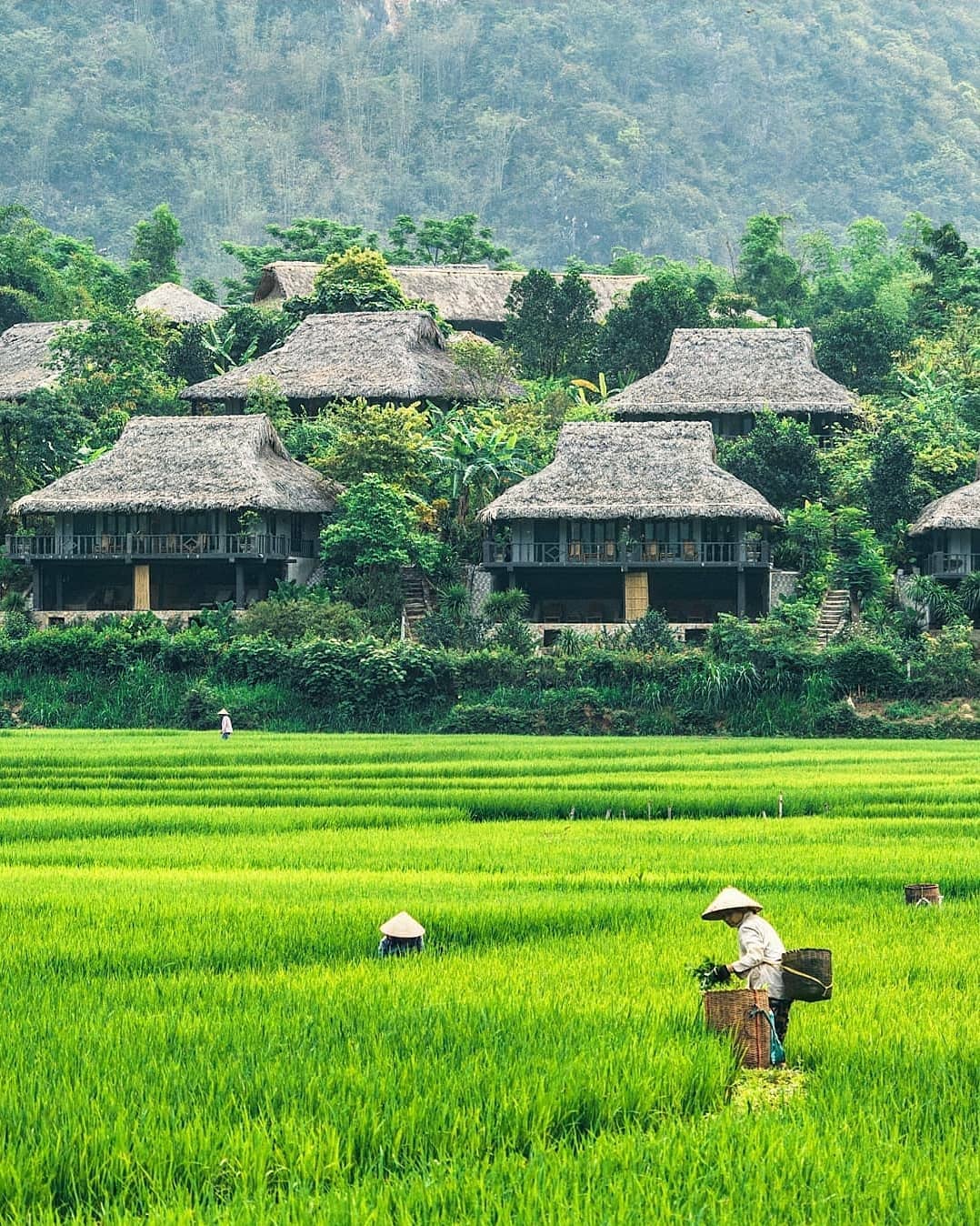 Mai Chau - Photo: @vietnamtravelaway
Read more about Mai Chau
Lai Chau - Panoramic landscape and untouched local culture
Located in the northwest region, Lai Chau is 450km northwestern from Hanoi. To reach this province, you can choose Highway 12 (from Dien Bien Phu Loop) or Road 4D (from Sapa, catching local bus which is available daily in Sapa terminal). Lai Chau has several highland villages such as Sin Ho, Ta Phin, Dao San, most of which are at the altitude of more than 1500m. The high altitude makes the weather here much like Sapa, cool and foggy with the average temperature of nearly 20oC and two seasons: dry and rainy. The completely pure air is something that Sapa rea;;y has to envy.
Besides the high mountain ranges surrounding the province, Lai Chau is well-known for narrow valleys, waterfalls, and the three large rivers: Da, Nam Na, and Nam Mu; which create the stunningly picturesque sceneries. Visiting Lai Chau, tourists can not only go mountain trekking but also sail along Da River, discover primitive caves or bathe in natural hot springs.
Especially, Lai Chau is home to nearly 20 ethnic minority groups, including H'Mong, Thai, Dao, Ha Nhi, Mang and La Hu. Tourists will have an opportunity to witness the special multi-cultural society through the original local market taken place every Thursday and Sunday morning or minorities' authentic festival such as Thai's "Hoa Ban Festival" in the second lunar month or H'Mong's "Gau Tao Festival" in spring.
There are buses to Sapa departing from Lai Chau terminal every hour, starting from 5 in the morning. It will be a 2-3 hour trip for the route of 175km.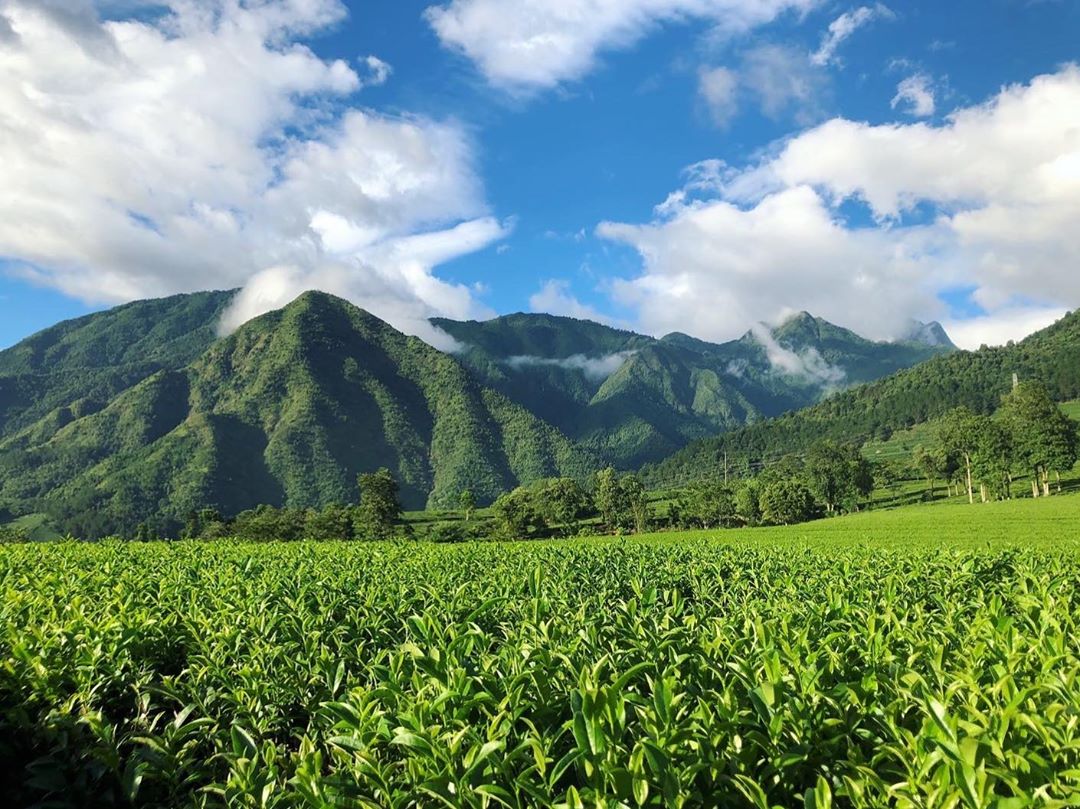 Lai Chau - Photo: @teadam171
Phia Den-Phia Oac - Wild nature
Visiting Phia Den-Phia Oac (or Phia Dac), tourists will be amazed at the gorgeously wild panorama of mighty mountain ranges, rivers, caves and huge areas of original forests. Belong to Nguyen Binh- a remote district of Cao Bang Province, 240km far from Hanoi, Phia Den-Phia Vac is a potential ecotourism spot in Vietnam's northwest region.
The 1500m average elevation with the highest peak up to 1931m makes Phia Den- Phia Vac covered in mist all the time, which is similar to Sapa's climate. In the past, the area shared the same historic background with Sapa, as it was controlled by the French colonialists for exploiting aromatic wood and other precious minerals. Consequently, there are several French villas and military posts like Tai Soong, Tatsloom still remained here. For culture discovering purpose, tourists can meet a lot of Dao minority people living scattered throughout the area.
Cao Bang is 272km north of Hanoi following National Highway No.3. There are direct buses departing from Cao Bang terminal to Lao Cai terminal and vice versa, so reaching Sapa from here is pretty convenient.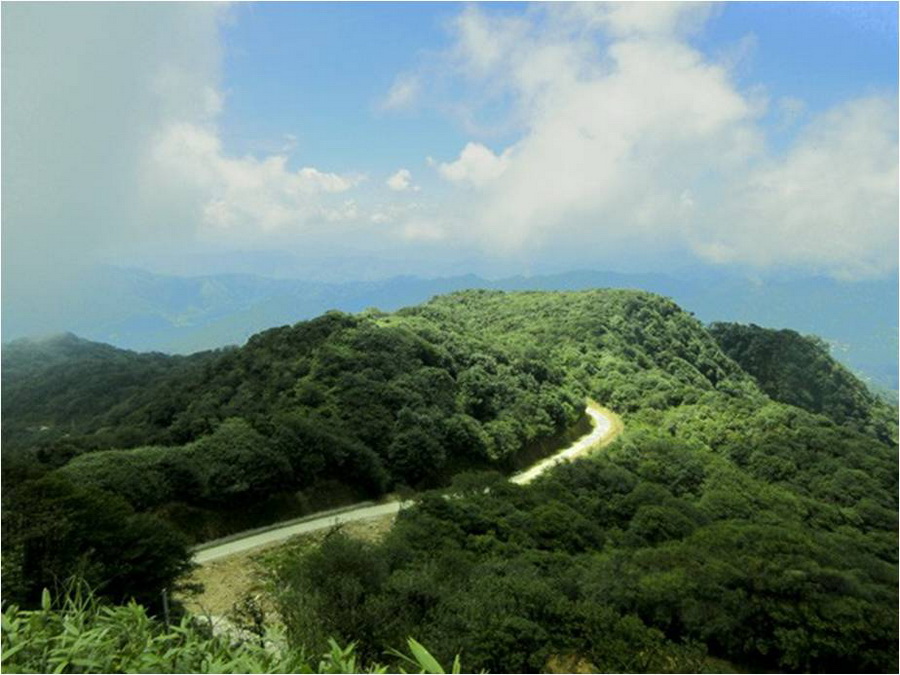 Phia Oac - Photo: @Caobangtourism
Mu Cang Chai - Unparalleled for photographs
Lying quietly between two mountain sides in Yen Bai Province, Mu Cang Chai, one of Vietnam's poorest regions, possesses many terraced fields which have been regarded as a national level heritage and Asia's most beautiful ones. If you have ever fallen in love with the terraced fields in Sapa, Mu Cang Chai will definitely take your breath away. The little town is 300km far from Hanoi, and can be reached only from Yen Bai City or Lao Cai via rough roads with continuous slopes and passes. Remote as it is, Mu Cang Chai can still reserve the wildly primitive beauty. Everything, both nature and human, is pure and untouched, and perfect for both trekking and sightseeing.
About the cultural discovery aspect, 90% of residents here are Hmong people, and Thai people cover only 8%. While Thai people build houses and live in lower area, Hmong people populate and cultivate on high hills. They are the creator of breathtaking view of terraced fields sloped gently along the mountainsides. Mu Cang Chai gives us a chance to live slowly, to embrace the peacefully natural beauty and be moved by the honest and innocent local ethnic people. Mu Cang Chai is only 170km far from Sapa, however, you are advised reach Mu Cang Chai by renting a car with local driver. Another option is to get back from Mu Cang Chai to Tu Le or Than Uyen to take local bus to Sapa in the direction of Lao Cai.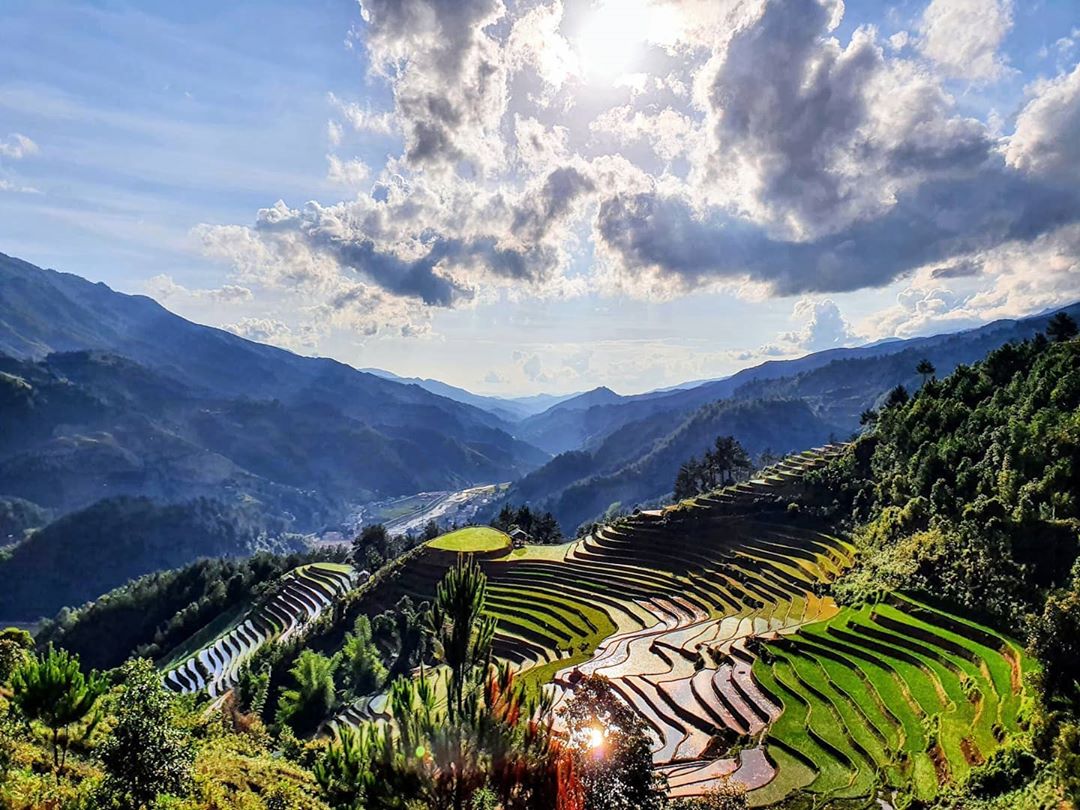 Mu Cang Chai- Photo: @leethanhhaf
Conversations (0)
Join the conversation
Conversations
Join the conversation
ALL COMMENTS (0)
There are no comments. Add your comment to start the conversation.
read next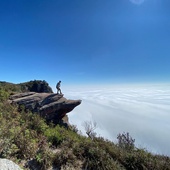 Moc Chau Town is among the top-rated tourist destinations in northern Vietnam brimming with ultramodern and natural sightseeing attractions.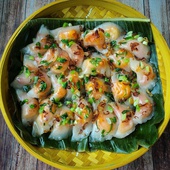 Vietnamese cuisine has long been known as among the most abundant and delicious cuisines in the world.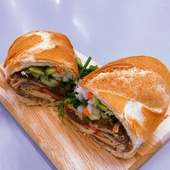 Long queues of Saigoneses, tourists, and shippers in front of the "banh mi" Huynh Hoa shop have long become a familiar scene every afternoon.